World Series Game 3 Preview: Texas Rangers Return Home Seeking a Lifeline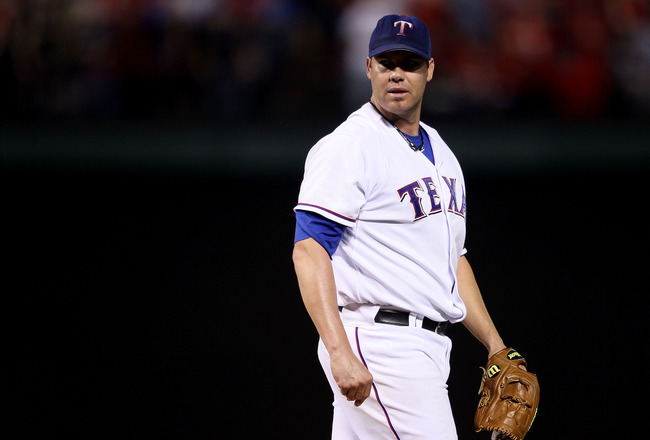 Elsa/Getty Images
After enduring demoralizing defeats at the hands of the San Francisco Giants on consecutive nights at AT&T Park, the Texas Rangers finally get to make their way home. With Texas' magical run on the road coming crashing to a halt, they return to the venue where they constructed the bulk of their 2010 playoff credentials.
If you were paying attention all season, you would have known that the Texas Rangers aren't really the road warriors they've been pretending to be throughout the postseason thus far. Before the World Series began, Texas was an impressive 5-1 away from Arlington, beating up on both the Rays and Yankees, outscoring them 36-12 throughout the ALDS and ALCS.
Not bad for a team that was 39-42 on the road during the regular season.
Of course, the Rangers being thoroughly dismantled by San Francisco over the first two games of the series may have come as a slight surprise, but it should be noted that the Giants were 49-32 in their home stadium in 2010.
Baseball has a way of bringing things back to where they should be, of forcing everything to revert to the norm. If you were 39-42 on the road in the regular season, and suddenly you're 5-1 away from home in the playoffs, the odds are that you have some losing to do in the near future. Aside from the odd outlier, baseball players and teams generally perform according to their rates and averages.
Sure, in any given eight game stretch, a team can get hot and outperform their overall record, but basically, your 39-42 road ledger gave us an idea of what to expect.
The great news for the Texas Rangers is that they're done with the beautiful city by the bay, for at least a few days. However, if they hope to continue their 2010 season and potentially win the World Series, they know they'll have to book a return trip.
That can wait for now, as they return to the familiar environs of Rangers Ballpark in Arlington desperately seeking victories. With games scheduled for Saturday, Sunday and hopefully Monday evenings, the Rangers have the opportunity to get themselves back into this series, even if they have a steep hill to climb.
Returning from an 0-2 deficit is clearly not the optimal situation to find yourselves in, but it's certainly not insurmountable. If they had lost the first two games at home, the story would be altogether different, but thankfully that's not the case.
Facing a must-win scenario in Arlington, the Rangers will send right-hander Colby Lewis to the mound to face lefty Jonathan Sanchez of the Giants. With Game 3 scheduled for Saturday evening at 6:30 PM Eastern Time, let's examine some key factors for each team as the Rangers and Giants prepare to do battle.
Rangers' Starting Pitcher: Colby Lewis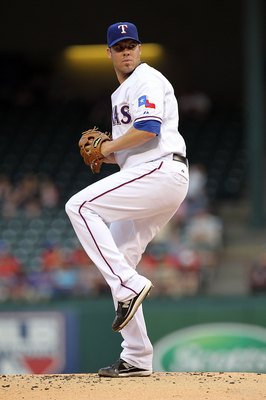 Ronald Martinez/Getty Images
Returning to the Texas organization after a two-year sojourn in Japan, Colby Lewis fit right into the rotation of the team that originally drafted him. After several years of struggles through the minor leagues, and frustrations due to arm injuries, the 31-year-old Lewis is finally establishing himself as a solid Major League pitcher.
In his first full big-league season, Colby hurled 201 innings, proving to be a durable addition to the middle of Texas' rotation. His 196 strikeouts were good for seventh in the American League, and he led the Rangers staff in that category. Overall, his 12-13 record betrays the fine season that he had.
Lewis' ERA of 3.72 placed him in the top 20 in the AL amongst qualified starters, and his WHIP of 1.19 ranked him ninth, exactly on par with CC Sabathia and David Price, two of the league's leading Cy Young candidates.
He has parlayed his regular season success into an even greater postseason for the Rangers. In his only ALDS start against Tampa, he hurled a scoreless five innings, but received a no-decision when the Rays came on late to win the game in the eighth and ninth innings.
If not for the explosive offensive heroics of outfielder Josh Hamilton, Lewis very well could have taken home the MVP for the American League Championship Series against the Yankees. Pitching both times at home in Arlington, Lewis was victorious in Game 2, as well as the series clincher in Game 6.
During ALCS Game 2, he was solid, if unspectacular, pitching into the sixth and allowing two earned runs on six hits and two walks, while striking out six. In Game 6 though, he was dominant, as he completely shut down the Yankees and ended their hopes of a dramatic comeback. His eight inning, one-run performance clinched the pennant for Texas as he struck out seven while only allowing three hits and three walks.
So far, Lewis is the only pitcher in Texas history with a postseason victory at home, and just to make sure, he has earned himself two. During the regular season, he was 6-4 with a 3.41 ERA in Arlington, while striking out 75 batters in 87 innings.
Lewis has only thrown one inning against San Francisco in his career, and that was in 2007, before any of the current Giant hitters were with the team.
If Texas still entertains hopes of clawing their way back into this series, they desperately need Colby Lewis to step up once again and add to his franchise record of two career home playoff victories.
Giants' Starting Pitcher: Jonathan Sanchez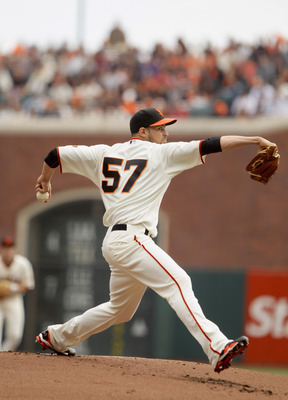 Ezra Shaw/Getty Images
In an effort to place the Rangers into a sleeper hold and immensely strengthen their own hopes of winning the World Series, the Giants will send lefty Jonathan Sanchez to the mound for Game 3.
With a Game 3 victory, San Francisco knows that they would virtually guarantee themselves the first World Series title since the franchise switched coasts following the 1957 season. Of course, nothing is ever guaranteed in baseball, but since there has only been one team to return from a three-games-to-none deficit in the history of the game, the Giants would feel pretty good about their chances.
Jonathan Sanchez, a seriously talented, yet occasionally combustible hurler, will look to personally rebound from a short start his last time out and give the Giants the dominant outing that he's capable of.
In NLCS Game 6, a game that the Giants would eventually win, Sanchez lost his command, then lost his cool, getting into a shouting match with Philadelphia's Chase Utley before getting pulled in the third inning.
NLCS Game 2, his previous start, Sanchez pitched well enough to win, but was unfortunately saddled with the loss. He hurled six innings, allowing three runs, two earned, on five hits and three walks, while striking out seven in a 6-1 Giants' defeat.
His postseason debut in Atlanta, in NLDS Game 3 was utterly dominant. Sanchez hurled 7.1 innings, only allowing one run, on two hits and one walk, while fanning 11 Braves. Following Lincecum and Cain, Sanchez announced himself as yet another San Francisco arm to fear. The Giants will be hoping for another similar outing from him in his World Series debut.
During the regular season, Sanchez was 13-9 with a 3.07 ERA in 193.1 innings. His 205 strikeouts ranked him eighth in the NL, while his 96 bases on balls led the league. His electric stuff is formidable, but if he can't harness it, Sanchez can become his own worst enemy.
Though his command can occasionally abandon him, Sanchez led all eligible NL starters with the lowest opponents' batting average allowed. If he's un-hittable, a few walks here and there won't kill you, but Texas is a team that can make you pay dearly for too many mistakes, so he will look to minimize the free passes.
Sanchez was dominant on the road this season, so he won't fear heading into Arlington. Though he was only 5-5, his 2.86 road ERA, 9.8 strikeouts per nine, and .199 opponents' batting average all outpaced his home splits.
If Sanchez performs up to his capabilities, San Francisco could make this a short series and will likely do their celebrating on enemy territory, deep in the heart of Texas.
Keys to the Game for Texas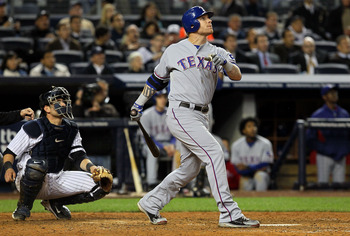 Jim McIsaac/Getty Images
Pitching
Primarily, the Rangers need length from their starter Colby Lewis. A dominant, seven inning+ outing from him would serve his team in a variety of ways.
The much-beleaguered bullpen could use a day off, simply to collect their thoughts and remind themselves that they were actually one of the top relief corps in the AL all season long. I know, conventional wisdom says that the best way to get over a poor outing is to get right back out there, but in this case, I'm going to have to disagree. It's not only a bad outing, but two fairly horrible showings on two consecutive days.
Let Lewis work his home-field magic, enjoy a great ballgame and come back the next day refreshed and ready for work. Of course, Neftali Feliz should get some work after sitting for the first two games as his fellow relievers melted down. Feliz hasn't pitched since closing out the Yankees a full seven days ago. There is nothing left to save your closer for at this point, so use him liberally, and quit going to every other arm in the pen, aside from your most dominant.
Of course, Ron Washington would be greatly aided by a night that he didn't have to make too many pitching decisions as well. He has come under heavy criticism for the handling of his bullpen, as he has appeared indecisive and reluctant, while many of his moves have backfired. I'm sure he would appreciate a nice, easy night for a change.
Offense
Though they scored seven runs in World Series Game 1, the Texas offense has not looked like itself. Game 2's shut-out by Matt Cain was only the sixth time all season that the potent Rangers' offense had been shut out.
The return home should provide confidence and familiarity, as the Rangers are a dynamic offensive club in their home ballpark. At home, they were second in scoring in the AL, only trailing the Yankees, while their home OPS placed them fourth, only behind New York, Boston and Toronto.
In contrast, their road production is far less impressive. Away from Rangers' Ballpark, Texas ranked seventh in the AL in runs scored, and dropped to eighth in team slugging. Clearly they should receive a boost from coming home for at least the next two games.
Texas could use a few of its star hitters to step up their production. Led by ALCS MVP Josh Hamilton, the Rangers lineup is loaded with lethal bats capable of scoring runs in bunches. If the Giants pitch around Hamilton, Texas will need Vlad, Nelson Cruz or Ian Kinsler to start swinging a hot bat behind him to eliminate that strategy. Of course, if Andrus and Young are frequently on base in front of him, it reduces the likelihood of San Francisco walking Hamilton.
An obvious benefit is playing at home with the DH rule, which allows the inclusion of Vlad Guerrerro's bat in the lineup without the inherent dangers of playing him on defense. The Texas lineup doesn't appear nearly as threatening without him penciled in the cleanup spot behind Hamilton.
Keys to the Game for San Francisco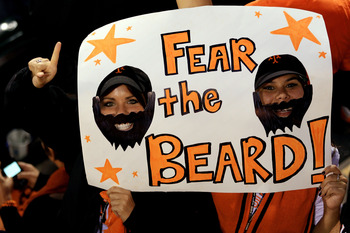 Ezra Shaw/Getty Images
Pitching
With Texas reeling from two consecutive beatings, San Francisco needs to be ruthless and deliver the knockout blow. It's never desirable to give a quality team a lifeline, and you have to move in for the kill while they're dazed.
Jonathan Sanchez needs to forget about his last outing against Philadelphia and rediscover the form that served him so well throughout 2010. As we witnessed in NLDS Game 3, and last July, when the hurled a no-hitter that was a booted ground-ball from a perfect game, Sanchez is capable of special things. His electric stuff can absolutely dominate a lineup.
He needs to keep his mechanics and emotions in check though, because if he gets out of sync, he's also capable of falling apart quickly. With experience has come maturity though, and Sanchez is far less likely to lose it than in previous seasons. He just has to remember that his stuff is as good as anyone's, trust it and throw strikes. Of course, easier said than done, but the pressure is squarely on the Rangers right now, and the Giants have to remember that as well.
Possibly the worst thing you can do to allow an opponent a glimmer of hope is to provide them free base-runners via the walk. When a team is down, they tend to press and attempt to do too much, making the pitcher's job easier. If you alleviate that pressure by allowing free passes, belief can start building an change momentum rapidly.
We witnessed in Game 2, how quickly walks can change the complexion of a game. What was a 2-0 game, was suddenly a 9-0 laugher when the Rangers' bullpen couldn't locate the strike zone. After a seemingly harmless two-out single by Buster Posey in the bottom of the eighth , the Giants then scored two more runs on four straight walks, setting up the further damage that was to come.
With a starting pitcher who led all of baseball in walks taking the hill, the Giants will be cognizant of the perils of free passes. The last thing a potent offensive team such as Texas needs is base-runners to allow them the belief that they can get back into the series.
As far as the bullpen is concerned, they haven't had much real work to do, aside from some sloppy mop-up work late in Game 1. Though they were far from sharp in that action, it's difficult to judge relievers when the game isn't on the line. So often, even the best relievers we've ever seen, struggle when there is little on the line. If called into duty in Game 3, I would expect Brian Wilson and his bearded minions to answer the call. They're too deep and talented of a group to expect otherwise from them.
Offense
Simply: more of the same.
The San Francisco offense finds itself in scintillating form, sitting in a commanding position after the first two games of the series. After scoring 20 runs over the course of Games 1 and 2, there is no reason for the Giants to alter their approach whatsoever.
Not once all year were they confused with a potent offensive team but San Francisco is suddenly a run-producing juggernaut, easily out-slugging their much-lauded foes from Texas.
There may be a hint of over-achievement from a few of the players, but the Giants can take solace in the fact that there are a few hitters among them that have yet to produce much yet, so they be on the verge of contributing to the common cause.
No matter what the stats say on paper, the results are what counts, and San Francisco's offense is certainly producing those. Throughout the lineup, they are producing tough, poised at-bats, fouling off pitches and punishing mistakes.
Interestingly, for a team that finished 13th of 16 in team walks, providing ample support for their free-swinging reputation, the Giants suddenly appear patient in the batters' box.
Though it won't help their offense as much, the Giants will likely shift Burrell to the DH slot in the AL park, greatly strengthening their defense by allowing Rowand or Schierholtz to take his place in the outfield.
If Sanchez can keep the Texas bats in check, the suddenly red-hot San Francisco lineup should be able to score enough to keep significant pressure on the Rangers' pitching staff. With a 20-to-7 run differential over the first two games, there is no reason for the Giants to believe they can't do it.

Not bad for a bunch of castoffs and journeymen (Okay and a couple rookies too). Maybe there is something to this "Fear the Beard" thing.
Keep Reading

Texas Rangers: Like this team?