NFL Power Rankings Week 8: Pittsburgh Is Tops, Buffalo Bottom-Feeding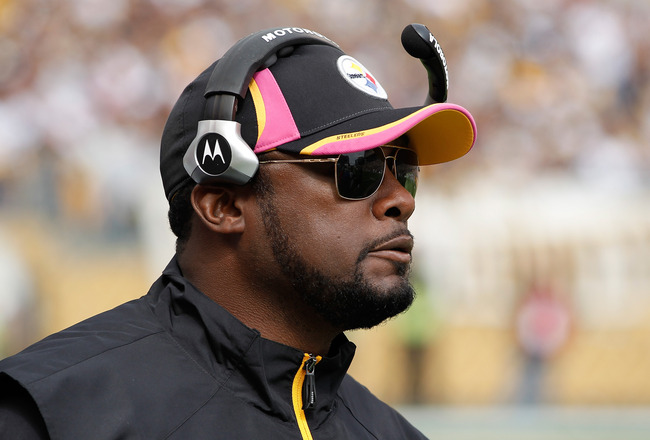 Mike Tomlin is one cool customer and has the Steelers sitting pretty
Gregory Shamus/Getty Images
Time to reveal the NFL Power Rankings Week 8. Not too many surprises, except for the back-end with appearances from a couple of teams that were expected to be contenders this year for the Super Bowl.
Week 7 of the NFL season is officially in the books, and things are starting to get a lot more clear as teams are jockeying for playoff positions.
Who in the world is the best team in the NFC? Is the AFC really that much better?
The answers: 1) Who knows, and 2) Yes.
There were some major surprises over the weekend. Cleveland rocked (see what I did there) New Orleans in the Big Easy, Buffalo almost pulled off a most improbable upset, and Darren McFadden looked like a Marcus Allen-Bo Jackson hybrid while running all over Denver.
Dallas has even more questions. They are now at 1-5 and without Tony Romo for what appears to be a big chunk of the rest of the season,
But everyone saw that coming, right? Suuuuuuuure.
Did the wins (or in Buffalo's case, moral victory) move them up the NFL food chain?
Pittsburgh may have gotten a little help, but they still look like the team to beat. New England won a tough one in San Diego without much offense to speak of, and the Jets are holding firm despite not even playing.
Let's take a look at this week's power rankings.
The Bottom-Feeders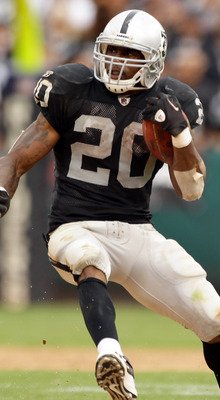 Does Darren McFadden have the Raiders back in business?
Ezra Shaw/Getty Images
32. Buffalo (0-6): Sorry, Bills. You still haven't won a game yet, but you did almost pull off what would have been the most shocking win of the season to date in Baltimore. Yes, Ryan Fitzpatrick looked good—but it wasn't good enough.
31. San Francisco 49ers (1-6): Alex Smith gets hurt, and David Carr is your answer? At least Dallas has Jon Kitna. Will Mike Singletary make it through the season?
30. Carolina Panthers (1-5): Celebrate that first win of the season, Panthers. There may not be many more opportunities.
29. Cincinnati Bengals (2-4): Looking more and more like the Bungles. What has happened to Carson Palmer? How long until T.O implodes? Can't figure these guys out, but they have the talent.
28. Dallas (1-5): Even with Romo out six to eight weeks, he would only be back for the last two to four games of the season—or what's left of it. The nail is in place, and the hammer is getting closer.
27. Denver (2-5): What a yuk fest against Oakland, and at home, nonetheless. Since starting the season 6-0 last year in his first year as a head coach, Josh McDaniels has guided the Broncos to a 4-13 record since.
26. Jacksonville (3-4): Jack Del Rio looking more and more like a goner. Dusting off Todd Bouman was a feel-good story, but the Jags are really struggling right now.
25. Oakland Raiders (3-4): They proved they can run the ball, and the defense is pretty good. And the AFC West is certainly a winnable division for them if Jason Campbell can figure things out.
24. Arizona Cardinals (3-3): Didn't you used to be Larry Fitzgerald, the best receiver in the NFL?
23. Detroit Lions (1-5): They should have two wins, for the record: Calvin Johnson was jobbed in Week 1 against Chicago. When Matthew Stafford gets back, things might look up in Motown.
22. Cleveland Browns (2-5): The Mangenius is back! Maybe? OK, but it was a great individual effort by David Bowens with the double pick-sixes. Big win in New Orleans.
21. San Diego Chargers (2-5): Weird to have them this low. Great talent, but they just can't get it together. They can still win the division, though, as they always seem to play well in the last half of the season.
No. 20: Minnesota Vikings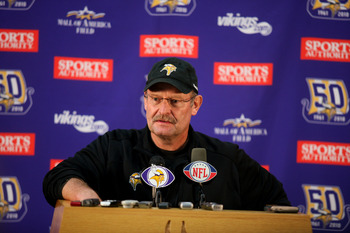 Adam Bettcher/Getty Images
Are the Vikings ready for the Tarvaris Jackson era? If Mr. Favre can't go—either because of injury or a possible NFL suspension—Minnesota's playoff hopes are in his hands.
Scary, but the roster is still loaded with talent.
No. 19: St. Louis Rams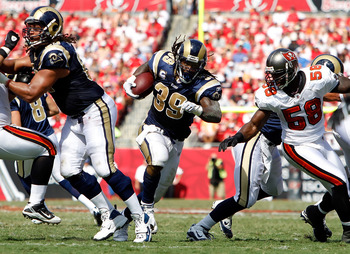 J. Meric/Getty Images
A disappointing loss to Tampa on Sunday, but the Rams (3-4) are definitely on their way up now, with a poised Sam Bradford having a great rookie season.
No. 18: Chicago Bears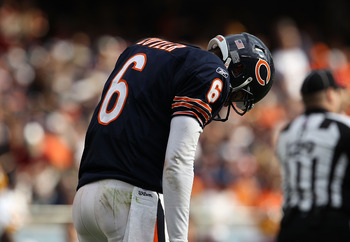 Jonathan Daniel/Getty Images
Someone forgot to tell Jay Cutler that DeAngelo Hall played for the other team. Yikes. The Bears (4-3) are right in the thick of things, however, in the NFC North.
No. 17: Miami Dolphins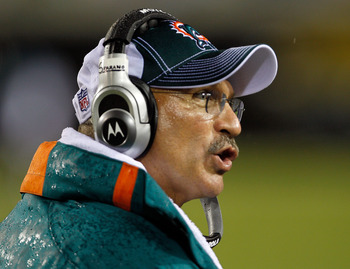 Sam Greenwood/Getty Images
The Dolphins (3-3) had the Steelers on the ropes. Even after the controversial call that led to the game-winning field goal, Miami still had 2:26 to work with on the clock and couldn't get it done.
Great teams can move the ball downfield for a field goal when they need to.
No. 16: Tampa Bay Buccaneers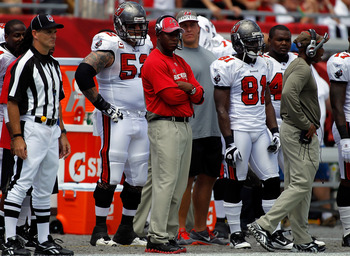 J. Meric/Getty Images
Coach Raheem Morris called his team the "best in the NFC" following its come-from-behind win against St. Louis Sunday.
We won't go that far, but Tampa (4-2) is getting it done in the NFC South.
No. 15: Washington Redskins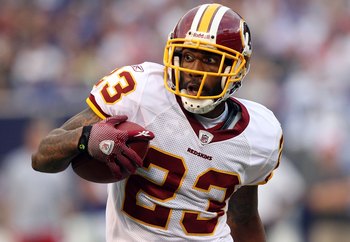 Jim McIsaac/Getty Images
Washington (4-3) has already equaled its win total from last season under Jim Zorn.
Mike Shanahan is once again proving that just about anybody can rush the ball in his offense, with former Bronco Ryan Torrain going for over 100 yards Sunday against Chicago.
Albert Haynesworth had his best day since signing his $100-million dollar deal, and DeAngelo Hall owned Jay Cutler.
No. 14: New Orleans Saints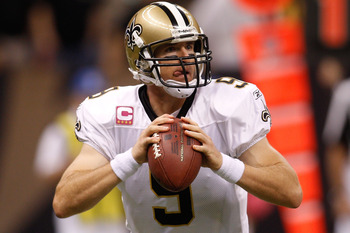 Chris Graythen/Getty Images
Tough day for Drew Brees and the Saints (4-3) Sunday. Brees threw four interceptions in the loss to Cleveland, which has to go down as the most surprising upset of the season.
The Saints look like they are just going through the motions right now: Super Bowl hangover effect?
No. 13: Philadelphia Eagles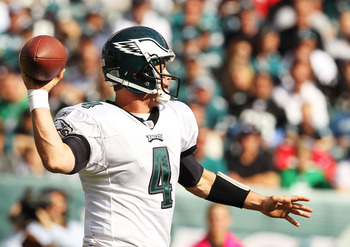 Al Bello/Getty Images
Kevin Kolb came back down to earth against Tennessee, but Coach Andy Reid has already announced that Michael Vick will be back under center after this week's bye for the Eagles (4-3).
They will have an explosive offense once DeSean Jackson gets healthy.
No. 12: Houston Texans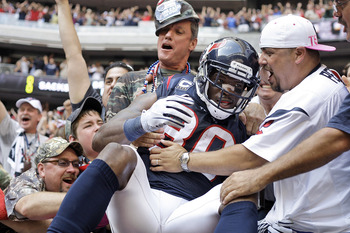 Bob Levey/Getty Images
Not sure how for real these guys are just yet. Andre Johnson is the most elite receiver in the league and Matt Schaub is still putting up impressive numbers, but he needs Duane Brown back to anchor the offensive line.
Houston (4-2) may be on the outside looking in for a playoff berth in the tough AFC—they will most likely need to beat Indy again to make it to the postseason.
If not, Gary Kubiak may be looking for another job next year.
No. 11: Green Bay Packers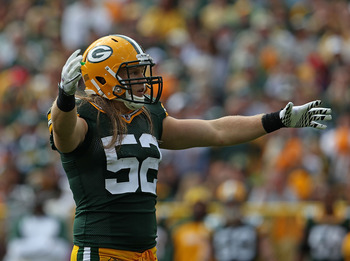 Jonathan Daniel/Getty Images
That was a huge win Sunday night for Green Bay (4-3) against arch-rival Minnesota.
Can the Packers continue to get it done without Ryan Grant? That defense is pretty stout, and Clay Matthews Jr. and A.J. Hawk need haircuts.
No. 10: Seattle Seahawks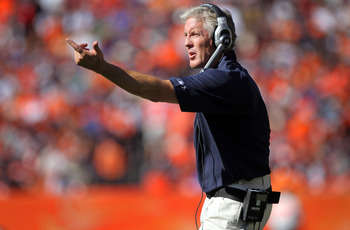 Doug Pensinger/Getty Images
Tony Dungy called this the best team in the NFC Sunday night on "Football Night in America."
Could be, especially when the path to the NFC West title looks to be the easiest road in any division.
Pete Carroll doesn't seem to be having many issues with his latest transition, and he has figured out a way to motivate Mike Williams once again.
No. 9: Kansas City Chiefs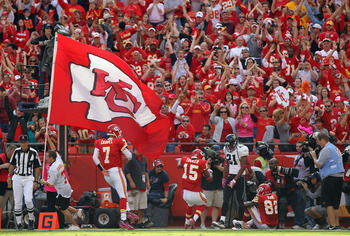 Jamie Squire/Getty Images
The Chiefs (4-2) are the most surprising team on this list for all the right reasons. They have a solid running game with cast-off Thomas Jones and Jamaal Charles, Matt Cassel has been efficient and Charlie Weis and Romeo Crennel are providing some old Patriot-style magic as the coordinators of the offense and defense.
The Chiefs are for real.
No. 8: New York Giants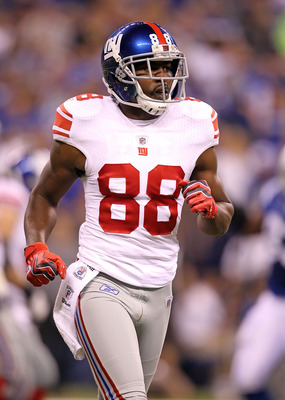 Andy Lyons/Getty Images
They still have one of the best defensive front-fours in the league. The Giants (5-2) got a big win Monday night in Big "D" but still have some question marks with their running game.
Hakeem Nicks may be the biggest breakout star this season in the league.
No. 7: Atlanta Falcons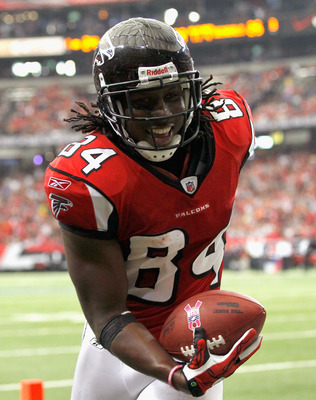 Kevin C. Cox/Getty Images
Atlanta (5-2) is quietly putting together a solid season. Michael Turner is getting it done on the ground, Matt Ryan is continuing to develop, Tony Gonzalez is still the premiere tight end in the league and Roddy White might have moved into the elite class of receivers.
Plus, this defense is sneaky good. Keep an eye on them.
No. 6: Indianapolis Colts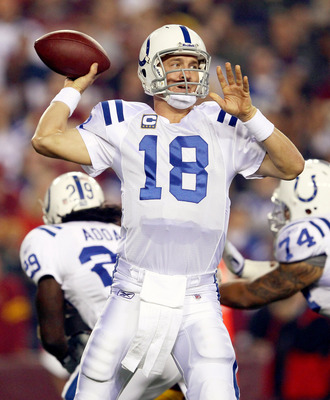 Win McNamee/Getty Images
No running game. No Dallas Clark, who is out for the rest of the season.
But boy, this Peyton Manning guy is pretty darn good. Not sure the Colts (5-2) can match up physically with some of the other AFC heavyweights, but Manning always gives them a chance to win.
No. 5: Tennessee Titans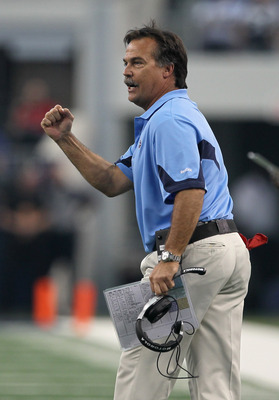 Stephen Dunn/Getty Images
Tennessee (5-2) came alive late, scoring 27 points in the fourth quarter to overcome a 19-10 deficit against Philadelphia.
Kerry Collins tossed three touchdowns to Kenny Britt in place of Vince Young.
Loved this stat while reading Peter King's Monday Morning Quarterback on SI.com yesterday: Tennessee started last season 0-6 and is 13-4 since.
Jeff Fisher is one of the best in the business.
No. 4: Baltimore Ravens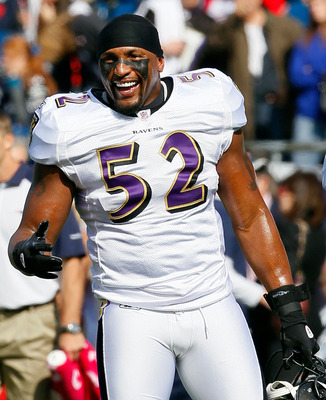 Jim Rogash/Getty Images
You get Ed Reed back in an already lethal secondary, and you don't expect to have too many problems against a Buffalo team that was seeking its first win.
But Baltimore never got on track until it mattered most when they rallied for an overtime win at home.
Joe Flacco is looking more and more confident, and Ray Lewis is still the best defender in the league.
These guys will be a tough out come playoff time.
No. 3: New England Patriots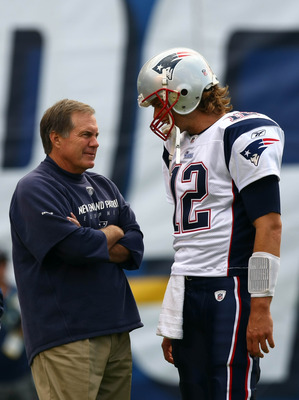 Donald Miralle/Getty Images
No Randy Moss? No problem—which surprised me. But they are still the Patriots (5-1), and you have to give them their due.
Danny Woodhead and Deion Branch are doing just fine, thank you. And so is that Brady guy.
2. New York Jets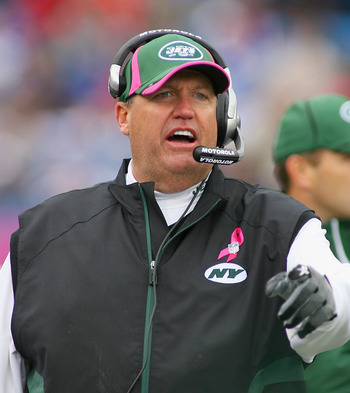 Rick Stewart/Getty Images
Seemed like a quiet week for the loudest of teams, even with the bye week.
The Jets are living up to expectations so far, and I didn't think they would do better than a 7-9 season personally because of all of the off-field drama.
They are the most dangerous team in the league, especially when Mr. Revis is healthy.
No. 1: Pittsburgh Steelers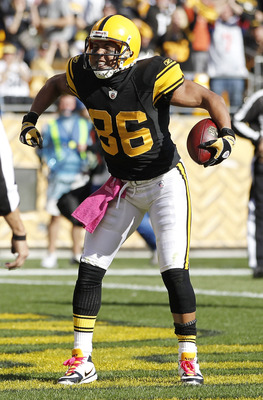 Gregory Shamus/Getty Images
A punishing defense is the heart and soul of this team. Pittsburgh (5-1) survived the first four weeks of the season with Charlie Batch and Dennis Dixon playing quarterback.
Now with Big Ben back in the fold, there is no telling how good this team can be. And it won't even need the help of instant replay to get there.
Keep Reading