Fantasy Football Week 8: Tuesday Injury Updates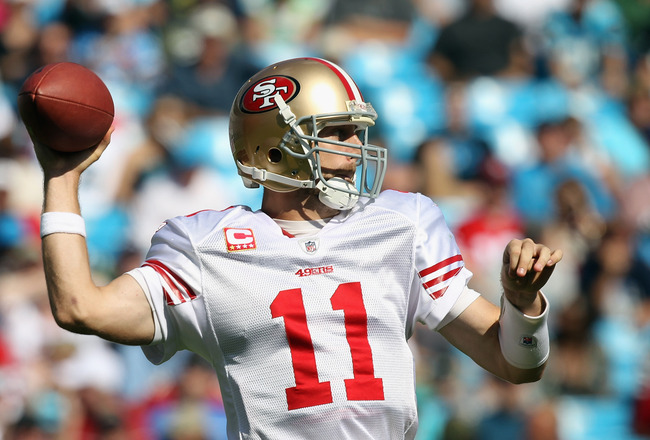 Streeter Lecka/Getty Images
Alex Smith will not be in any hurry to return to London.
Much of Smith's time this week will be spent under the care and observation of English doctors, as well as team trainers, as the 49ers try to get their starting quarterback ready to play Sunday against Denver.
Smith hurt his left shoulder on a third-quarter sack and will have his non-throwing arm in a sling while waiting to learn more about the injury. His status for Week 8 is very much in doubt.
Smith was not alone in suffering major shoulder injuries this week, although compared to Cowboys quarterback Tony Romo, Smith caught a break. Romo appears to be out for the bulk of the remaining season after having his clavicle broken Monday night against the Giants.
Romo and Smith lead a long list of injured potential fantasy studs, some of whom may not be in the lineup for their respective teams this week. Here are the 10 biggest injury concerns going into Week 8.
10. Vince Young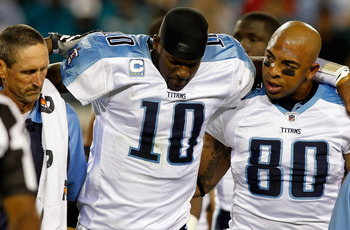 J. Meric/Getty Images
Young was active, technically speaking, but Kerry Collins played the whole game Sunday, and Young may not be back in Week 8 as he deals with knee and ankle injuries. Titans head coach Jeff Fisher said he is optimistic about Young, but noted that the Titans looming bye in Week 9 would give his young quarterback time to really rest his valuable legs.
Young did not practice all week last week, so if he makes it onto the field for even light passing drills this week, it would be an encouraging sign. Still, Collins and Young could flip a coin for the starting job next week, as each has a significant but not necessarily debilitating injury to deal with.
9. DeAngelo Williams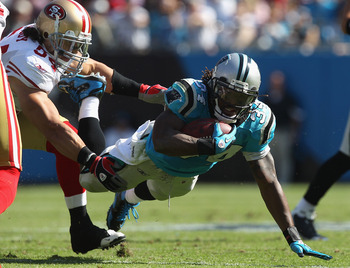 Streeter Lecka/Getty Images
The disappointing season for Carolina's sometime star running back got worse Sunday, as he sprained a foot in the Panthers first win of the season. Head coach John Fox says the injury is not serious, and Williams could well be on the field this Sunday in St. Louis.
Because the game is on the artificial turf of the Edward Jones Dome, however, Fox and his staff may elect to be a bit more careful with Williams. Injuries to the feet can be pesky, and Williams has struggled with his explosiveness all year. He will probably play in Week 8, but keep a close eye on his progress this week. Officially, he is listed as day-to-day.
8. Brett Favre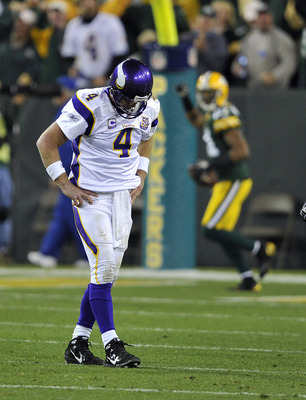 Jim Prisching/Getty Images
Fantasy owners have probably long soured on Favre in his second and less successful go-around with Minnesota. Still, it has to be news when someone of Favre's noted durability comes up against something this serious.
The Minnesota signal-caller has not one but two fractures in his left ankle, according to reports. That sounds like something no one could play through, but then, Favre has played through torn knee ligaments and a broken thumb, so it could very well be that he takes the field this week against New England.
How effective will he be if so? That could be another story altogether. Then again, Favre and wide receiver Randy Moss each have something to prove in Foxboro. It should all be fun to watch.
7. Anthony Gonzalez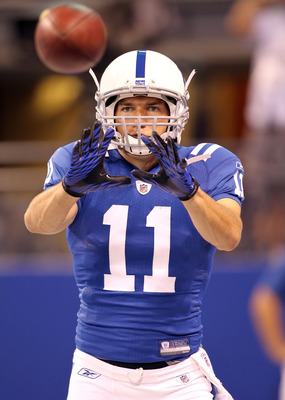 Andy Lyons/Getty Images
Recent reports had Gonzalez in danger of missing even more time after a setback in his recovery from a high ankle sprain, but Gonzalez denies that. He says he feels very good about his chances of returning this week, when the Colts take on the Texans on Monday night.
If true, that report makes Gonzalez a must-start for the Colts and fantasy players. Houston's pass defense is miserable, and the Colts passing attack will look to avenge a tough Week 1 loss in which Peyton Manning and company seemed stuck in neutral.
Gonzalez stopped short of saying he will absolutely play, so watch him throughout the week. As of Tuesday morning, though, he seems well on his way to a Week 8 return.
6. Matthew Stafford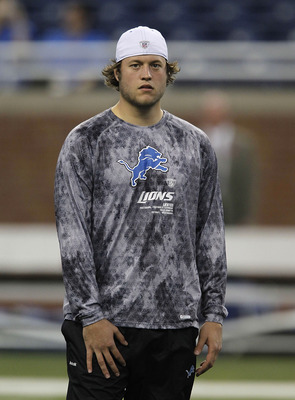 Leon Halip/Getty Images
Photos like these are all Lions fans have seen of Stafford since the first half of the team's Week 1 loss. That makes the news out of Lions camp this week all the more encouraging.
Stafford seems on track to return this week against the Redskins, after working his way up to full and unlimited practice this week during the Lions bye. Reports indicated that Stafford showed no lingering effects of the injury.
Stafford injured his AC joint on Sept. 12, essentially a more severe version of the injury Alex Smith suffered Sunday. Stafford has not taken the field since, but apparently, he is a go for Halloween inside Ford Field.
5. Austin Collie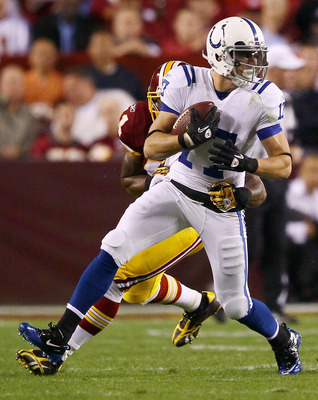 Win McNamee/Getty Images
Thank goodness for Anthony Gonzalez, because Collie's prognosis is as bad as Gonzalez's is good.
The Colts' second-leading receiver will miss "several weeks" after a thumb injury that will require major surgery, according to a report out of Indianapolis.
The surgery is the last resort for Collie, but he had no other viable option after sustaining the injury last Sunday against Washington.
4. Reggie Bush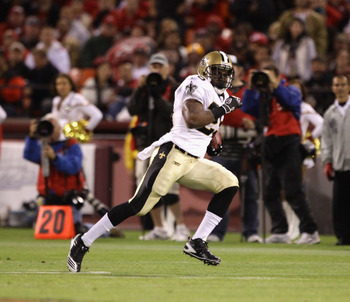 Ezra Shaw/Getty Images
Six weeks after breaking his leg, Bush appears close to a return. Whether or not it will happen this week remains to be seen.
He has begun practicing with the team but is not yet at full speed, according to reports. Still, Bush, feels optimistic that he could return this week against Pittsburgh.
Keep a close eye on Bush's quotes this week—he can be a bit more revealing than other athletes, as in this Washington Post article. He still sounds a bit tentative and may not play. Even if he does, the Steelers defense is a daunting opponent for a back fresh off a broken leg. As badly as the New Orleans offense has missed Bush and fellow back Pierre Thomas, though, he is probably worth the play Sunday night if he does decide to return.
3. Steven Jackson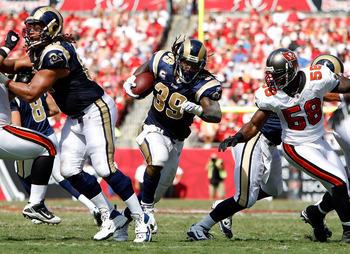 J. Meric/Getty Images
Jackson kept going strong with a solid game Sunday, but had surgery on his left ring finger Monday. He later tweeted that he would not miss a beat, but he will have to test his grip all week in practice to make sure the finger is up to snuff.
The most ominous news about the injury so far is that two pins were inserted to help the finger heal properly. That does not rule him out, and indeed, Jackson will practice with the team while being listed as day-to-day. Still, it may make gripping the ball harder and more painful. Monitor Jackson closely this week.
2. Tony Romo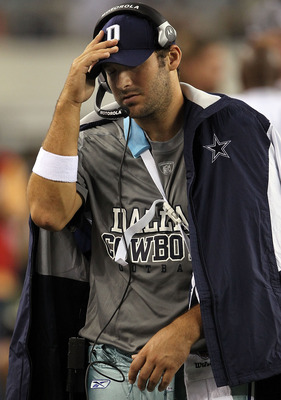 Ronald Martinez/Getty Images
A picture is worth a bunch of words, and this one—from the second half of Monday night's Dallas loss—tells Cowboys fans and fantasy owners all they need to know about Romo for the next month or two: Find another quarterback.
Romo's season may not be over, depending on how well his broken collar bone heals. Luckily, it is on his non-throwing side, which could speed his return to full strength if he can get back onto the practice field. Still, to think he will return before December is foolish. Given the Cowboys predicament this year, he may not come back even then.
1. Alex Smith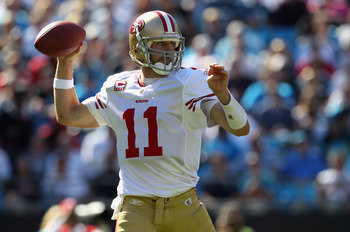 Streeter Lecka/Getty Images
The league surely hopes Smith will be ready for Sunday's showcase game at London's Wembley Stadium, as it hardly packed this year's European clash with star power to begin with.
Smith and the 49ers have a different set of priorities. At 1-6, the team has no special reason to believe they will or need to win this week, and the bye week coming up may make Smith more inclined to rest his shoulder.
He had an MRI today in England to determine the extent of the damage, but it does not appear to be a severe separation. Still, there is no way to know just yet whether or not Smith will suit up Sunday. Keep tabs on the news out of England this week.
Keep Reading