Dallas Cowboys: Look on the Bright Side To a 1-5 Record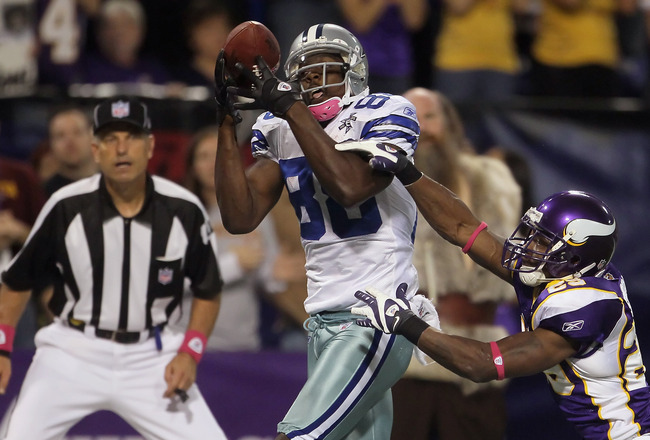 Jeff Gross/Getty Images
The night is always darkest just before the dawn.
Quarterback Tony Romo and the Dallas Cowboys must hope that is the case, after a 41-35 loss to the New York Giants at home on Monday night. Romo broke his left collarbone on a second-quarter hit, the team continued to struggle on the defensive side of the ball and it never established a ground game even after Romo's departure.
At 1-5, Dallas now has a long uphill climb to get back into the sloppy race for the NFC playoffs. With Romo reportedly shelved for at least six weeks, it may be impossible for the Cowboys to seriously contend.
Then again, it may not. There is still hope for a wild card berth in Dallas, with the level of play across the league being down this season. There is no apparent juggernaut hogging the NFC spotlight. Even if the Cowboys don't make it, they could prove quite a bit about their team's character going forward by finishing strong and making the most of what they have. What follows are 10 reasons the season is not a total loss for the Cowboys.
What are the reasons for hope in Big D? Why should Dallas fans even care, with their team ostensibly out of the playoff hunt? How will Romo's absence actually help the team? Read on.
10. The Worst May Be Behind Them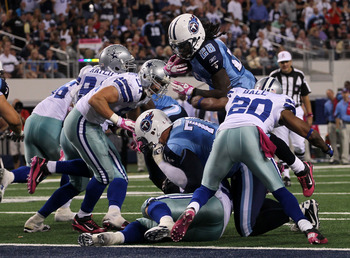 Stephen Dunn/Getty Images
The Cowboys have played the most difficult schedule in football so far, as formulated by Pro Football Reference. It may not seem daunting, but the 'Boys had to play surprisingly tough teams like the Chicago Bears, Tennessee Titans and Houston Texans early in the season.
From here on out, things get a bit softer. Jacksonville and a depleted Green Bay are potential wins for Dallas over the next two weeks, after which the Cowboys get a chance to avenge their loss to New York last night. Detroit and Arizona are also on the schedule.
9. The Defensive Pieces Remain In Place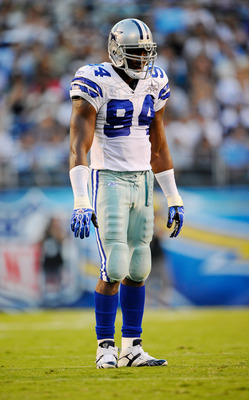 Kevork Djansezian/Getty Images
The Cowboys' defense has struggled this year: They rank seventh in yards allowed, but 23rd in yards allowed per play. It has been ugly and it has led to opponents putting up huge point totals on Dallas. Their last three losses have been by a combined 16 points, but Cowboys opponents have scored a total of 99 points in the three games.
Still, the pieces that once made the defense sturdy are still there. DeMarcus Ware continues to anchor a strong pass rush, while Jay Ratliff clogs the middle and Terrence Newman defends the outside. Without question, defense is this team's area of greatest need, but the talent is in place for them to turn this around quickly.
8. Felix Jones Becomes a Complete Player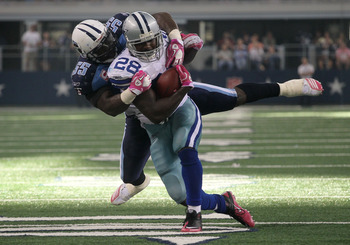 Stephen Dunn/Getty Images
As the new feature back of the Dallas offense, Jones has seen his yardage per carry drop all the way from 5.9 last season to 4.4 this year. Still, there is reason to believe he is maturing and improving.
Jones caught just 19 passes all of last year, totaling 119 yards. It has taken him only six games to eclipse those figures this year, and his ability to catch the ball and create out of the backfield could come very much in handy now that Dallas will be looking to Jon Kitna to make some plays.
7. Roy Williams Is Not Dead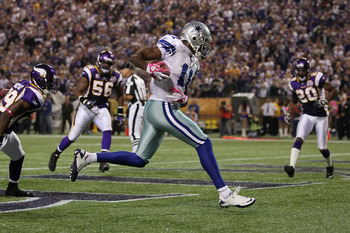 Jeff Gross/Getty Images
The rumors of Williams' demise have been greatly exaggerated.
The one-time Pro Bowl receiver seemed to have all but withered in 2008, when he caught just two touchdowns and finished the year with 36 receptions—narrowly more than half the amount of receptions he had in fewer games in 2007. The 2009 season was no resurrection. Although he managed seven scores, Williams totaled only 38 catches for 596 yards.
Despite being shut out on Monday night, Williams already has 21 catches and five touchdowns this year. The loss of Romo, with whom Williams had just recently developed a rapport, could hurt—or not. Kitna was the starting quarterback for the Lions in 2006 and 2007, Williams' great seasons.
6. Protection Is Key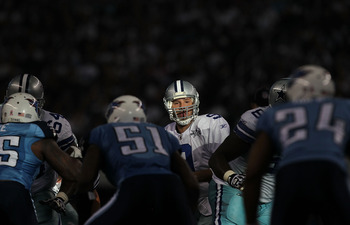 Ronald Martinez/Getty Images
Don't tell Romo, who was injured when an unblocked Michael Boley slammed him to the turf at Cowboys Stadium, but the Dallas offensive line has actually been great this season. Only three teams have surrendered fewer sacks, although part of that credit goes to Romo himself.
The Cowboys will be pleasantly surprised by their results with Kitna at the helm if their O-line can give him the same sort of protection. Kitna throws a good deep ball and makes smart choices when has the time to do so, making him a solid fit in the team's vertical passing offense.
5. The Punting Game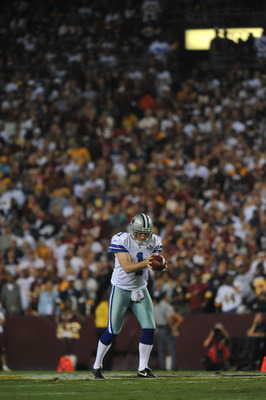 Larry French/Getty Images
Dallas' struggles in the field goal and kick coverage departments have been justifiably well-documented, and have cost them games. When it comes to punting though, they do a great job changing field position for the better.
Mat McBriar ranks fifth in the league in yardage per punt, and has the leg to get a ton of hangtime on even longer kicks. Meanwhile, the Cowboys' own punt return squad is one of the league's most dangerous, with two returns for touchdowns already this year and a league-high 16.9 yards per return.
4. It All Evens Out
Ronald Martinez/Getty Images
Against the Texans in Week 3, Dallas looked good, winning by a handy 14 points for its only victory of the season to date. Strangely though, their five losses have all come by seven points or fewer.
A couple of those contests—against New York and Chicago in particular—were not as close as the score indicated. Still, the heart-breaking losses the team has endured have often been the result of just one or two instances of poor late-game execution. That can be a lingering problem of course, but on a team with as much talent and experience as this one, it seems like the breaks are bound to turn Dallas' way sooner or later.
3. Jon Kitna Is a Good Plan B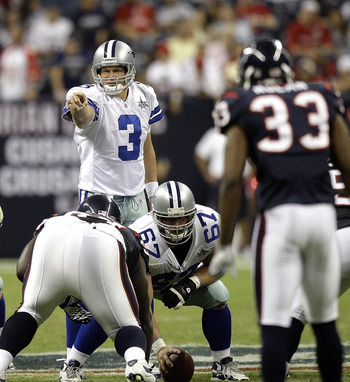 Bob Levey/Getty Images
Despairing over the loss of Romo, as though it were the worst the team has dealt with this year, would be folly for Cowboys fans. Kitna is a competent, intelligent NFL quarterback. At 38, he is not the same passer who six times eclipsed 3,000 yards in his career, but he remains an aggressive and hard-nosed signal-caller.
Kitna has always enjoyed cutting it loose and passing with regularity, which seems to have been the Dallas coaching staff's predilection all year anyway. With better protection than he has ever had and as many weapons, Kitna could be a dangerous quarterback one last time for Wade Phillips over the next six-to-eight weeks.
2. Be Afraid, NFC Cornerbacks. Be Very Afraid.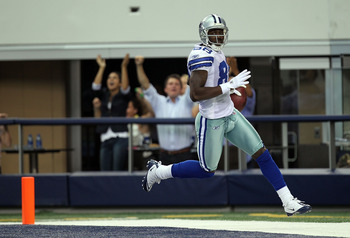 Ronald Martinez/Getty Images
Dez Bryant looked pretty good over the season's first five games, scoring once on a punt return and once on a reception and generally threatening to go off on an opposing defense. On Monday night, the Bryant bomb exploded.
After a 93-yard second-quarter punt return for a touchdown, Bryant really got it going when Kitna took over for the injured Romo. He caught two fourth-quarter touchdown passes from Kitna that almost got the Cowboys back into game. It ended up being too little, too late, but Bryant and Kitna sent a message with their end-game fireworks: Bryant is going to make some people look bad before this season ends.
1. Losing Can Be a Pre-Requisite To Winning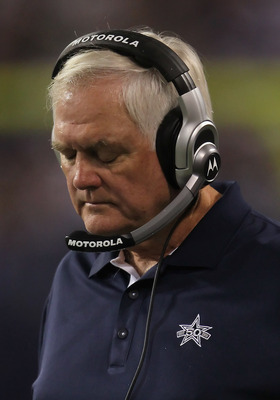 Jeff Gross/Getty Images
Jerry Jones has thus far resisted the temptation to fire head coach Wade Phillips, but that could change. In fact, a lot of things could shake up over the offseason if Dallas cannot put together a miraculous second half and at least push for a playoff berth.
Last year's Saints and the 2007 Giants provide a road map to winning a Super Bowl just a year after finishing 8-8, a record that still is not out of reach for the Cowboys. Even if Dallas doesn't get there, they will only have an even better draft pick with which to work, and if they leverage it well, they would potentially by in position to make a run at the Super Bowl in the 2011 season.
Keep Reading

Dallas Cowboys: Like this team?