Dallas Cowboys vs. New York Giants: 10 Keys To Victory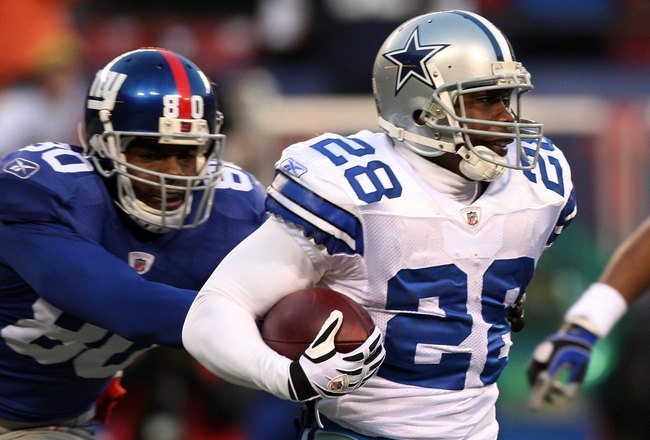 Jim McIsaac/Getty Images
Dun, nuh, nuh, nuh, dun, dun, dun, dun.
It's Monday Night Football and tonight we get to see an NFC East clash between the New York Giants and the Dallas Cowboys.
New York is strolling in this week after a close win over the Detroit Lions last week.
Dallas comes in after a tough loss at the hands of Brett Favre and the Minnesota Vikings.
However, when these two teams meet, you can essentially throw out the record books as it's essentially a battle of the two top media markets in New York and Dallas.
I'm going to break down five keys for a Dallas victory, and five keys for a New York victory as well.
Enjoy.
Tony Romo Must NOT Turn the Ball Over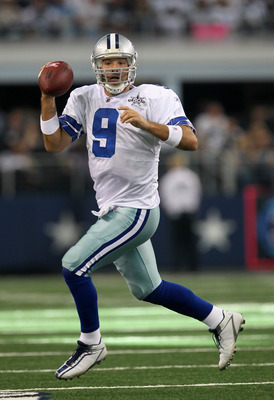 Stephen Dunn/Getty Images
Tony Romo has taken the reins of the Dallas Cowboys, and he has been steering them in the right direction.
However, he has one major flaw—he forces far too many passes that end in back-breaking interceptions.
Last week, Romo forced a pass over the middle that was picked off by Minnesota's E.J. Henderson to seal the 'Boys' fate.
Two weeks ago Romo forced a tough pass into Martellus Bennett, and it too was picked off and run back for an easy Titans score.
If the Cowboys want to win this game, Romo has to keep the turnovers away.
Felix Jones Must Be a Focal Part of the Running Game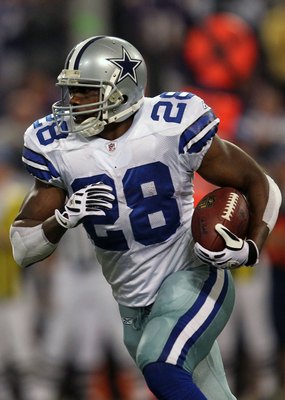 Chris McGrath/Getty Images
Jones has been a key contributor the past two weeks for this Cowboys offense. What he needs now is even more of an opportunity to show off that game-breaking speed he possesses.
Jones has averaged almost 100 total yards in his past two games against the Titans' and Vikings' stout run defenses.
If Felix is involved early and often, then there could be a great chance of a big play from him.
Please, No More Celebration Penalties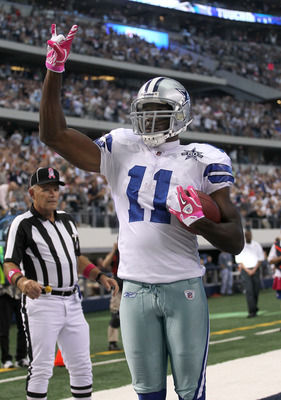 Stephen Dunn/Getty Images
A huge penalty after a big score is the last thing a team needs, but the Cowboys keep bringing it back upon themselves.
Two weeks ago against the Titans, Marc Colombo celebrated after a touchdown and cost Dallas 15 yards on a kickoff. The ensuing kickoff was taken back to the Cowboys' seven-yard line, leading to the Titans' game-winning score.
Last week Roy Williams and Sam Hurd did signals for their alma maters, and it cost the team 15 more yards.
For the love of all things football, please Dallas Cowboys, no more celebration penalties.
The Run Defense Must Hold Ahmad Bradshaw in Check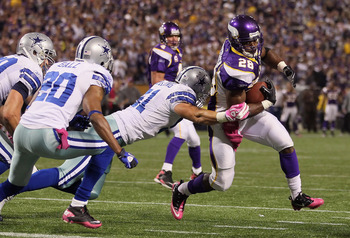 Jeff Gross/Getty Images
Ahmad Bradshaw has established himself as the lead pony in the Giants backfield and has run with it, literally.
Bradshaw is a threat to break out a big play consistently, and deserves to be watched closely by this Cowboys defense, specifically Keith Brooking.
Brooking has stated that he wants to be the one who steps up and makes plays for this defense, so here is his opportunity to shut down the Giants' key ground game and force Eli Manning to win the game.
The Cowboys MUST Key in on Hakeem Nicks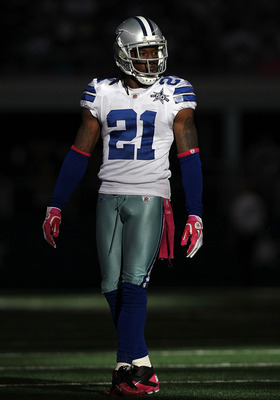 Ronald Martinez/Getty Images
Hakeem Nicks has lit up NFL secondaries this season, so Mike Jenkins is going to be a focal part of this game.
If Nicks can be held in check, then the Giants vertical passing game could lag.
Another fallout is that it would force even more pressure on Ahmad Bradshaw and Brandon Jacobs to produce.
Mike Jenkins needs to play a great game.
Eli Manning Must Exploit the Middle of the Field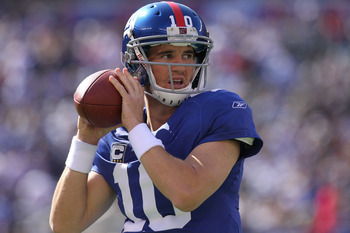 Nick Laham/Getty Images
Manning has had a solid season with a few up's and down's, but he still remains a threat to burn any defense.
With the adding presence of Ahmad Bradshaw, play action should be used early and often.
If Eli can put passes over the linebackers to Hakeem Nicks, Steve Smith and Kevin Boss then the G-Men will be successful.
Admad Bradshaw Must Run the Ball and Be Effective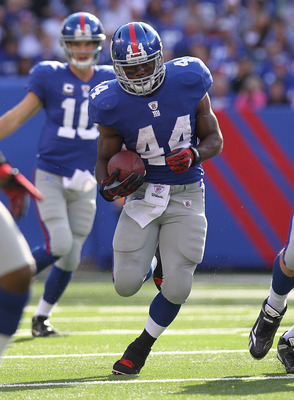 Nick Laham/Getty Images
Bradshaw and Brandon Jacobs have to set the tone for this game on the first drive of the game.
If the Giants can come out and set the tone for the game, then Eli Manning and the defense now have time to strike.
A long drive for a score would be a punch in the mouth to the Cowboys defense and would only be good for New York.
Terrell Thomas and Giants Secondary Must Be On Their Game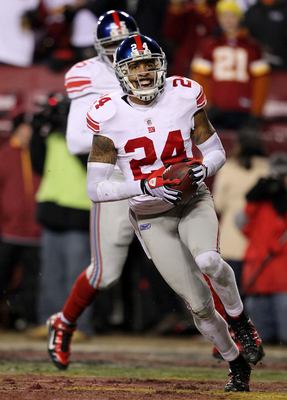 Al Bello/Getty Images
Terrell Thomas is a gamer at cornerback. Miles Austin is a gamer at wide receiver.
However, the Giants do have Corey Webster and Kenny Phillips as well to help out and cover the plethora of Cowboys receivers.
The G-Men's secondary is one of the best in the league, and will be a true challenge for Tony Romo.
Thus, the Giants have to take advantage here and shut down the aerial attack.
Hakeem Nicks Must Be Involed Constantly in the Passing Game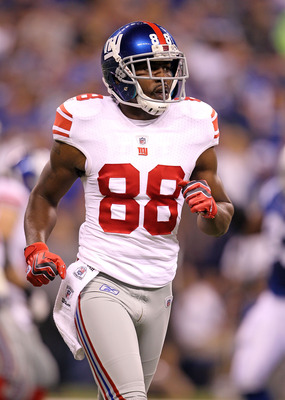 Andy Lyons/Getty Images
Hakeem Nicks has been nothing short of a stud all season long.
However, the Detroit Lions made it key to take Nicks out of the game, as they constantly had two defenders on him. That's a problem.
The solution is simple though. Find ways to get the ball in Nicks' hands.
With the addition of the play-action game to the Giants offense, a few deep passes to Nicks are surely possible, and he will need to pull in a couple to deliver some knockout blows to the Dallas secondary.
Keith Bulluck, Osi Umenyiora and Justin Tuck Must Stop Dallas Rushing Attack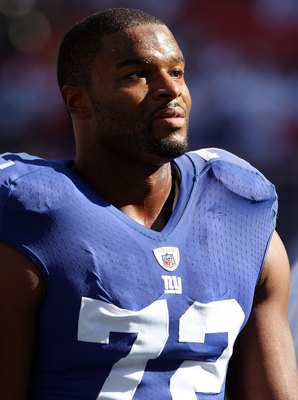 Jim McIsaac/Getty Images
This is essentially a call-to-arms for the Giants rushing defense.
If the Giants can force Marion Barber and Felix Jones to nothing on the ground, then Tony Romo will be forced to make plays happen.
This will fall right into the Giants wheelhouse and a few picks could take place and cost the Cowboys big time.
It starts as simply as stopping the rushing game, but if the Giants do it will put them in perfect position to notch a win on Monday Night.
Keep Reading

Dallas Cowboys: Like this team?