Philadelphia Eagles-Tennesse Titans: Taking a Look at the Eagles' Studs and Duds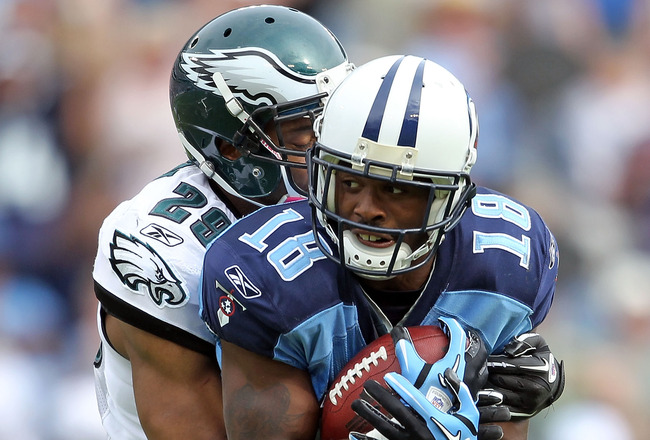 Andy Lyons/Getty Images
The disappointing loss has had a day to sink in, so now it's time to reflect. It seems as though the Eagles were two different teams on Sunday. The team in the first half wasn't brilliant, but it was doing what it had to in order to win the football game. In the second half, particularly the fourth quarter, things got real ugly.

It's no question that the turning point in the game was the fumbled exchange between Kevin Kolb and LeSean McCoy right outside the Titans goal line. I really don't pin the play on either of them, as there was a missed blocking assignment and Kolb got blown up before he could take two steps back and hand the ball off. Why did the team melt down after that? I'm not so sure, but it wasn't fun to watch.

Today I take a closer look at the game and nominate the Eagles I thought were studs and duds.
Stud: Riley Cooper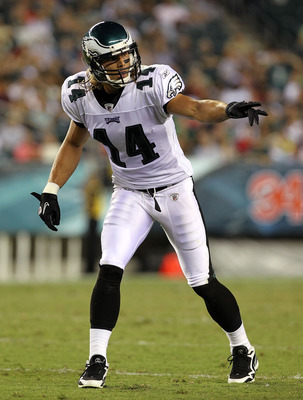 Nick Laham/Getty Images
With DeSean Jackson out, the Eagles needed some other receivers to step up. Cooper didn't have huge numbers on the day, but I was impressed by what I saw. He turned what would have been an interception into a big play for the Eagles then was able to score to give the Eagles their first touchdown of the day. On the day, Cooper ended up with three receptions for 51 yards and a touchdown.
Stud: LeSean McCoy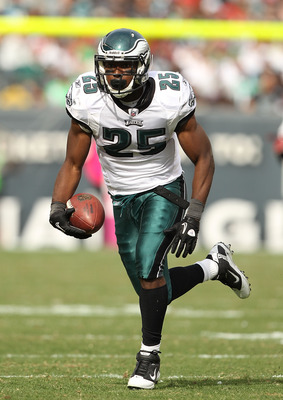 Al Bello/Getty Images
Not a huge number day for McCoy but I still love everything I'm seeing from him. He rushed 16 times for 48 yards and added six receptions for 54 yards. When he catches the ball, he's consistently making the first defender miss and setting himself up for nice runs. Sometimes he worries me because of the way he carries the football (seen in the photo), but he did not turn the ball over on Sunday.
Stud: Antonio Dixon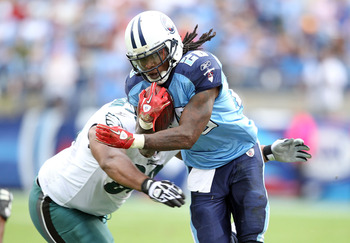 Andy Lyons/Getty Images
Dixon has stepped up very nicely in the absence of Brodrick Bunkley. Against the Titans, he was a big part of shutting down Chris Johnson. He recorded 7 tackles, including a sack, and also deflected two passes at the line. It's nice to have a guy like Dixon step up into a starting role and play at a high level.
Stud: David Akers
Andy Lyons/Getty Images
After a brutal week against the Falcons, Akers proved to be the kicker we know him to be as he was called upon early and often against the Titans. He was 4-4 on the day and knocked down two field goals from 40+ yards. I don't think anyone was overly concerned after Akers had the bad week against the Falcons, but it's still nice to see him bounce back the way he did.
Dud: Kevin Kolb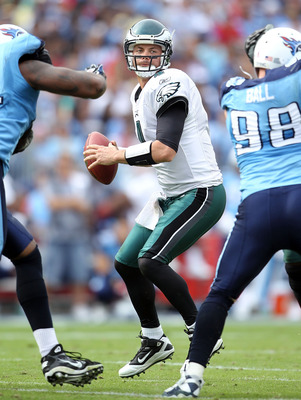 Andy Lyons/Getty Images
Kolb started what could be his last game of the season as Andy Reid announced he will go back to Michael Vick as the starter after the bye. Part of this probably has to do with the sub par performance he put in against the Titans. Kolb was 26-48 on the day for 231 yards with one touchdown and two interceptions. A lot of his decision making was bad he wasn't stepping into a lot of his throws. Some of this had to do with the pressure the Titans were getting, but it was still a very poor day for Kolb.
Dud: Ellis Hobbs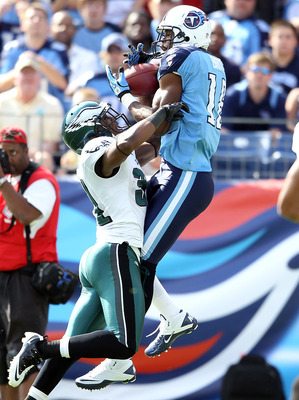 Andy Lyons/Getty Images
Hobbs had a big part in helping Kenny Britt look like the best receiver in the league on Sunday. Just to emphasize this, Britt had seven catches for 225 yards and three touchdowns. All other receivers combined for 51 yards. There was definitely a size advantage for Britt, but that wasn't even the problem most of the time. Hobbs let Britt get behind him and allowed him to settle into gaps in the defense that turned into big plays.
Dud: Nate Allen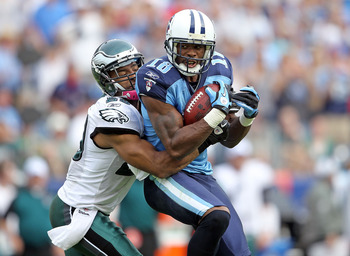 Andy Lyons/Getty Images
Allen has to take some of the blame for Britt's day as well. He was the deep man on most of the plays and played Britt too softly, allowing him to catch the ball and turn it into big plays. He's a rookie and has played well through the season, but he's going to get torn up in film sessions this week. I think he's going to be a good safety, so we will see if he can learn from the mistakes he made this week.
Dud: Jorrick Calvin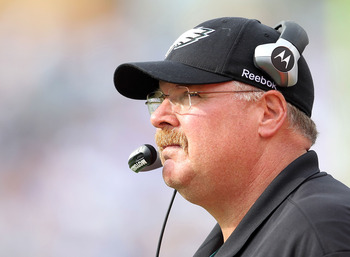 Andy Lyons/Getty Images
That final fumble. Come on man. I thought we were passed the Reno Mahe days where we actually had return guys who wouldn't drop the football. The fumble was at the absolute worst time, and gave away any chance of the Eagles making a comeback in the game. I can also think of at least one situation that he signaled for a fair catch, but could have easily made a return on the ball.
Keep Reading

Philadelphia Eagles: Like this team?