Top 50 Most Underrated Players in the NFL Today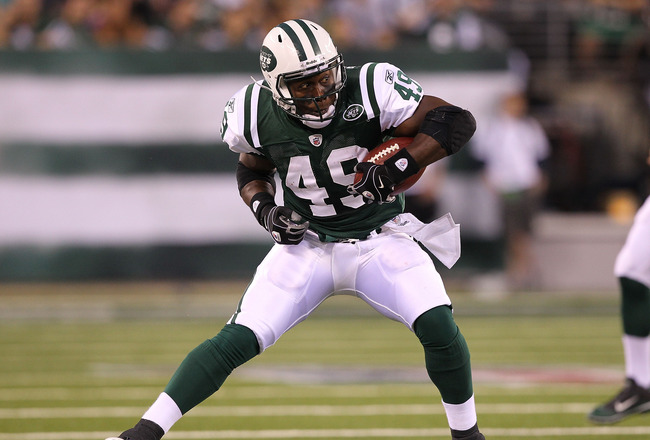 Al Bello/Getty Images
Holy Tim Tebow! The college player that everyone couldn't stop talking during his days as a Florida Gator is an underrated NFL player?
You bet he is. The guy still is the object of much scrutiny because they don't believe he can succeed in the NFL.
He's one of the players on this list. Who else is in it?
You're going to have to view the slideshow to find out.
Enjoy! Here are the 50 most underrated players in the NFL today.
50. Josh Freeman, QB, Tampa Bay Buccaneers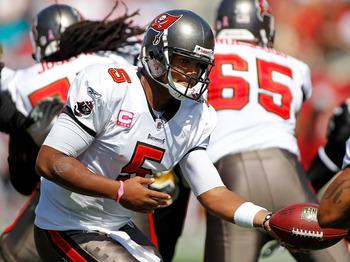 J. Meric/Getty Images
He started the season as a big surprise with back-to-back two touchdown games and was a big reason that young Bucs are off to solid start this year.
Freeman has shown good poise and maturity as their leader and could be on the verge of breaking out this year.
49. Mario Manningham, WR, New York Giants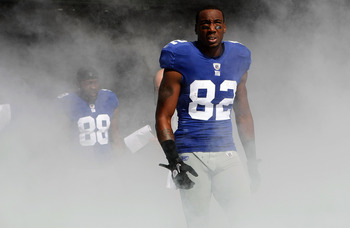 Nick Laham/Getty Images
With Steve Smith and Hakeem Nicks on the team, it's easy to overlook Mannigham.
The original knock on him was his inability to get more yards after the catch but this year he's shown that he's gotten better at that weakness.
48. Marshawn Lynch, RB, Seattle Seahawks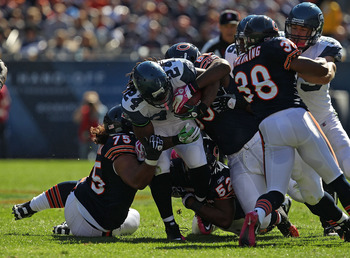 Jonathan Daniel/Getty Images
The Bills practically gave him away for a 2011 fourth round draft pick and a conditional choice in 2012, after initially investing a first rounder on him.
Clearly, the Bills just gave up on the guy, probably because of his off-the-field transgressions.
In his first two seasons in the league, Lynch ran for over 1,000 yards. At 24 years old his best running days should still be ahead of him.
47. Jacob Ford, DE, Tennesee Titans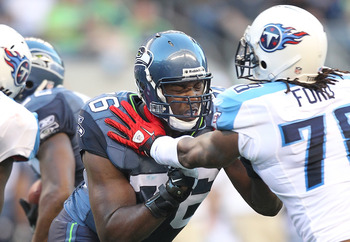 Otto Greule Jr/Getty Images
Ford is one of the best players on the Titans' defensive line. Despite playing on half of the team's defensive snaps last season Ford was able to collect 5.5 sacks.
He remains a very underrated pass rusher on the team.
46. Ray Rice, RB, Baltimore Ravens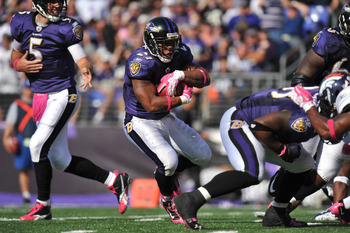 Larry French/Getty Images
He accounts for a lot of the Ravens offense although he rarely gets credit.
Last season he rushed the ball for 1,339 yards and seven touchdowns. As a pass-catcher he caught the ball an impressive 78 times for 702 yards. That's over 2,000 combined yards from Rice.
And this year, his pace seems to have been slowed a bit but he's still a threat on the running and receiving fronts.
45. Darren Sproles, RB, San Diego Chargers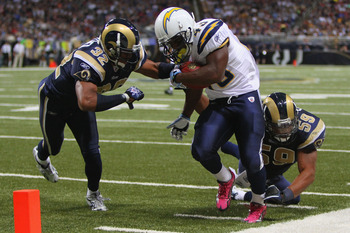 Dilip Vishwanat/Getty Images
Sproles has been a very solid all-purpose guy for the Chargers in his six seasons with the team.
At 5'6" he may be smallish but he definitely gets the job done as a rusher, receiver and kick returner. And sometimes as a spot-starter at running back.
44. Gary Brackett, LB, Indianapolis Colts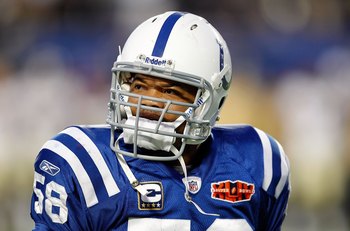 Jonathan Daniel/Getty Images
He's a true leader and stabilizer in the Colts defense but sometimes gets forgotten among a crew that includes Robert Mathis and Dwight Freeney.
But Brackett is solid and consistent. Although some people may undervalue his contributions to the team as a locker room presence, the Colts believe in him so much that they've been willing to pay him as much as some of the top linebackers in the league.
43. Frank Gore, RB, San Francisco 49ers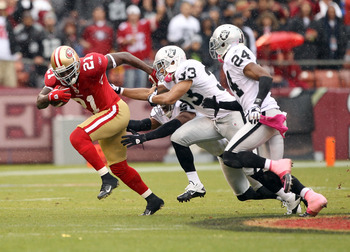 Ezra Shaw/Getty Images
There's always talk about Michael Crabtree and Alex Smith out of San Francisco but the truth is those guys are inconsistent.
Gore is probably the only guy that can be counted on in their offense. Gore has ran for over 1,000 yards in four straight seasons.
42. Robert Meachem, WR, New Orleans Saints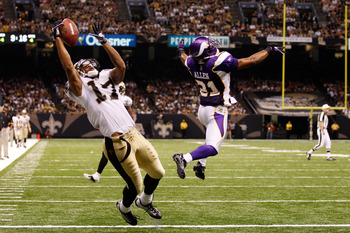 Chris Graythen/Getty Images
Meachem's value is extremely high to the team when he is healthy.
He's a completely different player when his health is not an issue. In his last two games, the Saints have been actively trying to give him more looks on offense because he's a trusty receiver that rarely drops the ball.
That's how much they believe in him. He's rewarded them with two touchdowns.
41. Malcom Floyd, WR, San Diego Chargers
Stephen Dunn/Getty Images
The absence of Vincent Jackson has left a big void in the Chargers' receiving game but Floyd has done well enough in his absence.
Tallying 513 receiving yards and three touchdowns in six games is a pretty statistical line. But everyone is still thinking about Jackson.
40. Derrick Mason, WR, Baltimore Ravens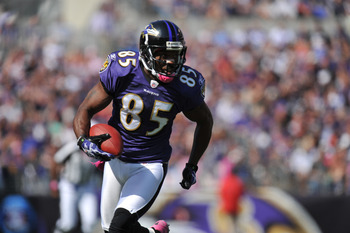 Larry French/Getty Images
Old man Mason at 36 years remains a consistent target at wide receiver for the Ravens. Even though some people discount his abilities because of his age, Mason has still been able to deliver.
In his most recent game against New England, Mason caught the ball eight times for 100 yards.
39. Davone Bess, WR, Miami Dolphins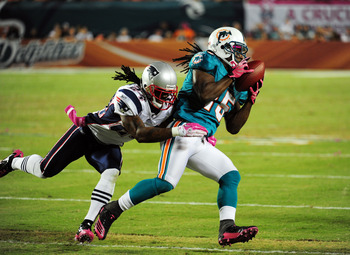 Scott Cunningham/Getty Images
He's a young up-and-coming pass-catcher on the verge of breaking out this season alongside Brandon Marshall.
He has shown a little bit of his abilities this year and has thrived playing second fiddle to Marshall. Bess has already matched last year's touchdown total with two.
38. Kevin Kolb, QB, Philadelphia Eagles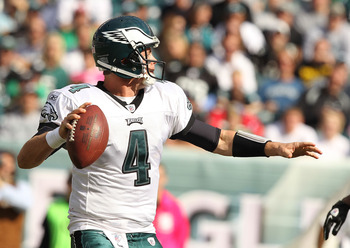 Al Bello/Getty Images
He came into the season highly-touted by the Eagles brass but with the emergence of Michael Vick suddenly fell back in the depth chart.
It's tough when you're playing behind a very exciting player but he's the Anti-Vick. Conservative and takes very few risks.
37. Josh Cribbs, WR, Cleveland Browns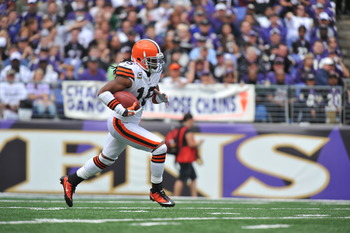 Larry French/Getty Images
Cribbs has the talent to be a receiving and a return threat with the Browns but he's being underutilized in the offense.
He's got game-breaking ability that could definitely boost an otherwise stagnant Browns attack.
36. Jonathan Stewart, RB, Carolina Panthers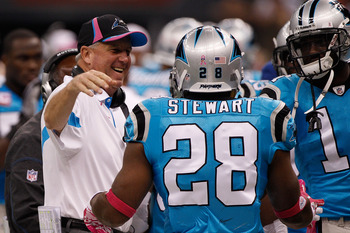 Chris Graythen/Getty Images
Is a very capable runner that doesn't get enough respect because he shares the backfield with DeAngelo Williams.
Last season, Stewart rushed for over 1,000 yards and collected ten touchdowns. This year, he seems to have been lost in the Panthers' offensive struggles.
But don't be deceived, the kid is only 23 and there's still plenty of talent waiting to burst out given the opportunity.
35. Wesley Welker, WR, New England Patriots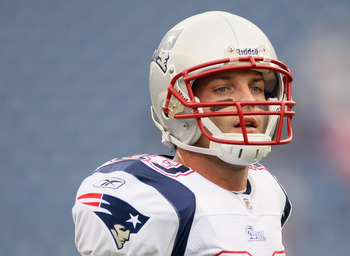 Elsa/Getty Images
As a trade acquisition for the New England Patriots in 2007, not many people thought much of Welker. Until he started going off as a receiver alongside Randy Moss.
The guy is the consummate underdog. He was an undrafted free agent that has worked his way to prominence.
After his injury last season some questioned whether he would regain his form. Now with Moss' departure many are remain skeptical about his production. This guy works his butt off and he will find a way to succeed. Don't doubt him.
34. London Fletcher, LB, Washington Redskins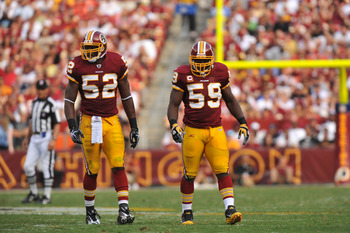 Larry French/Getty Images
He's a one man tackling machine. Year in and year out, Fletcher never disappoints.
He just rarely gets recognized for his contributions. After 13 years in the league, Fletcher has only made the Pro Bowl once.
33. Jason Jones, DT, Tennessee Titans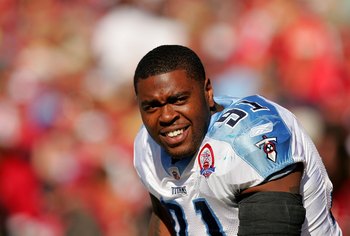 Ezra Shaw/Getty Images
Jones has been in the league for three seasons but has been sidelined with injuries to show to consistently show his impact on defense.
When health is not an issue, Jones is extremely difficult to block and is a big presence on the defense and puts a lot of pressure on the quarterback.
32. O.J. Atogwe, DB, St. Louis Rams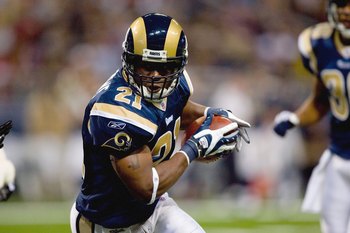 Dilip Vishwanat/Getty Images
He's arguably the best player on the Rams secondary but still doesn't get that much love from around the league.
But playing in a woeful Rams squad the past few seasons just hasn't been able to get him to earn a lot of respect.
31. Kevin Walter, WR, Houston Texans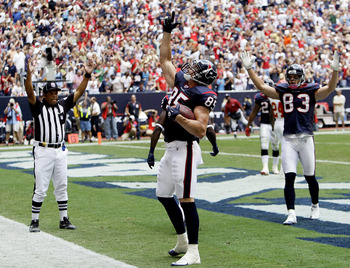 Bob Levey/Getty Images
It's hard at times playing alongside Andre Johnson, who usually gets the bulk of Matt Schaubs throws.
But Walter had an impressive start to the season with three straight touchdowns this year. He's more than proven himself as an effective number two receiver in the Texans passing attack.
His best game of the year a 144 receiving yard performance with 11 receptions and a touchdown.
30. Lee Evans, WR, Buffalo Bills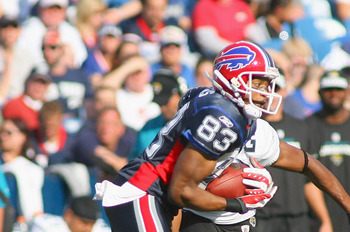 Rick Stewart/Getty Images
Evans has a world of talent but has just never had a quality quarterback to throw him the football.
He's also been very durable in his career, playing every single game in his seven years in the league.
The sad fact is that he plays in Buffalo and hasn't been able to fulfill his superstar potential because of it.
29. Matt Forte, RB, Chicago Bears
Jonathan Daniel/Getty Images
It's obvious he's been taking a backseat to the passing game in this Bears offense. He may also be a capable receiver out of the backfield but Forte is being underutilized as a runner.
As evidence of what he's capable of, take a look at Forte's numbers with Cutler absent. He rushed the ball a season-high 22 times for 168 yards and two touchdowns.
28. Roddy White, WR, Atlanta Falcons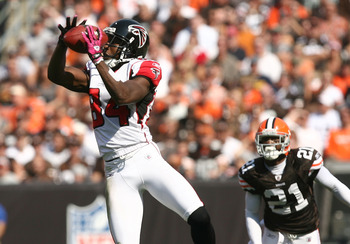 Matt Sullivan/Getty Images
Of all the number receivers in the the league, White has to be one of the most underrated.
He's coming off of three straight season with over 1,000 receiving yards and last year caught a career-high 11 TD's.
Yet his name is hardly mentioned among the best receivers in the game.
27. Phillip Rivers, QB, San Diego Chargers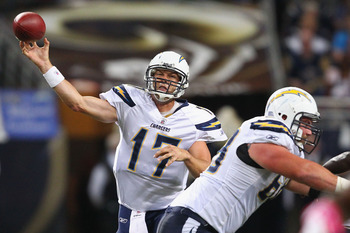 Dilip Vishwanat/Getty Images
The fact that Rivers came from the same draft class as two other Super Bowl winning quarterbacks—Roethlisberger, Manning—sometimes makes him an afterthought.
But Rivers is almost always among the leaders in quarterback rating and efficiency. But his lack of playoff success has hurt his value.
26. Ray Edwards, DE, Minnesota Vikings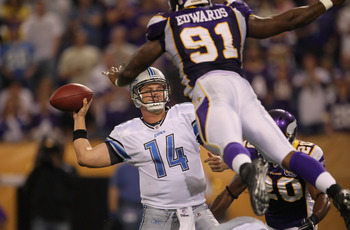 Jeff Gross/Getty Images
He's a young talent that plays opposite a star in Jared Allen.
Edwards' contributions have been somewhat overshadowed by Allen's presence but he's a very good player in his own right.
25. Kroy Biermann, DE, Atlanta Falcons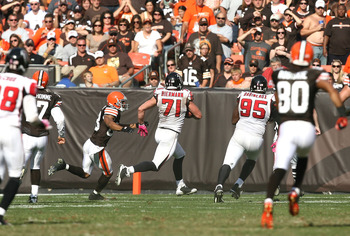 Matt Sullivan/Getty Images
He does a lot of the little things that fans out of Atlanta never notice. Last weekend he returned an interception for a touchdown.
Last year, he kicked a field goal. Did anyone remember?
24. Brandon Flowers, CB, Kansas City Chiefs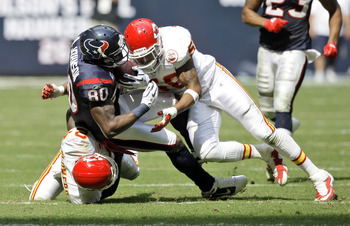 Bob Levey/Getty Images
A very good corner that gets a lot of tackles and stays on his man.
He's one of the few bright spots in the Chiefs defense. But he just often gets very little recognition for it.
23. Deion Branch, WR, New England Patriots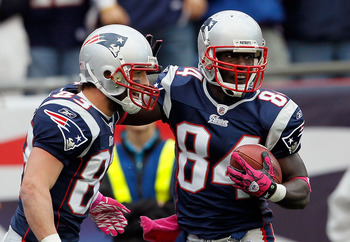 Jim Rogash/Getty Images
He was lost in Seattle and seems to have found his way with the Patriots. Branch immediately solidifies the Patriots receiving core with his addition to the squad.
He is very familiar with the offense and is also a tremendous underrated locker room presence.
22. Jamaal Charles, RB, Kansas City Chiefs
Scott Boehm/Getty Images
Charles is arguably one of the best runners in the league that no one really knows about.
Charles had an incredible 5.9 YPC average last season with 1,120 rushing yards and seven touchdowns, he also caught 40 passes for nearly 300 yards.
This season he's at it against with a 6.3 YPC average after five games. But his accomplishments has had little fanfare because he's only been limited to a touchdown this year.
21. Leon Hall, CB, Cincinnati Bengals
Streeter Lecka/Getty Images
It's been the same story for Hall after four seasons in the league.
Lots of picks. Lots of tackles.
No Pro Bowl.
20. Aaron Smith, DE, Pittsburgh Steelers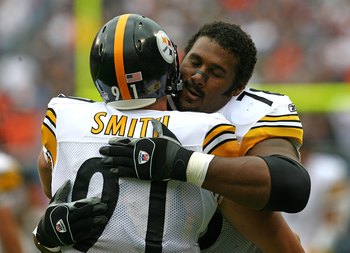 Jonathan Daniel/Getty Images
In a team with plenty of other big names such as Roethlisberger, Ward, Mendenhall and Polamalu it's easy for Smith to get lost in the mix.
He has played the defensive end position for so long but just hasn't earned a lot of love and recognition for it.
19. Leon Washington, RB, Seattle Seahawks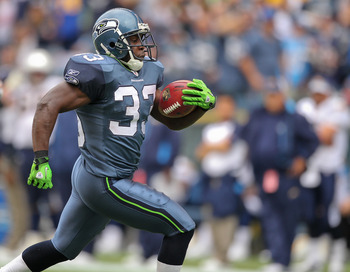 Otto Greule Jr/Getty Images
Washington was on the verge of breaking out as a player last season with the Jets until a right leg injury cut his season short.
The Jets then traded him away to the Seahawks with a seventh round draft pick for a fifth rounder—practically giving him away.
But he's a very versatile back that has the ability to break games wide open with his speed and skill. And that leg injury should be no reason for concern – Washington has shown he has recovered from that leg injury by returning the ball twice for touchdowns against the San Diego Chargers this season.
18. Tashard Choice, RB, Dallas Cowboys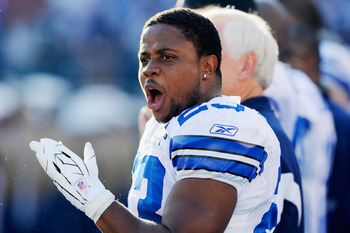 Kevork Djansezian/Getty Images
Sharing a backfield with the likes of Marion Barber and Felix Jones makes it extremely tough to get any playing time at running back for Choice.
But the Cowboys have found some moments and opportunities to incorporate Choice into the offense.
Although his blocking and decision-making are sometimes questionable. He's been able to exhibit great versatility as an offensive player, Choice can catch the ball and run the ball for big gains when given the opportunity
17. Stephen Tulloch, LB, Tennessee Titans
Joe Robbins/Getty Images
Last season he tallied a 121 total tackles and two sacks. This year, he's on a torrid pace averaging nearly 10 total tackles a game with 59 tackles in six games.
Slowly but surely, he'll eventually gain notice around the league.
16. Thomas Jones, RB, Kansas City Chiefs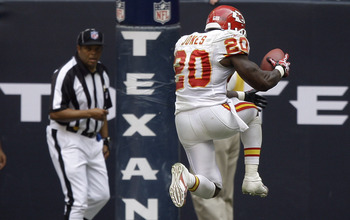 Bob Levey/Getty Images
Jones pulled off five straight seasons of rushing for over 1,000 yards. His most successful year came last season at the age of 32, rushing for 1,402 yards and 14 touchdowns with the New York Jets.
Now with the Chiefs he is sharing the backfield duties with Jamaal Charles forming a very formidable running tandem. He still boasts a 4.2 YPC average this year and it seems as though very few people have taken notice.
15. T.J. Houshmandzadeh, WR, Baltimore Ravens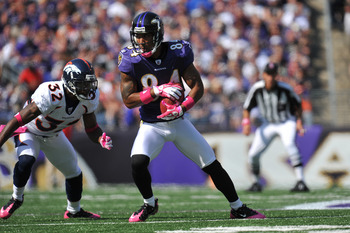 Larry French/Getty Images
The Seattle Seahawks literally dumped him before the start of season after being their most effective receiver last year with 79 receptions for 911 yards and three touchdowns.
After being ditched by Seattle, he caught on with the Ravens but has been lost among a group of other talented receivers that include Anquan Boldin and Derrick Mason.
He's only been limited to nine receptions for 128 yards and a touchdown this season. The talent is there but his past history of being somewhat of a diva seem to be getting in the way of becoming more of a success.
14. Felix Jones, RB, Dallas Cowboys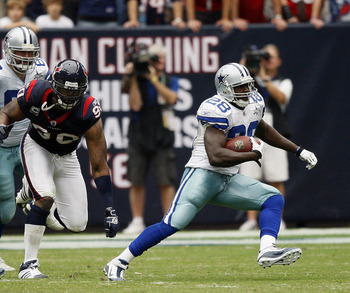 Bob Levey/Getty Images
Everyone in Dallas knows about his game-breaking ability. But they just don't know how to use him. Or at least, they still haven't figured out how to effectively utilize him in their offense.
Jones has a 6.0 YPC average in his career and is also a threat to catch the ball out of the backfield.
13. Kevin Faulk, RB, New England Patriots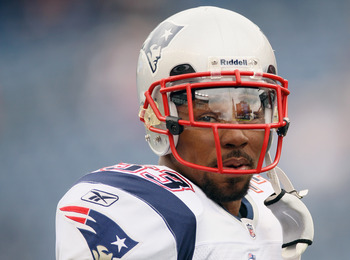 Elsa/Getty Images
He's probably the best third-down back for the Patriots because of his ability to keep moving the chains. His absence and versatility has been sorely missed by the Pats this season and their running game has somewhat struggled to be productive so far.
Faulk is not a flashy player, by any means, he just gets the job done.
12. Hines Ward, WR, Pittsburgh Steelers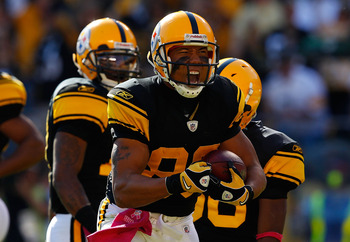 Jared Wickerham/Getty Images
Now in nearing the end of his career, he is somewhat overlooked as a consistent threat. But that's exactly what he is – consistent.
Even at 34 years old, he may be older now but still more than capable of catching the football. Ward can counted on in big-game situations and is a steady contributor of on offense. He's good for at least 800 yards and 6 touchdowns a season and people rarely think about him anymore as a top receiver but he still is.
11. E.J. Henderson, LB, Minnesota Vikings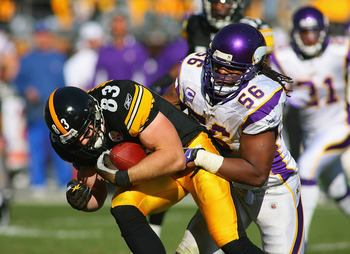 Rick Stewart/Getty Images
Playing on the same defense as star defensive end Jared Allen, Henderson sometimes gets overlooked. He is a very underrated defensive stopper. In fact, some people thought that his career could have been over after an injury last season.
But he's proved them all wrong so far by being ranked among the leaders in tackles and the truth is he's just starting to regain his form.
10. Tim Tebow, QB, Denver Broncos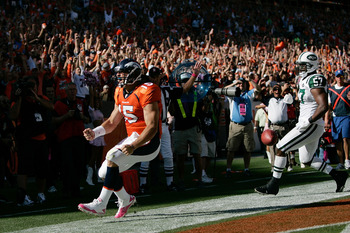 Justin Edmonds/Getty Images
His college career was a tremendous success with two national championships, several collegiate records and a Heisman trophy.
Although some may argue that he's actually overrated, Tebow has been the subject of criticism and has earned very little respect from a lot of people in the league.
He's a talented runner with the ability to keep defenses guessing as a two-way threat at the quarterback position. But the knock on his has been a questionable throwing motion and a lack of arm strength to succeed as a professional.
The truth is Tebow has been a winner in college and should be able to earn more respect.
9. Peyton Hillis, RB, Cleveland Browns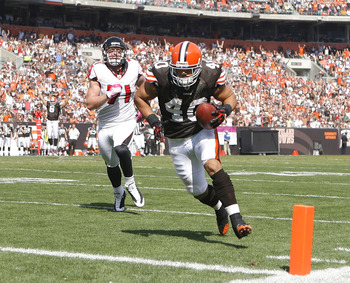 Matt Sullivan/Getty Images
Who knew who Peyton Hillis was before the season started? Not many people outside of Cleveland knew about this bruising running back. In fact, Jerome Harrison was expected to be the guy carrying most of the workload out of the backfield.
But Hillis came out of nowhere to impress and he hasn't stopped.
8. Trent Cole, DE, Philadelphia Eagles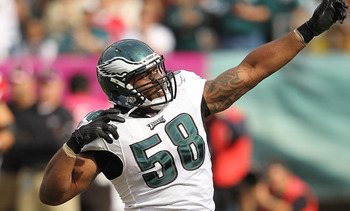 Al Bello/Getty Images
Cole may have made the Pro Bowl twice in the last three seasons and be among the league leaders in sacks, tackles and forced fumbles for a defensive end. But he still rarely gets enough credit.
He sometimes gets lost in the discussion of top tier defenders at the position because Dwight Freeney, Mario Williams, Justin Tuck and Julius Peppers—who among others get more credit than Cole.
7. Heath Miller, TE, Pittsburgh Steelers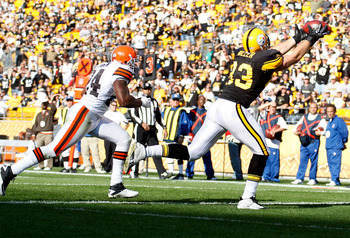 Jared Wickerham/Getty Images
Miller was so underrated that Pittsburgh Steelers quarterbacks not named Ben Roethlisberger forgot about him in the first four games of the season.
He had a Pro Bowl season last year which he caught a career high 76 passes, 789 receiving yards and six touchdowns but has been underutilized this season.
For the Steelers benefit, that should end with Roethlisberger behind center.
6. David Harris, LB, New York Jets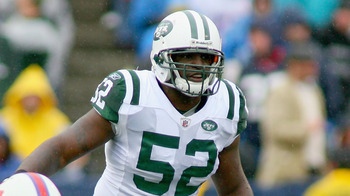 Rick Stewart/Getty Images
He's a very good defender that loses out on a lot of the accolades because he plays in a Jets squad that also has Darelle Revis.
While Revis spent the offseason holding out for more money, Harris will play the season making less than one million dollars, while he's arguable one the teams top players on defense.
Harris was among the league leaders in tackles last season and is on his way to being one of the tackling leaders again this year.
5. Owen Daniels, TE, Houston Texans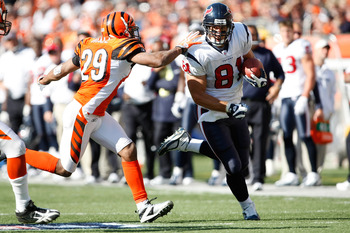 Scott Boehm/Getty Images
He's still been slow to recover from offseason ACL injury this season but there's no doubting the impact of Daniels in the Texans offensive attack.
Owens is a trusted target of Matt Schaub and capable of giving the offense 600+ receiving yards every season.
With others such as Tony Gonzalez, Jason Witten and Dallas Clark getting all of the billing as the top tight ends in the league, Owens is sometimes an afterthought.
4. Tyvon Branch, S, Oakland Raiders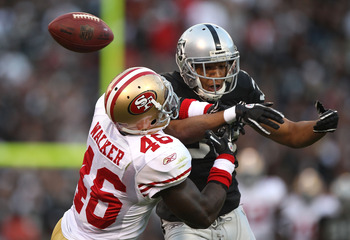 Jed Jacobsohn/Getty Images
Branch had a breakout year at strong safety in 2009 with 124 total tackles, two forced fumbles and one sack.
But he has often been lost in the discussion of Raiders defenders with All-Pro cornerback Nnamdi Asomugha in the same secondary.
This year, he was able to score the first defensive touchdown of his career on a fumble return and is on pace to match his 2009 numbers.
3. Ryan Grant, RB, Green Bay Packers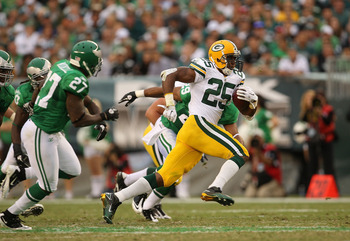 Mike Ehrmann/Getty Images
There was no bigger blow to a team than the loss of Ryan Grant in the first week of the season.
Grant was coming off of back-to-back 1,000 plus yard seasons and was widely viewed as an underrated runner in the league
With Grant out of the Packers backfield, their replacement runners have been underachieving all season. As a result of his absence, it has been harder to utilize their passing attack, led by Aaron Rodgers.
And Packers have struggled to a 3-3 start this year.
2. Kyle Orton, QB, Denver Broncos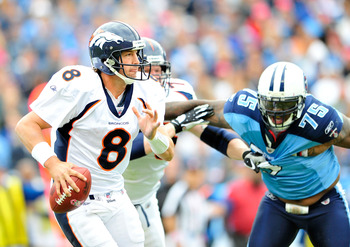 Grant Halverson/Getty Images
He rarely gets any love and has been knocked for not being able to throw the ball long. In fact, he was part of the package that the Chicago Bears sent over to Denver for Jay Cutler because they badly wanted an upgrade at the quarterback position. But Orton proved to be a very capable pass-thrower last season in Denver with 3,802 passing yards and 21 touchdowns.
This year, Orton has led the Denver offense by throwing for over 300 yards in all but one game. Considering Cutler's propensity for getting sacked, perhaps the Bears would rather have Orton running Mike Martz' offense instead of Cutler.
1. Tony Richardson, FB, New York Jets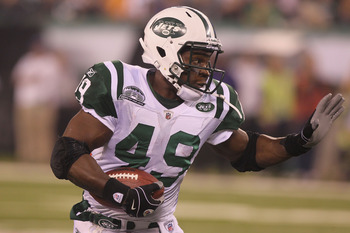 Jim McIsaac/Getty Images
Credit Tony Richardson for the re-emergence of LaDainian Tomlinson with the Jets.
And while you're at it. You should also give him credit for opening up running lanes for top running backs such as Priest Holmes, Larry Johnson, Thomas Jones and Adrian Peterson.
At 38-years-old, Richardson has proven to be a very good lead blocker during his long NFL career. But with star running backs stealing away the headlines, Richardson's contributions are sometimes undervalued and underappreciated.
Keep Reading