NFL Week 7 Predictions: New England Patriots Hope To Keep The Good Times Rolling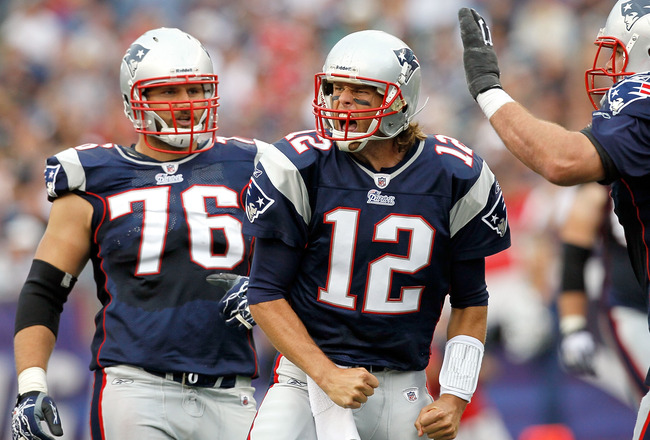 Jim Rogash/Getty Images
It's a joyful one-year occasion when Brett Favre returns to his original home: Lambeau Field. The crowd is always buzzing, the signs are always humorous, and of course, the boos rain down from the old-school wooden benches from the game's first whistle.
In 2009, Brett Favre had the Green Bay Packers' number. Although the Packers did manage to rally Brad Childress' strong offense, Green Bay's wobbly offensive line collapsed under the strain of Jared Allen, and ultimately led to a barrage of pressure to the green and gold's main man, Aaron Rodgers.
But when it's all being said, not the entire week surrounds the old timer's return to his original NFL team.
Some may say with the absence of the New York Jets, Indianapolis Colts, Houston Texans and Detroit Lions to a bye week, that the excitement factor may lull a little in comparison to Week 6, considering that four explosive teams are taking the weekend off.
However, this is not the case. Many marquee games still remain on the schedule, and if you are still catching your breath from the 'upset galore' that was last weekend, brace yourself for another action-packed Sunday.
Brett Favre returns to Lambeau Field, the Giants take on the Dallas Cowboys at home, and Miami and Pittsburgh butt heads down south. Who will win? It's always unpredictable, but here's a few predictions to keep in mind.
Teams Taking The Week Off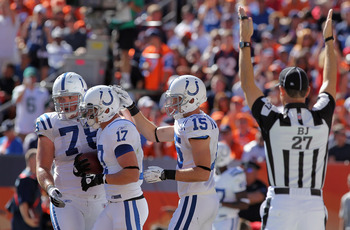 Doug Pensinger/Getty Images
Detroit Lions - 1-5
Houston Texans - 4-2
Indianapolis Colts - 4-2

New York Jets - 5-1

Cincinnati Bengals at Atlanta Falcons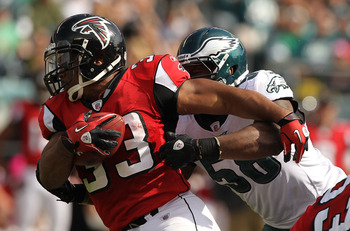 Al Bello/Getty Images
Current Records:
Cincinnati: 2-3 - Atlanta: 4-2
The fresh and seemingly rejuvenated Cincinnati Bengals take a trip to the Georgia Dome in Week 7, to take on the hot, but not so convincing Atlanta Falcons at home.
Although the Bengals were one of several teams to enjoy the luxury of a bye week, the Atlanta Falcons endured a major slip up at the hands of the Philadelphia Eagles last week, who went on to rout Mike Smith and his team 31-17.
The biggest concern that now stands for the Falcons is consistency in the NFC South. Prior to last weekend, Atlanta had a minor gap ahead of last season's division winner the New Orleans Saints, only to let their stranglehold slip with a silly loss, and see the division once again tied at the top.
On the other side of the field, the Cincinnati Bengals are now facing a crucial away game. Like it or not, a loss at the hands of Atlanta will realistically determine the Bengals' season along with quarterback Carson Palmer's, and with off-field distractions such as Chad Ochocinco's latest T-shirt controversy, winning may be harder than it already seems.
Finally, the Falcons also see a loss at the cornerback position, as Dunta Robinson is likely to remain out of Week 7's fixture due to a heavy collision with DeSean Jackson last weekend. This game could spell trouble for both teams with a loss, so expect it to be a close affair.
Prediction:
Cincinnati 23 - Atlanta 27

Pittsburgh Steelers at Miami Dolphins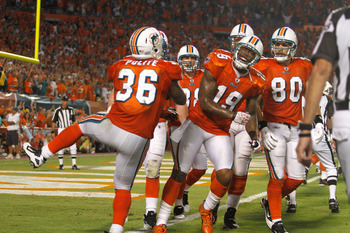 Marc Serota/Getty Images
Current Records:
Pittsburgh: 4-1 - Miami: 3-2
Confidence is high right now for both of these AFC heavyweights, following big-time wins last weekend.
Right now the national opinion of the Pittsburgh Steelers is that they are the team to beat in the NFL. With only one loss on the season, quarterback Ben Roethlisberger successfully delivered for the black and yellow last Sunday against Cleveland, and head coach Mike Tomlin now has a complete team ahead of the midseason mark.
Down south in Tunatown, motivation is also skyrocketing. The Dolphins flew to Green Bay in Week 6 to take on the tough new-look Packers, and although the game did draw into overtime, Miami managed to rely on kicker Dan Carpenter's foot to earn them a solid 23-20 victory.
So what can we expect in Miami this week?
Since the latest saga of NFL helmet-to-helmet collisions, expect the Steelers to be on their best behavior. Still, with this in mind, linebacker James Harrison clearly stated that he himself won't be changing his game plan, so if a big-hit opportunity presents itself, expect to see some clacking of heads.
Miami's offense is hot right now, and Brandon Marshall's superb display against a top rank defense in Green Bay last week proves it all.
Chad Henne has been accurate, and improvements continue to flow from No. 7's fingertips, but with this in mind, Hines Ward has been just as dominant on the opposite side of the ball.
Prediction:
Pittsburgh 31 - Miami 27

Buffalo Bills at Baltimore Ravens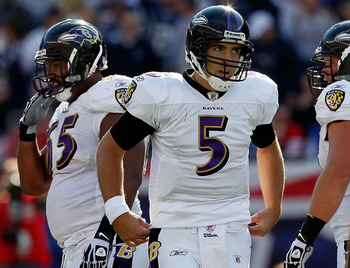 Jim Rogash/Getty Images
Current Records:
Buffalo: 0-5 - Baltimore: 4-2
It's no secret that the Buffalo Bills have struggled immensely this season, but what unfolded in Foxboro last weekend between the New England Patriots and Baltimore Ravens, was nothing short of a minor upset.
To be fair to the Ravens, they played a darn good game. Unfortunately though Baltimore's "hot and cold" defense on the day cost the Ravens a win against Tom Brady, and set them back to a 4-2 record on the season.
On the positive side of the ball, Baltimore now gain Ed Reed fresh from the PUP list, after a six-week layoff due to offseason hip surgery. This acquisition to the Ravens roster will help Baltimore improve immensely over the remaining course of the year, and although the Ravens defense has coped rather well, gaining Ed Reed back is more than just a morale booster.
In regards to the Bills, a small ounce of confidence could be drawn from a Week 6 bye, and the fact that quarterback Ryan Fitzpatrick played a decent game against the New England Patriots several weeks ago.
This may not mean much heading into Sunday, but if Fitzpatrick can gain some confidence under center, he could at least keep the scoreline respectable.
Prediction:
Buffalo 15 - Baltimore 31

Jacksonville Jaguars at Kansas City Chiefs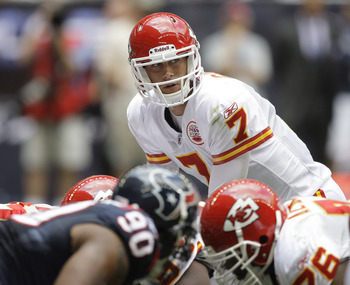 Bob Levey/Getty Images
Current Records:
Jacksonville: 3-3 - Kansas City: 3-2
Everything was all well and good for these two teams three weeks ago, that is until the Jaguars and Chiefs ran into roadblocks in Week 6, that have exposed both for who they really are at this point in the season.
Starting with Jacksonville, a home game last weekend against AFC South division rivals the Tennessee Titans was no easy task. But with this in mind, Jacksonville's lack of offensive production almost left fans wondering what team we'd seen in Week 4 against the Indianapolis Colts, following a 30-3 loss at the hands of Tennessee.
As for Kansas City, their game against the Houston Texans was much more commendable. Quarterback Matt Cassel threw for 201 yards and 3 touchdowns, and even though the Chiefs did lose 35-31 in Houston, it was clear that Kansas City had still come a long way since 2009.
In Week 7, expect this game to be a lot more exciting than it looks. Jaguars starting quarterback David Garrard is likely to miss the game due to an injury that occurred last weekend, but that isn't to say that replacement Brock Bolen can't have a solid day.
This is a tough match up to call, and at the end of the day one team is going to suffer a severe confidence boost. Kansas City has the home field advantage though, so a slight edge favors the Arrowheads.
Prediction:
Jacksonville 20 - Kansas City 23
Cleveland Browns at New Orleans Saints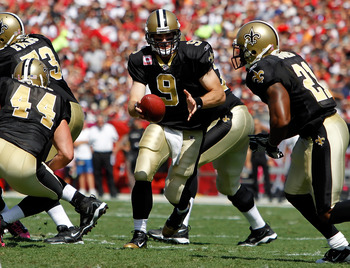 J. Meric/Getty Images
Current Records:
Cleveland: 1-5 - New Orleans: 4-2
The one-win Cleveland Browns take a trip to the hostile Superdome this weekend, when Eric Mangini and his crew take on the New Orleans Saints.
Perhaps the biggest storyline to watch in this fixture is the performance of new starting quarterback Colt McCoy.
Last weekend against Pittsburgh, McCoy showed signs of brilliance against a tough defense, and although the Superdome may get the better of the former Texas star, it appears that he is right choice under center for Cleveland right now.
Other than Colt McCoy's latest heroics, the New Orleans Saints have funnily enough slipped under the radar recently, as the reigning Super Bowl champions sit at 4-2 on the year.
With this record in hand, the Saints now have a prime opportunity to gain the upper hand in the NFC South, and if they can topple a considerably weaker team, the Saints may find themselves in first place heading into Week 8.
For all of Cleveland's problems, they have shown grit and determination. Similar to the Detroit Lions, there is obvious talent lurking within this team, and sooner or later the Browns are going to crack the right combination, and produce several wins.
This weekend though at New Orleans, don't expect the code to be broken, as the Saints now know that the top spot is on the line, and with running back Chris Ivory continuing to produce, the Saints should continue to roll.
Prediction:
New Orleans 38 - Cleveland 21

Washington Redskins at Chicago Bears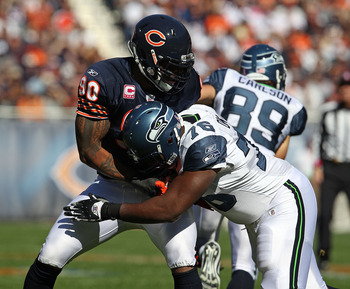 Jonathan Daniel/Getty Images
Current Records:
Washington: 3-3 - Chicago: 4-2
I wouldn't go as far to say that upset alert is written all over this game, but either way you look at it, each team needs a big-time performance to get their season back on track.
In the past two weeks, Chicago Bears starting quarterback Jay Cutler has notably struggled. After suffering a concussion against New York several weeks ago, Cutler has appeared out of sync on offense, and seems to have fallen back into his 2009 groove, which was far from pretty.
Given that Cutler did throw for 290 yards last weekend against Seattle, it could be said that Cutler's efforts have been overshadowed by the team's performance, and that Jay Cutler hasn't done enough lately to improve.
On the opposite side of the ball, the Washington Redskins now look to rebound after a tough home loss against Indianapolis last weekend.
Mike Shanahan's team did play a fairly well rounded game, but tight end Chris Cooley is currently injured, and although he does seem probable to play, Donovan McNabb's go-to receiver is far from 100 percent.
It appears right now that whoever plays solid on offense, will walk away with the W. Both quarterbacks have been good, but far from great recently, so it's important the both are on stride this weekend and ready to hit targets.
The run game will also be a factor, but don't expect defense to contribute to much. This game is one that should see the scoreboard exercised heavily.
Prediction
Washington 33 - Chicago 37

San Francisco 49ers at Carolina Panthers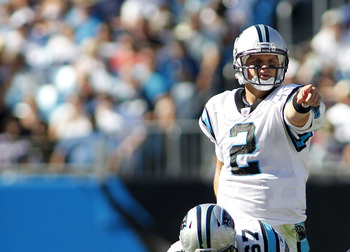 Geoff Burke/Getty Images
Current Records:
San Francisco: 1-5 - Carolina: 0-5
The battle of the weak tees off in Carolina on Sunday, when the San Francisco 49ers travel to Bank of America Stadium to take on the winless Panthers.
Recently, the Panthers have struggled to impress most people, yet Jimmy Clausen's promising aspects have at least restored hope for the future in Carolina.
As for the 49ers, the very opposite could be said for Alex Smith, following a win over Oakland last week, that left much of Candlestick Park still booing Smith's efforts for most of the game.
And what can we expect in Week 7?
Let's face it, this game won't be pretty. Many fans do feel that the 49ers may get their winning season back on track, but both teams are mistake-riddled, and you only have to take a look at San Francisco's affair against Oakland last weekend to realize that.
As for predictions, the Panthers are ready to earn their first win on the year. Carolina has the home-field advantage, and more importantly they also have the star power to expose San Francisco's 28th ranked rush defense.
Like I said, it won't be pretty, but whatever gets the job done, right?
Prediction:
San Francisco 16 - Carolina 23

St. Louis Rams at Tampa Bay Buccaneers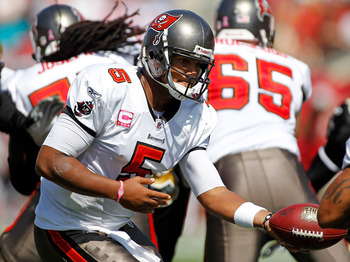 J. Meric/Getty Images
Current Records:
St. Louis: 3-3 - Tampa Bay: 3-2
Most fans wouldn't have thought that the St. Louis Rams would be 3-3 seven weeks into the year, nor would they have thought that the Tampa Bay Buccaneers would sit above the .500 mark. But here we are looking toward midseason, and both teams have seen much success already in 2010.
To detail the Rams' latest efforts, it has been nothing short of extraordinary. Sam Bradford currently sits with 1,357 yards and 7 touchdowns on the year, and seeing as though the Rams upset the San Diego Chargers last week, who knows where this freight train is headed.
Keeping the theme of impressive performances going, the Tampa Bay Buccaneers have also seen their share of wins. Unfortunately for the Bucs though, a heartbreaking loss to New Orleans last week has crushed Tampa Bay's spirit a little, and has also set them back a peg in the NFC South division.
In Week 7, expect this game to be a real tennis match. No, it won't involve poor officiating (even though that is often a given), but instead it will involve constant rebuttals to touchdowns by either team, that should act as an entertaining affair.
Tampa Bay recently acquired defensive end Alex Magee from Kansas City last week, a pickup that should help the Bucs' pass rush. Tampa Bay will need all they can get this weekend, seeing as though Sam the Ram has been on fire.
Prediction:
St. Louis 19 - Tampa Bay 22

Philadelphia Eagles at Tennessee Titans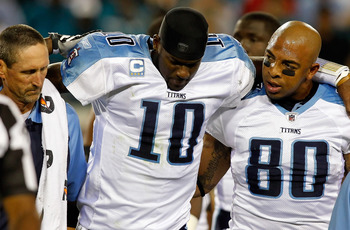 J. Meric/Getty Images
Current Records:
Philadelphia: 4-2 - Tennessee: 4-2
A battle of two 4-2 teams is set to get underway in the Music City on the weekend, although it may be a tough day at the office for the Tennessee Titans.
Those of you that are unaware, Titans star quarterback Vince Young has listed as questionable ahead of Sunday's fixture, following a knee injury endured last weekend down south in Jacksonville on Monday Night Football.
Normally when a player is injured, it is far from good news. In the case of the Philadelphia Eagles though, the loss of No. 10 means that the Eagles now only have to contain replacement Kerry Collins in the passing game...which is, of course, a much easier task.
While we're on the injury trend though, the Eagles will also be without their offensive star DeSean Jackson, who suffered an upsetting hit last week against Atlanta. Jackson, who has been ruled out due to a concussion, joins Michael Vick on the sidelines ahead of Sunday's big game.
They say that when the chips are down, other players step up. This will certainly have to be the case for both teams on Sunday, and for Philadelphia Kevin Kolb will have to provide, while Chris Johnson will need to do the talking for Tennessee.
A tough call awaits all people who participate in office tipping, but it's fair to say that this match up may be a little dull with no Vince Young and no DeSean Jackson.
Prediction:
Philadelphia 19 - Tennessee 15

Arizona Cardinals at Seattle Seahawks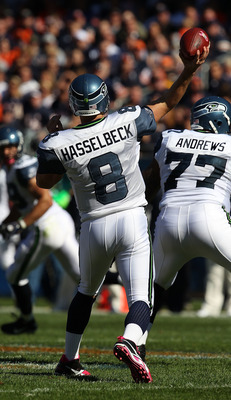 Jonathan Daniel/Getty Images
Current Records:
Arizona: 3-2 - Seattle: 3-2
The top of the NFC West is deadlocked, and therefore that makes this weekend's clash between Arizona and Seattle all that more meaningful.
For Arizona, they are fresh and ready for a big time test at Qwest Field. The Cardinals were lucky enough to endure an early bye week last Sunday, and this only further prepares young and impressive rookie quarterback Max Hall even further.
In regards to Seattle, the Seahawks notched a big-time win over the Chicago Bears last week, that saw Pete Carroll's USC style defense sack quarterback Jay Cutler a total six times.
Like it or not, this is the game you should be circling on your TV guide. Although these two teams aren't exactly the most exciting to watch, a small storyline that is already becoming more and more intriguing is Max Hall's second start in the NFL, following a Week 5 upset over the New Orleans Saints.
As for Seattle, they are set to increase the noise factor against the rookie. Both teams are fresh on paper, and this game should provide some memorable highlights.
Prediction:
Arizona 10 - Seattle 22

New England Patriots at San Diego Chargers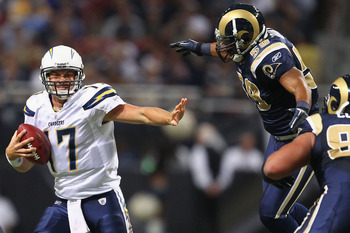 Dilip Vishwanat/Getty Images
Current Records:
New England: 4-1 - San Diego: 2-4
Tough times have plagued the city of San Diego recently, after a tough loss to St. Louis last week sees head coach Norv Turner on a hot seat the size of California itself.
For New England, the same definitely can't be said. The Patriots knocked off AFC top dog the Baltimore Ravens last weekend in front of a passionate home crowd, and now look to heard to the familiar sites of Qualcomm to extinguish San Diego.
Keys to this game of course include quarterback play. Surprisingly enough, San Diego currently sits atop the offensive and defensive statistical categories heading into Week 7, although both combined may not be enough to stop Tom Brady.
The Patriots are currently ranked 1st in points scored, a factor that says a lot about Bill Belichick's offense. As weak as the Chargers have been, New England vs. San Diego is always a great game, so expect nothing different on the weekend.
Prediction:
New England 23 - San Diego 20 Overtime

Oakland Raiders at Denver Broncos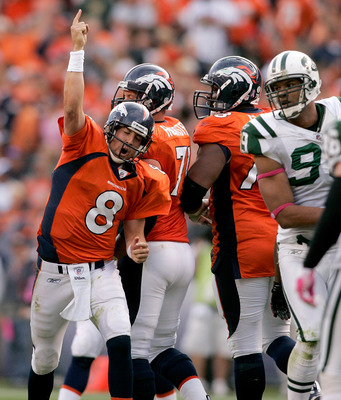 Justin Edmonds/Getty Images
Current Records:
Oakland: 2-4 - Denver: 2-4
It's a division rivalry that has floundered in recent years, but the double occasion of Denver vs. Oakland, is normally a very intense match up to witness on the season.
By looking above, both teams clearly sit at 2-4. However, both teams records fail to do each party justice, considering Denver and Oakland have had their own promising points so far this season.
Since the chemistry between Kyle Orton and Brandon Lloyd has surfaced, the Broncos have finally found an offensive threat since the departure of Brandon Marshall to Miami during the offseason.
Not only have these two become solid friends, they continue to do most of the scoring on offense, and at least give the Broncos a chance in most games.
In Oakland, unfortunately the same can't be said. Jason Campbell has ultimately failed as the starting quarterback, and Bruce Gradkowski is out of the question. Kyle Boller is perhaps the favored starter, even though Campbell's acquaintances have been labeled as a game-time decision.
From a fan perspective, this is a game that spells upset. The Broncos have suffered severely this season, and even though the Raiders are 2-4, they did manage to hang in there with the likes of Houston in the past weeks.
The Raiders have a very minor edge heading into this one, but Mile High may be a feat in its own right for the Black Hole to overcome.
Prediction:
Oakland: 29 - Denver 28

Minnesota Vikings at Green Bay Packers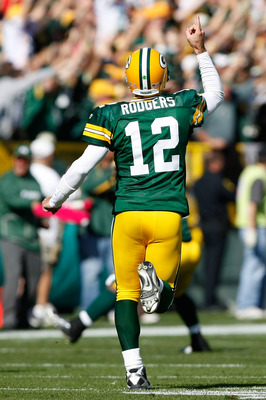 Scott Boehm/Getty Images
Current Records:
Minnesota: 2-3 - Green Bay 3-3
Finally, the big one is here, Minnesota vs. Green Bay...or should I say Brett Favre vs. Packer Nation?
Similar to last year's double affair, this game has a big-fight feel to it. Lambeau Field is rocking on any given day, but there is a certain feel that sweeps over the small town when men in purple visit, and it is one of pure hate and frustration for a team that has caused the Packers so much angst in recent years..
Unluckily for the Packers, there roster is letting them down. The Packers are riddled with injuries, and although Al Harris and Atari Bigby step back into the roster from a six-week PUP layoff, the run game really needs to step up for Green Bay in every way possible.
In Minnesota's case, they to have issues. Brett Favre led the Vikings to a win over Dallas last weekend, but it was far from his typical display, as once again No. 4 struggled to remain accurate when passing the football.
For once, this game will actually come down to defense. In years past, it has been all about the offensive side of the ball, but whoever manages to pressure the opposing quarterback consistently, should gain the upper hand.
Big wins are needed for both teams, but the Packers really need one to keep in touch with the Bears. The same could be said for Minnesota, but for Green Bay, 3-4 is a feat that no one expected. Therefore, don't expect Rodgers to fail in his own neighborhood.
Prediction
Minnesota 31 - Green Bay 34

New York Giants at Dallas Cowboys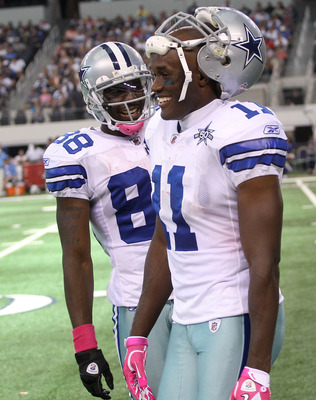 Stephen Dunn/Getty Images
Current Records:
New York: 4-2 - Dallas: 1-4
Last but not least, the New York Giants take their unstoppable defense to Dallas this weekend, where they take on the 1-4 Dallas Cowboys, in a classic NFC East rivalry game.
To state the blatantly obvious, the Cowboys need a win. Dallas slipped and stumbled against Minnesota last weekend, and now just about everybody in the starting roster is feeling the heat from Cowboys faithful.
On the fortunate side, much of Texas may be lenient to Dallas due to the Texas Rangers' World Series berth, although they don't call the Cowboys "America's Team" for nothing.
To make matters worse, linebacker Stephen Hodge underwent surgery during the week, and will now remain on injured reserve for the remainder of the season.
So what do the Giants bring to the table?
Easy, a second-ranked defense, and a sheer will to sack the opposing quarterback...something that should have the inconsistent Tony Romo worried.
Aside from Big Blue's bruising ways, they also have the seventh-ranked offense in the league, a large compliment to Eli Manning and Steve Smith's impressive ways.
It's always a big occasion when New York visits Dallas, and Monday Night Football once again plays host to the big game. Dallas need a win desperately, and this weekend they may just get one, but it certainly won't come easily.
Prediction:
New York 35 - Dallas 38

Keep Reading

New England Patriots: Like this team?