Dallas Clark Injury: 5 Ways the Indianapolis Colts Can Cope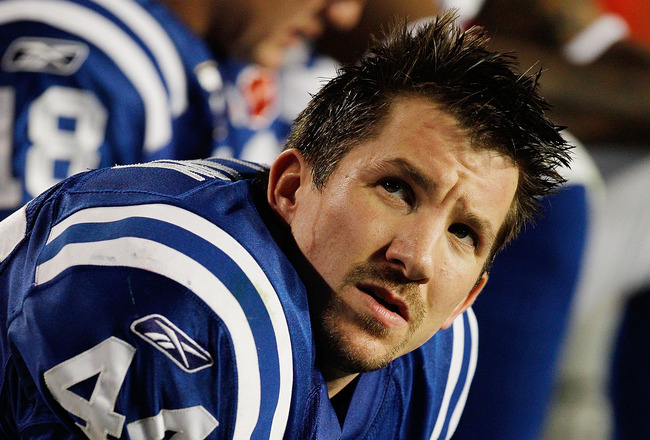 Jonathan Daniel/Getty Images
Over the past few seasons, Indianapolis Colts TE Dallas Clark has developed into one of QB Peyton Manning's favorite targets. With news of Clark's recently injured wrist sidelining him indefinitely, Manning and head coach Jim Caldwell will have to significantly alter their offensive gameplan.
Clark is a huge part of what the Colts do on offense. He and WR Reggie Wayne form one of the most devastating pass-catching duos in the NFL. Given Clark's injury, others players will be forced to step up in his absence.
Following are five ways the Indianapolis Colts can cope with Dallas Clark's injury.
Establish a Better Running Game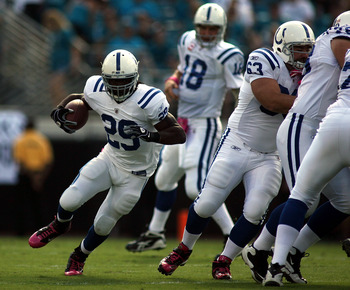 Marc Serota/Getty Images
One of the reasons why Clark has become so important for Indianapolis is that he catches a lot of short throws in front of zones or in the flat. In that way, he serves a similar role to what most teams' running backs do by gaining small yardage and keeping the Colts out of third-and-long.
Indianapolis doesn't have a bad run game, they just rarely utilize it because Manning and his receivers are so effective. RBs Joseph Addai, Mike Hart and Donald Brown should get more of an opportunity to churn out yards on the ground in the absence of Clark.
Involve Rookie TE Brody Eldridge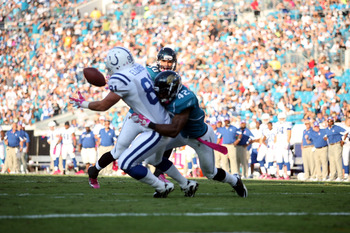 Marc Serota/Getty Images
Rookie TE Brody Eldridge is Clark's primary backup. Though he's only caught three passes this season, it is obvious Indianapolis has confidence in his ability as a pass catcher.
A great blocker in college at Oklahoma, Eldridge doesn't have the natural pass-catching skills of a player like Clark. However, he'll prove more than adequate, finding soft spots in zones and sneaking out of pass protection to catch short throws from Manning while Clark is on the sidelines.
Sign Free Agent TE L.J. Smith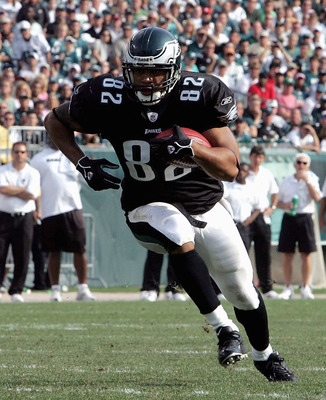 Jim McIsaac/Getty Images
Free agent TE L.J. Smith would be a logical addition for Indianapolis as they wait for Clark to return from injury.
Once a promising young player, Smith was a fixture of Philadelphia's passing attack in the mid-2000s. A talented pass catcher, he would give the Colts a dimension in the passing game that Eldridge can't.
Smith was recently released by the Baltimore Ravens, and would prove both inexpensive and valuable for the Colts while Clark is on the bench.
Get WR Anthony Gonzalez Re-Acclimated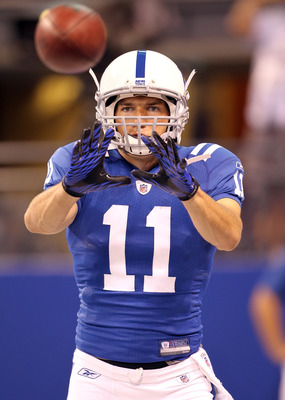 Andy Lyons/Getty Images
Selected by Indianapolis in the 2007 NFL Draft, WR Anthony Gonzalez has had an injury-plagued career.
However, it appears that he will play in the Colts next game in Week 8 against Houston. In 2008, Gonzalez played a crucial role in Indy's passing attack, lining up in the slot, catching short throws and making plays with his feet.
The health of Gonzalez will allow WRs Pierre Garcon and Austin Collie to run more vertically, and couldn't come at a more perfect time with Clark injured.
Not Dwell On The Loss of Clark
Andy Lyons/Getty Images
With Manning behind center, the Colts need not worry. They've had one of the league's best offenses for the last decade, and the loss of Clark will not change that.
The emergence of wideouts Collie and Garcon has provided Manning with two valuable and consistent weapons opposite star WR Reggie Wayne. Quite simply, there is no shortage of receiving options in Indianapolis.
While Clark's injury is certainly significant, the Colts must be certain they don't exaggerate its impact and change too much of what they do on offense. With Manning at the helm, that shouldn't be a problem.
Keep Reading

Indianapolis Colts: Like this team?