Pat McAfee and the Most Embarrassing Athlete Arrests Ever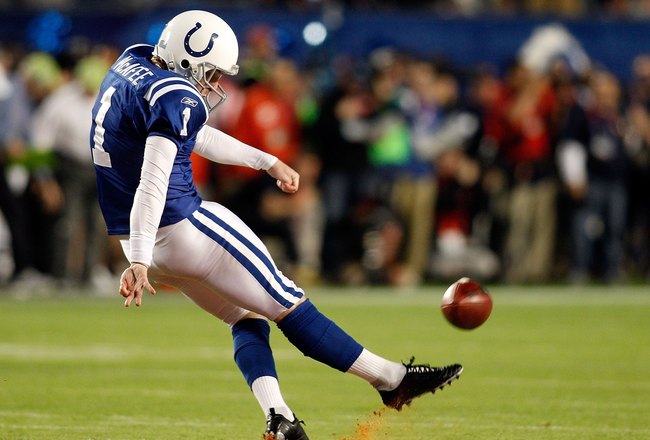 Chris Graythen/Getty Images
Pat McAfee may have had the easiest job in sports the past two seasons. As the punter for a high powered Colts offense, the former West Virginia Mountaineer was amongst the least used punters in the NFL. Perhaps it was the boredom that comes with sports anonymity that spurred McAfee's recent behavior.
McAfee was arrested on Tuesday morning after the Indianapolis police received an odd phone call. A woman dialed 911 and told police that a wet, shirtless man was trying to enter her car. Apparently, McAfee had gotten drunk and jumped into the Central Canal where he lost his shirt.
How drunk was this no-named punter? Apparently McAfee blew a .15 blood alcohol level when the police tested him with a breathalyzer.
The fate of McAfee is yet unknown, but the story does bring up some interesting questions. With a plethora of embarrassing athlete arrests to choose from, which are the ten most humiliating?


10. Damon Stoudamire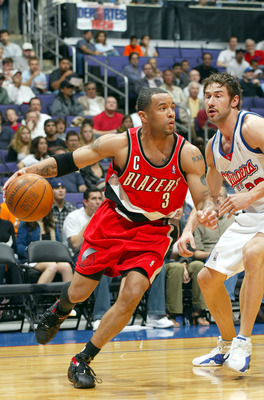 Lisa Blumenfeld/Getty Images
Damon Stoudamire will be remembered in some circles for being the first draft pick in Raptors history, but I'll always remember Mighty Mouse as the man responsible for putting the "Blazers" in Trailblazers.
In fact, Stoudamire was arrested multiple times for marijuana-related incidents but most notably was an incident during the 2002-2003 season.
After an 89-85 win over Seattle, Stoudamire and teammate Rasheed Wallace were driving back to Portland when they were pulled over for speeding. Radar clocked the car at over 80 mph and police found nearly two ounces of reefer.
Just months later, Stoudamire was caught with marijuana again and was suspended for three months.


9. Michael Irvin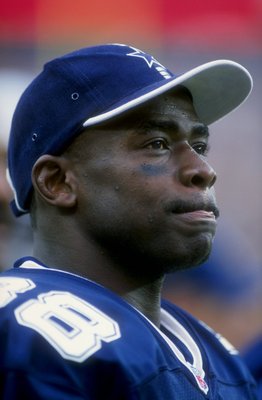 Scott Halleran/Getty Images
Over Irvin's 12-year career, I'm not sure whether the Dallas receiver had more touchdowns or lawsuits. In 1996, he was arrested for cocaine possession and suspended five games by the league.
In 1998, a bizarre story broke about a two-inch cut Irvin inflicted on the neck of teammate Everett McIver while cutting his hair. After retiring, Irvin still had troubles minding his P's and Q's.
On November 25, 2005, Irvin was arrested after police found plastic bags with marijuana residue and a crack pipe. Of course when Irvin claimed the pipe belonged to his brother and that he meant to throw it away, nobody believed him.
The Cowboys great was suspended by ESPN, although legal actions were never taken.


8. Eddie Griffin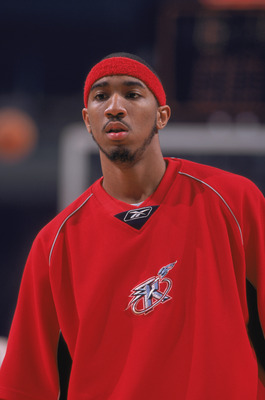 Jonathan Daniel/Getty Images
There's not much more embarrassing than hitting a parked car — except if you were masturbating while this crash took place. That's exactly what happened to Eddie Griffin in March of 2006.
A court document mentioned that the film "Anal Action" was playing on the on-board DVD player at the time of the accident.


7. Najeh Davenport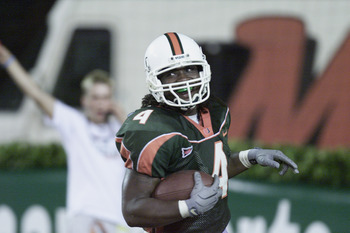 Eliot J. Schechter/Getty Images
In July 2002, Davenport added his name to a long list of Miami Hurricane player who have had run-ins with the law.
The massive running back was arrested for burglary and criminal mischief after sneaking into a dorm room. Not so terrible, right?
What if I told you Davenport took a dump in a woman's hamper?
Slightly more embarrassing.


6. Dick Williams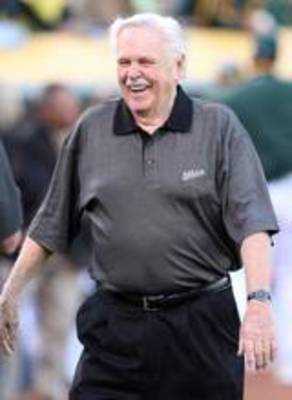 Lewd, lascivious, salacious, outrageous!
The immortal words of Jackie Chiles perfectly sum up the perverted actions of former A's and Mariners manager Dick Williams.
In 2000, while attending a fantasy baseball camp in Florida, the 70-year old retired manager was arrested for indecent exposure.
Before you become nauseous imagining his old wrinkled body, it gets worse.
Apparently Williams was walking around naked while masturbating outside of his hotel room. I don't know if that's more humiliating or repulsive — but whatever it is, it deserves a place on this list.


5. Kevin Mitchell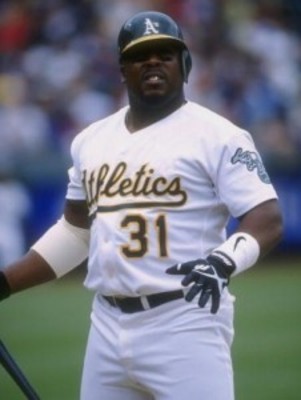 Over Mitchell's 13-year career, the outfielder batted .284 with 234 home runs, including a league-leading 47 in 1989. Out of all his most memorable hits, his most memorable may have come off the field.
In 1999 (just one year after retiring) Mitchell was charged with felony battery. What did he do to earn such a charge?
Apparently Mitchell was trying to evict his father for failing to pay rent when he decided to punch his dad in the face!
That's right, he beat up his own father! It's humiliating. It's infuriating. It's nauseating.
This is the same man who once strained a muscle while vomiting and needed a root canal after chipping his tooth on a frozen donut.
Nothing Mitchell could do would surprise me.


4. Eddie Belfour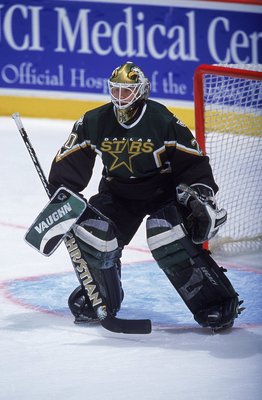 Jeff Gross/Getty Images
Belfour was a member of the 2002 Canadian Olympic gold medal team and played 17 years in the NHL with a 2.50 goals against average, but will always be remembered for his off-the-ice activities.
In 2000, the former Dallas Stars goalie got into a drunken fight and had to be retrained by police officers. Belfour kicked the officers, offered them a one billion dollar bribe and then puked all over himself in the squad car. I can almost hear Belfour saying, "Do you know who I am? I'm Eddie Belfour, bitch!"
This incident happened in the midst of one of Belfour's best seasons (2.1 GAA, .919 save percentage) and set the bar for all embarrassing arrests.


3. Fred Smoot and the Minnesota Vikings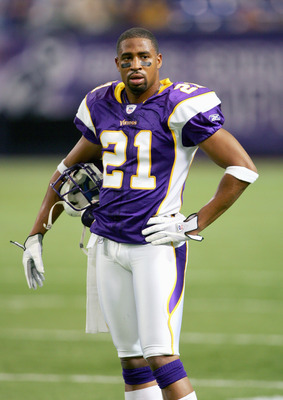 Doug Pensinger/Getty Images
On October 6, 2005, the Minnesota Vikings decided to redefine the term "Love Boat." Seventeen members of the Vikings rented two boats, flew in prostitutes from Florida and Georgia, and hit the high seas.
The crew would later claim that many of the players engaged in sexual acts in front of them, and later had to clean up used condoms and K-Y jelly amongst other sexual toys.
The most notable offenders were cornerback Fred Smoot and offensive tackle Bryant McKinnie. While McKinnie allegedly performed oral sex on one of the hookers in front of the crew, Smoot supposedly used a double-sided dildo on two of the women.
Smoot and McKinnie received the harshest sentences with 48 hours of community service and a $1,000 fine plus a one-game check fine.
2. Plaxico Burress
Chris Gardner/Getty Images
Talk about adding insult to injury. Burress was the No. 1 receiver for the 2008 Super Bowl winning Giants and one of the best red zone weapons in the NFL. All that changed on Nov. 28, 2008.
While clubbing it up at LQ in New York City, Burress accidentally shot himself in the thigh with an unlicensed glock handgun. Because Burress was carrying a concealed weapon, he was sentenced to two years in prison and an additional two years of supervised release.
Apparently, the gun went off when it started to slip from Burress' sweat pants and the former Michigan State Spartan grasped at the weapon to keep it from falling.
Aside from the utter stupidity of bringing an unlicensed, loaded and concealed weapon into a crowded nightclub (it's called a body guard Plax) why would you wear sweat pants?
It's a Friday night, you're out on the town and you can't even wrestle up a pair of jeans? Now that's the real crime.
1. Eugene Robinson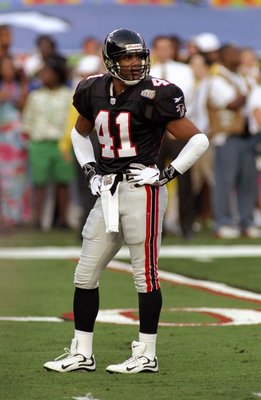 Rick Stewart/Getty Images
Back in the day, Robinson was a Pro Bowl safety for the Atlanta Falcons. A devout Catholic, he had earned the nickname "the Prophet" from his teammates. That bit of irony made it so much sweeter when Robinson was arrested for soliciting sex ... the day before the Super Bowl.
There is so much wrong with that I don't even know where to begin. First of all, as an NFL player Robinson makes millions of dollars annually so why spend $40 on oral sex?
At least Donald Sterling paid 500 bucks a pop.
Secondly, how could you do this on the eve of the Super Bowl? This is a night where may not even sleep with their wives let alone some cheap prostitute.
Thirdly, only 12 hours prior to his arrest, Robinson had received an award from a Christian group called Athletes in Action.
For some reason, I don't think that's the type of action they were referring to.


Keep Reading

Indianapolis Colts: Like this team?