Roger Goodell: Is He Responsible for Ruining the NFL?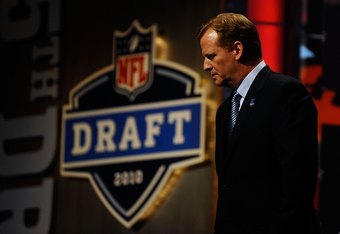 Jeff Zelevansky/Getty Images
The NFL is the most popular sports league in America. It's not even close. I mean the Tennessee Titans-Jacksonville Jaguars game on Monday Night Football got higher ratings then a Major League Baseball game featuring the New York Yankees.
Some of the main reasons football is king in America are: fantasy football, alcohol, cheerleaders, the Super Bowl, parity, but perhaps the No. 1 reason it's the most watched sport in this country is the hitting that goes on in the game.
Football is a manly game. Despite the equipment, it's mono e mono, men versus other men. Full contact, with one objective, stop the guy with the football. When you have a full contact sport like this, injuries are going to happen. Injuries happen in every sport, including basketball where there is only minor contact. The risk of injuries is one of the main reasons why these great athletes get paid millions of dollars.
Now the NFL wants to take out "big hits" or "dirty hits." Dirty hits I understand. There is no room for dirty players in the game anymore. This past Sunday we saw a few plays that featured "big hits" and "dirty hits." The hits by Brandon Meriweather of the New England Patriots were dirty hits, and can be seen here. Meriweather deserves to be punished and got punished. That's fine.
However, this hit by Dunta Robinson of the Atlanta Falcons, which can be seen here, was not a dirty hit. Nor was it a helmet-to-helmet it. It's just a full-speed collision that's a part of the game. Do you feel bad for a player getting hurt? Of course. However, DeSean Jackson knows the price he has to pay for going across the middle of the field, trying to catch the ball. What is the defense supposed to do? Let him catch the ball worry free?
The biggest gripe I have with all of this overreaction by the NFL is the hypocrisy of it all. The NFL says it cares about players safety, yet they want to add two more regular season games, going to an 18-game schedule. The number of injured players goes up every season, now you want to add two games. That makes no sense.
Furthermore, the hypocrisy gets even worse.
Pittsburgh Steelers linebacker James Harrison was fined $75,000 for his helmet-to-helmet hits Sunday against the Browns. Yet, the very same NFL that fined Harrison, and is saying that they're trying to eliminate "these hits" from the game, go on and sell photos of Harrison's "dirty hits" in the same week that it happens.
The same league that had segments called "jacked up," and has sold countless videos of the biggest hits of all-time as pointed out in a very good rant by former player Mark Schlereth of ESPN. Big hits are a part of the game. The players love them, and so do the fans. Everyone that has ever decided to go on to the field and play football has known this and played the game on their own free will. The NFL is slowly getting ruined.
This is all happening on commissioner Roger Goodell's watch. I know he's not the only person, I know there's committees, but since he's been commissioner I've had gripes with him. He's been very inconsistent with his punishments, and is the main reason the league might to go to an 18-game schedule. He also wants to take "American" franchises and move them to other countries. I'm sorry but the NFL is "America's game." If you want football in Europe then give them back the Euro league.
There's also a very serious chance that there will be a strike next year.
I haven't been impressed with Goodell's rein as commissioner what so ever. Yes the league is popular, but my 13-year-old brother could be commissioner and the NFL would still have the same popularity. Goodell needs to find a way to help player's safety without ruining the actual product on field. James Harrison is now contemplating retirement, because he's not sure if he can still play effectively under these new rules.
To me, one fix should be the actual helmet. The helmet has become a weapon in itself. If they use a lighter helmet, more like the helmets used in the NHL, I think you would see almost no head-on-head hits, and therefoer even less head injuries.
Whatever happens, I really hope this beautiful game, the greatest game on the planet, doesn't get ruined by Roger Goodell, and/or the rest of the people that are ruining it as we speak.
You can follow me on Twitter/ www.twitter.com/madchad1187 and go to my blog www.412sportstalk.net
This article is
What is the duplicate article?
Why is this article offensive?
Where is this article plagiarized from?
Why is this article poorly edited?

Atlanta Falcons: Like this team?