Colts-Redskins: Top Performers on Sunday Night Football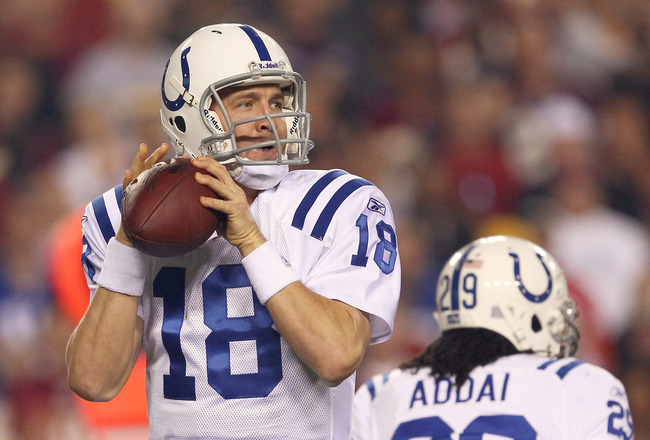 Win McNamee/Getty Images
The Colts traveled to Washington Sunday night and defeated the Redskins in an exciting game. We saw big hits, bruising and powerful running, and two of the best catches we'll see all year.
Although the Colts took the lead in the second quarter, Washington proved to be resilient at home, answering back in the third quarter.
Peyton Manning was the usual Peyton Manning statistically. However, it was the running game that truly won the game.
The Colts defense stepped up in the final minutes. They put an end to any heroics Redskin fans envisioned out of Donovan McNabb and held on for the 27-24 victory.
Donovan McNabb, Washington Redskins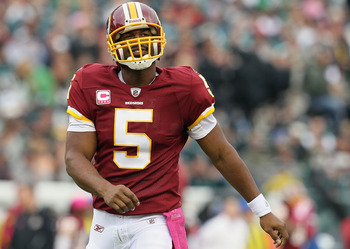 Jim McIsaac/Getty Images
McNabb was up and down in this game, throwing a pick on the Redskins' opening possession. McNabb settled in for the most part, just as he is settling into Mike Shanahan's offense more each week.
He is developing a nice chemistry with Santana Moss, who had eight receptions for 77 yards. He is also connecting more with Anthony Armstrong, who had five receptions for 46 yards.
McNabb was most effective on the second drive of the fourth quarter. He led the team downfield in a drive that lasted almost six minutes. He completed 10 of 11 passes on the drive, topped off by a touchdown pass to a wide-open Keiland Williams in the flats.
He had a chance to win the game with only 30 seconds left but was intercepted on the Hail Mary attempt.
McNabb finished the game completing 29 of 45 attempted passes (64.4 completion percentage) for 246 yards, one touchdown and two interceptions.
Brian Orakpo, Andre Carter and London Fletcher, Washington Redskins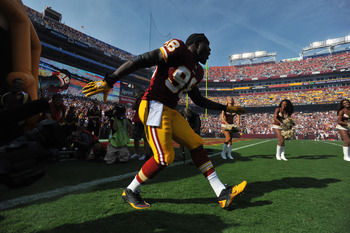 Larry French/Getty Images
The Washington linebackers did a great job keeping the Redskins in this game by forcing turnovers to give the offense an opportunity to tie or win the game.
London Fletcher recorded seven tackles and forced a fumble on a big hit on Joseph Addai, which also forced Addai to leave the game with a shoulder injury.
Brian Orakpo had just two tackles but forced a fumble on Peyton Manning, counting as a sack as well. Andre Carter recovered the Manning fumble. The Redskins took advantage of this turnover by converting it into a touchdown.
It is difficult to believe the Redskins would have been as close in this game without these two forcing turnovers.
Peyton Manning, Indianapolis Colts
Win McNamee/Getty Images
Statistically, Peyton Manning was once again great. He completed 25 of 38 attempted passes (65.8 completion percentage) for 307 yards, two touchdowns and zero interceptions.
However, Manning almost cost his team the game on several throws. He could have thrown about four interceptions if the Redskins cornerbacks were actually able to hold on to the ball. Several passes hit them in their hands, mainly Carlos Rogers, who has been unable to hang on to any interceptions it seems.
Manning got the job done in the end, of course. A win is a win. However, Manning has not looked as accurate over the past two weeks as he usually does.
Austin Collie, Indianapolis Colts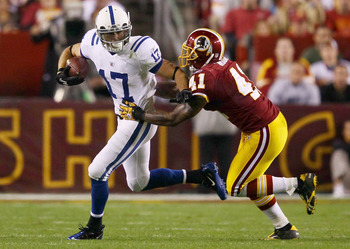 Win McNamee/Getty Images
Austin Collie appeared to be Manning's go-to receiver to open the game. Collie was targeted throughout the game.
He led the team with seven receptions. He also caught one touchdown and had 57 yards receiving.
Despite dealing with a foot injury, Collie played well in the game. He has been fantastic for the Colts through the first six weeks and continued his consistent ways against the Redskins.
Aaron Francisco, Indianapolis Colts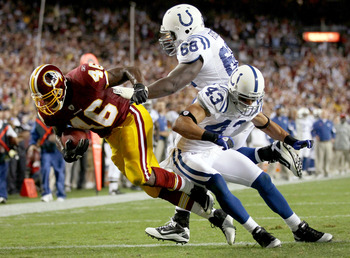 Win McNamee/Getty Images
Aaron Francisco recorded five tackles in the game.
Most importantly, he sealed the win on Donovan McNabb's Hail Mary attempt.
Francisco took a gamble leaping up on the attempt. He somehow managed to come down with a spectacular one-handed interception and stay in bounds as he was inches away from the sidelines.
This may easily be one of the best plays we see all season.
This incredible athletic play crushed any hopes McNabb and the Redskins had to win the game on a last ditch effort.
Francisco deserves praise for this amazing play.
Joseph Addai and Mike Hart, Indianapolis Colts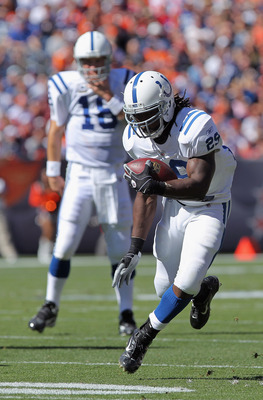 Doug Pensinger/Getty Images
Although Manning threw for over 300 yards and two touchdowns, it was the dominant running of Joseph Addai and Mike Hart that ultimately won the game for the Colts.
Addai was forced to leave the game for the second consecutive week with a shoulder injury on a play he fumbled the ball but left his mark prior.
He ran for 128 tough yards on 17 carries. He scored on a 13-yard run in the third quarter, where he resembled a ping-pong ball bouncing off defenders and was bullied into the end zone by his own lineman.
His big 46-yard run was the longest of his career.
It is easy to assume that Addai would have rushed for over 150 yards if he was able to finish the contest.
Similar to Week 5, Mike Hart entered the game as the "closer" for the Colts as Addai was unable to finish. Hart ran hard again despite dealing with his own hip injury. He rushed 11 times for 43 yards to help seal the victory.
Ryan Torain, Washington Redskins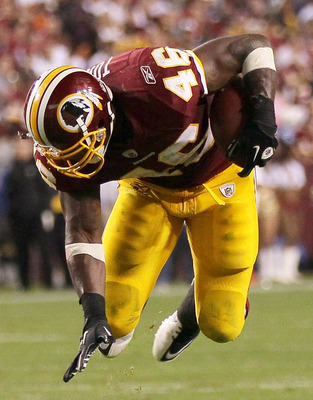 Win McNamee/Getty Images
Ryan Torain turned in the most dominant performance of his career.
Torain carried the rock 20 times and ran for exactly 100 yards. He powered through defenders for two touchdowns.
Torain does not have explosive speed, but he is a powerful and bruising running back. He constantly ran over defenders and broke tackles all night.
He also added one reception for nine yards.
Torain clearly looks like the feature back Mike Shanahan needs for his offense. I would expect Shanahan to continue to rely heavily on Torain with the lack of receiving threats in Washington at the moment. Torain has been running to prove doubters wrong over the past three weeks, and very few defenders will want to tackle him.
Pierre Garcon, Indianapolis Colts
Doug Benc/Getty Images
Garcon only had four receptions. However, two of them were huge receptions as he went on to total 103 yards receiving.
After Jerrod Powers intercepted Donovan McNabb on the Redskins' first possession of the game, Garcon split a double team up the right middle of the field for a big 57-yard touchdown.
Manning put the ball right on the money, and Garcon caught the ball in stride. He was almost tripped up heading into the end zone, but he kept his balance and gave the Colts the lead.
Garcon is my top performer for the dazzling one-handed reception in the second quarter by the sideline.
Garcon leapt in the air, stretching out as far as he could, and caught a difficult pass with his right hand. He never brought his other hand over to cradle the ball and came right down with the one-handed reception. Garcon's catch is easily one of the best catches of the year.
Keep Reading

Indianapolis Colts: Like this team?