Browns Vs Steelers: Colt McCoy Looks Good In Loss To AFC North Rival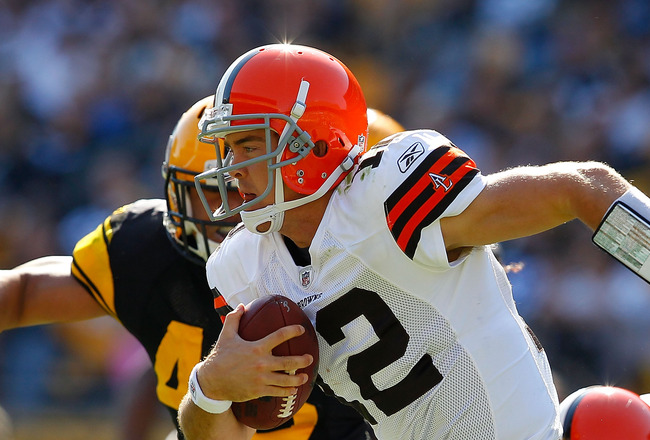 Jared Wickerham/Getty Images
As expected, the Cleveland Browns lost to the Pittsburgh Steelers on Sunday, but rookie Colt McCoy played increasingly better as the day went on, adding a silver lining to an otherwise bleak day.
The game saw the expected: The Browns secondary being torched by Ben Roethlisberger.
The game also saw the unexpected: McCoy showing more confidence and poise after some early butterflies.
That's just the tip of the iceberg, though, so let's take a look at what went well and what didn't in the contest.
Colt McCoy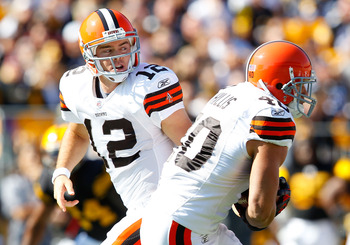 Jared Wickerham/Getty Images
McCoy made a few rookie mistakes, there's no getting around that, but overall, there's really nothing to complain about in McCoy's debut.
He showed some early jitters, bailing out of the pocket on a handful of plays much earlier than he should have. His one interception was thrown into triple coverage, but to be fair, the receiver should have caught the ball.
McCoy's second interception was pure bad luck off of a deflection and is only mentioned because it's on his stat line of 23 for 33 with one touchdown and two picks.
McCoy's one touchdown was a beautiful thing for Browns fans to see considering the difficulty this team has had the last few years getting into the end zone.
In short, McCoy showed increasing confidence and poise as the game went on and, most importantly, he moved the offense with efficiency, something not all the guys behind center the last few years have been able to do.
Brian Daboll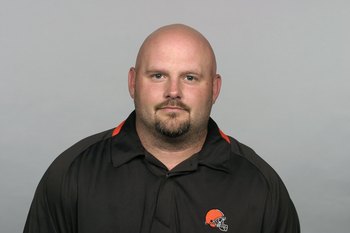 NFL Photos/Getty Images
Credit where credit is due: Brian Daboll called a good game, probably the best of his career as the Browns offensive coordinator.
He didn't shut the offense down at the first sign of trouble, and he let Colt McCoy play. Even after Joshua Cribbs got hurt, Daboll didn't send the offense into a shell of running the smallest guy up the middle for three downs before punting.
Hopefully this is a sign of things to come because I was starting to get really tired of bashing him. Not because he didn't deserve it, but because there seemed to be no way to avoid bashing Daboll's playcalling.
Bravo, Sir!!
James Harrison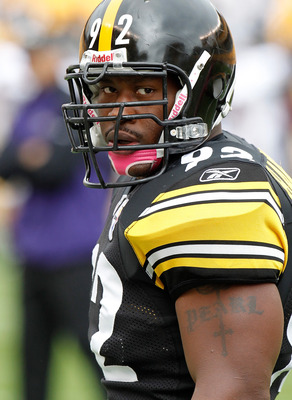 Gregory Shamus/Getty Images
James Harrison wins the scumbag of the week award for two helmet-to-helmet collisions, knocking Joshua Cribbs and Mohamed Massaquoi out of the game.
No flag on either play, and even though Cribbs wasn't considered "defenseless" at the time of his hit, these are the kinds of hits the NFL wants to get rid of and it was a similar hit to what got T.J. Ward fined.
If Harrison doesn't receive a substantial fine for his dirty play, there's definitely something wrong with the NFL.
The referree crew also should be subjected to some kind of discipline for missing two blatant helmet-to-helmet collisions. Their job is to see and flag this kind of play.
Chansi Stuckey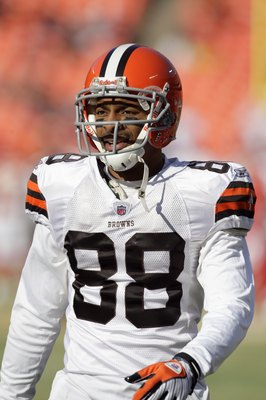 Jamie Squire/Getty Images
Chansi Stuckey had four catches for 46 yards and was the Browns leading wide receiver. Of course, with Massaquoi and Cribbs knocked out and Brian Robiskie a non-factor, he ended up being about the only Browns wide receiver on the field.
Tight Ends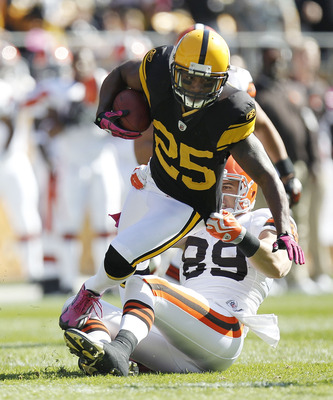 Gregory Shamus/Getty Images
Ben Watson and Evan Moore were the team's leading receivers and came up big with critical catches late in the game.
Not much more to say about these guys, they're doing everything they can with the limited opportunities they've had.
Eric Wright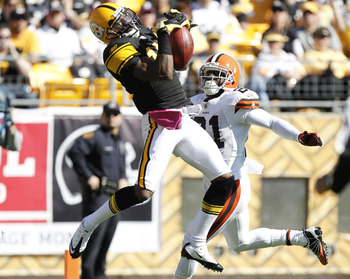 Gregory Shamus/Getty Images
Another game and another week of seeing Eric Wright completely out of position or getting torched in the secondary.
Not much else to analyze here, Wright is having a horrible 2010 season and opposing offensive coordinators will keep exploiting him until he starts making plays.
Ben Roethlisberger
Jared Wickerham/Getty Images
Roethlisberger looked good in his return to the field with the exception of the interception to Joe Haden.
I'll let the Pittsburgh guys break his stats down.
Moving on . . .
What's Next?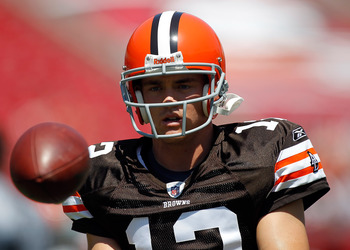 J. Meric/Getty Images
Next up is the New Orleans Saints, who don't have a defense quite as good as the Steelers.
If McCoy starts, and there's no reason to believe at this point he won't, it should be a much more fun game for Browns fans to watch.
McCoy can move the offense, and with some experience under his belt, he won't have the first half jitters he had this week versus the Steelers.
It's too early to make any kind of prediction, but Browns fans should feel better about their chances versus New Orleans as things stand right now.
Keep Reading

Cleveland Browns: Like this team?