Milwaukee Brewers All-Time Best Lineup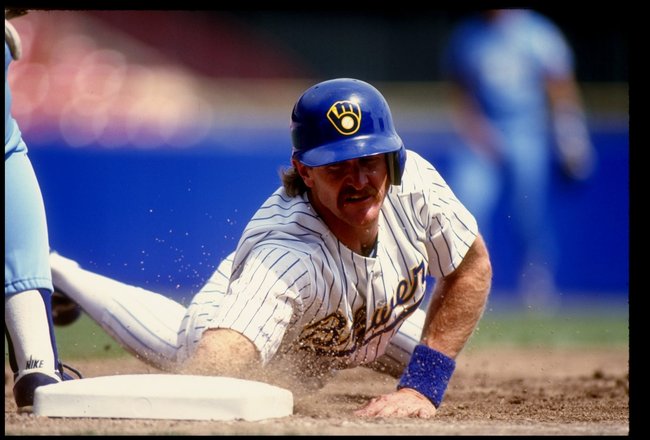 Getty Images/Getty Images
The history and awe that is the Milwaukee Brewers franchise is surrounded and enriched in talent and winning.
From Robin Yount and Harvey's Wallbangers way back in '82, to the drafting successes that have enabled us to witness current superstars Ryan Braun and Prince Fielder, we are all truly grateful for what this franchise has done for the city of Milwaukee and the state of Wisconsin.
Trying to name the best all-time starters in Brewers history is a tremendously difficult feat in itself, but I believe that this franchise deserves nothing less than a true toast to the past and present accomplishments that some individuals have given to the Brewers.
Ranking former players based on position played is hard enough—discounting the ample history and pure talent this club has attained since, well, ever.
The City of Milwaukee was made for baseball, and baseball was made for Milwaukee.
From being home to the league's best play-by-play announcer—the one and only Bob Ueker, to the world's only seventh-inning stretch where sausages run for glory, the Milwaukee Brewers franchise is a true testament to baseball and all it's prestige.
Honorable Mention: Prince Fielder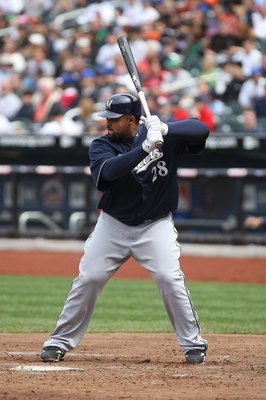 Nick Laham/Getty Images
Although talk about Prince Fielder's departure from Milwaukee has already begun this offseason, we must not forget what he's done for the Brewers in his five short seasons.
Fielder started his career with the Brewers' AAA affiliate Nashville Sounds, where he was quickly noticed for his tremendous power and exclusive swing that so many of us have come to know.
In five short seasons, Fielder is already engraved in Brewers history, becoming the only Brewers player to hit 50 HR in a season, in 2007. Prince is only second to Ryan Braun in career SLG percentage with the Brewers, at .535—but more notably set the Brewers' single-season SLG percentage at .608 during the 2007 season.
Fielder also holds the Brewers' all-time OBP record at .385. The fear Fielder has installed even in the game's best pitchers is a true gem to watch. The might and power he uses can only be compared to, well, no one.
Through five seasons with Milwaukee, Fielder has averaged 38 HR per season, something that no other Brewers player can even touch.
Fielder was truly the first young player for the Brewers since the 1982 pennant team to spark major enthusiasm within the fan base of Milwaukee—shortly followed by a wave of young, home-grown talent such as Ryan Braun, Corey Hart, Rickie Weeks, Ben Sheets and Yovani Gallardo.
Its a shame to think that the Brewers can't afford to sign Fielder this offseason, but the spirit and reason to believe that he's been able to give to the Brewers is truly unmatched.
First Base: Cecil Cooper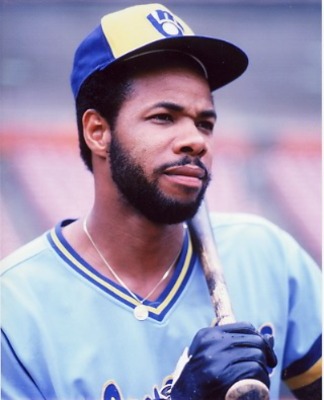 Cecil Cooper—the Brewers' only true full-time first baseman worthy of being named the best the organization has ever had.
In the championship season of 1982, Cooper slugged his way to a 32 HR, 121 RBI season—a season in which Milwaukee natives will never forget.
In his tenure with the Brewers, Cooper drove in 944 RBI, 201 HR, 1,185 hits. It's quite easy to see why Cooper deserves this spot amongst the all-time Brewers greats. In fact, some can argue that Cooper is the Brewers' all-time best player—a debatable statment indeed—but none the less one of the best that the game has ever seen.
Cooper isn't given quite enough respect for what he's accomplished as a Brewer, and also what he's done as just a great baseball ambassador.
Nevertheless, we'll never forget all that Cooper was able to give to the Brewers and the City of Milwaukee.
Second Base: Jim Gantner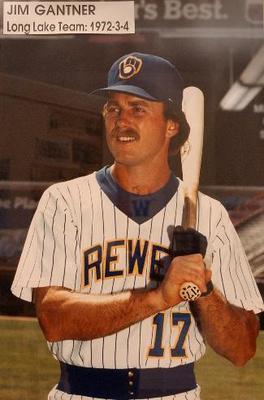 Another honorable mention for Harvey's Wallbangers.
Gantner played a variety of positions in his tenure with the Brewers. Most notably at second base, Gantner was never known for his power but his pure hitting abilities.
Gantner gave the Brewers 17 solid seasons, one of which include the 1982 pennant win over the Angels.
As a Brewer, Gantner drove in 568 RBI, 1696 hits, along with 137 SB.
The Brewers haven't had the best second baseman group in their history, but Gantner clearly is the best representative for the honerable mention.
Third Base: Paul Molitor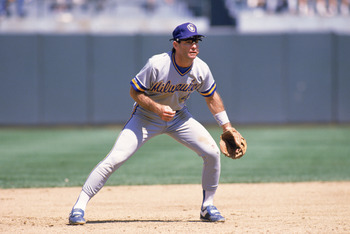 Otto Greule Jr/Getty Images
The guy is simply amazing.
Paul Molitor is classified to some as the greatest player in Brewers history—and who can blame them?
Molitor is second on the all-time Brewers hits list with 2281, second in runs scored with 1275 and second to Robin Yount in 2B (405).
Molitor will go down as one of the best hitting-infielders in MLB history, which was enough to send him to the Baseball HOF in 2004.
Molitor's defensive skills have also been recognized by many, with a career FPCT of .970—an impressive number for most third basemen.
For 14 seasons with the Brewers, Molitor prospered into one of the best—if not the best players in Milwaukee's history. The blood, sweat and tears-type attitude that Molitor put forth will be recognized for many generations to come.
Although Molitor was that one-of-a-kind player with the Brewers, it seems he'll always take a back seat to Robin Yount...
Shortstop: Robin Yount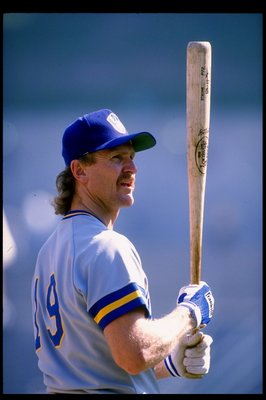 Otto Greule Jr/Getty Images
His name alone brings up conversation everywhere in the baseball world—and it isn't because of his mustache.
It's hard to figure that a single man can make up an entire town's worth of sporting history, but Robin managed to do just that.
Yount leads the Brewers in AB (11008), R (1632), H (3142), 2B (583), 3B (126), HR (251), and RBI (1406). If anyone can definitely say that someone other than Yount is what shaped Milwaukee baseball, I'd call them crazy.
Yount was the bread and butter of the 1982 pennant team and played a major role in the successes of the team that season.
Looking back, it seemed like Yount was in every highlight-reel you ever saw back in '82, and his diving catch to record the final out of the 1982 ALCS against the Angels will be forever remembered as the greatest catch in Brewers history.
Hard work, dedication and self-preservation is what helped Yount succeed so much in his 19-year career with the Brewers. Inducted into the Baseball HOF in 1999, Yount will forever be remembered as the greatest player in Milwaukee Brewers history.
Outfield: Ryan Braun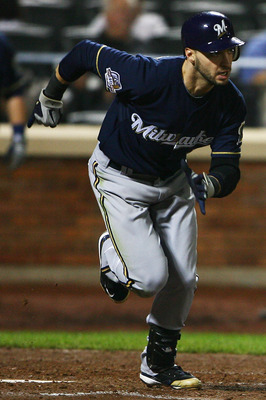 Andrew Burton/Getty Images
Here's to the now, and the future...
Ryan Braun is the future of the Milwaukee Brewers—it's that simple. Through four seasons, Braun has 128 HR, 420 RBI, 149 2B, and has a slugging percentage of .554.
The key difference between Braun and other star outfielders in today's game is the drive. By "drive," I mean the hustle, work ethic, attitude and tone he plays at.
His ridiculous start has even impressed former Brewers star and bench coach Robin Yount—now that's a way to start a career.
Braun's performance thus far has caught the attention of the entire league—and country for that matter. Through his first four years, Braun's stats are in the same category as Albert Pujols and Joe DiMaggio—a fairly decent group, I might add.
Let's not forget about what Braun has done to help the team level so far. Sending us to the playoffs in 2008 on a walk-off home run against the Cubs in dramatic fashion is something that only the most adroit players in the history of baseball are able to do.
It's truly a shame to know that current star first baseman Prince Fielder may be dealt away this offseason. The 1-2 combo of Braun and Fielder is the most feared in the game, and it's truly upsetting to know that their talents will no longer be on the same team. Nevertheless, Braun's successes shouldn't regress in the least.
Outfield: Geoff Jenkins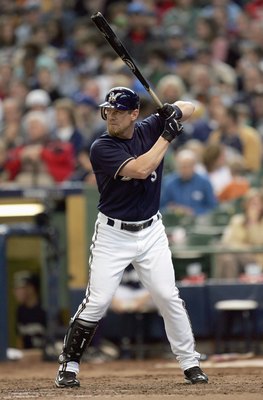 Jonathan Daniel/Getty Images
A very gritty, hard-working player who is certainly deserving of an all-time Brewers great.
Drafted by the Brewers as the ninth-overall pick in 1995, Jenkins played in Milwaukee from 1998-2007 before a stint with the Phillies that netted him a World Series ring.
Jenkins will be forever known in Milwaukee as a loyal, hard working player who everybody loved. His passion and love for the game was imminent as was a real joy to watch.
Fourth on the all-time hits list, and second in career HR with the Brewers (212), Jenkins surely was a workhorse. Only trailing Robin Yount, Paul Molitor and Cecil Cooper, Jenkins is the only recent player in Brewers history to amount to over 1,200 career hits with the Brewers.
Pure hitting wasn't his primary strength, but the long ball, however, was.
We all can reflect on a few long-balls hit by Jenkins in his career with the Brewers, and that is something that all Brewers fans can take pride in. Jenkins was out hometown kind of guy, and we all love him for it.
Outfield: Gorman Thomas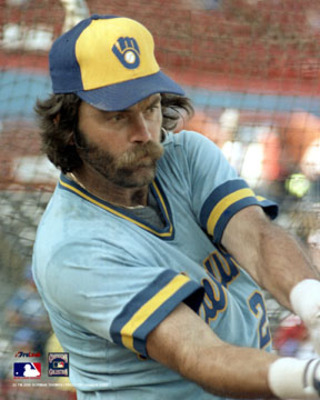 "Stomin' Gorman", as Milwaukee natives once called him, was a fan favorite on and off the field during the seasons leading up to the 1982 pennant season.
Gorman was known for one thing—the long ball.
A career .230 BA with the Brewers, Thomas wasn't exactly the best pure contact hitter. However, the long ball came naturally to Gorman and was a primary reason for the Brewers' success in his 10 years with the Brew Crew.
Thomas ranks third in HR (208), and sixth in RBI (608) amongst Brewers greats.
He'll always be remembered for the long shaggy hair and his tougher-than-nails type attitude. Gorman will go down as one of the best pure Brewers players to step onto the field.
Starting Pitcher: Ben Sheets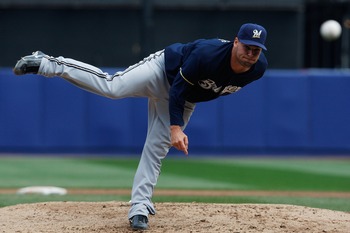 Nick Laham/Getty Images
Possibly the biggest bust in Brewers history. Still, however, the owner of some of the greatest pitching games Milwaukee has ever witnessed.
A career 86-83 record with the Brewers, Sheets will go down as the greatest starting pitcher Milwaukee has ever attained. From his 18 K game, to his dominating curve-ball, Sheets was once a force to be reckoned with.
Injury took ahold of Sheets' career, and since being signed by Oakland through free agency this past offseason, Sheets is now considered the biggest thing not to happen since, well, forever.
During the wild card appearance for the Brewers in 2008, Sheets was part of the deadly 1-2-3 punch that was C.C. Sabathia, Ben Sheets and a young Yovani Gallardo. Possibly the most feared pitching staff in the majors through the last month of the regular season, the combo never lived up to the hype—losing three straight to the eventual World Series winning Philadelphia Phillies.
Still, even with all the negativity and injuries, Sheets owns the Brewers all time SO record with 1206.
Closer: Trevor Hoffman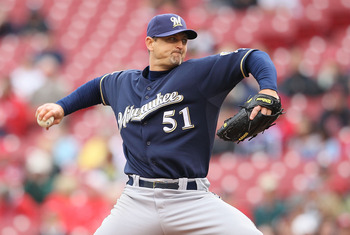 Andy Lyons/Getty Images
Owner of the most regular-season saves in MLB history, Trevor Hoffman was aquired by the Brewers at the beginning of the 2009 season.
Hoffman played a part in huge victories in 2009 and 2010 and got his 600 career save with the Brewers on September 8th, 2010 against the St. Louis Cardinals.
Hoffman is the greatest closer in MLB history, but on a much more personal level, Hoffman deserves to be called the best closer the Brewers have ever had, disregarding the amount of time he's been with the club.
"If you love the game, it's going to love you back," says Hoffman, the game's all-time saves leader.
Hopefully the Brewers can preserve Hoffman for the upcoming 2011 season...
Manager: Harvey Kuenn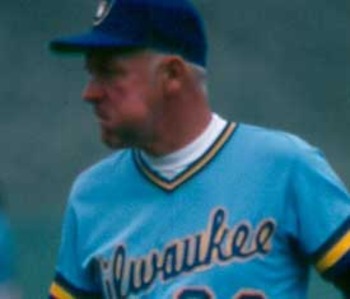 As stated before, the 1982 Milwaukee Brewers team lead by manager Harvey Kuenn will be forever remembered as the team that could do anything.
With a scrappy, "team"-mentality type of manager that Kuenn was, the 1982 pennant team that was the Milwaukee Breweres will be forever remembered as "Harvey's Wallbangers."
The Brewers as a team hit 216 HR in the regular season, thus earning the nickname.
With Outfielder Gorman Thomas leading the way, it's no wonder how the 1982 Milwaukee ball club was able to lead the league with the long-ball.
In his two years stint managing the Brewers, Kuenn was able to accomplish what no other Milwaukee manager has ever done—reach the World Series.
Conclusion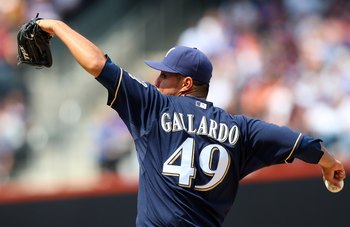 Jim McIsaac/Getty Images
As we look toward the future of the Milwaukee Brewers, we can surely see a light at the end of the tunnel.
GM Doug Melvin wants a championship for the city of Milwaukee, and rest assured he will get us there. Without the enormous amount of home-grown talent, we wouldn't be where we are today. Drafting key players such as Ryan Braun, Corey Hart, Rickie Weeks, Yovani Gallardo and Prince Fielder have proved to be some of the best draft-choices we've ever seen.
If we all can just take a step back and realize that this team has immense potential just waiting to burst out of it, we can all more fully appreciate what this team is capable of accomplishing.
A Wild Card berth in 2008 was just a small dose of the postseason for Milwaukee. But if the team can harness it's full-potential, we should all be looking forward to a World Series title.
Players come and go, but some remain and build legacies that last a lifetime. The All-Time Milwaukee Brewers lineup is dedicated to those few players that will have a lasting impact on the organization for decades to come.
Keep Reading

Milwaukee Brewers: Like this team?