Fantasy Football 2010: 5 Players You Need to Finally Drop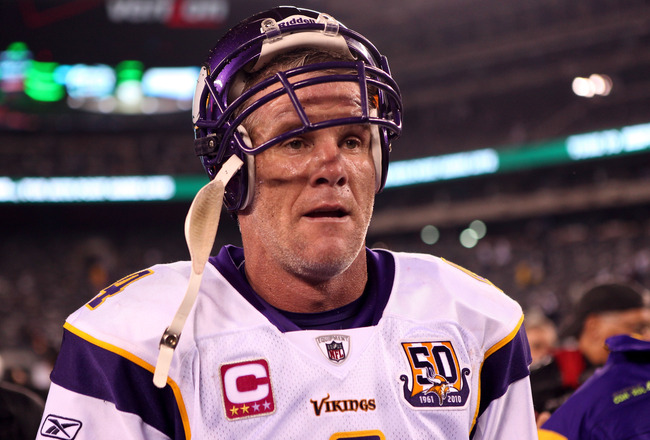 Andrew Burton/Getty Images
The 2010 NFL season has seen teams with Super Bowl expectations get off to slow, struggling starts, as well as players who were supposed to have big seasons fail miserably.
Six weeks into the season, fantasy owners may still be holding onto unproductive players with hopes that they will catch a streak soon. Well, this is the week you owners should cut your losses and find a replacement that will be more beneficial to your roster.
The following players are five individuals that should be cut from your squad immediately.
RB Jonathan Stewart, Carolina Panthers
Streeter Lecka/Getty Images
Week 6 Opponent: Bye
Jonathan Stewart is struggling a bit this season, and it will not get any better. Stewart hasn't seen more than eight carries in any game this season. For fantasy owners it is pointless to have this guy on your roster if he's only touching the ball no more than eight times a game.
DeAngelo Williams is seeing a majority of the runs for the Carolina Panther, and it will most likely remain that way. Even if Stewart receives increased carries, I wouldn't expect much from the third-year back out of Oregon in the 2010 season.
WR Dwayne Bowe, Kansas City Chiefs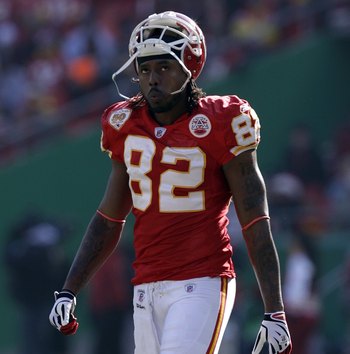 Jamie Squire/Getty Images
Week 6 Opponent: Houston Texans
If you have Dwayne Bowe on your fantasy roster, he is a waste of space. Drop him as soon as you can and pick up a sleeper wideout like Danny Amendola of the St. Louis Rams or Brandon Tate of the New England Patriots.
In four games Bowe only has nine receptions for 152 yards and one touchdown. Much more is expected out of the former LSU Tiger with 91.1 percent of ESPN fantasy football players owning him. If you are a part of this 91.1 percent, make the cut now before you regret it later.
RB Darren Sproles, San Diego Chargers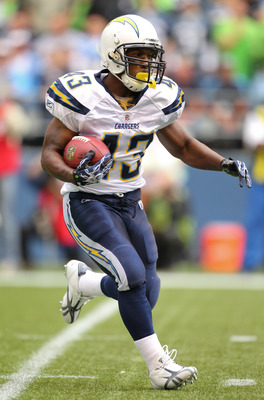 Otto Greule Jr/Getty Images
Week 6 Opponent: St. Louis Rams
With LaDainian Tomlinson's departure, Darren Sproles was expected to be a terrifying force this season. But in the first round of this year's draft the San Diego Chargers selected Ryan Mathews out of Fresno State with their 12th pick.
Mathews has seen a majority of the carries and will continue to do so. Unless Sproles gets traded somewhere else, he will remain a non-factor in the 2010 season.
Cut Sproles and try to get his teammate FB Mike Tolbert, if available. Tolbert has seen most of the Chargers' carries, rushing the ball 63 times this season for 292 yards and four touchdowns.
QB Brett Favre, Minnesota Vikings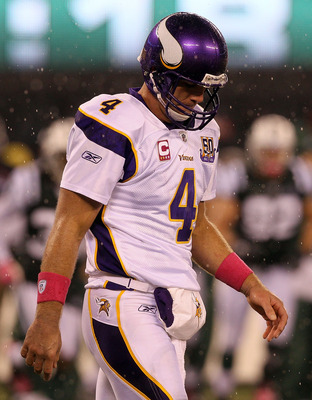 Jim McIsaac/Getty Images
Week 6 Opponent: Dallas Cowboys
I hate to do this to a legend like Brett Favre, but you must replace this withering quarterback with someone new on your fantasy roster. He might just be off to a slow start, but I see more than that.
Favre has already said that he'd be willing to sit out a game to rest his elbow if his tendinitis gets worse. That is not Favre-like. This is not the Brett Favre that football fans have known and loved for years.
He has always been known as a warrior, but for him to even contemplate sitting out in Week 6 tells me that this is not the same Brett Favre that has been in the NFL for the last 20 years. Either that or the tendinitis is that bad, which can cause a progressing problem throughout the season, leading him to miss some games and perform worse than he really should.
Although he threw quite well in the second half against the Jets in Week 5, Favre has struggled continuously this season. Brett has led the Vikings to an embarrassing 1-3 start this year, and by the looks of their remaining schedule, it will continue to get worse. This is a new phase of Brett Favre, and most likely the end.
I'm not saying to just cut him, but shop him around a bit. Put Favre on the trading block or offer a couple of opposing teams some trades involving him. You should at least be able to snag someone's backup QB for the future Hall of Famer, or even get a steal deal from a Favre fanatic.
WR Mike Sims-Walker, Jacksonville Jaguars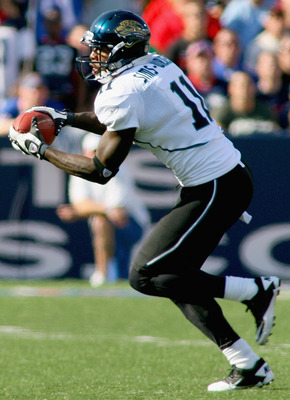 Rick Stewart/Getty Images
Week 6 Opponent: Tennessee Titans
Mike Sims-Walker has had one extraordinary game this season but otherwise has played pathetically. In two games this season Sims-walker didn't make a single catch. If you had him starting for those games, it was a big loss.
Stop waiting for Sims-Walker to have another big game and drop him from your squad ASAP.
In Fantasy football you can't have a guy like Sims-Walker that will have an explosive game once every six weeks and than have multiple no-catch games. That kills your numbers. It's like playing Russian roulette because you never know when you'll hit or miss with this receiver.
There are a bunch of good free agent wide receivers to choose from in most fantasy football leagues, so drop Sims-Walker and pick up a potential gem of the 2010 season like Jabar Gaffney (DEN), Louis Murphy (OAK) or Anthony Armstrong (WAS).
Keep Reading