Trading Places: Randy Moss And The Ten NFL Trades With The Most Impact In 2010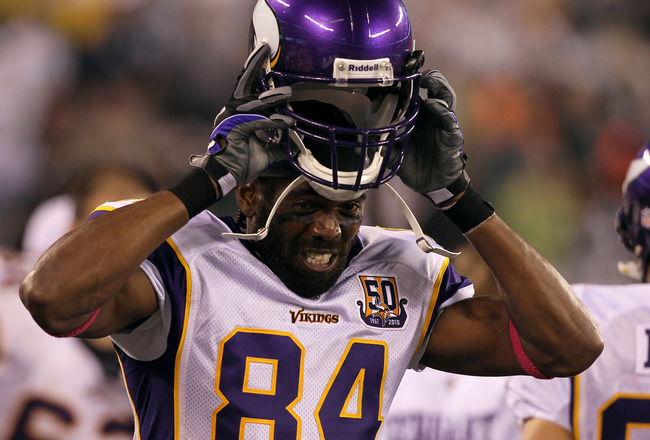 Jim McIsaac/Getty Images
Heading into week six in the NFL, there's finally enough of a sample size to start analyzing the impact that players acquired via trades have had on their new teams.
From the end of last season all the way up until last week, the NFL has been anything but short on big name players switching teams through high profile trades. Let's take a look at which newcomers have been the most successful thus far in 2010.
Also, before any of you ask about players like LaDanian Tomlinson, Julius Peppers, or Karlos Dansby, remember that this is a list of players acquired via trade only. The big impact free agents list is still to come.
Honorable Mentions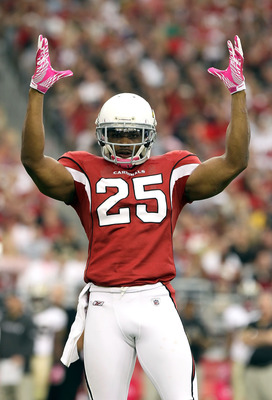 Christian Petersen/Getty Images
Although these guys didn't quite make the cut, they've either put up respectable numbers thus far, or have the potential to do something special as the season progresses.
Kerry Rhodes: This former Jets safety has done a great job as the starting free safety for the Arizona Cardinals this season.
2010 stats: 30 tackles, 1 int, 5 passes deflected, 2 defensive TD's
Marshawn Lynch: This new Seahawk did enough in his limited playing time in Buffalo to draw the attention of Pete Carroll. Let's hope for Seattle's sake that he contributes to a rushing attack that is among the worst in the NFL.
2010 stats: 37 carries, 164 yards, 0 TD's
10. Corey Williams To The Detroit Lions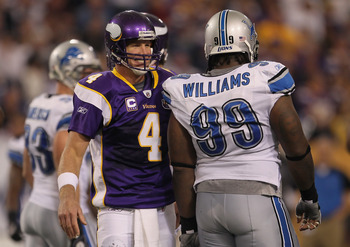 Jeff Gross/Getty Images
Unless you're a top pass rushing defensive end, the impact of the guys on the defensive line is often overlooked. The Detroit Lions, however, knew how important it was to have a veteran defensive tackle to line up beside highly touted rookie Ndamukong Suh.
Although Williams' time in Cleveland didn't live up to his performance in Green Bay, he still has the potential to plug up the middle and put pressure on the opposing quarterback.
2010 stats: 17 tackles, 1 sack, 1 int, 1 forced fumble, 3 pass deflections
If the Lions are going to improve a defense that finished dead last in the NFL by allowing 30.9 points per game in 2009, Corey Williams will play a big part. If he can duplicate the success he had when he averaged seven sacks per season in his two full 16 game seasons in Green Bay, the Lions just might be able to be one of the NFL's surprise teams this year.
9. Santonio Holmes To The New York Jets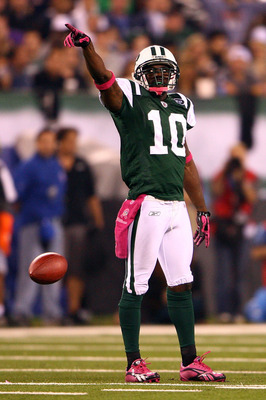 Andrew Burton/Getty Images
Okay, so maybe the inclusion of Santonio Holmes makes the title a little misleading since he was suspended for the first four games of the season for violating the league's substance abuse policy.
Nevertheless, it would be unwise to discount the importance of Holmes to the New York Jets. With one of the league's elite rushing attacks, Holmes now teams up with Braylon Edwards and Dustin Keller to give Mark Sanchez plenty of options downfield.
2010 stats: 3 receptions, 41 yards, 0 TD's
Once Holmes has time to get familiar with Mark Sanchez and the Jets' offense, look for him to put up big numbers. Outside of Holmes, through the first five games of the season, Braylon Edwards is the only Jets' wideout averaging more than 28 yards per game for the year.
Santonio Holmes should easily put up much bigger numbers than the man he is replacing, Jerricho Cotchery.
8. Randy Moss to The Minnesota Vikings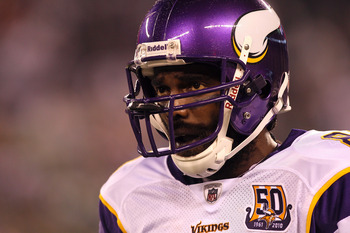 Jim McIsaac/Getty Images
Sure, Randy Moss has only played in one game for the Minnesota Vikings. However, considering that in his one game in Minnesota purple he had more yards receiving in any game since November of last season, the Vikings can expect big things throughout the rest of the year.
2010 stats(Minnesota): 4 catches, 81 yards, 1 TD
Not only will his presence open up routes for other receivers by drawing potential double coverage, it also allows the speedy Percy Harvin to move back to the slot where he is much more effective.When Sidney Rice returns from his hip injury, the Vikings will have one of the most feared receiving corps in the league.
Hopefully for fans in Viking country, they will still have a proven QB to get them the ball.
7. Mark Clayton To The St. Louis Rams
Ezra Shaw/Getty Images
Only one week ago, the Mark Clayton trade from the Baltimore Ravens to the St. Louis Rams had the potential to be one of the biggest of the year. Unfortunately for Rams fans, however, his injury against Detroit turned out to be severe enough to require season ending surgery.
At the time of his injury, Mark Clayton has been Sam Bradford's favorite target, and he was fourth in the NFL in receptions.
2010 stats: 22 receptions, 306 yards, 2 TD's
Still not sure of how important Mark Clayton was to the Rams? Consider this: Going into the Detroit game, Sam Bradford had completed 93 passes. Of those 93 completions, 22 of them were to Clayton. The only other Rams wide receiver with more than 6 catches through the first four games was Danny Amendola.
6. Antonio Cromartie to The New York Jets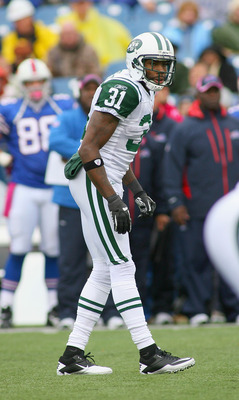 Rick Stewart/Getty Images
Coming off of a season where his New York Jets had the top defense in the NFL, what more could Rex Ryan want? How about the addition of former Pro-Bowler Antonio Cromartie to line up opposite Darrelle Revis at cornerback.
Ryan's sophisticated blitz schemes frequently require his cornerbacks to line up in single coverage against opposing receivers, often without any safety help. With Cromartie and Revis roaming each side of the field, opponents are faced with the difficult choice of which one to throw toward.
2010 Stats: 14 tackles, 2 interception, 8 passes deflected
With the lingering hamstring injury to Darrelle Revis, Cromartie has been forced to step up and cover the opponent's number one receiver. Once Revis gets healthy, look for the Jets stingy defense to get even better and Cromartie to have more opportunities for interceptions against quarterbacks who refuse to throw the ball to Revis Island.
5. Shaun Hill to The Detroit Lions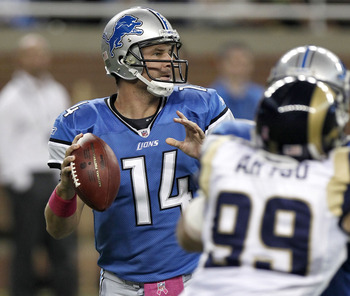 Gregory Shamus/Getty Images
If someone had said at the beginning of the season that the Shaun Hill trade from San Francisco to Detroit would be one of the biggest of the 2010 NFL offseason, many would have declared them legally insane. However, with the Matthew Stafford injury, Shaun Hill has stepped up and proved to be an invaluable addition to the Detroit Lions.
After Stafford went down in game one with a shoulder injury in week one, most fans in Detroit were prepared for another long season of uncompetitive football, at least until Stafford returned. In the absence of Stafford, Hill has performed well enough to keep Detroit close in nearly every game
2010 stats: 118-193, 1218 yards, 8 TD's, 7 Int's
Don't let the Lions' 1-4 record fool you. This is not the same Lions team of the past several years. The Detroit offense is putting up an average of 26.2 points per game, including 28 per game that Hill has started.
4. Donovan McNabb to The Washington Redskins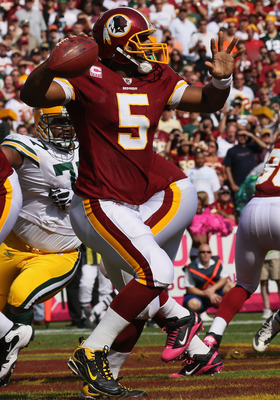 Win McNamee/Getty Images
Trading a franchise quarterback to an inter-divisional rival is unheard of in the NFL. Nevertheless, that's just what the Philadelphia Eagles did when they sent Donovan McNabb to the Washington Redskins for a 2010 2nd round pick and a 3rd or 4th rounder in 2011.
In his 11 years in Philly, McNabb made six Pro Bowls, including one as recent as 2009. Andy Reid must have really been high on Kevin Kolb to send his franchise quarterback to a divisional foe after the way McNabb performed in 2009.
In his short time in Washington, McNabb has led the Redskins to a 3-2 record, good enough for a tie for first place in the NFC East.
Of those three victories, one of them came against the Eagles in Philadelphia. McNabb also racked up 426 passing yards in a week two loss to the Houston Texans, the second highest total of his long career.
2010 stats: 96-170, 1315 yards, 4 TD's, 3 Int's
If the Redskins running game can remain competitive after the loss of Clinton Portis due to injury, don't be surprised if McNabb keeps leading the Redskins to victory. As he gets more comfortable with his new receivers in Washingon, McNabb's numbers should only continue to improve.
3. Brandon Marshall To The Miami Dolphins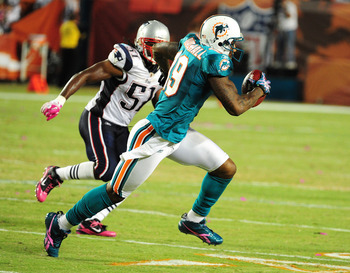 Scott Cunningham/Getty Images
When Josh McDaniels decided to trade away the Bronco's leading receiver after his third consecutive season where he caught over 100 passes and gained over 1000 yards, the Miami Dolphins were waiting with open arms and a 2nd round draft pick in 2010 and 2011.
Coming off a season where the Dolphins leading receiver gained just 758 yards, Tony Sparano was desperate to add a proven wide receiver, and the two-time Pro Bowler Brandon Marshall gives him just that.
Although Marshall hasn't visited the end zone as frequently as he has in past seasons, he currently ranks in the top 10 in the NFL in both yards and receptions per game averaging 85 yards and 7 receptions per contest. He's also responsible for 340 of Chad Henne's 964 passing yards.
2010 stats: 27 receptions, 340 yards, 1 TD
Even with Miami's tough schedule, Marshall should easily give the Dolphins their first 1000 yard receiver since Chris Chambers in 2005. Also, given his history, don't expect his low TD percentage to continue throughout the remainder of the year.
2. Peyton Hillis to The Cleveland Browns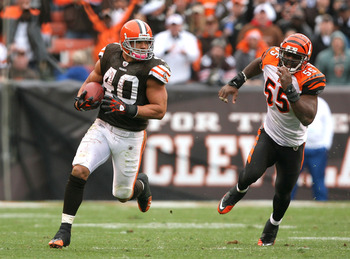 Matt Sullivan/Getty Images
After what Brady Quinn had done in Cleveland in his first few years in the league, Mike Holmgren was more than happy to ship him off to Denver for Peyton Hillis and a 2011 6th round pick.
Initially listed as the Brown's fullback and backup tight end at the start of the season, Hillis soon became the starting running back after injuries to Jerome Harrison and James Davis.
Hillis did not disappoint. In his first game as a starter in week three against an elite Baltimore defense, Hillis carried the ball 22 times for 144 yards and a touchdown. The following week against Cincinatti, Hill once again broke 100 yards.
2010 stats: 76 carries, 350 yards, 4 TD's; 20 receptions, 143 yards, 1 TD
With the pickup of Mike Bell from the Eagles, Hillis may see his playing time diminish, but look for him to make the most of the opportunities he is given. If Cleveland is going to improve on last years 5-11 record, Hillis will be an integral part.
1. Anquan Boldin to The Baltimore Ravens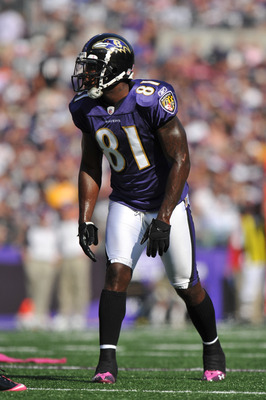 Larry French/Getty Images
If there's one thing that's been missing from the Baltimore Ravens for the past several seasons, it's an elite wide receiver to go with their dominant defense and formidable rushing attack. With the addition of Anquan Boldin from the Arizona Cardinals, the Ravens no longer have that problem.
This 2003 NFL Offensive Rookie of the Year and three-time Pro Bowler comes to Baltimore with five 1000 yard season under his belt and has continued to be successful catching the ball from Joe Flacco. Boldin is one of the main reasons that many consider the Ravens to be among the best teams in the NFL.
2010 stats: 28 receptions, 363 yards, 3 TD's
It's not only the numbers that Boldin has put up that make him integral to the Baltimore Ravens offense. He also provides them with a sure handed receiver with the ability to draw double teams, which opens up the running game along with Ray Rice and Todd Heap in the intermediate passing game.
Keep Reading

Minnesota Vikings: Like this team?