ALCS 2010: A.J. Burnett Can Play Pivotal Role Toward Yankees' World Series Title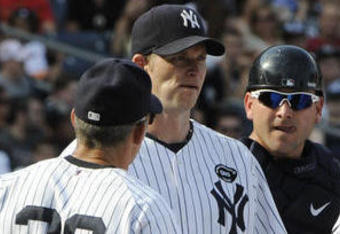 Struggling Burnett earns a visit from Manager Girardi

A.J. Burnett will be the first to admit his season was nothing short of disastrous.
In his second year with the Yankees he posted a 10-15 record with an ERA north of five over 180 innings of work.
The first Yankee pitcher to do so.
This following an impressive run during the second half of last year including an impressive postseason stint.
After his performance this year, it is easy to forget that it was Burnett who kept the Yankees' World Series hopes alive when he won Game 2 of the World Series against the Phillies after lefty ace Sabathia took the loss in Game 1 at Yankee Stadium.
Throughout his career, Burnett has shown he can be as dominant as he can be terrible.
He was responsible for a blowout loss to the Boston Red Sox last year in which the final score was 14-1. The same Burnett that shut out the Red Sox for seven-plus innings that ended 2-0 after Alex Rodriguez hit a two-run walk-off home run in the bottom of the 15th.
After sitting out the American League Division Series, Burnett is not rested, not relaxed, but anxious to start in the American League Championship Series against the Texas Rangers beginning Friday, October 15th on TBS.
(Note: The National League Championship Series, San Francisco Giants vs. Philadelphia Phillies begins Saturday, October 16th on FOX)
How deep will A.J. Burnett last in Game 4?
Burnett is expected to start Game 4 at Yankee Stadium on October 19th.
Aside from workouts and simulated games, this will be Burnett's first start since October 2nd. While there is a chance this could cause him to be rusty, there is a greater probability he will hit the rubber in the first inning at Yankee Stadium and feel he is home.
Fans of the Yankees expect him to step up and prove himself worthy. Burnett also knows he has to regain the trust and respect of the New York crowd.
It is important not only that he gets a start in the ALCS, but that it comes at home. As brutally honest the Yankee faithful can be with their players, they want another championship and will sooner push Burnett forward than they will harass him while he is on the mound.
He has had more than his fair share of boos from his home crowd, but October is the time to erase everything from the regular season, be it failure or success.
In 2009, Alex Rodriguez was the Yankee under the microscope. All eyes were on him to perform and contribute in order for New York to claim their 27th title.
A.J. Burnett is in the spotlight this year for the Bombers.
Whether he gets a win or loss, whether or not he factors into the decision is somewhat irrelevant.
His mission first and foremost is to get the win, yes, but to also keep the Yankee bats and fans in the game. His start is also pivotal to give the New York rotation the rest needed to minimize the need to pitch on short rest.
The Yankees have already overcome the doubt concerning their pitching in the ALDS. They are now faced with the uncertainty of Burnett who should be capable of performing admirably considering he will be focusing all of his abilities over the span of no more than two or three starts depending on if the Yankees advance to the World Series.
New York will not win another series this year without Burnett eating up innings and keeping his club relevant.
Keeping him out of the rotation in favor of a spot starter will not do. Using a spot starter such as Dustin Mosely or Ivan Nova essentially means a game pitched entirely by the bullpen as Girardi will be compelled to pull them from the game at the slightest hint of trouble that usually arises in the fourth or fifth inning when the lineup sees a starter the second time.
Do not discount the prize that comes with Burnett starting: catcher Francisco Cervelli behind the plate. It is no secret that Burnett and veteran Jorge Posada struggle to agree on strategy and pitch selection, so it is nearly a certainty that Cervelli will be receiving Burnett.
Cervelli may not have the power of Posada with the bat, but he has a greater ability to neutralize the Texas running game with right-hander Burnett toeing the rubber. Cervelli has also shown earlier in the year that he can hit the fastball and hit in the clutch. During late May and early June he carried an average around .300 with RISP.
Cervelli also adds another spot in the lineup the opposing Texas pitchers need to supervise as he his not shy of distracting the pitcher and attempting a steal when on base.
While Cervelli's bat may have cooled down of late, and he has yet to enter a 2010 postseason game, his service allows Posada a day of rest as well as serving as a powerful, energetic spark plug to keep morale high in difficult situations.
Cervelli's enthusiasm of pounding the mitt for location and pumping his fist at inning's end may be the atmosphere and mindset Burnett needs to defeat the Rangers rather than himself.
Burnett may get into trouble, but he has the foundation and ability to power through it. And he knows that the Pinstripe offense has a good chance to make up for a few mistakes when playing at Yankee Stadium.
This article is
What is the duplicate article?
Why is this article offensive?
Where is this article plagiarized from?
Why is this article poorly edited?

New York Yankees: Like this team?