Brett Favre and The Top 5 Reasons Why Brad Childress Will Be Fired This Season
Adam Bettcher/Getty Images
If Brett Favre's off the field issues weren't enough of a distraction for the Minnesota Vikings, Favre's apparent elbow injury cannot help the 41-year old quarterback's case for job security or the fragile state of Brad Childress' head coaching position.

Favre's elbow tendinitis could possibly cause him to miss this Sunday's game in Minnesota against the Cowboys (1-3) in what can possibly be the most important game of the young season for both teams.

Favre isn't the only one who should be nervous for his stability for the team after Minnesota has now fallen to 1-3 and pre-season thoughts of Superbowl contention are quickly sailing away. Brad Childress is already coming under fire for the team's poor start and his decision to let Favre have a significant say in his off-the-field decisions.

Here are my top five reasons why Brad Childress could possibly be fired before the year's end in Minnesota.

No. 5: The Lack Of Vikings Involved In The Offense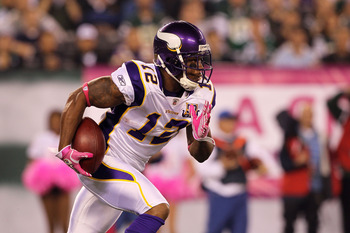 Jim McIsaac/Getty Images
So far this season the Vikings have scored a total of eight touchdowns.

Adrian Peterson and Percy Harvin have accounted for three scores each while Visanthe Shiancoe and Randy Moss have one a piece.

Since Moss was acquired only one short week ago, this statistic shows a very large gap in offensive production.

The fact that four players are responsible for all of the Vikings scoring capability causes an issue with opposing teams and predictability. If Childress cannot find a way to get the Vikings second and third string receivers more touches, the ability to be effective becomes lessened and nearly impossible.

Moss should help this problem as he will spread the field for Harvin and others but his production in the his first game shows a real need for playmakers on the Vikings offense.

Moss was with the team for less than a week before he earned a start and was thrown to more often than any other receiver that has been on the Vikings roster the since the summer.

No. 4: Childress' Lack Of Addressing Key Team Issues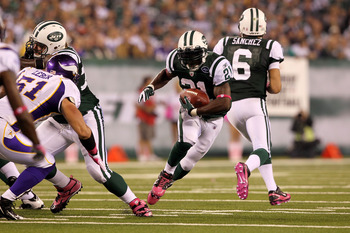 Jim McIsaac/Getty Images
The Vikings have been surrounded by instability all season at different positions and it is the head coaches' duty to find the answers.

All season long Minnesota has struggled with their offensive line and because of injuries, the defense is beginning to lack in run stopping ability.

Favre has been sacked a total of 10 times this season for -66 yards while the defense is allowing exactly 4.0 yards per carry to opposing offenses.

Childress has done nothing to fix these two issues as they move forward into what could be considered the toughest part of their schedule.

It is also willing to note that Childress has not issued any type of real statement on the Brett Favre/Jenn Sterger situation and while the team is in turmoil, having a questionable quarterback situation is the worst case scenario.
No 3: The 2011 Open Coaching Market.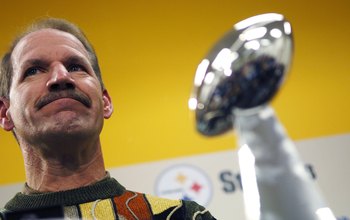 Jeff Swensen/Getty Images
Even though Childress led the Vikings to a near step away from the Superbowl last season, his record with the Vikings has been less than impressive. Childress is now 38-33 with the Vikings after taking over the head coaching position after the 2006 season.

In a league where it's all about winning, being a coach that is slightly better than .500 won't cut it.

After this season concludes, there will be many big name coaches available to teams including Bill Cowher, Marty Shottenheimer, Jon Gruden, and possibly Wade Phillips (currently 1-3 with Cowboys).

With a significant amount of coaching talent available on the market it will be tough for Childress to retain his job if the Vikings continue to struggle.

No. 2: The Randy Moss Trade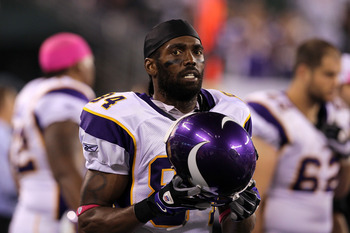 Jim McIsaac/Getty Images
If Randy Moss cannot find a way to improve on his sub-par season with the Vikings then Childress may be scrutinized worse than he ever has before. Childress reportedly followed Favre's wishes as he pursued the Moss deal and even though the Vikings only lost a late draft pick, the trade has added an extra element of distraction to the team as well as no significant improvement in offensive production.

This reason is something more of a prediction than a fact as Moss caught a touchdown pass in Minnesota's Monday night loss against the Jets.

Usually in today's NFL, most teams work towards acquiring younger talent rather than players that have seemingly moved past the prime of their careers. Moss and Favre have both fallen into the category of "players that might just not have it anymore."
It will be interesting to see how it all plays out because if the Moss/Favre experiment doesn't work, Childress will be the one who suffers.

No. 1: The Brett Favre Saga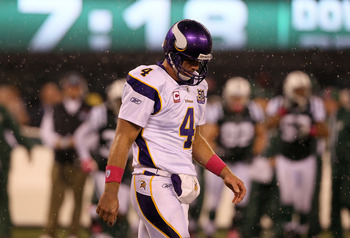 Jim McIsaac/Getty Images
Childress made headlines all summer long as he repeatedly stated "we will continue to wait for Brett until he decides." Unfortunately for Childress, that decision seems to be coming back to bite him.

Putting all of your eggs in one basket is something that Childress has now done the second season in a row and this time is it not panning out nearly as well.

Favre's play on the field has been mediocre if not worse and fan's are beginning to question why the team invested so much in him at the beginning of the year. Favre was surrounded by questions of a significant ankle injury and while that has not yet affected his play, he has been banged around because of his lack of mobility.

Childress is on the chopping block for investing so much in Favre and if the lack of success continues, there will be nobody to blame but Favre and Childress.

What About The Future?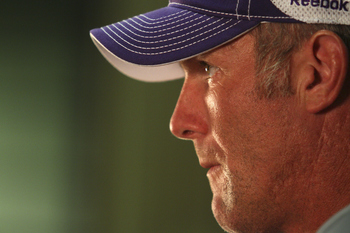 Adam Bettcher/Getty Images
The real test for Childress will be coming in the next few weeks as the situation with Favre and Jenn Sterger continues to unfold.

If Favre is found guilty of the accusations against him, it raises a significant issue with character and how Childress will handle the situation, as well as the team's performance afterward, will ultimately be the deciding factor in whether or not Childress is retained or sent packing from the twin cities.

The other important factor in Childress' job security is an obvious one. If the Vikings continue to lose games it is almost a guarantee that Childress will be out of a job before seasons' end.

Minnesota came into this season with dreams of a Super Bowl Championship and the perfect ending to a program that has been building over the last several years.

A step backwards will be placed on the shoulders of the head coach and his assistants. The bottom line is that Minnesota needs to start winning, and doing it quickly, or there will be more than just Jenn Sterger headlines in Minnesota before this season concludes.

Keep Reading

Minnesota Vikings: Like this team?