NFL Power Rankings Week 6: Power Ranking the AFC Quarterbacks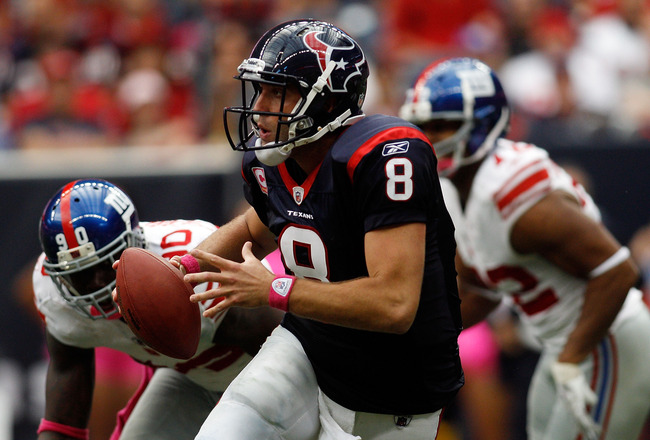 Chris Graythen/Getty Images
There comes a time every season where teams start to form some sort of identity within their division and their conference, whether that be as a playoff front runner, or as the perennial doormat. Usually that time is around Week 6 (i.e right now), although some teams can be counted on to fit into certain roles (I'm looking at you Buffalo).
The AFC has officially broken this mold.
So many teams have been on-again, off-again this year that it has left the AFC as one great big muck pile, with teams like Kansas City on top (who could've seen that one coming).
Each team has their own problems that have put them in the situation that they are in right now, but, personally, it eventually all comes down to the quarterback, an area where the AFC seems to be faltering, but not failing.
Discerning who is better than who though? Now that is just plain difficult, considering the state of AFC teams and their signal callers.
Fear not, though, for order will be brought out of chaos. Here is a not-so-chaotic ranking of the AFC's quarterbacks after five weeks of regular season play.
16. Seneca Wallace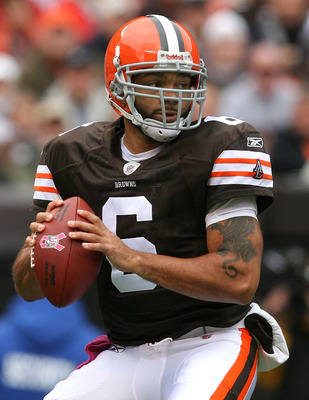 Matt Sullivan/Getty Images
Give credit to the Browns, since they've managed to put together some impressive showings despite arguably having the worst three deep at quarterback in the NFL.
However, the reason for said competitiveness has been entirely on Peyton Hillis and the defense, or at least not on the arm of Seneca Wallace.
You have to wonder when the Browns buck up and give rookie Colt McCoy the chance to go out and show his stuff.
15. Carson Palmer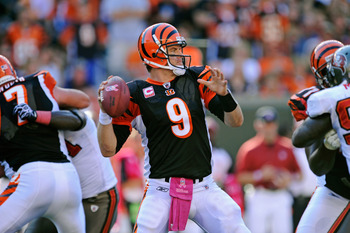 Jamie Sabau/Getty Images
The Cincinnati Bengals have now dropped two straight games to two teams who most consider to be easy teams (Cleveland and Tampa Bay).
To some degree that has to fall on the Bengals defense, which is running in the middle of the pack right now.
Most of the blame, though, has to fall on Carson Palmer.
When you have that much talent at receiver, it's almost hard not to crank out wins.
14. Ryan Fitzpatrick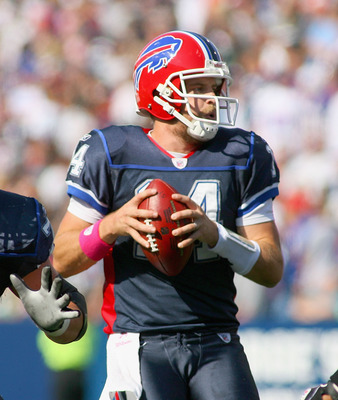 Rick Stewart/Getty Images
While I consider pulling Trent Edwards an affront to my alma mater (kidding), I hold no grudge against the Bills for tapping Ryan Fitzpatrick for the starting job.
He has provided the spark that the Buffalo Bills need on offense.
However, he lacks the talent around him necessary to succeed, and has therefore had a very hard time as a starting quarterback.
He is capable of posting a win for the Bills, but the question remains: When?
13. David Garrard
Rick Stewart/Getty Images
David Garrard has treated Jacksonville fans to a sort of Jeckyll and Hyde performance so far this season, with high points against Indianapolis and Buffalo following lows against San Diego and Philadelphia.
I remain unconvinced about his ability to sustain the success he's been having in the past two weeks, but, then again, he isn't matching up against any top flight defenses any time soon, so who knows.
Perhaps this is the year that David Garrard goes back to the Pro Bowl.
Most likely outcome, though: it isn't.
12. Joe Flacco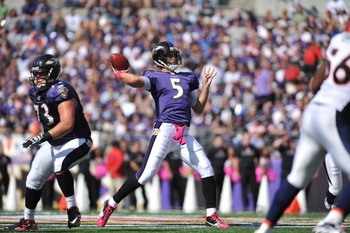 Larry French/Getty Images
Joe Flacco has also been treating his fans to a performance of Jekyll and Hyde, pitching some really good games and some really bad games.
The only real difference between the two: Baltimore has a better defense.
When Flacco underperforms, the Ravens are there to pick him up on the defensive side of the ball, taking pressure off of him and keeping him from committing a lot of the bad mistakes that desperate quarterbacks make (minus the Bengals game. That was just bad).
11. Charlie Batch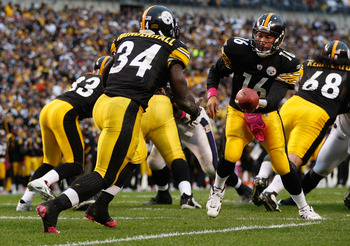 Jared Wickerham/Getty Images
Despite the fact that Pittsburgh had a bye this week, I still feel like Charlie Batch deserves mention on this list, if only because he will likely never appear on one again.
This Sunday, Ben Roethlisberger returns to the field (cue dramatic entrance music).
Batch did an alright job as the last in a large rotation of quarterbacks filling in for the embattled Roethlisberger, but he was still far from perfect.
10. Matt Cassel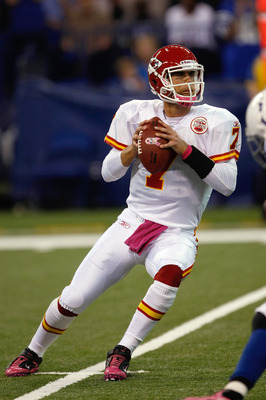 Scott Boehm/Getty Images
He's not the same guy he was in New England, and he certainly isn't earning the ridiculous amount of money that the Kansas City Chiefs are paying him.
However, no one can deny that Cassel is making progress.
Sure, the Chiefs are still a run first team, and sure, they are playing great defense. That doesn't factor Matt Cassel out of the equation.
His stats are way below average, but the point is that, since his ugly performance against Cleveland, he has show a lot of improvement and has committed a lot less game-changing turnovers.
9. Matt Schaub
Chris Graythen/Getty Images
Yes, Houston, I'm serious. Go ahead, commence rioting. I'll wait.
...
...
Now that that is out of your system, let's be honest for a minute. Schaub has had the good fortune of having a running back like Arian Foster helping him out, and he still has managed only one good game, and that was against the Redskins, who are having trouble putting together a competent defense.
Take away the performance against Washington, and Schaub is 64 for 112 for four touchdowns, four interceptions, and two fumbles. His total yardage on the season would be 734 yards. That's just sad.
Schaub seems like he will continue to be that quarterback who everyone thinks will step up and lead their team to the playoffs, but in the end will fall short.
8. Vince Young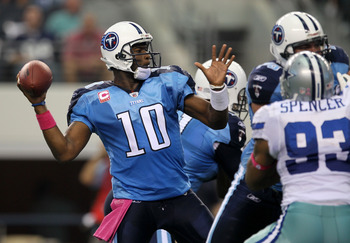 Stephen Dunn/Getty Images
Vince Young is like that girl that you met in high school who strung you along for a few weeks before shutting you down by hooking up with the guy with the tattoo and the moustache.
Vince Young spent most of the season (minus the Pittsburgh game) convincing Titans fans that he was growing up and might actually be the quarterback they expect him to be.
Then he goes and plays like he did against Dallas.
Sure, he had two touchdowns, but when you see that he went 12 for 25, you know that that game was one by two things: Defense, and Chris Johnson.
7. Bruce Gradkowski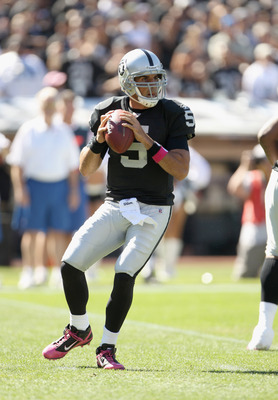 Ezra Shaw/Getty Images
To his credit, he did get hurt during the first half of the game against the San Diego Chargers and still tried to come back in, which is a great display of his fire.
However, fire can only get you so far.
Gradkowski is turning out to be exactly what most people expected him to be: a spark.
And that's it.
Gradkowski has been struggling more and more every week since earning the starting job from Jason Campbell, but he might be seeing more of the bench in the near future.
6. Chad Henne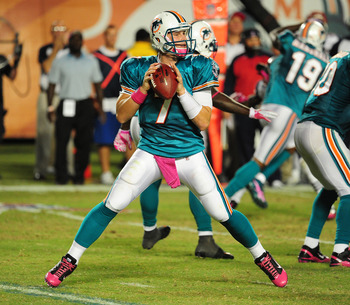 Scott Cunningham/Getty Images
Henne has certainly had his issues this season, but he is continuing along the path towards becoming a good quarterback, and it showed during his performance against New England.
Sure, he threw three interceptions, but two of those are more the responsibility of Rob Ninkovich playing out of his mind football than anything else.
Henne may not be a playoff calibur quarterback, but he's no slack either.
5. Mark Sanchez
Jim McIsaac/Getty Images
Yeah, I must really be in the mood to piss people off today.
I would give the New Yorkers and New Jersey-ans some time to fume, but honestly, I know what you all are saying and I know you are all wrong. Sorry.
Yes, Sanchez is statistically impressive. Yes, the New York Jets look like a playoff, or even a Super Bowl, worthy team.
Sanchez still hasn't fooled me, though.
He still has a tendency to get down on himself when he makes mistakes, and that leads to poor performance on his part.
The only reason why he hasn't fallen apart during times of trouble is because he has an excellent running game and a great defense to back him up.
The day Mark Sanchez takes the New York Jets on his back to a win is the day I change my tune.
4. Peyton Manning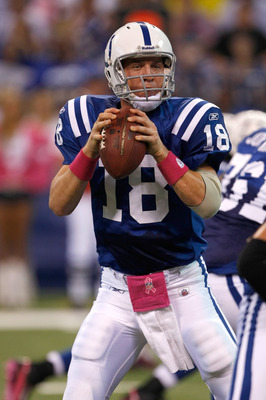 Scott Boehm/Getty Images
Now I must really be going crazy.
There was a time where I believed that Manning was the best quarterback in the League because without him, the Colts would be nothing.
Well, now the Colts are falling apart, and Peyton is partially to blame. Sorry Indy fans, but it seems like you've got some work to do.
3. Kyle Orton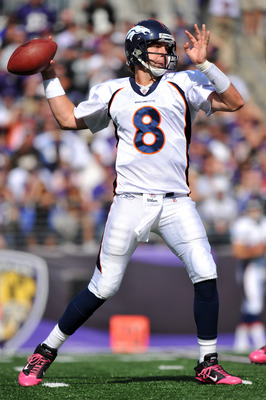 Larry French/Getty Images
Orton is one of the hot passers of the League right now.
I'm just as surprised as you all.
He has made a star out of Brandon Lloyd, and he is leading the Denver Broncos to some respectable wins.
If Orton continues like this, the Pro Bowl could be in his future.
2. Philip Rivers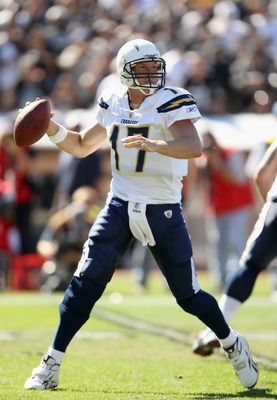 Ezra Shaw/Getty Images
Despite the woes of the San Diego Chargers, Philip Rivers is turning in another Pro Bowl worthy performance.
With 1,759 yards with 11 touchdowns to four interceptions, one would wonder why the Chargers are losing games. This is until they stumble upon the statistical nightmare that is their special teams performance and their turnover margin.
While Rivers hasn't exactly faced top flight pass defenses, he certainly hasn't had an easy time in the pocket. He has certainly earned his stripes, but it doesn't seem to be enough for the Chargers.
1. Tom Brady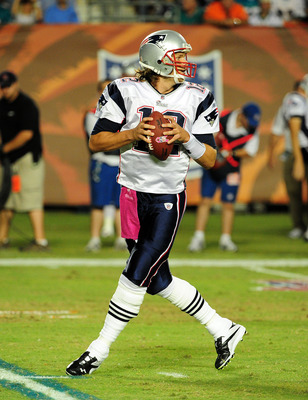 Scott Cunningham/Getty Images
While Peyton Manning may no longer be the reason why the Colts win games, Tom Brady is certainly still the reason why the Patriots win games.
Brady is one of the best in the League, and one of the best to every throw the football, and he continues to show that week in and week out.
The Patriots enter a tough stretch of games coming out of their bye this week, so it will be interesting to see how the Pats perform against top defenses, especially without Randy Moss.
My guess, though, is that Tom Brady plays great games. Whether his defense can pick up the other end of the bargain is a whole different deal entirely.
Questions? Comments? Concerns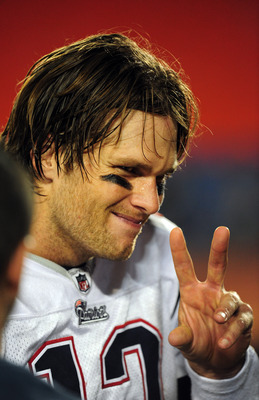 Scott Cunningham/Getty Images
Flame the comments section.
Or my Twitter (@chriseggemeyer)
Either way, enjoy your day (nice Dr. Seuss rhyme, right?).
Keep Reading