2010 Fantasy Football: Five Explosive Running Back Performances In Week 6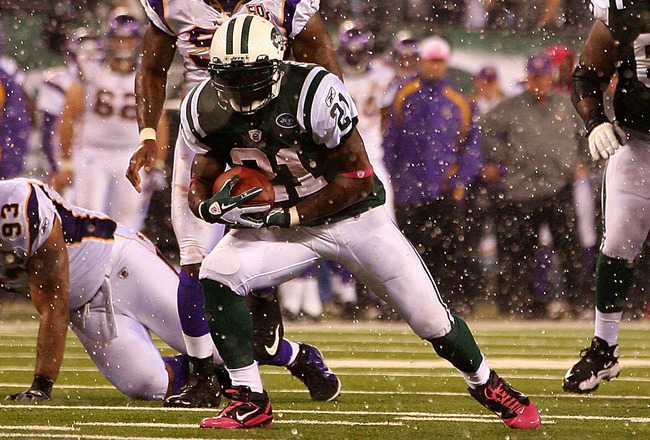 Andrew Burton/Getty Images
In the NFL this season, teams have been relying on their rushing to win football games.
The reason for this is the inconsistency in the passing game this year. A handful of teams are playing with their back-up QB's that can't seem to find their groove, which means that the running back has to carry the load on offense. In other instances some star quarterbacks have been off to slow starts, creating more carries for their backs.
Choose your starters wisely, noticing the effectiveness of their rushing defense. There are some versatile running backs, in particular, that will take advantage of their weak defensive matchup in the following slides.
It will be an exciting week for Fantasy owners to see these powerful and elusive running backs run all over their opposing teams.
Don't forget to start the following.....
Ray Rice, Baltimore Ravens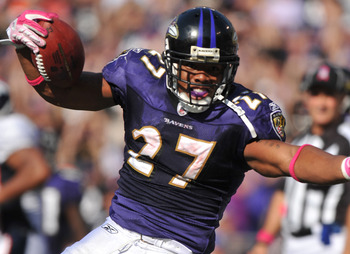 Larry French/Getty Images
Week 6 Opponent : New England Patriots
Ray Rice had a tremendous game in week 5 against the Denver Broncos rushing for 133 yards and two touchdowns, his only TD's of the year. Week 5 will serve as the turning point of Ray Rice's season with another fantastic game this week.
This season the New England Patriots defense is giving up an average of 112.3 rushing YPG, ranked 20th in the NFL. This is good for Ray Rice and the Ravens offense which seems to be rolling on all cylinders.
If Ray Rice can get things going early, he will break 150 yards on the day. This Sunday is going to be a big game for him, so be sure to start Rice on your fantasy roster. It's a no-brainer.
Chris Johnson, Tennessee Titans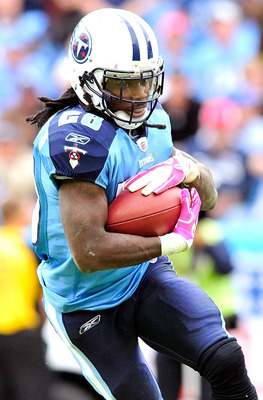 Grant Halverson/Getty Images
Week 6 Opponent : Jacksonville Jaguars
Chris Johnson has ran for at least 125 yards in three games this season, scoring two touchdowns in each of those games. All three performances are responsible for each of the Tennessee Titans wins this season.
The success of the Tennessee Titans is reliant on Chris Johnson which is good for fantasy owners because you know Johnson will always get many opportunities.
So if you have Chris Johnson you should never put him on the bench unless he is either hurt or not playing that week. He is a dominant back who isn't slowing down in the near future.
Steven Jackson, St. Louis Rams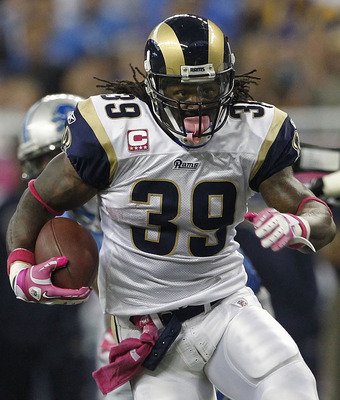 Leon Halip/Getty Images
Week 6 Opponent : San Diego Chargers
Steven Jackson got off to a slow start this season, but his explosive game in Week 5 proved that he's still got it. Against the Lions, Jackson ran the ball 25 times for 114 yards and made one reception for 12 yards.
Jackson only has one touchdown so far this season, but in Week 6 he will have a remarkable performance scoring multiple times. There's a good chance that Jackson will have his one of his best games of the year, in terms of fantasy, this week against the Chargers.
Adrian Peterson, Minnesota Vikings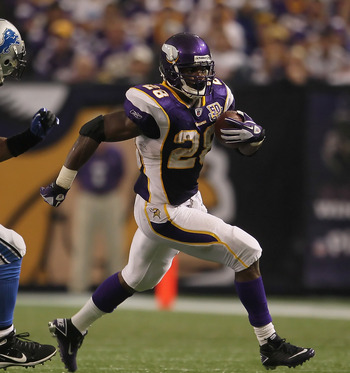 Jeff Gross/Getty Images
Week 6 Opponent : Dallas Cowboys
Adrian Peterson has been a threat in the NFL every year since he first entered the league in 2007. This year is no different.
Against some extremely tough teams, Adrian Peterson has put up Pro-Bowl type numbers with 480 yards rushing for three touchdowns and 14 receptions for 105 yards.
Going up against the Cowboys this week, Peterson should have no problem rushing for over 100 yards for the third time this season.
The Cowboys have their backs against the wall and will be playing with desperation, but Peterson will continue his great play in week 6 and dominate.
LaDainian Tomlinson, New York Jets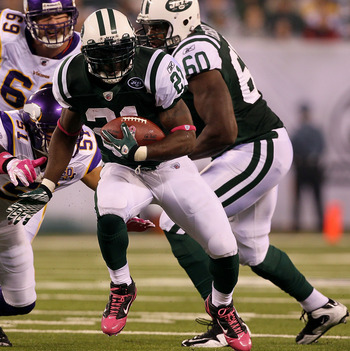 Jim McIsaac/Getty Images
Week 6 Opponent : Denver Broncos
LaDainian Tomlinson has been surprising football fans all over the world this year, playing much like the elusive and exciting running back that this legend use to be.
Fantasy owners were once worried about picking up LT because he shares to many carries with Shonn Greene, but not anymore. Tomlinson has performed well no matter how many touches he gets.
LT has produced at an extremely high level the past two games, against the Buffalo Bills in Week 4 and the Minnesota Vikings in Week 5. Against the Bills he ran the ball 19 times for 133 yards and two touchdowns. Against the impressive Vikings defense Tomlinson attempted 20 rushes for 94 yards.
The 31-year-old runningback out of TCU will have another big-time perfomance this Sunday when he goes to Denver to face the Broncos. The Broncos give up an average of 127.4 rushing yards per game so it is highly likely that LT will rush for over 100 yards.
Keep Reading