Fantasy Football Week 6: 15 Players You Need to Pick Up Right Now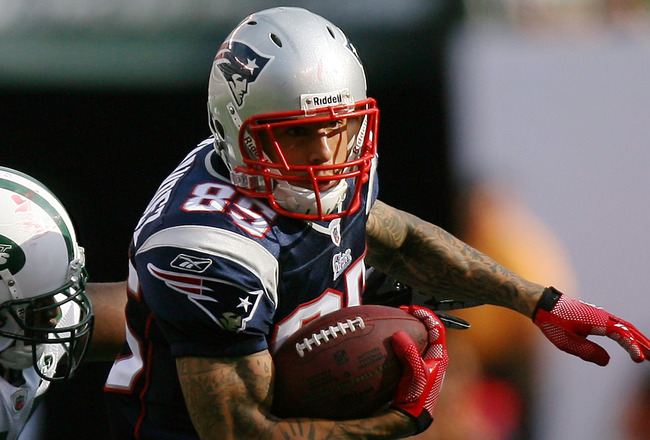 Andrew Burton/Getty Images
The 2010 NFL season has seen many new players making a name for themselves as well as some legends proving that they still belong.
There are a ton of hidden gems still on the free-agent wire that can be valuable assets to your squad.
The following "sleepers" have shown a lot of progress lately, racking up the fantasy points.
Add these individuals to your team where needed ASAP.
TE Tony Moeaki, Kansas City Chiefs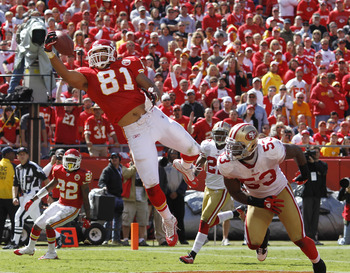 Joe Robbins/Getty Images
Week 6 Opponent: Houston Texans
Tony Moeaki is an unknown in the NFL for the time being, but don't expect that to last. Moeaki hasn't been unbelievably outstanding yet, but in due time. He's been extremely consistent from game to game and deserves a larger role in the Kansas City Chiefs offense.
Will that time come for Moeaki? Most likely, the way he's been playing. In four games as a rookie, Moeaki has made 16 receptions for 173 yards and two touchdowns. If Matt Cassel gets his act together, then Tony Moeaki will be the biggest fantasy steal of 2010: He is owned by only 17 percent of fantasy owners on ESPN.com.
If you're in need of a tight end, Moeaki is your man.
WR James Jones, Green Bay Packers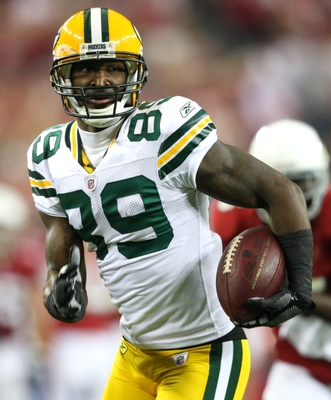 Christian Petersen/Getty Images
Week 6 Opponent: Miami Dolphins
James Jones has the potential to be a high-caliber receiver, but he is struggling a bit so far this season. But that is the beauty of fantasy football: If you add a player at the right time, it can make your season.
James Jones will be a big factor in the Green Bay Packers offense for the remainder of the season. Look for Jones to score multiple touchdowns in the upcoming Week 6 battle against the Miami Dolphins.
RB BenJarvus Green-Ellis, New England Patriots
Marc Serota/Getty Images
Week 6 Opponent: Baltimore Ravens
This rising young running back has had a terrific season so far for the New England Patriots with 47 carries for 215 yards and two touchdowns.
Green-Ellis is owned by over 70 percent of fantasy owners on ESPN, but if you have an opportunity to add him, do it without thinking. He is quickly making a name for himself, already helping out many fantasy owners.
Normally I wouldn't start a young running back against the devastating defense of the Baltimore Ravens, but do it this week. The versatile back out of Mississippi should get a good amount of touches. Expect Green-Ellis to have multiple touchdowns.
WR Jabar Gaffney, Denver Broncos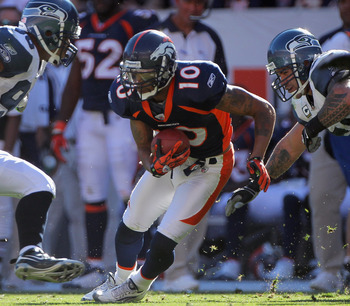 Doug Pensinger/Getty Images
Week 6 Opponent: New York Jets
Against an outstanding Baltimore Ravens defense in Week 5, Gaffney had an impressive performance. Gaffney will have to bring it again this week against another top-notch defensive squad, the New York Jets.
Don't let this scare you. Gaffney will still produce and will probably even catch a deep bomb against the Jets like Randy Moss did Monday night. He's a big-time playmaker who has never had the opportunity to play a large role.
Now he's the in the second spot behind Brandon Lloyd and is really developing into a scary receiver for opponents to face. If you're looking for a reliable receiver, this is your guy.
WR Danny Amendola, St. Louis Rams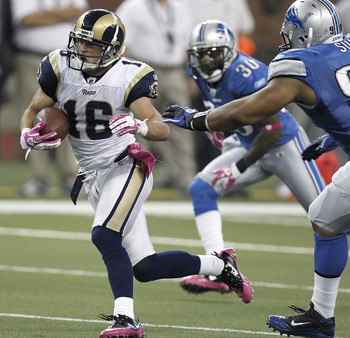 Gregory Shamus/Getty Images
Week 6 Opponent: San Diego Chargers
With a season-ending injury to the Rams' leading receiver Mark Clayton, Amendola will see an increased role in the lineup.
Coming off of a 12-reception, 95-yard game, you can bet that he will remain a frequent target for rookie quarterback Sam Bradford.
Add Amendola while you can—many fantasy owners are already going nuts over this guy. Before Week 5, Amendola was owned by only 2.5 percent of ESPN.com fantasy owners; now he is owned by 12.3 percent.
If you're having trouble with your wide receivers, take a chance on Amendola.
WR Brandon Tate, New England Patriots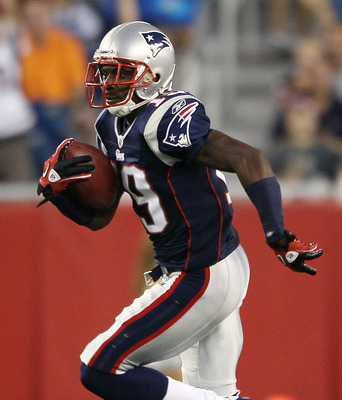 Elsa/Getty Images
Week 6 Opponent: Baltimore Ravens
With Randy Moss being traded, Brandon Tate will now become a main target of Tom Brady and this New England offense.
Tate had knee problems that slowed him down in his rookie season. Now, able to display his full speed and playmaking abilities, he will be a tough matchup for opposing teams.
RB Brandon Jackson, Green Bay Packers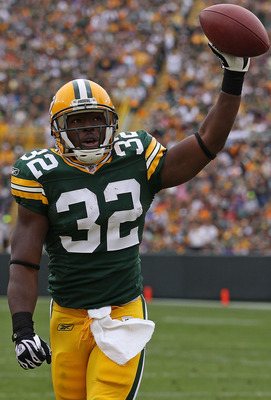 Jonathan Daniel/Getty Images
Week 6 Opponent: Miami Dolphins
This one might be a bit of a stretch because of the lack of touches he receives, but if he continues to play with the same intensity as he did in Week 5, Jackson can be a very valuable back to have on your fantasy squad.
With Sunday's big performance, you can expect the coaching staff to experiment with Jackson more in the weeks to come.
WR Mohamed Massaquoi, Cleveland Browns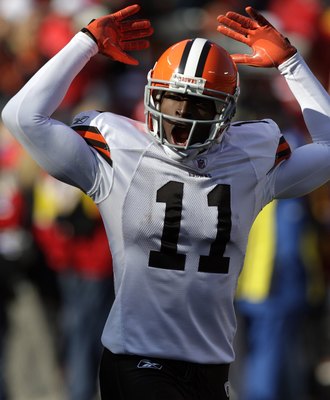 Jamie Squire/Getty Images
Week 6 Opponent: Pittsburgh Steelers
Massaquoi has gotten off to a slow start this season, but expect him to blossom in the weeks to come. The Cleveland Browns have suffered injuries to their quarterbacks, so their inconsistencies could explain Massaquoi's lack of production.
Despite having only nine receptions for 115 yards and one touchdown, Massaquoi will be a dominant force for the rest of the season. He's a dangerous receiver with some speed and leaping ability.
WR Anthony Armstrong, Washington Redskins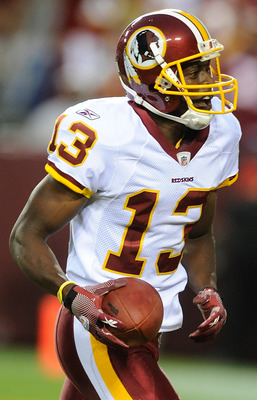 Greg Fiume/Getty Images
Week 6 Opponent: Indianapolis Colts
Anthony Armstrong played a significant role in Washington's Week 5 overtime nail-biter against the Green Bay Packers. Armstrong made three catches for 84 yards and a touchdown. The 48-yard touchdown he scored was crucial to the Redskins victory.
Expect Armstrong's role in the offense to increase, and expect more from this second-year receiver out of West Texas A&M.
WR Louis Murphy, Oakland Raiders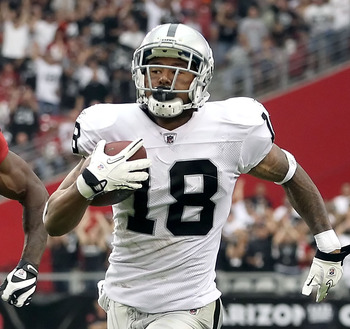 Christian Petersen/Getty Images
Week 6 Opponent: San Francisco 49ers
Louis Murphy is a wideout who you must pick up. Facing some weak defenses ahead in the schedule, Murphy will produce at a high rate in the following weeks.
Coming off a big win over the San Diego Chargers, the Oakland Raiders will be playing with some confidence from here on out. Murphy didn't score in the 35-28 battle, but he did record a huge 58-yard catch that led the Raiders down the field.
Against the 49ers, Broncos, Seahawks and Chiefs, you can expect Murphy to have a few 100-yard games with some touchdowns.
TE Anthony Fasano, Miami Dolphins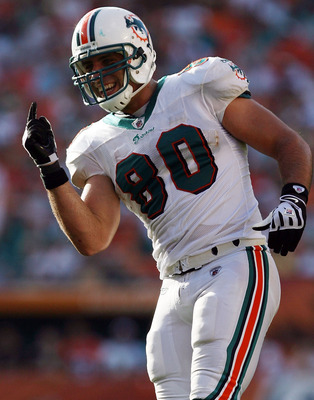 Doug Benc/Getty Images
Week 6 Opponent: Green Bay Packers
Coming off a bye and two losses in a row, the Dolphins will be playing with a purpose, realizing that the AFC East is slipping away from them.
Anthony Fasano is starting to play a role in the offense, with Brandon Marshall clearing some opposing players from the middle.
In the upcoming five weeks, you can be sure that Fasano will will have numerous touchdowns. He's a big target that can make the big catch.
Owned by only 3.5 percent of fantasy owners on ESPN, he should be easy to pick up in any league.
WR Roy Williams, Dallas Cowboys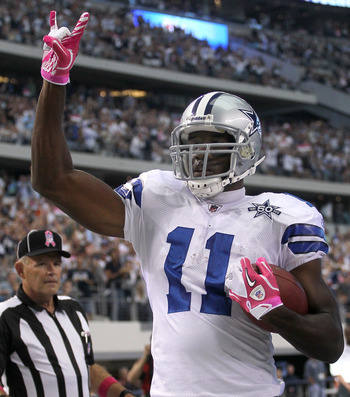 Stephen Dunn/Getty Images
Week 6 Opponent: Minnesota Vikings
Roy Williams has been spectacular of late, scoring three touchdowns in his last two games. Don't expect him to slow down in Week 6 against the Vikings when he matches up with less-talented cornerbacks.
Even though the Vikings defense was quite impressive against the New York Jets, I'm predicting that Roy will have over 100 yards with multiple touchdowns.
With dreams of playing a Super Bowl at home slipping away, the Cowboys as a team will be playing with purpose.
WR Kenny Britt, Tennessee Titans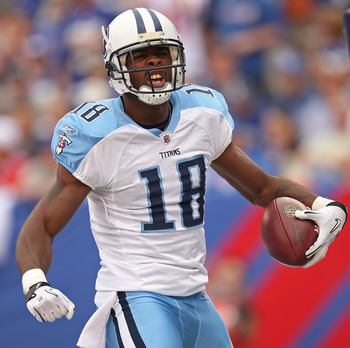 Mike Ehrmann/Getty Images
Week 6 Opponent: Jacksonville Jaguars
In the big Week 5 win against the Dallas Cowboys, Kenny Britt caught a team-high four passes for 86 yards and a touchdown.
Against Jacksonville, you can expect a similar performance from Britt, who has already improved tremendously from an impressive rookie year.
Pick him up while you can; 35.7 percent of fantasy players already own the 6'3'' product of Rutgers.
WR Davone Bess, Miami Dolphins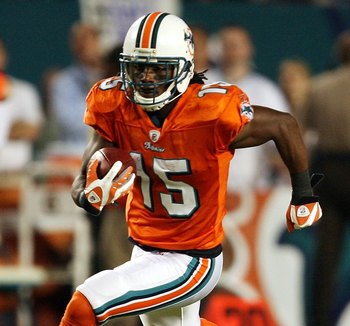 Doug Benc/Getty Images
Week 6 Opponent: Green Bay Packers
If you want a steady guy on your roster, add Davone Bess. He is becoming a prime target in the Dolphins offense and will be a consistent player to have on your fantasy team in the following weeks.
In his last two games, he made a combined 14 receptions for 182 yards and a touchdown. This dominance is expected to continue with Brandon Marshall gaining a majority of the attention from defenses.
TE Aaron Hernandez, New England Patriots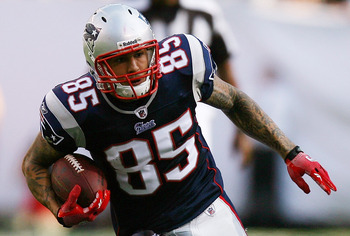 Andrew Burton/Getty Images
Week 6 Opponent: Baltimore Ravens
Rookie Aaron Hernandez has quickly become a valuable weapon in the Patriots offense. With Randy Moss traded, Hernandez will see more balls thrown his way.
Tom Brady has targeted Hernandez 20 times in four games, completing 18 passes for 240 yards.
Hernandez will become even more of a factor in the Patriots offense, which makes him a valuable asset to your fantasy team.
Add this tight end and start him ASAP.
Keep Reading