New York Giants: 10 Things We Learned From Week 5 Win Over The Houston Texans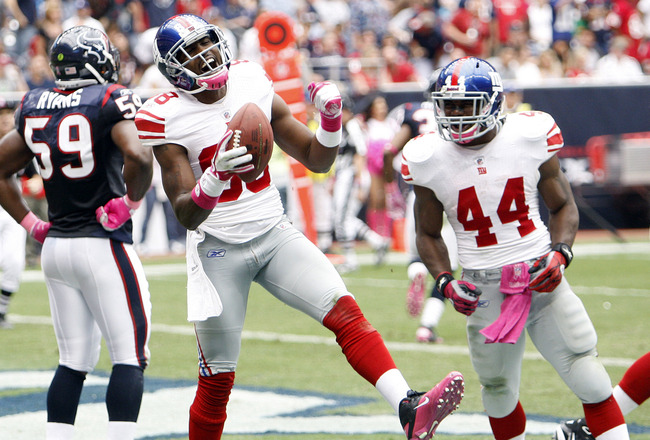 Bob Levey/Getty Images
The 2010 New York Football Giants finally appear to be getting their groove back. A week after a dominating win over the Chicago Bears, the Giants followed it up with a thorough thrashing of the Houston Texans.
A team that once looked dysfunctional now appears to be playing playoff caliber football and Head Coach Tom Coughlin went from the hot seat to the driver's seat.
Things aren't perfect. Eli Manning is throwing too many picks, but the compass is pointing north for the New York Giants. Not only are they playing truly outstanding football right now, but also they are not playing their best football. There is room for improvement with this team, which should make the rest of the NFC East nervous.
And to my utter surprise many of the Giants players who are major contributors to their current success aren't just the ones I expected, but those I had written off as well.
The following are 10 observations from Sunday's New York Giants-Houston Texans game, with the focus being on the Giants.
1. I Was Wrong About MLB Jonathon Goff, He Is a Stud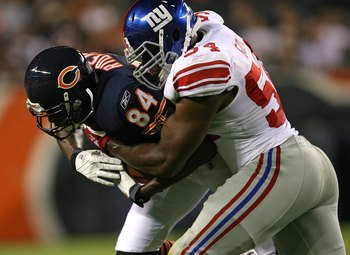 Jonathan Daniel/Getty Images
I was wrong about Jonathon Goff. When the Giants moved Keith Bullock to outside linebacker this offseason from his expected position of middle linebacker, I was incredulous.
"What were the Giants thinking?" I wondered.
Apparently this is what the Giants had in mind, and now it's time I eat crow. Goff has been a revelation the last few games.
My main beef with Goff was that the Vanderbilt grad was one of those players that made all the right reads, reacted perfectly, but got engulfed at the line of scrimmage and was a really weak tackler.
In the last few games that hasn't been the case, Goff has been playing with a mean streak and aggressive nature that I just didn't think he had in him. He has even gotten fined by the NFL for unnecessary roughness for a hit against the Chicago Bears. Forget unnecessary, I didn't know he had the necessary roughness to be a good NFL player.
But there is he is punishing ball carriers, being a nuisance when dropping into zone coverage and blitzing quarterbacks with gusto. And downfield run support has been outstanding, I swear at times I was reminded of Jeremiah Trotter watching Goff bait and fill holes.
Goff always had the mental maturity and sophistication to be able to anticipate and bait an offense into making a mistake. He just didn't have the intimidation factor, in fact I thought he was a matador. But he has managed to find that inner fire without becoming so passionate that he plays without his intelligence, that is special.
For a guy I was once a huge detractor of, I now believe Goff is the kind of stud you can build a linebacker core around.
Crow never tasted so delicious.
2. The Giants Pass Protection Has Gotten Better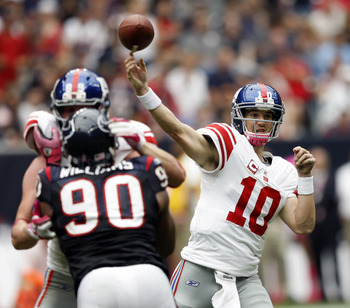 Bob Levey/Getty Images
Eli Manning has looked a lot safer and happier in the pocket since getting his lunch handed to him by Dwight Freeney and Robert Mathis. Some out there might just say that the offensive line is blocking better and that is why Eli is safer.
Wrong. While I will admit that I have noticed some improvement by the offensive line, the biggest difference that I have seen is the blocking coming from the tight end and running back positions.
Ever since Ahmad Bradshaw killed the Giants' hopes for a win against the Titans with a cut-block in the end zone he has been unconscious in pass blocking ever since. He is picking up free blitzers left and right, chipping defensive ends on his way out into his pass routes, and dominating at the point of attack.
Brandon Jacobs looks revived in his area as well, as he looked mean and nasty pass blocking against the Texans. At 6'4", 260 pounds Jacobs is the rare running back who can take on a 250 lb. pass rushing linebacker one-on-one and hold his own. But only when he is motivated, which he was against the Texans.
Also let's not forget that Kevin Boss missed time due to a concussion, and even when he came back he didn't seem all the way back. Well he is now, and when Boss is on he can be one of the better blocking tight ends in the league.
Shawn Andrews looked dominating at times against the Texans when he came in as a blocking tight end. When Andrews was in the game he basically was giving Eli six offensive linemen blocking for him instead of five.
So with Andrews being Manning's sixth offensive lineman and Boss, Jacobs, and Bradshaw blocking like there is no tomorrow, Manning has been a much safer, happier customer.
3. Shawn Andrews, Already a Contributor, Will Be Starting Before Season's End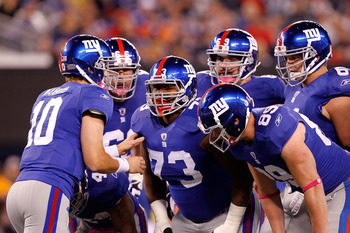 Michael Heiman/Getty Images
Bill Belichick once called Shawn Andrews the most physically talented and dominating guard the New England Patriots had played against in years. But that was a long time ago when Andrews was with the Philadelphia Eagles.
When the Giants signed Andrews this offseason he hadn't played in nearly two years due to depression and back injuries. The risk/reward aspect of the signing was evident.
After watching the Texans game, I have to say Andrews' signing has been paying off. He was used extensively as a blocking tight end against the Texans and he was dominating at times.
When left tackle David Diehl had to leave the game due to an injury for a short while, Andrews took his place. Right off the bat it was a passing situation and Andrews, who had never played left tackle in an NFL game before, faced Mario Williams, perhaps the most athletic player in the NFL.
While it was only one play, Andrews shot out of his stance like a cannon, back peddled, cut off Williams, and then engulfed him as he tried a bull rush.
You can count the number of guys capable of doing that to Mario Williams in the NFL on one hand, and that is why I think by the end of the season Shawn Andrews will be the Giants starting left tackle. Andrews is only 27 years old, and he might end up being the Giants left tackle for the next five or six years if he keeps this up.
4. Osi Umenyiora May Not Feel Healthy, But His Explosion Is Back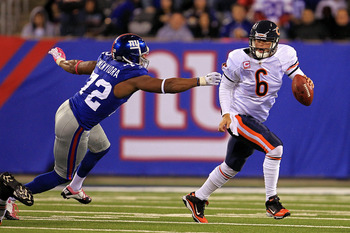 Chris McGrath/Getty Images
Osi Umenyiora is almost 30, has two bad knees, and a bad hip. Last season he was ineffective and benched, and the season before that he was on the injured reserve.
Most media outlets report Osi's injury that put him on the injured reserve as a torn ACL or MCL. Wrong, it was a torn meniscus, a very badly torn meniscus. Not only did it put him on the injured reserve in 2008 but also it cost him his explosiveness in 2009.
But now in 2010 Osi's explosion is back, and while his knee aches it has gotten stronger. While the residual effects of an old hip pointer injury will cost Osi practice time this year, Osi is veteran enough to get the 2007 Plaxico Burress treatment and still be able to produce at an elite level. (Maybe one practice a week if at all, still plays on Sunday.)
What made Osi such a special pass rusher was his burst and hip fluidity. With no explosion last year, he still managed six sacks because his hip fluidity is truly elite. I believe that is why the Giants didn't give up on him; they figured even without his exceptional burst he could still be good for eight sacks.
Well the burst is back, which means we might see 16 sacks this season from Osi if his body doesn't break down.
With his burst he is even becoming effective again against the run, holding his own at the POA and flashing down the LOS with frightening efficiency.
5. Hakeem Nicks Is on Fast Track to Superstardom
Bob Levey/Getty Images
He is young, he still drops too many passes, and there are still questions surrounding his ability to stay consistently healthy. I don't care anymore the kid is a stud.
Hakeem Nicks is one of maybe 10 players in the NFL that I would describe as a touchdown waiting to happen.
That scares the crap out of defensive coordinators, knowing that regardless of down or circumstance they can get burned at any moment.
The thing that is truly terrifying about Nicks is that he is cut from the Andre Johnson cloth instead of a Randy Moss type or Anquan Boldin type. In other words Nicks has an endlessly effective route-tree, can break short runs for long touchdowns, make clutch possession catches over the middle or on the sideline, and get behind a defense for the long bomb. He isn't just effective on one or two levels of the field, but every level of the field.
Good luck double-teaming that opposing defensive coordinators. And even if they do, Mario Manningham, Steve Smith, and Ahmad Bradshaw will have field days.
The Giants are a power running team, but not since Plaxico's heyday have teams been forced to keep both safeties out of the box. Without Plax teams have been filling up the box with defenders, making things much harder on an aging offensive line.
With Nicks now an effective and verifiable threat opposing defenses might start keeping both safeties over the top and out of the box regardless of down and distance. Nothing could make life easier for the running game.
That is the impact of Nicks, that is the impact of a true No. 1 wide receiver.
6. The Giants' Defensive Front Four Might Be the Best in Football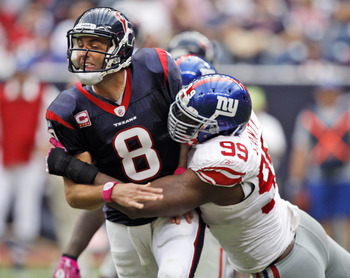 Bob Levey/Getty Images
Osi Umenyiora and Justin Tuck have been getting all the pub for the resurgent play of the Giants' front four. They deserve a lot of the credit, as they have been dominating offensive lines the last two weeks.
Defensive tackles Barry Cofield and Chris Canty deserve a lot more love than they have been getting, as they have been controlling the line of scrimmage for the Giants. Just ask Arian Foster.
And to think Cofield was basically traded this offseason. You read that right, not almost, but was. The New Orleans Saints offered a second round pick for Cofield, and the Giants happily accepted. But then Cofield and the Saints couldn't come to an agreement on a long-term contract extension and the trade died at the last possible second.
Canty was considered a free-agent bust after last season's disaster. Well now those that rushed to judgement on Canty are falling over themselves to praise him. Canty and Cofield are not only not getting moved backwards at the point of attack, but it is getting increasingly impossible for offenses to keep them from getting into the backfield.
Cofield even is showing some nice pass rush moves, and Canty might end the season with more pass deflections than some Pro-Bowl cornerbacks the way he is filling up passing lanes with his Spider-Man long arms.
And then with Tuck and Osi coming off the edge with Jason Pierre-Paul occasionally blitzing from a two-point stance, who on earth do you double-team?
If the Giants defensive line keeps this up, they will be universally regarded as the best in football, a unit that keeps offensive coordinators up at night.
7. Despite the Interceptions, Eli Manning Is Playing Fantastic Football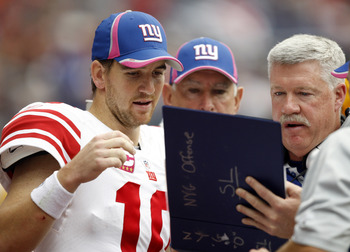 Bob Levey/Getty Images
Hakeem Nicks wouldn't have developed this quickly if not for Eli Manning. Don't believe me? Look at San Francisco 49ers receiver Michael Crabtree, who has as much if not a little more talent than Nicks. Alex Smith just threw Crabtree his first touchdown this season on Sunday.
Yes, Eli has eight interceptions this season. One of those is on Ahmad Bradshaw, two on Hakeem Nicks, and at least one on Steve Smith. In other words, at least half of Eli's picks this season are not his fault.
At the age of 29, Eli is in his prime and playing the most consistent football of his career. Yes, Eli occasionally forces the ball like he did against the Texans in the second half but those instances are becoming few and far between.
Eli looks confident out there, throwing the ball where he wants to put it and showing fantastic awareness in the pocket. Eli has become much better at throwing off his back foot this season. Against the Texans I was amazed at how good Eli looked escaping the pocket, evading the rush, and throwing off balance.
His downfield accuracy has been a thing of beauty. I still think back to a play earlier this season where Manning threaded a 40-yard bomb through three defenders right into Steve Smith's hands. Yes the pass bounced off Smith's hands and became an interception but it was still a beautiful pass.
While Eli Manning gets no hype in an NFC East with Mike Vick, Donavon McNabb, and Tony Romo he might very well be its best quarterback.
8. Brandon Jacobs Is Actually Contributing in a Positive Way
Bob Levey/Getty Images
Jacobs is a gigantic man-child who lets his emotions and head get in the way of how he plays. Athletically I have found little difference between Jacobs since he signed his contract extension from before it. Yet the production is very different.
Jacobs is now a clear backup to Ahmad Bradshaw and has publiclly stated that the Giants probably won't bring him back next season at his $3 million salary.
Well, if he continues to run like he has the last two games and keep his mouth shut, they just might.
The biggest difference that I have seen with Jacobs is that he is running with a much more pronounced lean and focusing on going North instead of East-West. He is trying to get five yards instead of 20 yards and the difference is pronounced.
He is intimidating defenders, punishing them physically, and doing an excellent job in the short-yardage game. I even saw him do an exceptional job in pass protection, engulfing blitzing defenders at the point of attack.
So while Jacobs might not regain the starting job from Bradshaw barring an injury, the Giants might still keep him around if he keeps up what he started the last two games.
9. Perry Fewell Is Finding His Comfort Zone As Defensive Coordinator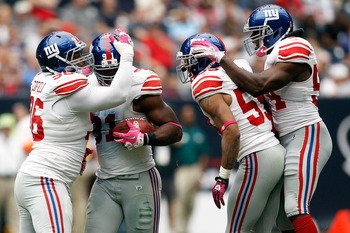 Chris Graythen/Getty Images
Watching the Giants' defense against the Texans, I saw Jason-Pierre Paul blitzing from an outside linebacker position. That was interesting if not surprising. However, watching Aaron Ross line up at a linebacker spot? That made my jaw hit the floor.
But it worked, and to me it was an important sign that new Giants' defensive coordinator Perry Fewell is starting to find his comfort zone with the Giants.
Fewell is starting to get a grip on how to best use the Giants defensive roster, and I believe a large portion of being a coordinator is not just calling the right play but having the right players in the right spots playing to their strengths.
It might have taken a few games, but it is starting to happen. Fewell is starting to understand which combinations of players are best in which situations and how to best put players in a situation in which they can succeed. In other words, team chemistry.
Fewell has finally figured out how to get the Giants defense to play with excellent chemistry while also eliciting exceptional individual performances.
Look at Jonathon Goff and Osi Umenyiora. Very few people this preseason thought they would be anywhere near dominating for the Giants' defense this season. But here we are midseason, and against the Texans I watched Goff and Umenyiora dominate an impressive Texans offense.
Bravo Perry Fewell.
10. Special Teams Is Still a Concern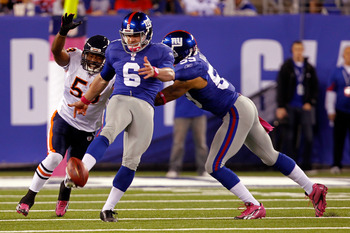 Michael Heiman/Getty Images
Aside from the fact that Darius Reynaud is a joke as a return man, the kicking situation is not all that much better.
Yes Lawrence Tynes was perfect yesterday but I still don't trust a guy who seems more consistent the further away from the uprights he gets. 40 yards away, money, 30 yards away, doink.
And does rookie punter Matt Dodge have compromising pictures of Tom Coughlin or General Manager Jerry Reese? I mean honestly I can see the talent the kid has, and I understand why they don't want to let him go, but can't they just practice squad him or something and bring in a veteran while Dodge learns the ropes?
The punts are either way too high or way too low, he takes too long setting up his kicks, and he shows very poor awareness of what is going on around him during the play.
So to sum up the Giants special teams, the return game is not a threat to get good field position or points, the kicker is inconsistent, and the punter is awful.
While I can see the room for improvement and potential Coughlin talks about, this is the NFL. Can a team really afford to lose games because of special teams?
Keep Reading

New York Giants: Like this team?