Five Big Surprises from the First Quarter of the NFL Season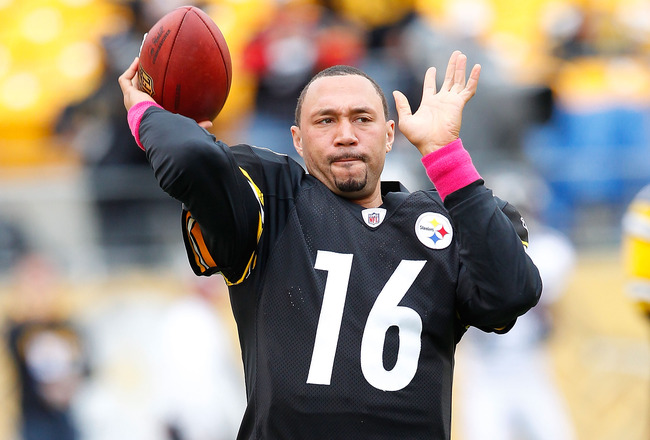 Surprise!
Jared Wickerham/Getty Images
Every year, the NFL has a number of surprises.
This year, there are surprises all around the league, from who is leading the standings to who is bringing up the rear statistically.
There are a number of pundits with egg on their faces after just four weeks of play.
These are the five biggest surprises to me after a quarter of the season.
Michael Vick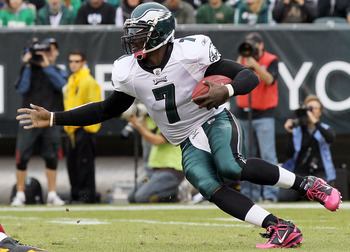 Top Three?
Jim McIsaac/Getty Images
When the Philadelphia Eagles traded Donovan McNabb to the Redskins, I was surprised. Then they named Kevin Kolb the starter.
Even after he went down in the first game and Vick came in and played well, Andy Reid stuck to his guns.
Until after week 2.
I'm not all that surprised that Michael Vick was named the starting QB in Philadelphia. I am surprised at how well he's played.
He has the third highest QB rating in the league, behind only Payton Manning and Tom Brady. Now who really thought that was going to happen?
It's unfortunate he'll lose that spot due to injury.
Ravens Have Best Pass Defense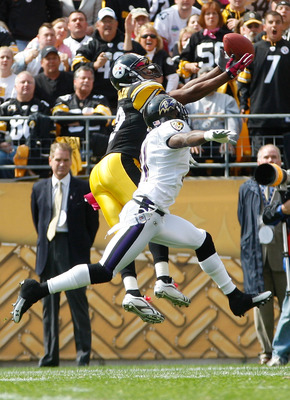 Jared Wickerham/Getty Images
Every single pundit, talk show host, and Ravens fan was worried about one thing this year.
The Secondary.
Well, after four games, the Ravens have the No. 1 pass defense in the league.
Of course, that is a team effort, and their outstanding front seven have a lot to do with it. Yes, they haven't played a team with a high flying offense (the Bengals aren't as good as we thought they would be).
But the Ravens are, for now, at the top of the heap.
Randy Moss Traded To Vikings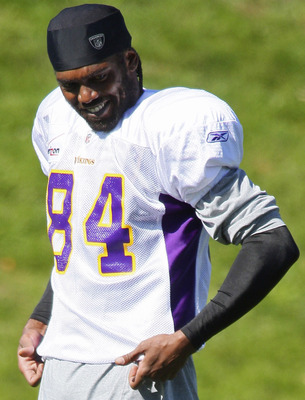 He looks happy
Adam Bettcher/Getty Images
Going into the season, Randy Moss had said he wanted to stay with the Patriots. He wanted a contract extension, but talks were not progressing.
Apparently, the Patriots decided they didn't want to talk any at all, and traded Moss to the Vikings for a third round pick.
(A third round pick? For Randy Moss? I guess they know better than I do).
I sure wasn't convinced Moss would finish his career in New England, but I never expected they would trade him midseason.
Indianapolis Is Winless in the Division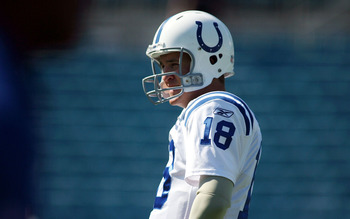 Man! We're 2-2?
Marc Serota/Getty Images
Indianapolis losing to the Texans wasn't a surprise. The Texans are good.
Indianapolis losing to Jacksonville? To give them two losses in the division? I don't think anyone predicted that. They are actually last in the AFC South.
It's possible Indy could go in to their bye week 3-3, as they could easily lose to Houston or Washington the way things have gone thus far.
There's Only One Undefeated Team Left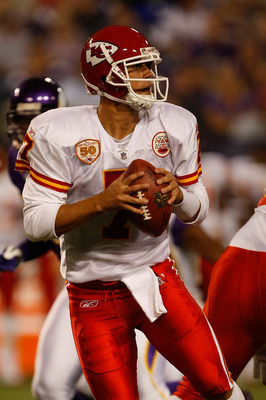 Told you I could start.
Scott Boehm/Getty Images
Be honest. Did you think it possible we would be referring to the Kansas City Chiefs as the only undefeated team in the league after four weeks?
I don't think the biggest optimist in Kansas City thought that.
Ok, they've beaten San Fransisco (0-4) and Cleveland (1-3). But the Browns figured out how to beat the Bengals, who were supposed to contend for the AFC North. And while the Chargers tend to start slow, the Chiefs looked pretty solid against them.
They will certainly face a tough challenge against Indianapolis this week, but I'll now be surprised if they don't run away with the AFC West.
More Surprises To Come?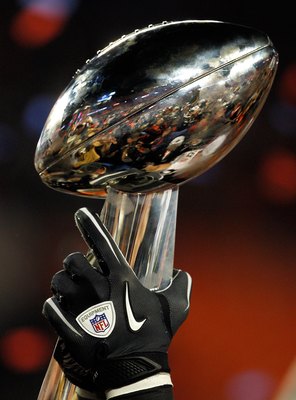 Who will hold the trophy this year?
Jonathan Daniel/Getty Images
As I said, the NFL season always has some surprises, but this year seems to have more than usual.
Will there be a surprise at the end of the year? Someone no one expected to hoist the Lombardi Trophy?
Paul is a Ravens Featured Columnist at Bleacher Report
Visit Paul's Blog: paulstagg.com
Follow Paul on Twitter: @Paul_Stagg
Keep Reading