San Francisco Giants: Game 2 Report Card From Loss to Atlanta Braves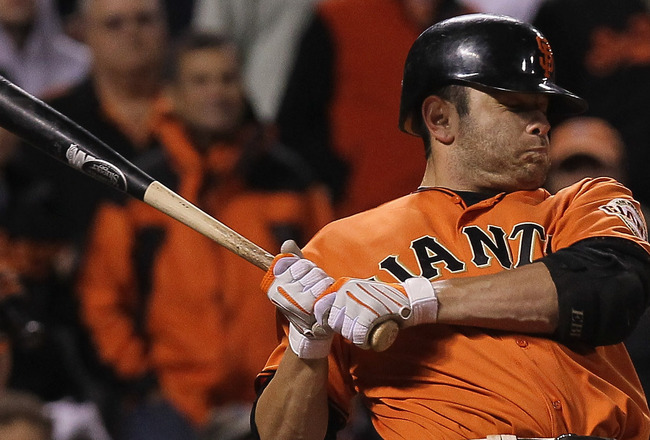 Justin Sullivan/Getty Images
It seemed all but over. The Giants were leading 4-1 with two innings to go.
San Francisco has one of the best bullpens in baseball, but there came the Atlanta Braves, and in the blink of an eye, the game was tied.
It marked the second time that night a team came back from a 4-0 deficit to win the game, as the Braves eventually won 5-4 in 11 innings thanks to a home run by Rick Ankiel.
Now the series moves back to Georgia tied at one.
The Braves are one of the best teams at home in baseball, and the Giants will need at least one win there in order to bring the DivisionSseries right back to San Fran for a Game 5 showdown.
Here are the grades for the San Francisco Giants.
Starting Pitching ... A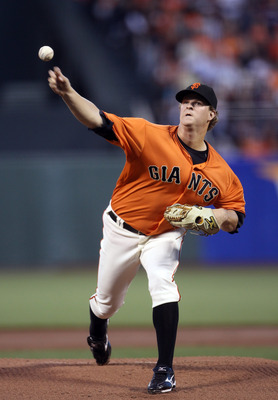 Ezra Shaw/Getty Images
Although Matt Cain was not nearly as dominant as his teammate Tim Lincecum was the night before, he was stil able to put his team in a great position to win, leaving with a 4-1 lead while pitching 6.2 innings.
His fastball was dominant, and his other pitches were getting the job done as well, as it seemed the Giants were on their way to a 2-0 series lead. Matt Cain's performance tonight deserves nothing lower than an A. This loss had nothing to do with the way Cain pitched.
Defense... C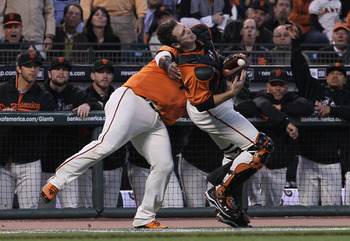 Justin Sullivan/Getty Images
Just five minutes into the game, the defense looked a little shady as third baseman Pablo Sandoval and catcher Buster Posey collided on the first out of the game.
The Giants also committed two more errors including one during that dreadful eighth inning, in which the Braves scored three runs.
Sometimes it just takes one or two mistakes to really alter the game. Only two out of the three runs scored that inning were earned. That's why the Giants defense gets a C.
Bullpen...C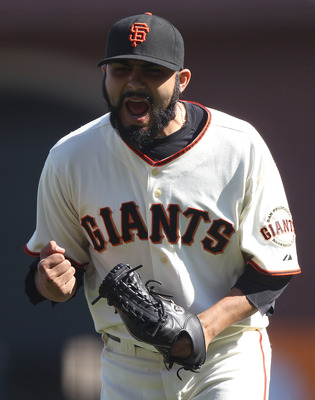 Jed Jacobsohn/Getty Images
Although this grade really should just go to Sergio Romo, when a team blows a three-run lead for his starter, no matter what the bullpen will always shoulder some of the blame. In reality, Javier Lopez, Brian Wilson, and Ramon Ramirez all pitched pretty well, but a loss is a loss.
The Braves pulled even with a double by Alex Gonzalez and took the lead on a Rick Ankiel home run. The Braves were able to find the leak in an otherwise functioning slew of relievers, and took advantage. This isn't to say that Romo isn't a reliable reliever, but tonight he was the weakest link.
Offense...B-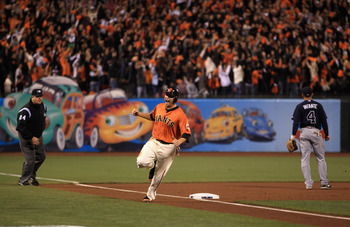 Ezra Shaw/Getty Images
The only reason they are going to get a B- grade on this is because, in this series, four runs really should be enough. The Giants won so many games by 1-0 and 2-0 scores this year, and they understand that the formula for winning does not include an offensive outburst.
That being said, fans should take notice that the team was unable to score after the second inning all the way through the 11th. Pat Burrell was their main source of offense, hitting a three-run homer in the first inning.
Managerial Decisions...B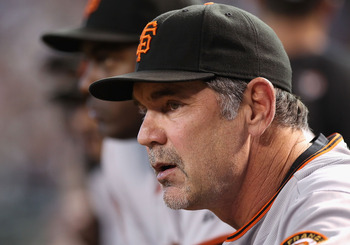 Christian Petersen/Getty Images
Overall, this loss cannot be blamed on management. They put in the right guys, and most of them did step up. They just got a bad break, and that is what led to this loss.
Sergio Romo was the guy who should be there in a three-run game, and it probably was okay to leave in Ramirez a second inning because of the way Lincecum has let his bullpen rest the night before.
Overall, manager Bruce Bochy made the right calls, and some things played out the wrong way.
Overall... C+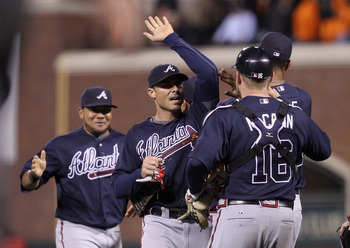 Ezra Shaw/Getty Images
This loss hurts without a doubt. Not only do they lose all of their control in the series as they head down to Atlanta, but they also now must win with starters not named Tim Lincecum or Matt Cain.
The difference between an A+ and a C+ in this game was just one-third of an inning, but in the postseason, it sometimes takes just that amount of time to change the entire momentum of a game.
The offense struggled, but did show up. The defense was good other than a couple bobbles, and most of the pitching was some of the A+ stuff Giants pitching has shown all year. But as a collective group, they lost.
Note: It appears Braves closer Billy Wagner injured himself while pitching in the 10th inning of the game last night.
Keep Reading

San Francisco Giants: Like this team?