NFL Week 5 Picks: Which Top Teams Will Falter?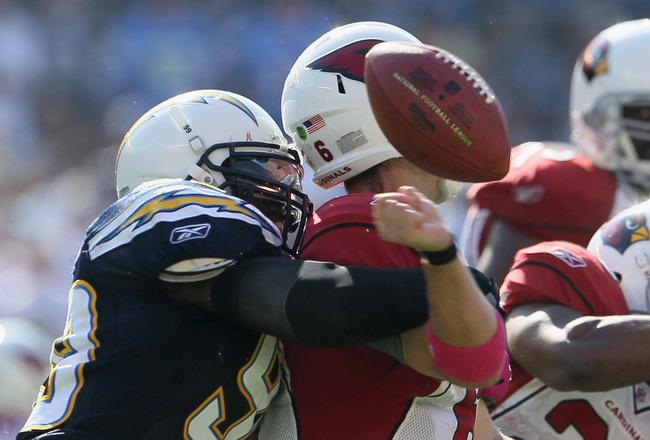 Jeff Gross/Getty Images
In week 5 of the regular season, only one team is left undefeated. After this weekend, there will be no teams left undefeated.
With that in mind, one should note the parity with which the NFL has been blessed this season: only two divisions have outright leaders. In a season filled with unpredictability, there are a few outcomes that are easy to predict.
Here are five division leaders who will fall this weekend.
Kansas City Chiefs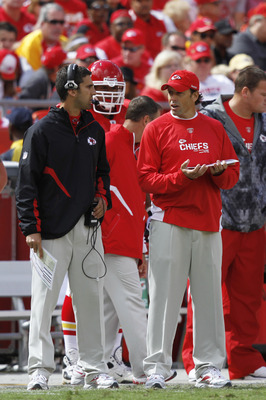 Joe Robbins/Getty Images
The Kansas City Chiefs have jumped to a 3-0 start, much on the strength of their young, talented running back Jamaal Charles. But how long can their anemic passing offense, headlined by quarterback Matt Cassel keep this winning streak going? It might have been longer if they weren't traveling to face the Colts this weekend.
Washington Redskins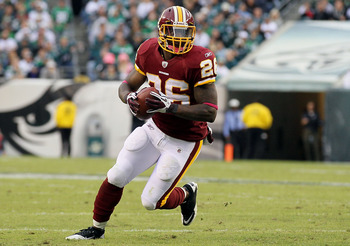 Jim McIsaac/Getty Images
Last week's showdown against his old team, the Philadelphia Eagles, was certainly a reward for Donovan McNabb. Unfortunately, this week the Green Bay Packers come to face his new team, the Washington Redskins. With the best quarterback in the league, Aaron Rodgers, the Packers will tear apart Washington's pass defense, ranked 31st in the league at over 300 yards a game. Look for this to be a blowout.

Arizona Cardinals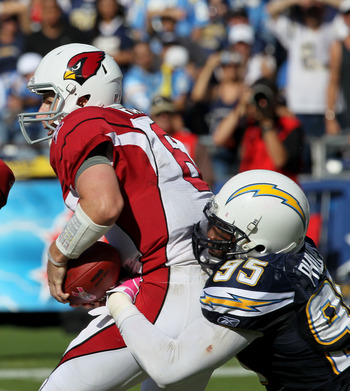 Stephen Dunn/Getty Images
Alright, so maybe the Arizona Cardinals hardly count as a league leader. But they're first in the NFC West (*cough* worst) standings. They've narrowly beaten St. Louis and Oakland and have been blown out by Atlanta and San Diego.
This weekend, they're going up against the defending champs, the New Orleans Saints. With an anemic offense and a lackluster defense, the Saints should go marching into the end zone over and over.
Houston Texans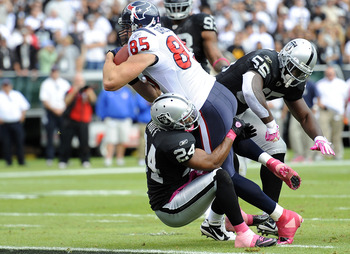 Thearon W, Henderson/Getty Images
It will be the battle of teams that struggle against the others weaknesses this week in Houston. The New York Giants are among the best passing teams in the league, while Houston is the worst at defending it. On the flip-side, Houston is the best running team in the league, while the Giants are mediocre at defending it. But in a pass heavy league, passing will come out on top in this one. The Giants over the Texans
New York Jets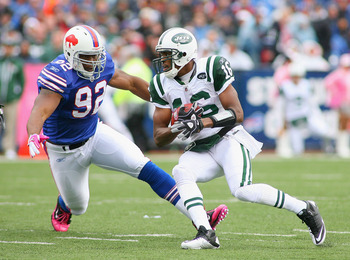 Rick Stewart/Getty Images
This might be a bit of a homer pick, but the New York Jets will get beaten at home by the Minnesota Vikings. Although they have the second overall rushing attack, Minnesota's stout frontline is the best in the game over the past five years at stopping the run.
Without a run offense, the burden becomes Mark Sanchez's to win the game—something that should bring tears to any Jets' fan's eyes.
Keep Reading