NFL Week 5 Picks: Predictions for Every Game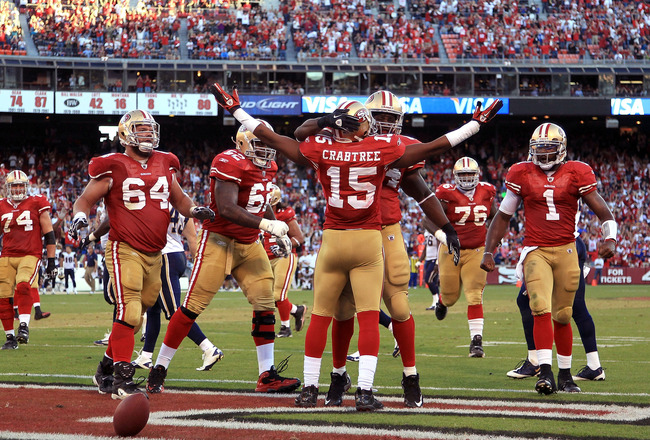 Ezra Shaw/Getty Images
"Week 5 NFL Picks: Predictions for Every Game" is a tough piece to write.
If nothing else, the 2010 season has proven that there are no truly elite teams in the NFL. The once untouchable Colts are getting roughed up by teams like the Jacksonville Jaguars, and the New Orleans Saints have struggled against mediocre competition.
It's hard to imagine any team going 12-4, much less 13-3 or 14-2. Eight wins may even be enough to win a couple divisions in 2010 (ahem, NFC West.)
Without further delay, on to Week 5's picks!
Jacksonville Jaguars (2-2) at Buffalo Bills (0-4)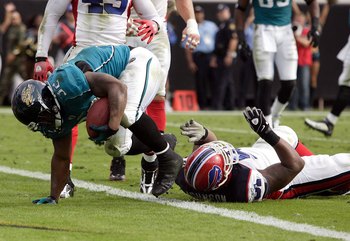 Marc Serota/Getty Images
It's official: the Buffalo Bills are the worst team in the NFL—no offense to Detroit, San Francisco, or Cleveland.
While the Jaguars have been wildly inconsistent in all phases of the game, they've shown that they can compete with the NFL's best, beating the Colts in Week 4. MJD and Co. should have little trouble against the hapless Bills.
Prediction: 28-10, Jags.
Tampa Bay Buccaneers (2-1) at Cincinnati Bengals (2-2)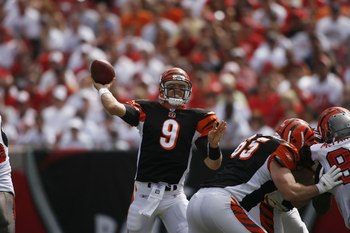 Marc Serota/Getty Images
There is little doubt that the Bucs are improved. Josh Freeman has shown veteran moxie and leadership, and his young wide receiver corps has the chance to develop into something potential pretty dangerous.
While they won't make the playoffs this year, they should give most teams on their schedule a run for their money. The Bengals haven't proven that they can consistently move the ball, even against mediocre defenses. I'll take the Bucs in a slight upset.
Prediction: 20-17, Bucs.
Atlanta Falcons (3-1) at Cleveland Browns (1-3)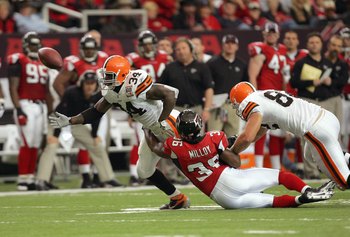 Streeter Lecka/Getty Images
The Falcons caught a break in Week 4 against San Francisco, when Nate Clements fumbled a game-clinching INT return.
Luck may not play as much of a factor in the Falcons' Week 5 win over the Browns.
While it looks like Jake Delhomme will return for Cleveland this week—is that even a good thing?the Browns won't have enough firepower to overcome Matty Ice and Roddy White.
Prediction: 31-17, Falcons.
St. Louis Rams (2-2) at Detroit Lions (0-4)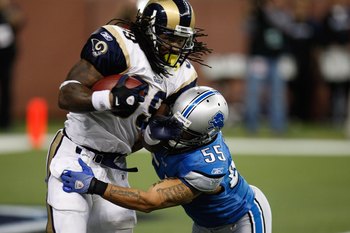 Gregory Shamus/Getty Images
Sam Bradford has impressed greatly in his first four starts, and Steven Jackson hasn't displayed any ill effects from a lingering hamstring injury.
The Lions are much feistier than their 0-4 record would lead you to believe. Close losses to above-average competition, including the Green Bay Packers in Week 4, prove that these are not your Matt Millen-era Lions.
They'll get off the schneid this week and take care of the Rams.
Prediction: 24-17, Lions.
Kansas City Chiefs (3-0) at Indianapolis Colts (2-2)
Dilip Vishwanat/Getty Images
The Colts were shocked last week by a mediocre Jacksonville Jaguars team who had previously been demolished by the Chargers.
Peyton Manning has looked his usual self, but a banged-up secondary is keeping the Colts from meeting expectations.
The Chiefs are the surprise of the NFL, but haven't faced formidable competition since their opener. The '72 Dolphins will crack champagne early this year, as the Colts will roll.
Prediction: 31-20, Colts.
Green Bay Packers (3-1) at Washington Redskins (2-2)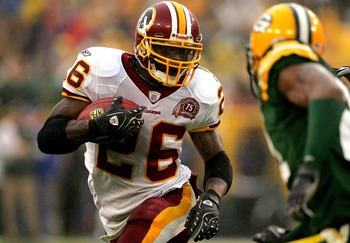 Matthew Stockman/Getty Images
The Redskins have been wildly inconsistent in 2010, particularly on the offensive side of the ball. Donovan McNabb hasn't found his rhythm yet, and the running game has suffered for it.
The Packers look as good as any team in the NFC, led by QB Aaron Rodgers. Though he struggled in the second half last week against the Lions, Rodgers should regain his touch and lead the Pack past the 'Skins.
Prediction: 35-17, Packers.
Chicago Bears (3-1) at Carolina Panthers (0-4)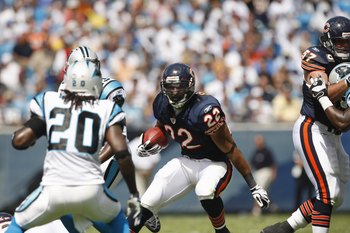 Streeter Lecka/Getty Images
After one of the most embarrassing performances in team history on Monday night against the New York Giants, the Bears look to regain their confidence against the hapless Panthers.
All signs point to Jay Cutler returning in Week 5, and a refocused (we can only hope) offensive line should give Cutler the time he needs to pick apart the Panthers.
Prediction: 28-10, Bears.
Denver Broncos (2-2) at Baltimore Ravens (3-1)
Larry French/Getty Images
The Broncos' revitalized passing game has shocked just about everyone. Kyle Orton is an early favorite to make the AFC Pro Bowl team, and Brandon Lloyd is second in the NFL in receiving yards.
I'm still not convinced Joe Flacco is a franchise QB. He forever looks flustered, unsure of himself. Luckily, he still has one of the NFL's best defenses to back him up.
Prediction: 17-16, Ravens.
New York Giants (2-2) at Houston Texans (3-1)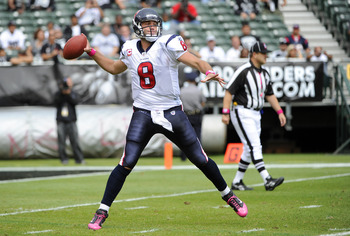 Thearon W, Henderson/Getty Images
The Giants D-line terrorized Jay Cutler last Monday night, amassing 10 sacks. While it would be hard to replicate that sort of performance, getting pressure on Matt Schaub will be key to the Giants' chances of winning.
With two of the Texans' top three receivers banged up (but expected to play), the Texans could struggle against the Giants. I'll take New York.
Prediction: 20-17, Giants.
New Orleans Saints (3-1) at Arizona Cardinals (2-2)
Chris Graythen/Getty Images
In 2009, you couldn't have found a more explosive matchup than the Saints and Cardinals. In 2010, not so much.
The Max Hall era is underway in Arizona, and the Cardinals are struggling mightily. Even a heroic performance by the Birds won't help them against the Saints.
Prediction: 38-14, Saints.
Tennessee Titans (2-2) at Dallas Cowboys (1-2)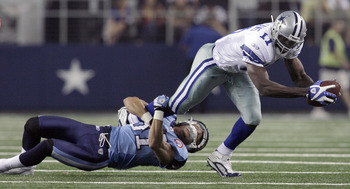 Tom Pennington/Getty Images
The Cowboys and Roy Williams temporarily quelled the feelings of despair that Cowboys fans were feeling, but they'll have to put together another strong performance against the Titans if they hope to maintain their momentum.
Chris Johnson hasn't found his groove yet, but it's hard to imagine he could be held down five straight weeks in a row (100+ yards against the Raiders doesn't count.)
Prediction: 23-20, Titans.
San Diego Chargers (2-2) at Oakland Raiders (1-3)
Harry How/Getty Images
There is no love lost between these two original AFL teams, and regardless of records, they'll always bring out the best in each other.
The Raiders are playing inspired (is that the right word?) football with Bruce Gradkowski at the helm, but the Chargers offense should be too much.
Prediction: 31-20, Chargers.
Philadelphia Eagles (2-2) at San Francisco 49ers (0-4)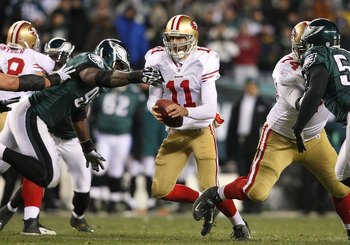 Nick Laham/Getty Images
The 49ers have two close losses to high-quality opponents, and the Eagles have two wins over low-quality opponents.
The Niners usually play well in prime-time games and should find their first win of the season on Sunday night against the Michael Vick-less Eagles.
Prediction: 24-21, 49ers.
Minnesota Vikings (2-1) at New York Jets (3-1)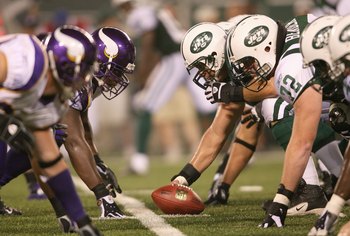 Nick Laham/Getty Images
Oh, the subplots:
Favre against his old team.
Randy Moss's debut.
Santonio Holmes's return from his suspension.
I'm feeling some Favre-Moss magic. Like Cris Carter said on Sportscenter this morning, Favre will likely call plays like this in the huddle: "Scat right, 22 Z-in... Randy, you go deep."
Prediction: 31-28, Vikings.
Keep Reading