NFL Week 5 Picks: Redskins-Packers, 5 More Must Watch Games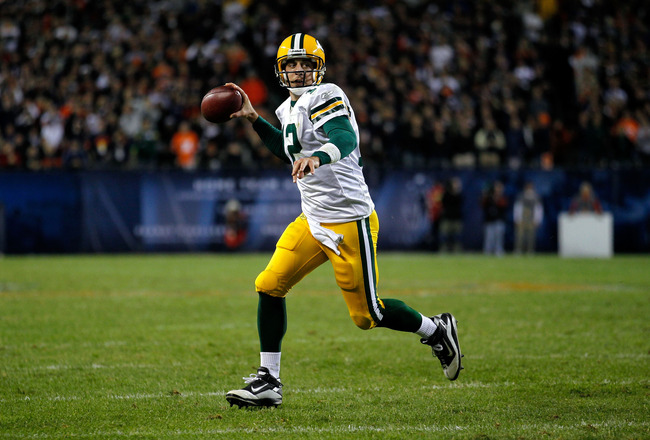 Jonathan Daniel/Getty Images
After an exciting Week 4 in the National Football League filled with triumphs, upsets, and last minute victories, it is time to take a look at the upcoming games on this weekend's slate.
There are some significant injuries that could alter the course of the season, as the Eagles lost Michael Vick and LeSean McCoy, while the Bears offensive line might have killed their post season aspirations when they allowed Jay Cutler to get mauled by the Giants.
Chris Johnson isn't even close to being on pace for his self-proclaimed 2,500 rushing yard goal for the season, and Brett Favre doesn't even resemble his 2009 self.
Without further adieu, here are six games that every NFL fan must watch this weekend!
1. Kansas City Chiefs Vs. Indianapolis Colts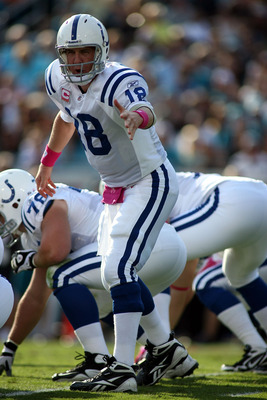 Marc Serota/Getty Images
It's kind of strange to see the Kansas City Chiefs as the only remaining undefeated team in the NFL, isn't it?
The Indianapolis Colts are in the unfamiliar position with a 2-2 record after a devastating last-second loss to the Jacksonville Jaguars on a 59-yard kick by Josh Scobee.
The Chiefs' defense has been stellar, allowing just 12.7 points per game, but their offense has been leaning on running backs Thomas Jones and Jamaal Charles to carry them to victory.
Matt Cassell has passed for just 494 yards with four touchdowns and three interceptions.
Peyton Manning has nearly tripled that, passing for 1,365 yards, 11 touchdowns, with just one pick. However, the Colts have been extremely pass heavy as always, and the Chiefs have a great young secondary led by cornerback Brandon Flowers—who has two interceptions—and rookie safety Eric Berry.
The Chiefs stud pass rushing outside linebacker Tamba Hali, will be putting pressure on Peyton Manning all day, and he has 3.5 sacks on the year.
Matt Cassell will most likely look to his favorite target, rookie tight end Tony Moeaki, who has 12 catches for 123 yards with a pair of touchdowns, but don't be surprised to see him go after the Colts young corners who have been exposed early on this season.
The real question will be if the Chiefs offensive line will be able to contain the great pass rush from Robert Mathis and Dwight Freeney, who have combined for seven sacks through the first four games of the year.
My Pick: Colts 27- Chiefs 14
2. Green Bay Packers Vs. Washington Redskins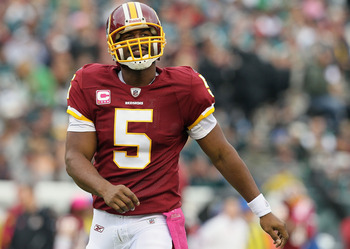 Jim McIsaac/Getty Images
Washington Redskins qaurterback Donovan McNabb is coming off of an emotional victory against his former Philadelphia Eagles team to bring the 'Skins to a 2-2 record. The Green Bay Packers were defeated by the Chicago Bears last week, and were almost beat by the Lions this past weekend, and sit atop the NFC North with a 3-1 record.
Both the Redskins and Eagles are pass-heavy offenses with non-existent rushing games. The Packers have an explosive offense and average 26.5 points per game, while the Redskins score just 18.3 points per game.
Aaron Rodgers has carried the Packers on his shoulders, passing for 759 yards, with five touchdowns and three interceptions, while Donovan McNabb has thrown for 833 yards, but just two touchdowns and an interception.
Both Rodgers and McNab have serious receiving threats in their arsenal. Tight end Jermichael Finley has been an absolute stud this year, catching 17 passes for 265 yards, and wide receiver Greg Jennings has caught 10 passes for 136 yards and a pair of touchdowns.
Neither team has a running back that has gained over 140 yards on the year.
The Packers will send an aggressive 3-4 defense at McNabb, led by second-yera linebacker Clay Matthews, who has 18 tackles and seven sacks on the season, and defensive end Cullen Jenkins who has four sacks on the year. Veteran cornerback Charles Woodson, who has 28 tackles, an interception and two forced fumbles will be roaming in the secondary.
The Redskins have solid linebackers in London Fletcher, Rocky McIntosh and Brian Orakpo, who will strive to contain Jermichael Finley.
My Pick: Packers 24-Redskins 19
3. Denver Broncos Vs. Baltimore Ravens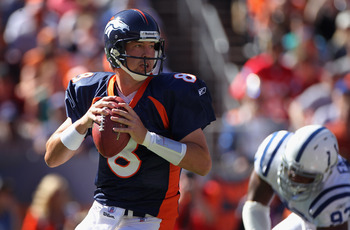 Doug Pensinger/Getty Images
Kyle Orton has led the Denver Broncos on a ruthless passing attack en route to a 2-2 record in the AFC West, and are facing the Baltimore Ravens, who are coming off of a great win over their arch rival Pittsburgh Steelers, bringing them to 3-1 on the year.
The Ravens haven't been the potent offense that most people beleived they would have when they added Anquan Boldin and T.J. Houshmenzadeh to their wide receiving corps, and are scoring just 15.3 points per game.
The Broncos have the best passing game in the league, averaging 339 yards through the air, but the Ravens have the best pass defense, allowing just 119 yards.
This will be an interesting battle, as Kyle Orton has passed for 1,419 yards with six touchdowns and three interceptions, as he will be getting attacked by the always stingy Ravens defense.
What the Ravens are lacking in their secondary, they have made up for it with their pass rush, led by Haloti Ngata, who has 26 tackles and two sacks, Terrell Suggs who has 22 tackles and 2.5 sacks, while Ray Lewis and Dawan Landry will roam in the midfield. Lewis has shown that age doesn't matter, making 30 tackles with a sack and the only interception the Ravens have.
Orton will definitely use his wide receivers Brandon Lloyd (25 catches, 454 yards, one touchdown), Eddie Royal (25 catches, 299 yards, two touchdowns), Jabar Gaffney (34 catches, 240 yards, touchdown), and rookie Demaryius Thomas (19 catches, 149 yards, touchdown), and the Ravens won't know who he's going to.
The Ravens run game has been non existent, and Joe Flacco hasn't matched expectations, passing for just 920 yards with only five touchdowns to six interceptions. Flacco will have a touch time against a very underrated secondary that still features Champ Bailey and rookie Perrish Cox who has six pass deflections on the year, with D.J. Williams prowling the middle of the field.
My Pick: Broncos 17- Ravens 16
4.New York Giants Vs. Houston Texans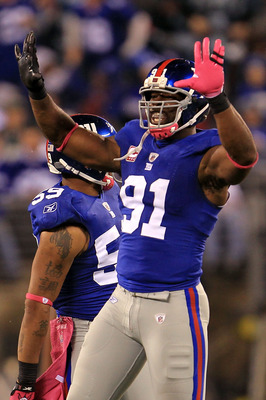 Chris McGrath/Getty Images
The New York Giants have been a confusing team this season. They lost to the Tennessee Titans due to excessive penalties, yet they smashed the undefeated Chicago Bears, sacking their quarterbacks 10 times.
The Texans haven't showed the offensive firepower they have in the past, but have made up for it with running back Arian Foster, who leads the NFL in rushing with 85 carries for 537 yards and four touchdowns, while averaging 6.3 yards per carry, and an average of 134 yards per game. Furthermore, he has caught 11 passes for 152 yards and a touchdown.
The Giants have also relied on their ground game with Ahmad Bradshaw, who has 75 carries for 382 yards with three touchdowns, but Eli Manning has been reckless with the ball, throwing six interceptions with five touchdowns
Manning has three solid receiving threats in Hakeem Nicks (21 catches 279 ards, 4 TD), Mario Manningham (14 catches, 238 yards, TD), and Steve Smith (21 catches, 211 yards), and may be able to attack the Texans who are without their former cornerback Dunta Robinson.
Matt Schaub has spread the ball around to not only Andre Johnson (19 catches, 255 yards, TD), but to Kevin Walter, who has caught three touchdowns on 20 receptions with 242 yards.
They have a strong defense led by Mario Williams who already has five sacks on the season, and safety Bernard Pollard, an absolute beast, who has 41 tackles.
My Pick: Texans 38- Giants 13
5. Tennessee Titans Vs. Dallas Cowboys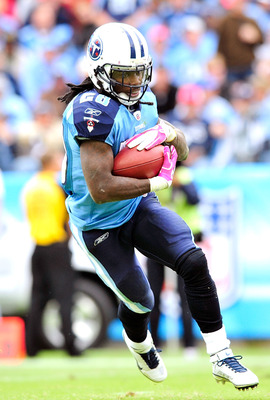 Grant Halverson/Getty Images
The Titans will travel to Dallas with a 2-2 record to take on the 1-2 Dallas Cowboys this Sunday in a must-win game for both teams.
The Cowboys had preseason Super Bowl aspirations, but haven't been able to put things together, especially in the running game.
Tony Romo has thrown for 940 yards with four touchdowns and two interceptions through the first three games, and he has a great set of wide receivers, mainly Miles Austin, who has 22 catches for 208 yards and a touchdown so far this season. Rookie Dez Bryant has been solid in the receiving game and a great punt returner, while Jason Witten is still getting his share of balls from Romo.
The Titans and Chris Johnson have been very inconsistent. Johnson has rushed for 354 yards and four touchdowns this year, but he had two games of over 120 yards, and two games in which he was held under 70 yards.
Vince Young is slowly maturing as a quarterback, with his favorite target Nate Washington catching 14 apsses for 194 yards with a pair of scores.
Dallas will have to rely on DeMarcus Ware to attack Vince Young, while being aware that Young can run the ball pretty well.
The Titans haven't had any problems attack opposing quarterbacks, as Dave Ball has 4.5 sacks, and WIll Witherspoon has three. The Cowboys offensive line has been shaky, and the Titans will try their best to expose them.
My Pick: Titans 16- Cowboys 20
6. New Orleans Saints Vs. Arizona Cardinals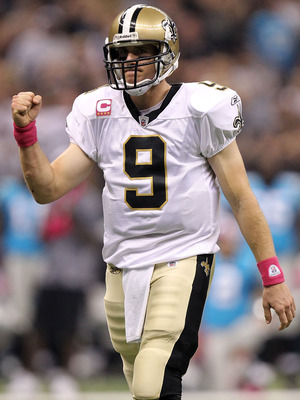 Ronald Martinez/Getty Images
The New Orleans Saints haven't shown their high octane offense that they had the past two seasons, but they still have a 3-1 record. The Cardinals are looking for answers as they are still getting used to life after Kurt Warner, and they resorted to Max Hall filling in for Derek Anderson last week.
Anderson has been miserable, throwing six interceptions to three touchdowns, while Drew Brees has been his usual self, passing for 1,131 yards, seven touchdowns, and two interceptions.
Since Reggie Bush's injury, the Saints have no rushing game, and are left with Pierre Thomas and Chris Ivory in the backfield. Lance Moore has returned to his 2008 form, catching 14 passes for 183 yards and three touchdowns, and Jeremy Shockey has surprised everyone, catching 20 passes for 196 yards and a score.
The Cardinals on the other hand, haven't been so lucky. Their Pro Bowl wide receiver, Larry Fitzgerald, has just 19 catches for 208 yards and two touchdowns, but he has been targeted 48 times. It's obvious that that chemistry he had with Kurt Warner just isn't there.
Ken Wisenhut told reporters that they might just play without a quarterback this week after their miserable performance, and that would be wise, considering that Jabari Greer and Roman Harper will be roaming the secondary looking for any ball they can snag.
Whoever is under center for the Cardinals will be under pressure all day, especially by Sedrick Ellis, who has three sacks, but Drew Brees must not get too comfortable either, as the Cardinals defense has made seven sacks on the year.
My Pick: Saints 41- Cardinals 10
Keep Reading

Green Bay Packers: Like this team?