NFL Scores: 10 Breakout Performances of Week 4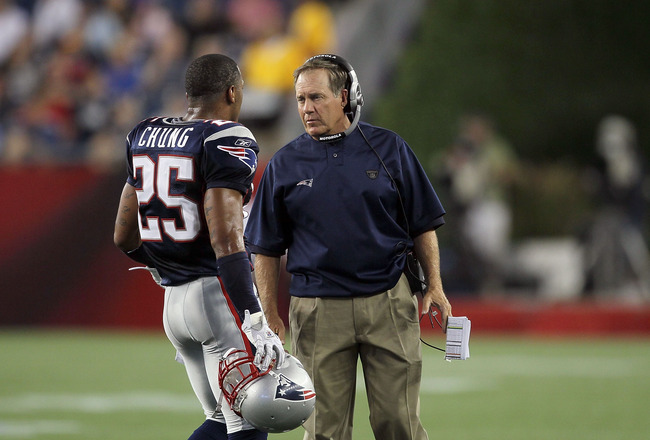 Jim Rogash/Getty Images
Every week in the NFL, there are a few players who just come out of nowhere to have monster games, and they usually kill your fantasy team—unless that's just me.
While watching the games, you'll hear a name and you'll wonder who in the world that is and I'm here to tell you and give you the top 10 breakout performances from Week 4 of the NFL season.
Did I miss anyone? Thoughts on my picks? Leave it in the comments.
No. 10: Josh Scobee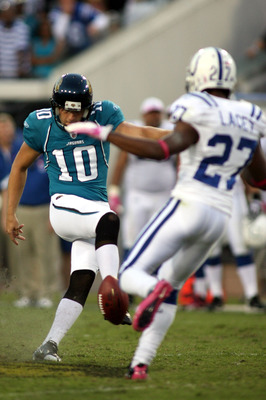 Marc Serota/Getty Images
Scobee's already been a consistent NFL kicker, but he really showed off his leg when he took down the Colts with a 59-yard bomb to win the game for the Jaguars.
In the past four years, the Colts have lost on field goals of 59 and 60 yards. That's a rough way to lose a game, and Scobee was all over the highlight reels for his cannon leg.
It's probably for the best that Jacksonville has a kicker with that range since the offense has performed the way it has this year.
No. 9: Ryan Torain
Ryan Torain was part of the highlights for the Washington Redskins in the first half this week against Philadelphia, and finished with 18 carries for 70 yards, and a touchdown. And boy was it a touchdown.
Check the video for Torain giving the truck stick to Quintin Mikell. Get your weight up son. Either way, that's a good way to get noticed by the coaching staff and leaving a crater in the turf where Mikell used to be helps too.
No. 8: Joel Dressen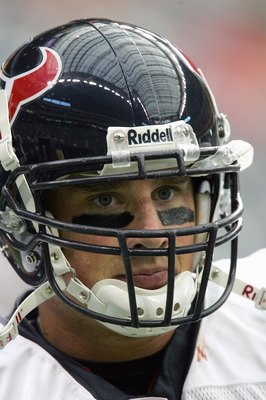 Ronald Martinez/Getty Images
With Andre Johnson out, Joel Dressen stepped up and became one of Matt Schaub's favorite targets against Oakland.
Dressen had five catches for 73 yards and a touchdown as the Texans beat Oakland by seven. Anytime you can help factor prominently in the victory, especially as one as close at that, you'll get noticed. Dressen hasn't been the biggest threat, but now maybe he'll get more looks from Schaub.
I wouldn't be rushing to add him to my fantasy team though.
No. 7: Brandon Pettigrew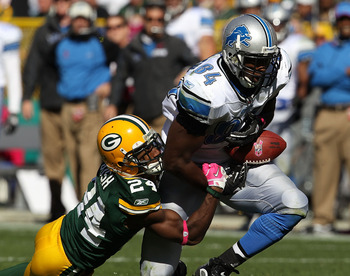 Jonathan Daniel/Getty Images
Sometimes, when a player has a big statistical day, especially a tight end, people can write it off as an anomaly based on the quarterback and other in-game situations. That happened with Pettigrew, who broke the 100-yard receiving mark in Week 2.
However, Pettigrew caught eight passes for 91 yards against Green Bay, and he's almost matched his receiving total for all of last year. Pettigrew could be a dangerous weapon with Calvin Johnson and Jahvid Best in the offense.
Then again, it is the Lions with Shawn Hill under center.
No. 6: David Nelson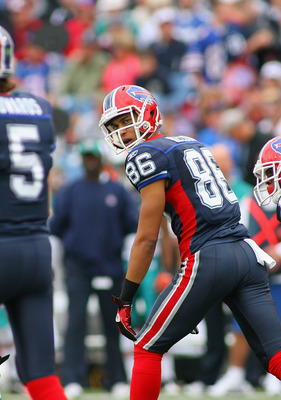 Rick Stewart/Getty Images
It's not everyday that a member of the Buffalo Bills has what's considered a breakout performance, but David Nelson did just that on Sunday.
Nelson, a rookie, pulled in four passes for 75 yards, his biggest output this season by far. Not only that, but he did it against a New York Jets secondary that had been killing the Bills' offense all day long. Maybe Bills fans have something to look forward to in Nelson.
However, we said that about Lee Evans and he's wasted away without a real quarterback to throw the ball to him.
No. 5: Marc Mariani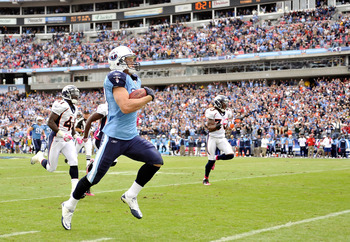 Grant Halverson/Getty Images
While Mariani hasn't made any contribution of any kind for the Titans this year in the passing game, he finally broke through in the return game.
Mariani took a kick 98 yards all the way back for a huge touchdown for Tennessee—in what looked to be a momentum shifter.However, when Denver kicked off after taking the lead, Mariani and the rest of the kick team didn't field the ball and Denver recovered.
He'll get better, but he showed signs of great ability in the return game.
No. 4: Davone Bess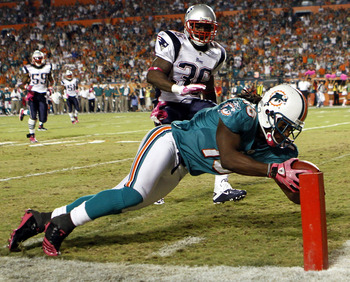 Marc Serota/Getty Images
Davone Bess showed up on Monday night for the Miami Dolphins this week in the passing game.
Bess was Chad Henne's favorite target with Brandon Marshall being kept somewhat in check by the New England pass defense. Bess caught nine passes for 93 yards, and a touchdown as the Dolphins got rolled over by the Patriots.
Bess has been a solid player out of Hawaii for the Dolphins—he's starting to come into his own and it's a good thing to see.
No. 3: Mike Tolbert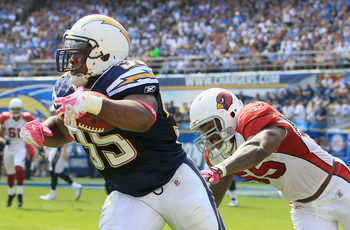 Jeff Gross/Getty Images
When a San Diego Chargers running back went over 100 yards, it used to be no doubt about who it used to be.
Even this year, if I gave you two guesses to name a Chargers running back who got to the mark, you wouldn't have guessed Mike Tolbert. Yet, Tolbert had 16 attempts for 100 yards and a touchdown as San Diego just steamrolled Arizona on Sunday.
That's just bad for Arizona. Nothing went right at all for the Cardinals. It's a mess.
No. 2: Rob Ninkovich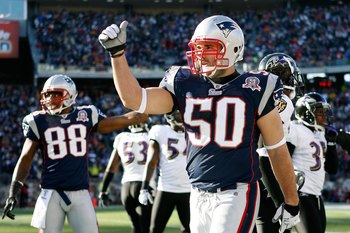 Elsa/Getty Images
Rob Ninkovich came into the game without an interception in his career, but he sure left with one after the game against Miami.
Ninkovich grabbed two picks and also had four total tackles in the Patriots' win against the Dolphins last night. The Patriots always seem to find guys like this, and I wouldn't be shocked to see him make some more plays down the line.
Bill Belichick just knows how to put players in positions to succeed.
No. 1: Patrick Chung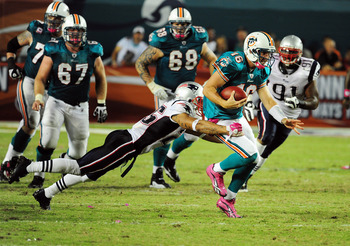 Scott Cunningham/Getty Images
Patrick Chung really brought his big boy shoes to the game last night against the Dolphins.
Chung recorded five tackles, blocked two kicks on special teams, and returned an interception to the house. He was all over the place last night and just made a ton of great plays for the Patriots last night. Chung single-handedly took the life out of the Dolphins last night.
Watching the game last night, Chung was the player who stood out for me. He was awesome last night.
Keep Reading

New England Patriots: Like this team?