Seattle Seahawks Hit New Low After Finally Losing to the St. Louis Rams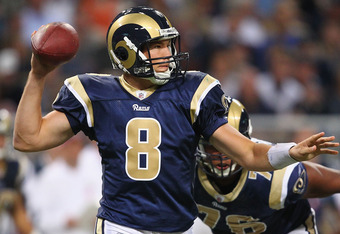 Sam Bradford
Dilip Vishwanat/Getty Images
As bad as the Seattle Seahawks have been the last two years, there was one positive they could always count on: beating the St. Louis Rams.
Well, not anymore.
The Seahawks looked as lost as ever on offense and let a rookie quarterback and hobbled running back beat them. With no help this time from special teams and some questionable coaching, the Seahawks' 10-game winning streak against the Rams came to an end with a 20-3 loss.
As bad as the offense has looked at times in the first three games, it looked even worse in the scoreless second half at St. Louis. It seemed even worse than the performance against the Chargers last week and, for the first time, brought back aching memories of 2009's bumbling crew.
The offensive line, which had held up fairly well in the first three games, finally crumbled to pieces around Matt Hasselbeck.
Russell Okung had a rough debut at left tackle before leaving in the second quarter because of a bad ankle. Sean Locklear struggled at right tackle while playing on a bum knee; Tyler Polumbus had problems at times, too.
The Hawks ran for just 64 yards, gave up four sacks, allowed endless other hits and pressures on Hasselbeck, and converted just 4 of 15 third downs.
They were especially futile in the second half, as they played on their end of the field almost the entire time. They had just 50 yards of offense in the second half before adding 33 meaningless yards on their final possession.
In the first half, they moved the ball better but turned it over twice on downs and once on an interception of a tipped pass.
Pete Carroll and his staff had a bad first half. Carroll challenged two plays he shouldn't have and was out of challenges with 4:28 left in the second quarter.
He went for it on fourth down from the Rams' 38, which was not a bad decision. It was even a nice play call—getting fullback Michael Robinson open in the flat for an easy completion—except he dropped Hasselbeck's perfect pass.
The real head-scratcher was the decision to fake a 51-yard field goal on Seattle's last possession of the half. It was fourth-and-10, and they should have just let Olindo Mare kick try to cut the lead to 7-6. Instead, holder/punter Jon Ryan picked up the ball and ran to his left, apparently with the idea of throwing the ball to tight end John Carlson. But the Rams snuffed the play out on all ends and took Ryan down.
The Rams then drove for their own field goal just before the half, giving them a 10-3 lead.
The Seahawks took a step back offensively in this game. After all, how much progress can you make when your top receiver was just signed off the scrap heap? While T.J. Houshmandzadeh was beating the Pittsburgh Steelers with a last-minute touchdown catch, Hasselbeck was throwing to newly signed Brandon Stokley.
Meanwhile, Sam Bradford threw for 289 yards and two touchdowns, with only one interception.
Whenever the Seahawks started to get pressure on the rookie, the Rams would call a screen pass, burning the defense several times—including a 21-yard score by Kenneth Darby.
Plus, gimpy stud rusher Steve Jackson gashed Seattle for 124 total yards, including 49 on a screen play that set up Darby's touchdown.
The Hawk defense sacked Bradford four times, and safety Earl Thomas intercepted a pass in the end zone. But the Hawks also continued to give up huge chunks of ground through the air and allowed St. Louis to convert 7 of 16 third downs.
As bad as the Seattle offense is, the defense must figure out how to stop quarterbacks from slicing it up as Kyle Orton, Philip Rivers and Bradford have done the last three weeks.
It will be interesting to see whether the Seahawks can fix any of that during their upcoming bye.
The Seahawks continue to raise questions with their ongoing roster roulette. Read about it Outside The Press Box.
This article is
What is the duplicate article?
Why is this article offensive?
Where is this article plagiarized from?
Why is this article poorly edited?

Seattle Seahawks: Like this team?