Michael Vick Vs. The Top 10 African American Quarterbacks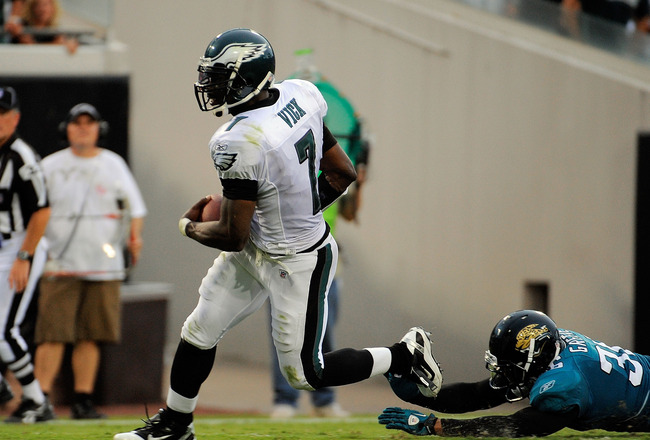 Doug Benc/Getty Images
It's been a scramble for black quarterbacks in the NFL, but the light at the end of the end zone is visible.
The term "black quarterback" has become an enigma in the National Football League.
In 1946, the year before Jackie Robinson broke the color line in pro baseball, pro football legend Paul Brown signed an undrafted RB named Marion Motley to play for the Cleveland Browns.
Motley broke the color line in American professional sports with his signing.
Twenty-two years later, the color line was broken in the professional quarterback position when the American Football League's Denver Broncos made rookie Marlin Briscoe a starter in 1968.
It was the AFL's ninth season, the National Football League's 49th season, and the season before the AFL-NFL merger.
The 1968 season ended with Joe Namath's and the New York Jets' upset of Johnny Unitas and the Baltimore Colts in Super Bowl III.
It was ironic that a historically black university, Florida A&M, performed during halftime of Super Bowl III at the Orange Bowl in Miami, Florida.
Briscoe would become a flanker for the Miami Dolphins in 1971, but in 1968, he threw 14 touchdown passes. Incredibly, Briscoe still owns Denver's rookie passing TD record (Hall of Famer John Elway threw seven TD passes as a rookie in 1983).
Briscoe's 17.1 yards per completion led the AFL in 1968, and he rushed for 308 yards and three more TDs that season.
The Broncos inexplicably cut him in 1969's preseason, and the AFL's Buffalo Bills signed him as a receiver since they already had future Hall of Fame QB Jack Kemp, Tom Flores, and James Harris, another black quarterback.
Briscoe never played QB again, but he did enjoy a splendid career as a receiver: He led Buffalo in TD receptions in each of his three seasons with the Bills.
In 1970, he became an All-Pro receiver only two years removed from starting as a quarterback.
Former Tennessee State University starting QB and Nashville legend, "Jefferson Street" Joe Gilliam, also trail-blazed the way for African-American pro QBs.
Drafted in the 11th round by the Pittsburgh Steelers in 1972, he started for the Steelers in 1974, but was replaced by future Hall of Famer Terry Bradshaw after six games.
Gilliam led Pittsburgh with 1,274 yards passing that season, but his biggest accomplishment was providing inspiration for future black QBs
"Joe made it possible for every one of us black quarterbacks," Doug Williams said at Gilliam's funeral in 2000. "The struggles he went through eased the struggles we had to endure. That's why I had to be here today."
Briscoe and Gilliam both fell into drug addictions, and both men recovered to turn their lives around and make even more positive impacts on others in this top 10 list.
10. Marlin Briscoe (1968): Director of the Long Beach, CA, Boys and Girls Club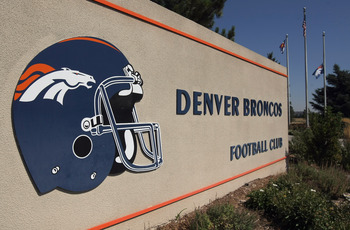 Doug Pensinger/Getty Images
A pioneering playmaker and life coach, he runs a youth football camp.
He is best known for the viral Nike ad campaign "Briscoe High," starring LaDainian Tomlinson, Deion Sanders, Steve Young, Lee Corso, Jill Arrington, Jillian Barberie, Troy Polamalu, Michael Vick, Don Shula, Jimmy Johnson, Urban Meyer, Brian Urlacher, and Briscoe himself.
Briscoe was the Briscoe High's quarterbacks coach in the Nike ads.
Career Totals:
14 passing TDs; 14 INTs; 1,697 yards passing; 41.6 percent completion rate; 0 rushing yards; 0 rushing TDs; 1 fourth-quarter comeback; 2 game-winning drives.
9. Doug Williams: He Owns the Only Super Bowl Victory On This List
Stephen Dunn/Getty Images
In starting the 1987 NFC Championship game for the Washington Redskins vs. the Minnesota Vikings, Williams became the first African-American QB to start an NFL Championship game.
In the next game, he became the only black QB to win a Super Bowl (XXII) as the starter, and the only black QB to win a Super Bowl MVP award.
In earning the Super Bowl win, Williams outshone 1987's NFL MVP John Elway.
Williams still holds the NFL record for Super Bowl TD passes in a quarter (four).
He also set the Super Bowl record for yards passing (340) in a single game (Kurt Warner holds the current record, 414 yards, set in Super Bowl XXXIV).
These history-making feats get him on my list, even though he is the only one on my list with a losing record as a regular-season starter (38-42-1).
Williams was 4-0 in his playoff career as a starting QB.
Career Totals:
QB Rating: 69.4; 100 passing TDs, 93 INTs, 16,998 yards; 49.5 percent completion rate; 884 rushing yards; 15 rushing TDs; 17 fourth-quarter comebacks; 21 game-winning drives.
8. Vince Young: All He Does Is Win, Win, Win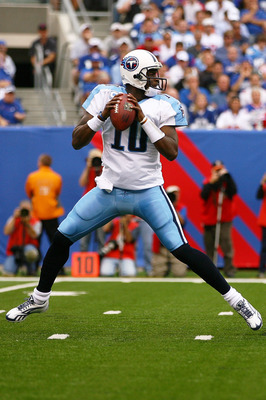 Andrew Burton/Getty Images
He has one of the most technique-challenged throwing motions in the game, but his arm is above average and he has a tremendous winning record in games he's started. Vince was selected third overall in the 2006 NFL draft.
Mentored by Steve "Air" McNair, Young was named NFL Offensive Rookie of the Year. "VY" was selected to the Pro Bowl in his inaugural pro season and again in the 2009-10 season.
All he does is win, and when that is the case, then statistics aren't as important.
Career Totals:
QB Rating: 86.6; 34 passing TDs; 41 INT; 4,848 yards passing; 58.1 percent completion rate; 1,297 rushing yards; 12 rushing TDs; 7 fourth-quarter comebacks; 11 game-winning drives.
7. Michael Vick: QB Speed Kills Defenses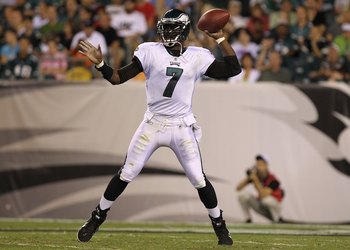 Nick Laham/Getty Images
The rifle-armed and rocket-speedy Vick left Virginia Tech University after his redshirt sophomore season, and he became the first African-American quarterback to be selected first overall in the 2001 NFL draft by the Atlanta Falcons.
Vick and his Falcons teammate, Warrick Dunn, became the first quarterback and running back combination to each go over 1,000 rushing yards in a single season.
In terms of quarterback career rushing yards, Michael Vick ranks third behind only Steve Young and legendary passer and scrambler Randall Cunningham.
Scrambling for his freedom in August 2007, Vick pleaded guilty to federal felony charges of dogfighting, and he subsequently served 21 months in prison and two months in home confinement.
With the loss of his NFL money and his product endorsement deals, Vick filed for Chapter 11 bankruptcy in July 2008.
Falcons owner Arthur Blank released Vick, who then signed with the Philadelphia Eagles before being reinstated by NFL Commissioner Roger Goodell in Week 3 of the 2009-10 season.
Head coach Andy Reid named Vick the starter in Week 2 of the 2010-11 season, and Vick was mentioned by ESPN's Tom Jackson as the leading candidate for NFL MVP.
Career Totals:
QB Rating: 76.8; 75 passing TDs; 52 INTs; 12,050 yards passing; 54.0 percent completion rate; 4,094 rushing yards; 23 rushing TDs; 6 fourth-quarter comebacks; 8 game-winning drives.
6. Jeff Blake: Shake and Blake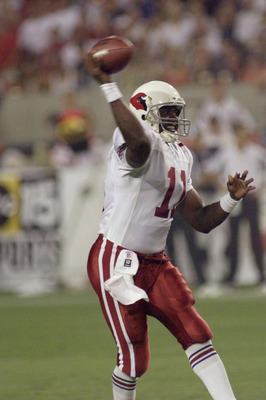 Gary Williams/Getty Images
After finishing seventh in the Heisman Trophy voting in 1991, he made his reputation by throwing fly pattern TDs to Darnay Scott and to Carl Pickens during the 1990s with the Cincinnati Bungles "error" (not era).
In 1995, Blake set the Pro Bowl record for longest TD pass (92 yards to Yancy Thigpen). "Shake and Blake's" best season was in 1995, when he passed for over 3,800 yards, 28 TDs, 17 interceptions, and a QB rating of 82.1.
Career Totals:
QB Rating: 78.0; 134 passing TDs; 99 INT; 21,711 yards passing; 56.4 percent completion rate; 2,027 rushing yards; 14 rushing TDs; 1 fourth-quarter comeback; two game-winning drives.
5. Daunte Culpepper: He Negotiated His Own Contract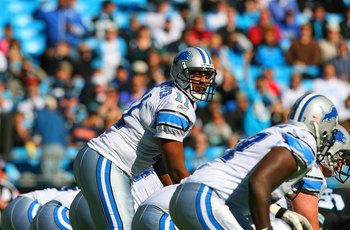 Streeter Lecka/Getty Images
Drafted 11th overall in the 1999 NFL draft behind Tim Couch (first overall), Donovan McNabb (second oerall), and Akili Smith (third overall), Culpepper went on to outshine Couch and Smith by becoming a three-time Pro Bowl selection with the Minnesota Vikings.
Known for being the rare NFL player who served as his own agent, he had a monster year in 2004, breaking Dan Marino's NFL record by racking up 5,123 total yards.
His career was derailed by a catastrophic knee injury in 2005, from which he came back, but he resumed his career as a shell of himself.
Career Totals:
QB Rating: 87.7; 149 passing TDs; 106 INT; 24,153 yards passing; 63.0 percent completion rate; 2,652 rushing yards; 34 rushing TDs; 11 fourth-quarter comebacks; 17 game-winning drives.
4. Randall Cunningham: Who Could Scramble Like Rocket-Armed Randall?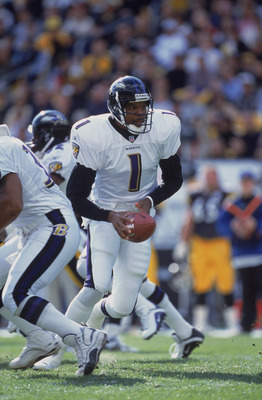 Jamie Squire/Getty Images
The Philadelphia Eagles drafted Randall after his junior year at UNLV in 1985, and he ended up spending ten proficient years with Philly.
Cunningham retired in 1995, but he returned to play for the Minnesota Vikings, the Dallas Cowboys, and the Baltimore Ravens before retiring for good in 2002.
He and Donovan McNabb are two of only four Eagles QBs to pass for over 3,000 yards in consecutive seasons.
The younger brother of Patriots RB, Sam "Bam" Cunningham, Randall was a four-time Pro Bowler, and a one-time first-team All Pro.
His best season was 1998, when he finished with a 106 QB rating: the highest for a single season for a black QB. (Note: the NFL QB passer rating system started in 1971.)
Trailing only Michael Vick, Randall is the NFL's second all-time leading rusher for a QB.
Career Totals:
QB Rating: 86.6; 218 passing TDs; 101 INT; 29,997 yards passing; 59.1 percent completion rate; 4,928 rushing yards; 35 rushing TDs; 21 fourth-quarter comebacks; 26 game-winning drives.
3. Steve McNair: "Air McNair," May He Rest In Peace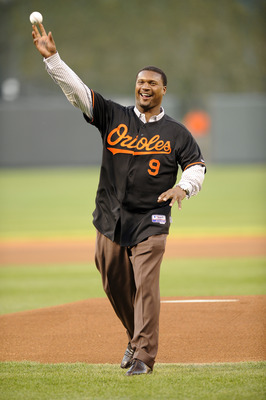 Greg Fiume/Getty Images
In 1994, he won the Walter Payton Award as the top player in NCAA Division I-AA. Drafted out of Alcorn State University by the Houston Oilers with the third pick in the 1995 NFL draft, he became the highest-drafted black QB at the time.
In his third season as the Tennessee Titans' starter, McNair fell one yard shy of leading the team to a come-from-behind win against the St. Louis Rams in Super Bowl XXXIV.
After making three Pro Bowls, one All-Pro team, and garnering one NFL MVP award (shared with Peyton Manning in 2003), McNair remains the Titans' all-time leading passer and the only black NFL QB MVP.
Career Totals:
QB Rating: 82.8; 174 passing TDs; 119 INTs; 31,304 yards passing; 60.1 percent completion rate; 3,591 rushing yards; 37 rushing TDs; 17 fourth-quarter comebacks; 23 game-winning drives.
2. Donovan McNabb: Will He Nab Any Hall of Fame Votes?
Vincent Laforet/Getty Images
Donovan was a star QB and reserve point guard for Syracuse University before he led the Philadelphia Eagles to five NFC Division Championship games, four consecutive NFC East titles, and one Super Bowl (a loss to the Carolina Panthers). He has a higher career QB rating (86.6) than Steve McNair, but McNair's MVP trumps that.
His 629 rushing yards in 2000 were the highest among NFL quarterbacks and, at the time, the fourth-highest total ever (968 by Bobby Douglass in 1972; 942 by Randall Cunningham in 1990; and 674 by Steve McNair in 1997). Michael Vick has since eclipsed that total three times
McNabb's best single season was 2004-05, when he threw for over 3,800 yards, 31 TDs, and eight interceptions while rushing for 220 yards and three TDs. He was named the Big East Conference's Player of the Decade (offense) in the 1990s, and he is still the Eagles' all-time leader in career wins, pass attempts, pass completions, passing yards, and passing touchdowns
Career Totals:
QB Rating: 86.6; 218 passing TDs; 101 INT; 33,706 yards passing; 59.1 percent completion rate; 3291 rushing yards; 28 rushing TDs; 15 fourth-quarter comebacks; 23 game-winning drives.
1. Warren Moon: Who Threw a Better Spiral?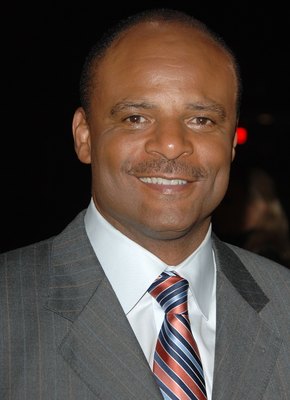 Stephen Shugerman/Getty Images
Undrafted in the NFL back when black QBs didn't get a shot, he led the Canadian Football League Edmonton Eskimos to five straight Grey Cup championships.
Signed in 1984 by the Houston Oilers for $5.5 million, he proceeded to light the NFL up with pigskins in the sky.
In his HOF induction ceremony speech, he revealed that he, the first to make it to the Hall of Fame, bore the responsibility of playing for "his people."
Career Totals:
QB Rating: 291 passing TDs; 233 INTs; 49,325 yards passing; 58.4 percent completion rate; 1,736 rushing yards; 22 rushing TDs; 26 fourth-quarter comebacks; 37 game-winning drives.
Comparison in Point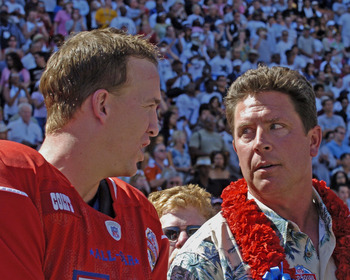 Peyton Manning and Dan Marino
A. Messerschmidt/Getty Images
Tom Brady (2000-present): QB Rating: 86.6; 230 passing TDs; 101 INTs; 31,350 yards passing; 63.3 percent completion rate; 577 rushing yards; 6 rushing TDs; 21 fourth-quarter comebacks; 29 game-winning drives.
John Elway (1983-88): QB Rating: 86.6; 300 passing TDs; 226 INTs; 51,475 yards passing; 56.9 percent completion rate; 3407 rushing yards; 33 rushing TDs; 35 fourth-quarter comebacks; 46 game-winning drives.
Brett Favre (1991-present): QB Rating: 86.4%; 500 passing TDs; 323 INTs, 69,926 yards passing; 62 percent completion rate; 1,834 yards rushing; 14 rushing TDs; 29 fourth-quarter comebacks; 43 game-winning drives.
Dan Fouts (1973-87): QB Rating: 86.6; 254 passing TDs; 242 INTs; 43,040 yards passing; 59.1 percent completion rate; 3291 rushing yards; 28 rushing TDs; 24 fourth-quarter comebacks; 26 game-winning drives.
Dan Marino (1983-99): 420 passing TDs; 252 INTs; 61,361 yards passing, 59.4 percent completion rate; 87 yards rushing; 9 rushing TDs; 36 fourth-quarter comebacks; 51 game-winning drives.
Peyton Manning (1998-present): QB Rating: 86.6; 372 passing TDs; 181 INTs; 50,816 yards passing; 64.9 percent completion rate; 701 rushing yards; 17 rushing TDs; 35 fourth-quarter comebacks; 44 game-winning drives.
Keep Reading

Dallas Cowboys: Like this team?