Tom Brady's Week Four Domination: Five Lock Picks Not Involving Michael Vick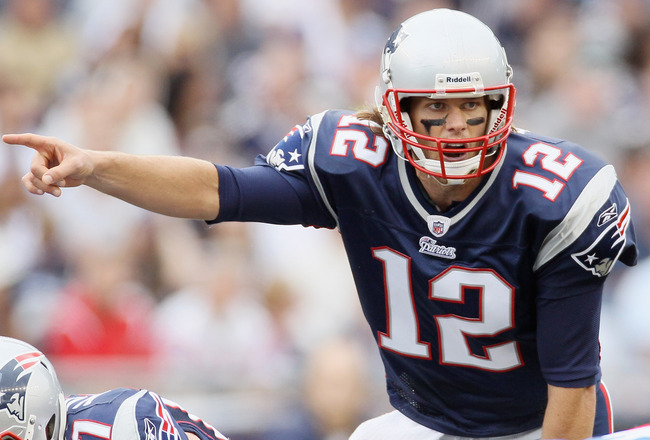 Elsa/Getty Images
This week in the NFL we have a Sunday night match-up between Eli Manning's New York Giants and the undefeated Chicago Bears led by QB Jay Cutler and running back Matt Forte; Donovan McNabb's return to Philadelphia; and the Pittsburgh Steelers trying to stay undefeated without Ben Roethlisberger going into their bye week—but I'm going in a different direction with this article.
I'm going to focus on the "other" games in the week four line-up that I consider sure things. Spread or no spread, these are some can't-miss picks.
Atlanta Falcons (-6.5) Vs. San Fancisco 49ers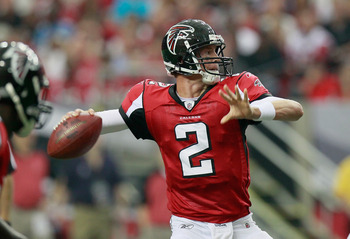 Kevin C. Cox/Getty Images
The 0-3 San Francisco 49ers are a far cry from the playoff contending team that experts have been shoving down our throats since the end of the 2009 season. They fired their offensive coordinator this week after the offense was ineffective in losing to the Kansas City Chiefs 31-10.
Now they have to travel to Atlanta to play the 2-1 Falcons, who have the sixth highest scoring offense (25.7 per game) as well as the sixth best defense in points allowed (15.3 per game.) QB Matt Ryan should be able to play well against San Fran's mediocre pass defense.
However, their lack of offense will ultimately cost them this game. 49ers QB Alex Smith has been ineffective to say the least, and with no threat of a passing game, the Falcons should be able to key in on RB Frank Gore and keep him to pedestrian rushing numbers.
Falcons 27, 49ers 13
Cincinnati Bengals (-3) Vs. Cleveland Browns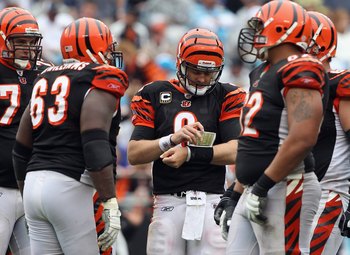 Streeter Lecka/Getty Images
The 0-3 Browns are at home against the 2-1 Bengals, but that may not make a difference in this game. The Bengals haven't been very impressive yet this season, but the Browns just haven't been able to put a full game together.
The Browns games have been a tragic tale of them falling just short each week. Their three losses have come by a total of 12 points. Still, they haven't been able to get a win.
RB Peyton Hillis has been the only real shining star for the Browns with 220 yards and three TDs on only 39 carries.
The Bengals have gotten it done with a heavy dose of RB Cedric Benson. He carried the ball 27 times for 81 yards and a TD last week in the Bengals win over the Carolina Panthers.
Bengals QB Carson Palmer has only 685 yards passing—341 of which came in a crushing week one defeat to the New England Patriots.
He hasn't looked all that good this year, but he has a lot of weapons at his disposal. It's only a matter of time before this offense has a big game.
I'm picking this week to be the time. I look for Palmer to throw for 280 yards and two TDs in the contest. add to that another 100 yards and a TD from Benson, and it makes for Bengals victory.
Bengals 24, Browns 13
N.Y. Jets (-6.5) Vs. Buffalo Bills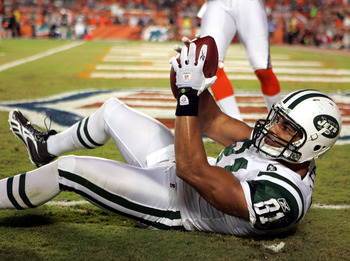 Marc Serota/Getty Images
Don't be fooled by the Bills' 30-point outburst against the New England Patriots last week. Buffalo is probably the worst team in the NFL. They have an anemic offense, and their defense couldn't stop a Geo Metro with anti-lock brakes.
The Jets have one of the league's best defenses, and QB Mark Sanchez has thrown for three TD passes in each of the last two weeks. His new favorite target, TE Dustin Keller, has been the recipient of half of those TDs.
Jets RB LaDainian Tomlinson has found new life in New York and is on pace to break 1,100 yards this season. RB Shonn Greene hasn't even gotten started running the ball effectively, but he probably will this week.
I look for this to be the most lopsided game of the week.
Jets 31, Bills 3
Houston Texans (-3) Vs. Oakland Raiders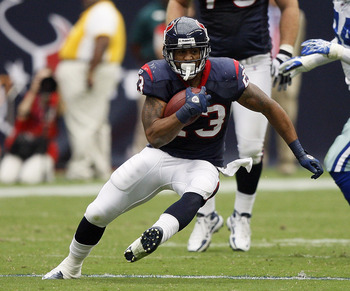 Bob Levey/Getty Images
After what I see as nothing more than a harmless misstep in week three against the Dallas Cowboys, the Houston Texans' validity as a true contender has come into question yet again. This week they travel to Oakland to play a Raiders team that was supposed to take a step forward this year.
The Raiders have only one win this year which came against the St. Louis Rams by a score of 16-14 in week two. They've fallen to the Tennessee Titans 38-13 and the Arizona Cardinals 24-23.
The "new look" Raiders already look like the "same old" Raiders. They're on their second starting QB (Bruce Gradkowski) this season, as the Jason Campbell experiment hasn't gone according to plan. Their bet asset is their second ranked defense, but that stat is misleading.
They've played two of their three games against offensively challenged teams. The one game in which their opponent had a strong running game, they got drummed by Titans RB Chris Johnson for 142 yards and two TDs
The Texans have a lot to prove this season and, up until losing to the Cowboys, were considered a force in the NFL this season. They've already beaten the Colts on the legs of rookie Arian Foster who ran for 231 yards and three TDs in the contest. I look for Foster to have at least 100 yards and a score in the contest.
Texans QB Matt Schuab has passed for 845 yards and five TDs already this season. There is no one in the League, outside of possibly Darrelle Revis, who can guard Texans WR Andre Johnson. The Texans will most likely pass for 300 plus yards in this contest with Johnson amassing 100 yards receiving and at least one TD.
I give the Raiders no chance at even keeping this game close. The Texans had a hiccup last week, and nothing more. This one will get ugly.
Texans 38, Raiders 17
New England Patriots (-1) Vs. Miami Dolphins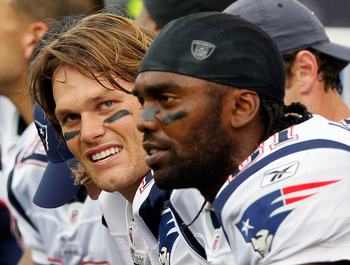 Jim Rogash/Getty Images
This is my favorite match-up of the week. The Patriots are on the road on Monday night against the Miami Dolphins. The Dolphins have looked solid this year with their monster backfield of Ronnie Brown and Ricky Williams leading the way.
The Dolphins are coming off of a loss on Sunday night to the New York Jets. The Dolphins had a chance to score late and try to tie the game on their last drive, but they fell short 31-23.
Dolphins QB Chad Henne looked good in the contest, but the running game stalled. The Patriots are no strangers to giving up points recently, but I don't see that being a problem in this game. It boils down to a points race that the Dolphins won't be able to win.
The Patriots have one of the most dangerous passing duos in the league—QB Tom Brady and WR Randy Moss. That's really all they'll need in this game. Randy Moss is a Monday night mauler. He always shows up on the biggest stages.
Moss has averaged nearly 20 yards per reception and has more TD catches than he has played games on Monday night. With Tom Brady throwing him the ball I look for Moss to rack up 150 yards and at least two TDs in this contest—seriously.
Patriots RB Ben-Jarvis Greene-Ellis will get most of the carries in this game. With Moss and Brady playing pitch-and-catch all day, this back will be able to run out the clock in the second half if the Patriots choose to go that direction.
The Dolphins should put up some points in this one, but I just don't see them being able to keep up with the Patriots' offensive onslaught.
Patriots 38, Dolphins 27
Good Luck, and Great Picks Will Win Out This Week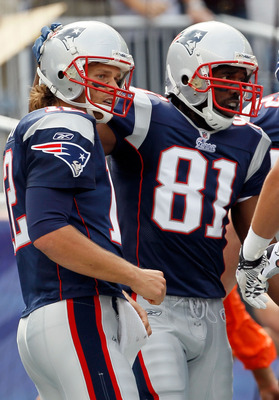 Jim Rogash/Getty Images
Well that's all I have for you this week. Keep an eye on these games, and I'll be back next week with another batch of picks.
In the meantime, always be looking for power to overcome hype.
No matter what happens though, there will be a lot of fireworks in these games. I look forward to some great NFL action in Week 4.
Keep Reading

New England Patriots: Like this team?