5 Reasons Matt Hasselbeck Will Lead the Seahawks to the NFC West Title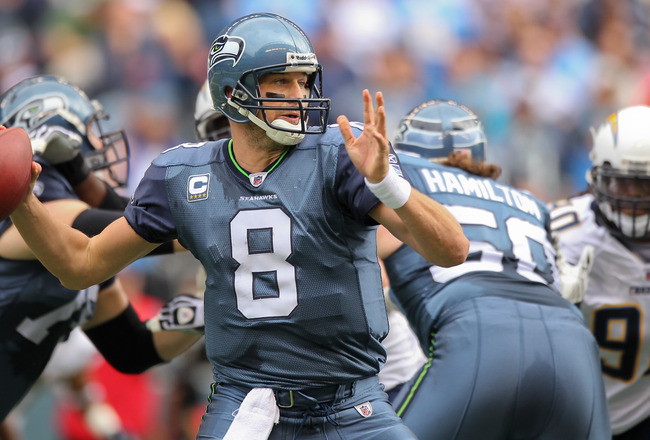 Otto Greule Jr/Getty Images
Matt Hasselbeck has been a Seattle Seahawk forever. He has been through the good times (an appearance in Super Bowl XL) and the bad times (4-12 in 2008, 5-11 last year).
Though he is getting old, Hasselbeck is showing this year that he can still be the leader of his team. He has guided the Seahawks to a surprising 2-1 record.
Seattle looks like the front-runner in the NFC West with the complete collapse of the preseason favorite San Francisco 49ers.
But to make the playoffs, the Seahawks will need to rely on the right arm of Hasselbeck. And from all indications, he is up to the task (excluding his three interception performance against the Broncos).
Here are five reasons Hasselbeck will be able to lead his team to the playoffs this year.
5. Leon Washington Will Give Him Good Field Position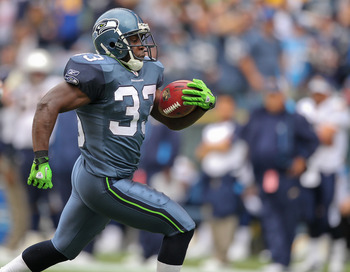 Otto Greule Jr/Getty Images
Leon Washington is capable of running a kick back for a touchdown at any given moment. He is clearly one of the best return men in the league and that will benefit the Seattle offense.
By starting drives from the 30-yard line and beyond more often than not, rather than the 20, Hasselbeck and the rest of the offense will have less ground to cover.
That will prove to be a big plus, especially when they need to score late in the fourth quarter, when every yard is at a premium.
4. He Has A Solid Group of Receivers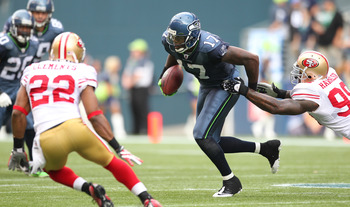 Otto Greule Jr/Getty Images
After being out of football for two years, Mike Williams is back and better than ever. He looks like a legitimate threat as a No. 2 wide receiver.
His partner in the starting lineup is savvy veteran Deion Branch. Branch knows how to get open and can make tons of catches every single game.
Brandon Stokley is also in the mix for Hasselbeck. He is the epitome of a slot receiver and can be a go-to guy down the stretch.
Rookie Golden Tate will continue to improve this year and should be a valuable weapon for Hasselbeck down the road.
Now, if that receiving corps can stay healthy (a problem for the Seahawks in recent years), Hasselbeck should have no problem slinging the ball all over the yard.
3. The Rest of the Division Is Terrible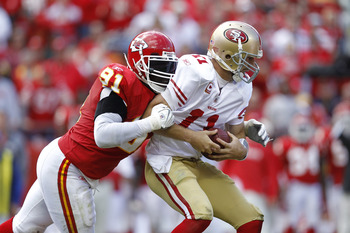 Joe Robbins/Getty Images
The 49ers were picked to win this division, but they find themselves at 0-3.
The Rams are in a rebuilding process and won't be relevant for two or three years.
The Cardinals have a quarterback who can't lead a team to the playoffs and a defense that is a few steps back from last year's squad.
None of those teams will step up and win the division, so by default, that leaves the Seahawks. They should win in St. Louis this weekend and move their division record to 2-0.
2. The Backfield Has Quality and Depth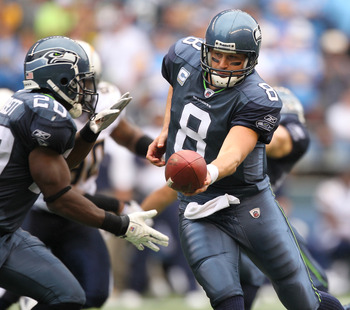 Otto Greule Jr/Getty Images
Justin Forsett, Julius Jones, Leon Washington, and Michael Robinson give the Seahawks an unprecedented level of depth in the backfield.
And while none of these backs will put up Pro-Bowl numbers, they will all be serviceable. Plus, if someone gets injured, the next guy can step in and produce in a very similar way.
The Seahawks' running game isn't going to blow anyone away, but it will keep the defenses honest and allow Hasselbeck to throw.
1. Matt Hasselbeck Finally Looks Healthy
Otto Greule Jr/Getty Images
Since 2003, Matt Hasselbeck has only played two full seasons, missing 17 games because of injury.
Though it's still early in the 2010 season, all indications are that Hasselbeck is back. As long as he can fend off the injury bug, the Seahawks should be fine.
He'll need to stay healthy because his back-up is Charlie Whitehurst, a fifth-year player who has yet to attempt a pass in a regular-season game.
But, barring any unforeseen problems, Matt Hasselbeck and the Seattle Seahawks appear to be the team to beat in the NFC West.
Keep Reading

Seattle Seahawks: Like this team?