MLB Postseason Talk: San Francisco Giants 25-Man Playoff Roster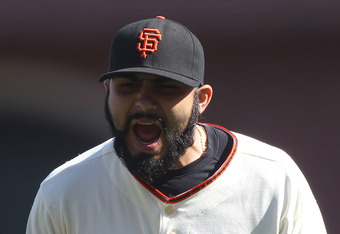 Sergio Romo is ready for the postseason.
Jed Jacobsohn/Getty Images
The Giants have a magic number of one.
The only way the Giants do not win the division is for the struggling Padres to win four in a row against San Francisco.
What I am trying to say is that it's over.
For those who have commented on my articles, I will say it: I was wrong. But I did say the Giants would win the division at the beginning of the season.
Since that's out of the way, we can move on to what we all want to know. Who should be on the Giants 2010 postseason roster?
Any player added to the roster by September 1 is eligible for the postseason, and it is only a 25-man roster. Teams can also change rosters between series. This roster is only for the National League Division Series.
The easy choices are the following:
SP: Tim Lincecum, Matt Cain, Jonathan Sanchez, Madison Bumgarner, Barry Zito
RP: Brian Wilson, Sergio Romo, Jeremy Affedlt, Javier Lopez, Santiago Casilla
INF: Buster Posey, Aubrey Huff, Freddy Sanchez, Pablo Sandoval, Juan Uribe, Mike Fontenot
OF: Pat Burrell, Andres Torres, Jose Guillen
That is 19 guys. With six spots remaining, we have to take a closer look at who they have and who should be in.
There are 10 pitchers on that roster. Who else should be added to that staff?
Ramon Ramirez? Dan Runzler? Chris Ray? Maybe Guillermo Mota?
This is a team that has struggled more to score runs and may not carry as many pitchers to let more hitters on board.
San Francisco will probably go to a four-man rotation, meaning one of the lefties in the rotation will go to the bullpen. That would give the Giants three lefties in the pen.
Probably enough.
Ramirez maybe the only addition to the roster from the staff.
Now the hitters/defenders. The candidates are Cody Ross, Nate Schierholtz, Travis Ishikawa, Aaron Rowand, Edgar Renteria, and Eli Whiteside.
Whiteside is in because they need a backup catcher.
Ross and Schierholtz have come up huge in clutch situations and are the defensive replacements in the outfield. Ishikawa has been the Giants' best pinch hitter all season and could provide some very good defense at first base.
One spot remaining. Pitcher or hitter?
For my last roster spot, I go back to the 2004 Boston Red Sox.
In game four of the ALCS, Dave Roberts stole second base late in that game and went on to comeback and win the game and the series.
Speed kills.
With that statement, I give my last roster spot goes to Darren Ford. He never has to pick up a bat. He doesn't ever have to play defense.
All he would have to do is run the bases and wreak havoc on opposing pitchers and catchers.
As I am writing this, FP Santangelo named his 25-man roster and the only difference is Ford for Eugenio Velez.
I'm glad to hear I am not the only one to think this is the roster that should play in the NLDS.
One step at a time and the final step is to win Friday night. But after Friday night, this is what matters.
The best 25 men for the job.
This article is
What is the duplicate article?
Why is this article offensive?
Where is this article plagiarized from?
Why is this article poorly edited?

San Francisco Giants: Like this team?