JaMarcus Russell and Al Davis' Draft Day Blunders As Oakland Raiders' Owner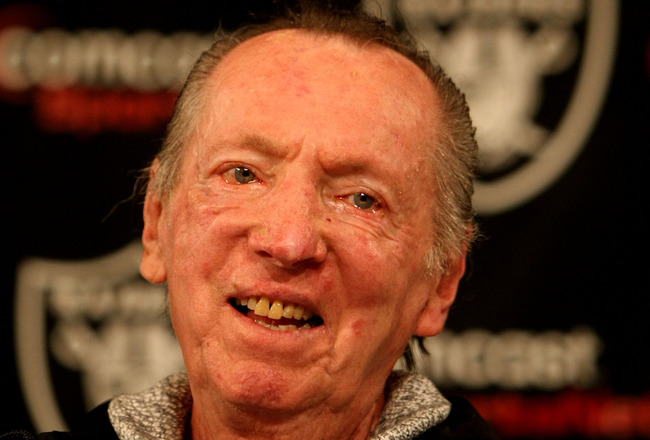 The man, the myth, the legend
Jed Jacobsohn/Getty Images
As the Oakland Raiders (1-2, on their second starting QB) are likely destined for yet another year of futility, it seems like the right time to criticize Al Davis's questionable personnel moves. Then again, when isn't it?
Since the Raider's last good team with Rich Gannon at the helm, Al Davis' moves have been more than suspect, however, his ability to field an all-NFL-Combine-team, has certainly not.
Let's take some time to single out the 10 worst draft picks of the Oakland Raiders under the seemingly endless rule of Czar Al Davis.
And believe me; it took quite a while to delve through Al's 44 years of control (although in his first life, Al was actually quite the savvy owner).
10. Robert Gallery, OT/OG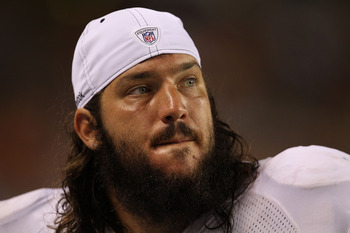 Robert Gallery
Jonathan Daniel/Getty Images
2nd Pick, 2004 NFL Draft
Ok, maybe this is being a bit hard on Al.
Gallery was ranked as one of the best offensive line prospects in years coming out of Iowa, and no one was criticizing Al at the time for this one.
But the fact remains, he was selected to be a star left tackle for a decade, and six years later, the Raiders are starting Mario Henderson in that spot, who allowed the third most sacks in the league last year of any offensive lineman.
If Gallery hadn't resurrected his career as the Raider's starting left guard, he'd be much higher up on this list.
Even with the situation as it is now, Al doesn't seem too bright for getting a solid left guard at number two overall, when the next two picks just happened to be Larry Fitzgerald and Philip Rivers.
9. Tyler Brayton, DE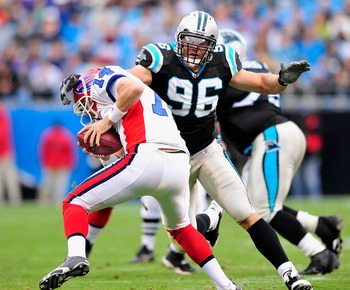 Grant Halverson/Getty Images
32nd Pick, 2003 NFL Draft
Just one of many disappointing Raider first round picks who is no longer on the team.
He played just five seasons as a Raider, recording six sacks.
Brayton now plays for the Carolina Panthers.
8. Andrew Walter, QB
Jed Jacobsohn/Getty Images
69th Pick, 2005 NFL Draft
This doesn't seem like such a big mistake when you notice that he was a third round pick.
But the fact that the Raiders had to go through almost an entire season with his three touchdowns and 13 interceptions as their starter makes this selection (and the choice to start him) inexcusable.
They wasted an entire season hyping him up and giving fans hope, and then another one having him play.
Unsurprisingly, Walter played his last game in 2008, at just 26 years old.
7. Doug Jolley, TE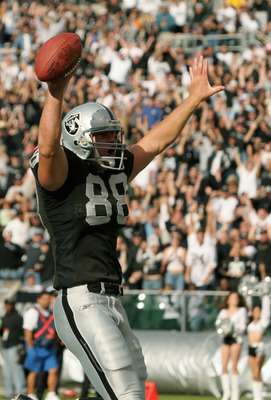 Otto Greule Jr/Getty Images
Pick 55, 2002 NFL Draft
Just six years after making the mistake of picking the mediocre Rickey Dudley with the ninth overall pick, Davis decided to pick Jolley, a bottom-tier tight end in his heyday, in the second round.
Make the mistake once, Al, and learn from it.
Jolley spent just three years with the team (sound like a trend, anyone?) before being traded to the Jets, who had to put up with his uselessness and frustrating drops for a year.
The tight end played his last game in 2006, at just 27 years old.
6. Darrius Heyward-Bey, WR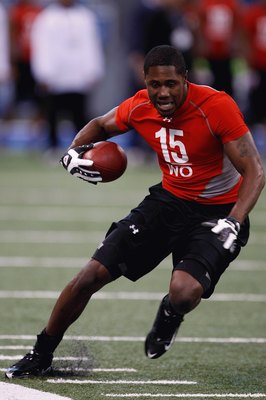 Combine All-Star, DHB
Scott Boehm/Getty Images
7th Pick, 2009 NFL Draft
Just because he ran a 4.3 40 doesn't make him a good receiver, Al.
Too bad they didn't hold on to Fabian Washington, or the Raiders would have an incredible half of a 4x100 relay team.
Too early to call him a bust, you say?
Maybe you're right. Heyward-Bey tied for 16th in the NFL with 26 targets in just three games!
But he has 10 receptions, meaning he has caught just 38% of passes thrown his way.
You might blame Oakland's dismal quarterbacks, but how is it that teammate Louis Murphy (picked three rounds after Heyward-Bey) has caught 65% of his targets?
Case closed.
Why couldn't Al just have made the smart choice and picked Michael Crabtree? Or Jeremy Maclin… or Percy Harvin… or Hakeem Nicks…
5. Jerry Porter, WR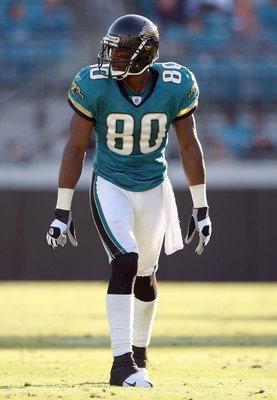 Sam Greenwood/Getty Images
47th Pick, 2000 NFL Draft
Another point for Davis's fantasy track team (he ran a 4.4), but another bust.
Obviously impressed with his speed and 40-inch vertical, Davis couldn't resist picking Porter over the available Laveranues Coles and Darrell Jackson.
Porter had two years of almost-1000 yards receiving on some good Raiders teams, but after that, he was an enormous disappointment.
Chosen as a breakout player year-after-year, he never broke out, and is out of the league at just 32 years old.
4. Marques Tuiasosopo, QB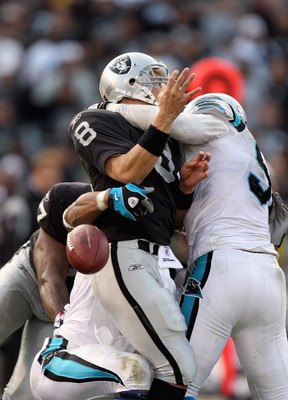 Tuiasosopo getting crushed...
Jed Jacobsohn/Getty Images
59th Overall, 2001 NFL Draft
In his best season as a pro, Tuiasosopo threw for a staggering 324 yards with no touchdowns and three interceptions.
The Raiders fans clamored for him for a few years, but they quickly found out he was not the answer.
You'd like to get more than 13 career games out of a quarterback you pick in the second round.
3. Fabian Washington, CB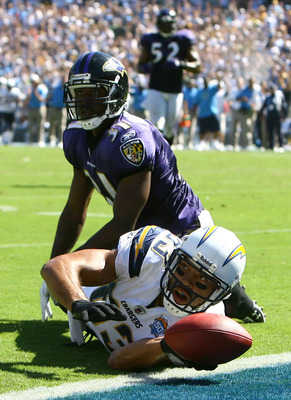 Washington helplessly watching Vincent Jackson stretch into the endzone for a touchdown
Jeff Gross/Getty Images
24th Pick, 2005 NFL Draft
Fabian hasn't been a complete bust, as he currently plays a major role in the Baltimore Ravens secondary, but c'mon Al.
His 4.25 40-yard dash time is mind-boggling, but the fact is that they drafted a cornerback in the first round who did next-to-nothing for them and was consequently traded after just three seasons with the team.
Someone should tell Al Davis that first-round picks don't go grow on trees.
And who was the next pick after Washington, you ask?
Aaron Rodgers.
'Nough said.
2. Philip Buchanon, CB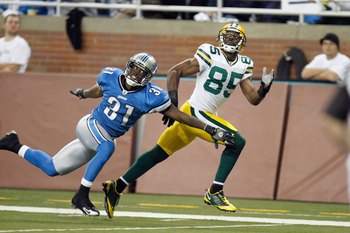 Buchanon gets beaten down the sideline...
Gregory Shamus/Getty Images
17th Pick, 2002 NFL Draft
Davis couldn't resist this cornerback's 40-yard dash of around 4.3, selecting him in the first round.
After three mediocre seasons, he was traded, leaving the Raiders with another wasted first-round pick.
If you are thinking that this slide sounds familiar, don't be confused., Philip Buchanon is a different person than Fabian Washington.
That is simply the genius of Al Davis, making the same mistake twice, just three years apart, as he did with Doug Jolley and Rickey Dudley.
1. JaMarcus Russell, QB
Jed Jacobsohn/Getty Images
1st Pick, 2007 NFL Draft
Infamous for his lack of hard work, football IQ, and likability, Russell easily goes down as the worst Raiders pick under the reign of Al Davis.
Despite spending the first overall pick on him and handing him a rookie-record $61 million contract, all the Raiders got was a constantly overweight quarterback with a 7-18 record and 65.2 QB rating over his embarrassing three-year career.
Arguably the worst number one pick in NFL Draft history, Russell was released at the start of this season.
It's safe to say letting Russell go was one of Davis's best moves in recent memory.,
Currently out of football and sitting on his couch in Mobile, AL, the organizational poison that is JaMarcus Russel can no longer contaminate the Raiders' locker room.
The Raiders have been searching for a franchise QB since the retirement of Rich Gannon in 2004, and Russell is just the latest and most ostensible mistake they have made.
And now with the failure of Jason Campbell and Bruce Gradkowski's mediocrity, the Raiders will likely have another chance to screw things up in next year's draft.
But maybe for Davis, after Tuiasosopo, Walter, and Russell, the fourth time will be the charm.
For Raider Nation, I certainly hope so.
Matt Rudnitsky is a student at the University of Michigan and a writing intern at Bleacher Report. Follow him on Twitter at https://twitter.com/Mattrud
Keep Reading

Oakland Raiders: Like this team?