Indianapolis Colts: Will Peyton Manning Continue His Touchdown Spree Vs Jaguars?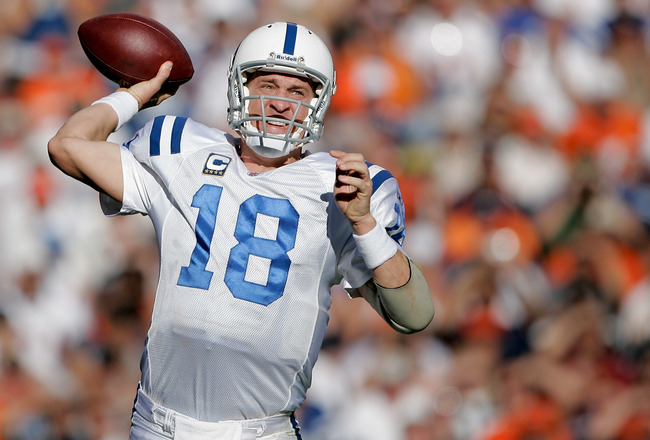 Justin Edmonds/Getty Images
The Indianapolis Colts are 2-0 since their dreadful week one loss to the Houston Texans and just like old times, they can credit Peyton Manning's nine touchdown passes, zero interceptions and 116.9 quarterback rating.
Did I mention the 1,103 passing yards and the 69.0 completion percentage? Manning is playing out of his mind or practically in his own head because he couldn't have dreamed up this kind of start.
Will he increase his pace and surpass the 50 passing touchdown plateau?
Peyton Manning Vs The Jags' Secondary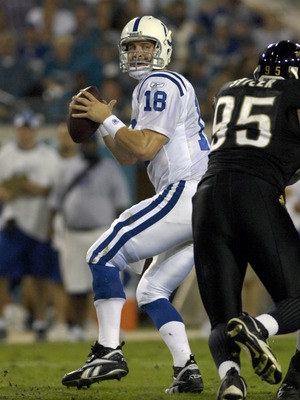 Al Messerschmidt/Getty Images
Manning is on a record pace again this year and with it comes wins. The Colts play the Jacksonville Jaguars this Sunday, the owners of statistically one of the worst pass defenses in the National Football League. What was once a proud and stout defense has seen many key pieces come and go, with a plethora of new faces. To call the Jags' secondary mediocre would be putting it lightly.
The inexperience in the secondary really hurts Jacksonville, only Rashean Mathis has been in the league for more than four years. This team has never been flashy but their defense was formidable for a number of years, that is no longer the case.
Manning will likely tear this defense apart whether methodically or aggressively, the Colts' offense will attack this weak secondary and produce solid numbers on their way to a win.
Who Will Rashean Mathis Cover More? Reggie Wayne Or Austin Collie?
Andy Lyons/Getty Images
If you haven't noticed, this Austin Collie guy is pretty good. And as Reggie Wayne garners all the attention of opposing defenses, Collie's numbers get more and more impressive as season progresses.
Last week against the Denver Broncos, Collie had a career day when he caught 12 passes for 171 yards and two touchdowns. In week one he caught 11 passes for 163 yards and a score.
Who Will Rashean Mathis Cover More? Reggie Wayne Or Austin Collie (Continued)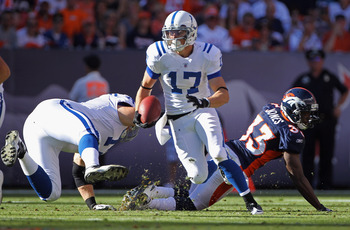 Doug Pensinger/Getty Images
If Collie continues to impress and provide not only a reliable target for Peyton Manning but an explosive one as well, defensive coordinators will have a conundrum on their hands. Wayne is obviously the better receiver but you can't consistently let Collie run all over your secondary and expect to keep your job.
It will be interesting to see how Jacksonville's thin secondary will address this issue in week four.
Midwest Dallas Will Help Manning Score 40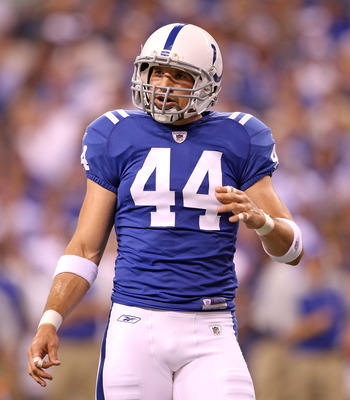 Andy Lyons/Getty Images
If you didn't get the reference in the title, you need to watch the 1979 classic North Dallas Forty starring Nick Nolte, a rare and realistic depiction of what professional sports are really like beyond the playing field.
Back to the subject at-hand, this Dallas Clark fellow is pretty good and has proved to be a very consistent target for last year's MVP. Clark has 21 catches in the first three games, 11 of which came in week one against the Houston Texans.
He always creates match-up problems for defenses because of his rare combination of strength and speed. I believe Clark will have another seven to 10 catch outing mainly against Jacksonville linebackers and safeties. Clark and Manning's consitent connections should led to 30+ points, possibly even 40 depending on how aggressive the offense is this week running the ball.
Run Game Or No Run Game? That Is The Question.
Doug Pensinger/Getty Images
Maybe the Colts' performance against the Giants on Sunday Night Football was a fluke. Last week against Denver the Colts gained only 40 yards on 22 rushing attempts.
For those counting at home, that is a 1.8 average per rushing attempt, well below the NFL average. It could be the Colts' o-line issues, a lack of attempts, poor execution or all the above. I'm not sure what the problem is exactly because it could a number of those things.
Indianapolis has the luxury of Peyton Manning and his near 70 percent completion percentage, which is most cases acts as the ground game due to the Colts' often methodical approach. But what happens when the Colts need to run clock and eat up yardage? Will the passing game continue to substitute for this sorry excuse of a running game?
Run Game Or No Run Game? That Is The Question. (Continued)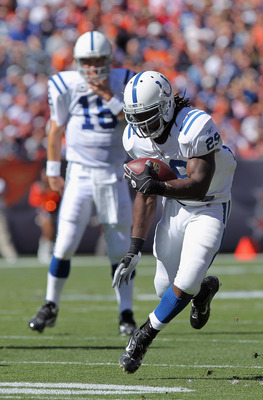 Doug Pensinger/Getty Images
Last season, the Colts became the first team in NFL history to make it to the Super Bowl with the league's worst ground game, a feat that could say both positive as well as negative things about Indy's approach on offense. You can't argue with results and the Colts did start the season 14-0 last year without a running game and the outcome of the Super Bowl didn't hinge on their ability gain yards on the ground.
But during their 2006 Super Bowl run, Peyton Manning had a less than impressive run but the defense and Joseph Addai and Dominic Rhodes helped support Manning's woes all the way to Miami. I doubt Manning will struggle like that again this year but the what if's have to concern Colts' fans.
A Stout Rush Defense? Don't Kid Yourself.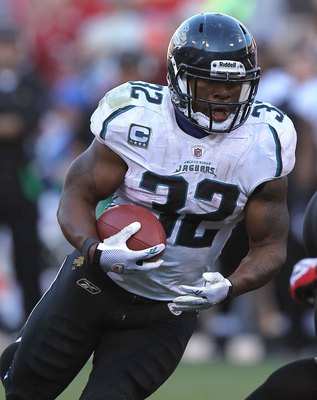 Jed Jacobsohn/Getty Images
The Colts only allowed 47 yards on the ground against the Broncos but don't let that statistic fool you, the Broncos rushed the ball just 18 times and threw the ball 57 times. Denver with a slew of injuries at running back, were using recently acquired Laurence Maroney and Correll Buckhalter who were both less than effective.
Indy allowed 120 yards on 25 rush attempts to the Giants in week two, in a game where they were playing catch-up after the first quarter and the Colts for once decided to hammer the ball, 43 times for 160 yards and dominated the time of possession 35:06 to 24:54.
.
A Stout Run Defense? Don't Kid Yourself. (Continued)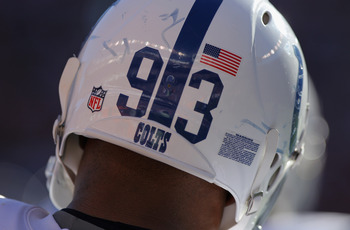 Doug Pensinger/Getty Images
The Colts will have a much harder time this week against the likes of Maurice Jones-Drew, who despite Jacksonville's struggles, has played fairly well despite a lack of production in the passing game and facing eight-man fronts on a consistent basis.
Jones-Drew plays well historically against the Colts' often papier-mâché-like defense.
In 2009, Jones-Drew ran the ball 48 times for 207 yards and two touchdowns. From 2006-2009 he has rushed for 778 yards on 133 attempts and six rushing touchdowns, that's 97.25 yards a game with a 5.8 yards per carry average.
I expect the same type of performance this week, although I don't think it will be enough.
Is This a Rebound Game For The Colts' Secondary?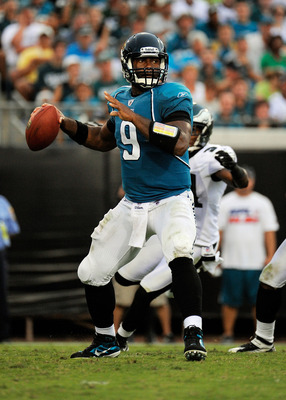 Doug Benc/Getty Images
The Colts allowed Kyle Orton gain 476 yards through the air last week and although I respect Orton's talent unlike many (I'm looking at you Lovie) to allow any quarterback to throw over 450 yards is inexcusable. The Colts shouldn't have a problem this week against the David Garrard and the Jags, I cannot remember under Del Rio's tenure at least, the Jags throwing the ball over 50 times.
This is a running football team and although some of the wide outs have promise, there isn't anything overly spectacular here. The secondary's ability to tackle will be more of an issue than their inability to guard against the pass. Garrard completed 13 of 30 passes last week for 105 yards against the Philadelphia Eagles. This is the same defense that allowed the Lions' Shaun Hill to throw for 335 yards and two touchdowns in a game I attended two weeks ago.
Don't expect too much in the form of a passing game against Jacksonville, they have plenty of issues and their inability to throw down field is one of them.
Is The Colts' Pass Protection Getting Better?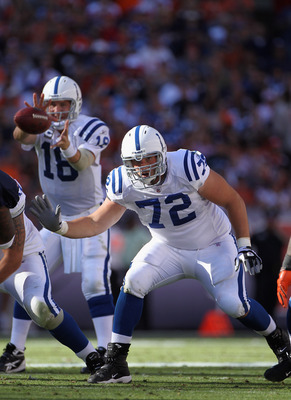 Doug Pensinger/Getty Images
In week one against the Houston Texans, Peyton Manning could have filed assault charges. He was hit 10 times, five of which were by Mario Williams and sacked twice. In week two against the New York Giants, Manning was hit only three times and sacked once.
Last week Manning wasn't sacked and was only hit three times. Ignore the sacks count because with Manning's quick release and pre-snap reads, he gets the ball off pretty fast which obviously helps avoid sacks. But the hit number is huge, this makeshift offensive line seems to be getting better.
If Manning has time, the Colts win. That's pretty much been the formula for over a decade and it has worked. It's a pretty simple theory, if your quarterback is upright and is as talented as Manning is, you're in pretty good shape.
The Jags' pass rush has accounted for seven sacks in three games but three of those sacks came against he Philadelphia Eagles and their offensive line issues are well-documented. The only Jacksonville has a shot in this game is if they get pressure on Manning.
Keep Reading

Indianapolis Colts: Like this team?