Philadelphia Eagles: Week 4 Fantasy Football Start Em Or Sit Em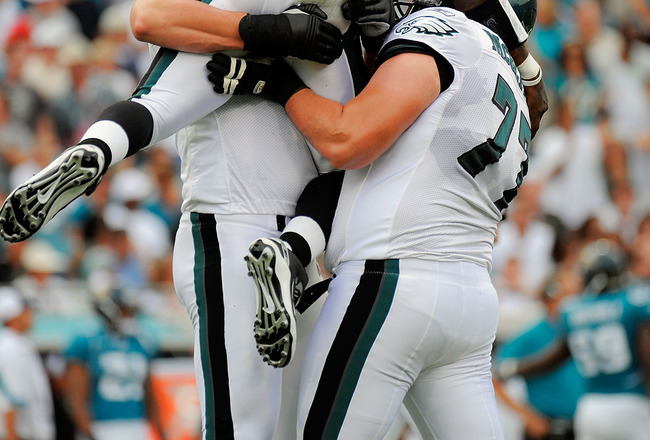 Doug Benc/Getty Images
Three weeks into the NFL season and things are already looking upside down. The Steelers are 3-0 without their star quarterback Ben Roethlisberger, the Chicago Bears are undefeated after dethroning the preseason favorite Green Bay Packers on Monday Night, and the Kansas City Chiefs are in the driver's seat of the AFC West.
With all of this craziness, things have been especially twisted in Philadelphia, where the Eagles went from a team searching for an identity in an evident rebuilding stage, to a potential NFC juggernaut. With Donovan McNabb and the Washington Redskins coming to town, here are some Eagles you should definitely start and sit on your fantasy squad.
Michael Vick—Start Em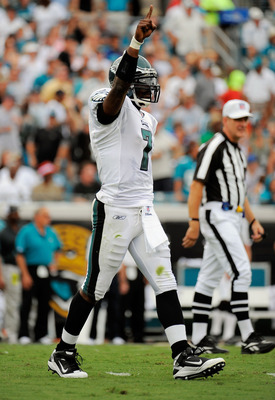 Doug Benc/Getty Images
In week 1, Michael Vick was given the best gift any backup quarterback could imagine—an injury to Kevin Kolb, the man in front of him, paving the way for him to regain his elite status among the NFL greats.
So far, hes accumulated 750 yards passing and 170 yards on the ground in less than three games. He hasn't turned the ball over yet, and did I mention he is doing all of this after not starting a game since 2006?
Vick hasn't seen a good defense at all the last two weeks, which has people doubting him still. But, the Redskins pass defense is ranked 31st through the first three weeks, so Vick should have no problem manhandling this defense. Vick is a must-start for this week—especially at home—as I predict two TDs through the air and one on the ground with about 300 total yards.
LeSean McCoy—Sit Em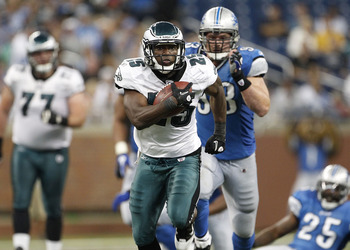 Leon Halip/Getty Images
McCoy has been a nice surprise for fantasy owners so far. He put up monster numbers against woeful Detroit, running to the tune of 120 yards and three touchdowns on 16 carries.
But Philadelphia hosts a Washington defense that prides itself on stopping the run, and with McCoy not seeing more than those 16 carries he saw in week two, it doesn't bode well for LeSean with a hot Michael Vick against a porous pass defense.
Look for the Eagles to go to the air early and often (as usual) and for McCoy to be the forgotten man in the offense this week. He could sneak a short yardage touchdown in if the Eagles are knocking on the door, but I wouldn't risk a start on that small chance and neither should you.
DeSean Jackson—Start Em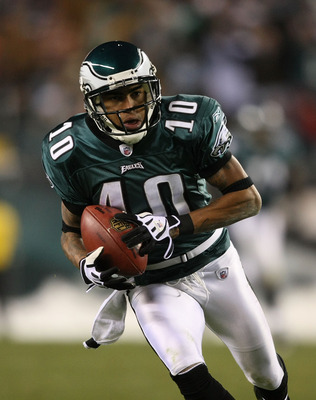 Nick Laham/Getty Images
One of the most electrifying players in the NFL, DeSean Jackson is a threat to go the distance every time he touches the ball. He had a pedestrian week 1, but since then he has emerged as Michael Vick's favorite target.
Jackson has recorded over 130 yards in each of the last two games with touchdowns of 53 and 61 yards. Against the Skins, look for another big game out of D-Jack, with another long touchdown probably in the mix.
Jeremy Maclin—Start Em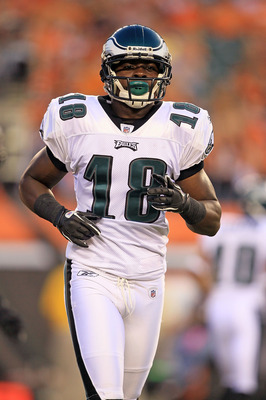 Andy Lyons/Getty Images
Now, here's a tricky one. Maclin has recorded four touchdowns in the first three games, with his biggest game coming last week, recording four catches for 83 yards and two TDs.
Teams have been trying to hone in on Jackson, Vick, and Brent Celek, giving Maclin a some big opportunities to make plays.
He just knows how to get open in the red zone and with Michael Vick playing the way he is, Maclin is sure to get some looks this week.
Brent Celek—Sit Em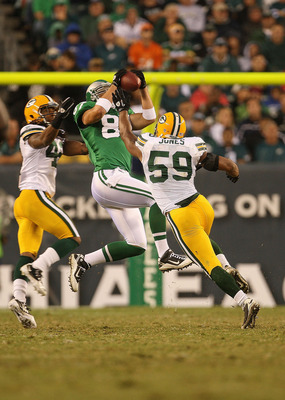 Mike Ehrmann/Getty Images
A big disappointment early in the year, Celek just hasn't been the threat fantasy owners had been hoping for when they drafted him this season. After catching 76 balls for 971 yards with eight TDs last season, Celek hasn't recorded more than four catches and 42 yards in a game, and he is yet to find the end zone this season.
At the end of a nice 21 yard jumping catch last week in Jacksonville, Celek was rocked, injuring his hand and forcing him to the leave the game. Although he is listed as probable and is expected a play, he has already suffered from multiple injuries early in his career, and a hand injury could really hamper is ability to catch the ball. With his production already at a low point, expect Michael Vick to look more to the outside for his wideouts to make plays.
Although he isn't a terrible option against any opponent, Celek simply just hasn't put up fantasy worthy numbers in a game yet, and I would sit him until he proves he is healthy and can find the end zone with Vick at the helm.
Philadelphia Defense/Special Teams—Start Em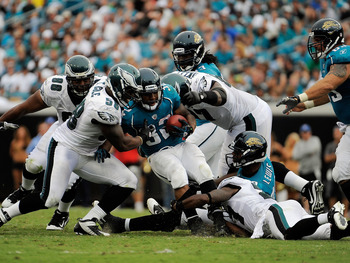 Doug Benc/Getty Images
The Eagles defense looked very good against Maurice Jones-Drew and the Jaguars last week, surrendering only three points and holding Jacksonville to 184 yards of total offense, with only 54 team passing yards through the air.
They picked off David Garrard once and sacked him six times en route to a 28-3 victory.
With Donovan McNabb making his first return back to Philly since being traded, expect the defense to have a little extra incentive to get to the quarterback this week, wanting to make a statement to their former teammate and division rivals.
Comment Please!

Andy Reid and his mustache
Nick Laham/Getty Images
My name is Phil Lombardo and I'm a Senior Journalism/Mass Communications major at St. Bonaventure University. I just started my writing internship here at the b/r, as I was formerly an editing intern over the summer. Any comments/likes would be much appreciated, and I will be writing a ton more, so become my fan if you'd like and be on the lookout for many more articles to come!
Keep Reading

Philadelphia Eagles: Like this team?