Four Reasons The Seattle Seahawks Will Make The NFL Playoffs In 2010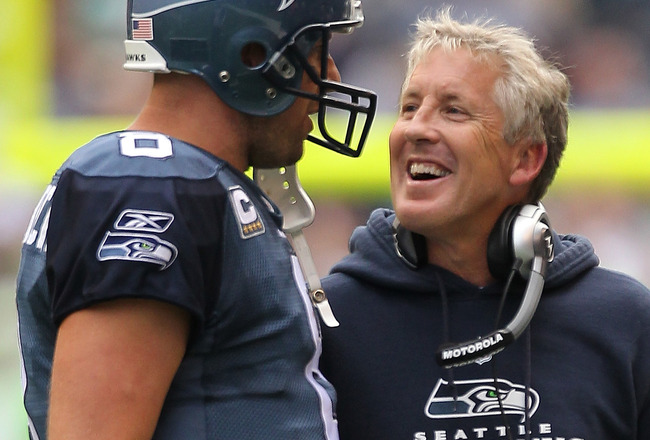 Otto Greule Jr/Getty Images
After going 5-11 last season, the Seahawks decided to make Pete Carroll the Head Coach. Since Carroll has arrived, he has continued to make the Seahawks, as a franchise, more successful and more fun to be a part of.
Starting off 2-1, the Seahawks now enter a Week 4 NFC West divisional battle against the St. Louis Rams.
All the pieces are starting to fall in place. The future is definitely bright in Seattle. Expect big things from this franchise throughout the 2010-11' season.
The following slides are four reasons the Seahawks will make the NFL Playoffs in 2010...
Coaching : Pete Carroll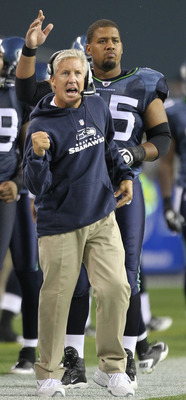 Otto Greule Jr/Getty Images
Pete Carroll is in his third stint in the NFL after previously coaching the New York Jets and than the New England Patriots for a combined four seasons with a total record of 33-31. Two of those seasons he made it to the playoffs, both with the Patriots, winning once and losing twice.
Carroll is now looking to turn around his NFL coaching career as well as the Seattle Seahawks organization and is off to a beautiful beginning.
Outstanding Rookie Play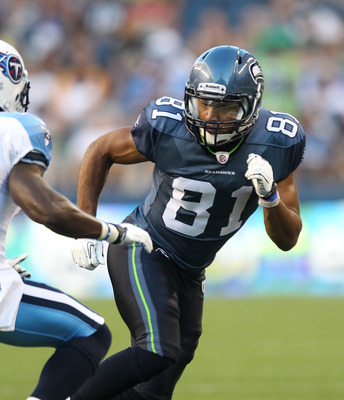 Otto Greule Jr/Getty Images
The Seattle Seahawks selected some extremely talented players in the 2010 NFL Draft. The Seattle Seahawks drafted some extremely talented players in the 2010 NFL Draft including Russell Okung, Golden Tate, Walter Thurmond and Earl Thomas.
Russell Okung has been sidelined since he suffered a high ankle sprain in Seattle's second exhibition game in late August. Okung has started practicing this week with Chester Pitts for the first time all season. This combo of Pitts playing Left Guard and Okung at Left Tackle has Pete Carroll expecting big things, who told the Seattle Times that "For the first time we're going to see Russell Okung and Chester Pitts out there together, playing and practicing for the first time. Those guys are coming back from an injury situation, but that's an exciting thing for us on the offensive side."
Golden Tate is a fascinating young wide receiver who is ridiculously fast and has enormous potential. So far in two games this season Tate has recorded 5 receptions for 85 yards. As the season progresses this dynamic rookie will see more and more time and a lot more balls thrown his way.
Earl Thomas is superb talent who will continue to thrive in the NFL throughout his entire career, based on the potential he has been exhibiting. In three games Earl Thomas has 21 tackles, 17 solo and 4 assists, and 2 interceptions.
The Seahawks 2010 draft class look very good so far this season and have promising potential.
Veteran Leadership : Matt Hasselbeck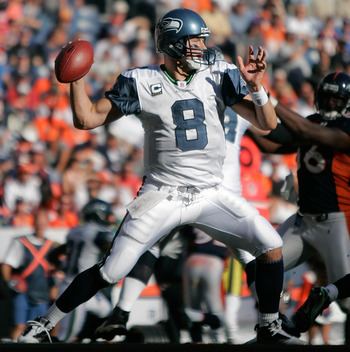 Justin Edmonds/Getty Images
There is no doubt Matt Hasselbeck has been struggling with interceptions this season, but he is a witty veteran quarterback who has what it takes to lead this team to success.
Hasselbeck has led his team to a 2-1 record so far while passing 57-90 for 623 yards, 4 touchdowns and 5 interceptions. Certainly he has a lot of interceptions already, but once his two offensive lineman return from injury, in Russell Okung and Chester Pitts, he will have better protection and more time to make wiser decisions.
Matt Hasselbeck should have no problem leading his team to the playoffs alongside playmakers Julius Jones, Leon Washington, Deion Branch, Golden Tate, and now fellow veteran Brandon Stokley.
Weak Schedule : Seahawks Play In a Seemingly Struggling Division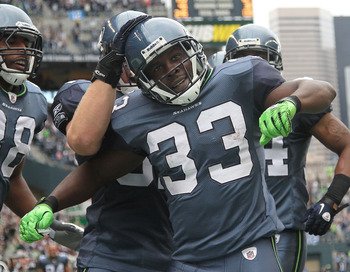 Otto Greule Jr/Getty Images
The Seahawks are in a NFC West division that is their's to lose. Paired with the 49ers, Rams and Cardinals, the Seahawks are fortunate enough to play six games that are all winnable. You be the Judge :
Week 4 : St. Louis Rams(AWAY)
Week 5 : Bye
Week 6 : Chicago Bears(AWAY)
Week 7 : Arizona Cardinals(HOME)
Week 8 : Oakland Raiders(AWAY)
Week 9 : NY Giants(HOME)
Week 10 : Arizona Cardinals(AWAY)
Week 11 : New Orleans Saints(AWAY)
Week 12 : Kansas City(HOME)
Week 13 : Carolina Panthers(HOME)
Week 14 : San Francisco 49ers(AWAY)
Week 15 : Atlanta Falcons(HOME)
Week 16 : Tampa Bay Buccaneers(AWAY)
Week 17 : St. Louis Rams(HOME)
Other than possibly the New Orleans Saints there is no team on Seattle's schedule that are cut and dry the better squad.
2010 Seattle Seahawks Win/Loss Prediction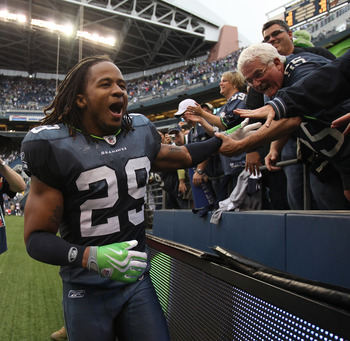 Otto Greule Jr/Getty Images
Although it's still early, the playoffs are definitely in sight for the Seattle Seahawks. Watch out for this dangerous team.
Prediction : 11-5 Lose in Divisional Playoffs
Keep Reading

Seattle Seahawks: Like this team?