Mike Singletary Is Crazy…Not To Bench Alex Smith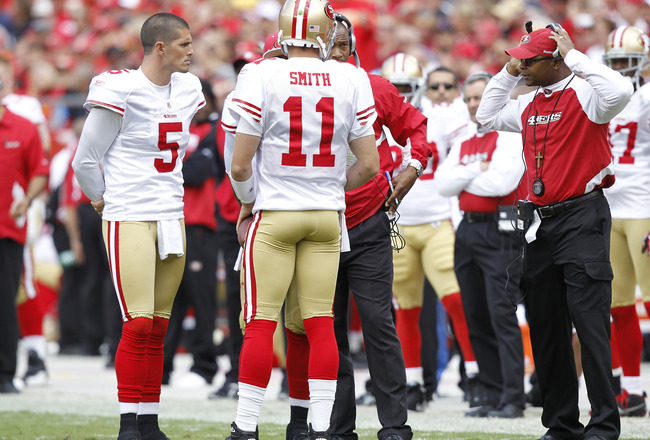 Joe Robbins/Getty Images
Is your Mike Singletary driving you crazy? Clawing at your coaching staff and yelling TOO LOUD at the media? There is a solution, stupid, and it's not "kitten mittons".
Mike Singletary fired 49ers Offensive Coordinator Jimmy Raye on Monday following an embarrassing 31-10 loss to the Chiefs. Which followed a tragically self-inflicted loss against the Saints last Monday. Which followed a shockingly inadequate display against the pitiable Seahawks in Week 1. All of which followed a decade of gross 49er underachievement.
Over the past seven years, the 49ers are 33-72, without a single winning season. If you consider yourself a Niners fan and you aren't yet crying inconsolably, you are as callous as the hands of this year's punt return team.
The Niner Faithful have suffered more than their fair share of busted draft picks (Kwame Harris and Rashaun Woods), impostor coaches (Mike Nolan and Dennis Erickson), and other assorted excuses for failure, but none hurts more than the never-ending mediocrity of the 2005 1st overall pick: Alex Smith. Jimmy Raye will take the blame for this most recent disappointment, but the long-denied truth is that Alex Smith is and has always been the impetus for San Francisco's demise.
Offensive Coordination Is No Excuse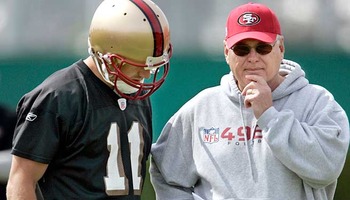 Alex Smith's following, a group every fan is ashamed to have belonged to at one point or another, has always defended Smith by citing his misfortune with offensive coordinators. It is both true and unfortunate that he has had four different coordinators in four years; however, two of those four coordinators are widely known as creative, quarterback-grooming geniuses.
Mike Martz invented the "greatest show on turf" in St. Louis and is currently revitalizing a 3-0 Chicago Bears team. Jay Cutler, a first-rounder much like Alex Smith, is learning a new offense. He is blossoming under Martz' tutelage, and though it's tempting to say he has finally realized his potential under Martz, let's, out of fairness to Alex, wait 4 to 5 years for Cutler to get his bearings, forgiving his every catastrophic failure along the way, before we assess him as a quarterback.
Don't Hate the Game, Hate the Player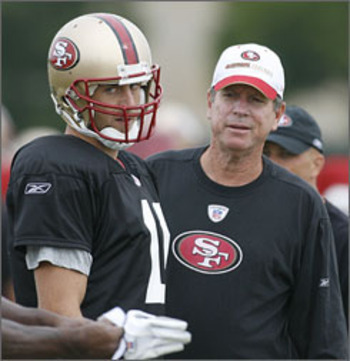 Norv Turner has meanwhile nurtured Phillip Rivers, another Smith-like quarterback, into a winning machine. In his three years under Turner, Rivers has thrown 83 touchdowns and 39 interceptions, while leading the Chargers to three playoff appearances.
Alex Smith threw 16 touchdowns and 16 interceptions in his one year with Turner, which projects to 48 touchdowns and 48 interceptions over three years. In 2006, the Niners went a jaw-dropping 7-9 with Alex Smith at the helm and Norv on the headset. If only they had managed 8-8, Alex's TD/INT and Win/Loss ratios would have been a perfect 1:1. Points for symmetry!
The End Of the Era Of Alex Smith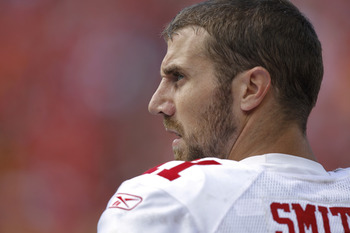 Joe Robbins/Getty Images
However fair Mike Singletary's firing of Jimmy Raye was, it's as unfair for us to continue to pretend that Alex Smith doesn't throw as many balls over his receivers' heads as he does into defenders' loving, open arms. In fact, overthrows: interceptions: useless, panicked checkdowns are exactly 1:1:1. Points for consistency!
It's finally here: the end of The Era of Alex Smith. The Era of Andrew Luck/Jake Locker/Ryan Mallett is still but a fetus, but in 9 short months, a pregnancy that backup David Carr should usher us through painlessly enough, our cravings for a decent quarterback will be satisfied, our Monday morning sicknesses will cease to nauseate, and our decade of bitter disappointment will culminate in a beautiful, blissful baby shower which Jimmy Raye and Alex Smith will have to swoon over from afar.
Keep Reading

San Francisco 49ers: Like this team?