Dolphins-Jets: How Miami's Play Calling Hurt the Dolphins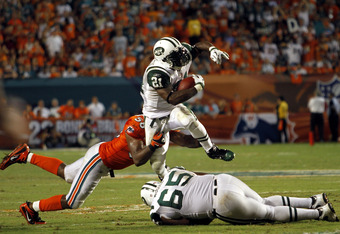 Marc Serota/Getty Images
Unfortunately, Dolfans, our beloved Dolphins have fallen to 2-1 on the season to the hated Jets.
There were a few factors that cost the Dolphins this game, including play calling and missed opportunities on defense.
I'm not saying I don't like Dan Henning's offense, but boy did he make some questionable calls in the Jets territory. There were two times I believe the Dolphins had a chance to at least get a field goal but blew it.
The first one was a 3rd-and-2 where the Phins offense went with an empty backfield and failed to pass for the first down after running on first and second down. I'm no coach, and I'm no offensive coordinator, but don't you think after getting four yards a pop on first and second down you'd give it a go on 3rd-and-2? The call just perplexed me.
The second call that got on my nerves was when the Dolphins had moved into long field goal range and on first down tried a reverse play that failed epically. I just don't get it; why take yourself out of scoring position? If you get a first down, you have a chance at a touchdown. If you don't get the first down, then you have a shot at a field goal as long as you don't do anything stupid.
Right there already there are six points flushed down the toilet. Two chances to get at least a field goal are tossed out the window. Think about it—if the Dolphins have six more points and the game is 31-29, a field goal wins the game 32-31. The 4th-and-4 try is no longer necessary; a field goal wins it, and it's all over.
I also didn't understand why the Dolphins didn't run the ball near the goal line on the series that ended in a 20-yard field goal. Give it a shot—you have one of the better running back tandems in the league, along with one of the best running fullbacks in the league, and not even a try? Sheesh.
On to the defensive side of the ball. The defense wasn't as bad as the 30 points indicate, but they certainly didn't play as well as they have in the past two weeks. The glaring mistakes that cost points were the Braylon Edwards touchdown, the Edwards first down after a 3rd-and-10, and the two Dustin Keller touchdowns. Those mistakes were killer. Most of the Jets' points came because the Dolphins defense gave up one big play on a drive.
I certainly am not trying to argue that the defense played well because they didn't. However, if a few breaks bounce their way, then this game has a completely different complexion.
There are four big plays the defense didn't make that are a result of not having soft hands—dropped interceptions. Jason Allen had two of them, one on a throw down the field and another when the Jets were backed up by their end zone that just barely slipped to the ground. Cameron Wake had two hands on a ball that would have likely gone for six, but the pass flew up in the air and ended up incomplete.
Finally, on the last one, Kendall Langford jumped at a shovel pass and got both hands on it. It even looked like he brought it in at first. Unfortunately, none of these breaks went the Dolphins' way, as they just couldn't haul the ball in.
Well, ultimately I feel like the Dolphins' coaching staff was really outcoached in this game. Several play calls came back to hurt in the end. It's unfortunate, but let's forget about it fellow Dolfans. This loss makes next Monday night's game with the Patriots a must win; the Dolphins cannot afford to lose two home divisional games if they hope to win the AFC East crown this year.
Thanks for reading, and GO PHINS!
This article is
What is the duplicate article?
Why is this article offensive?
Where is this article plagiarized from?
Why is this article poorly edited?

Miami Dolphins: Like this team?