NFL Week 3: Winners and Losers From Sunday's Games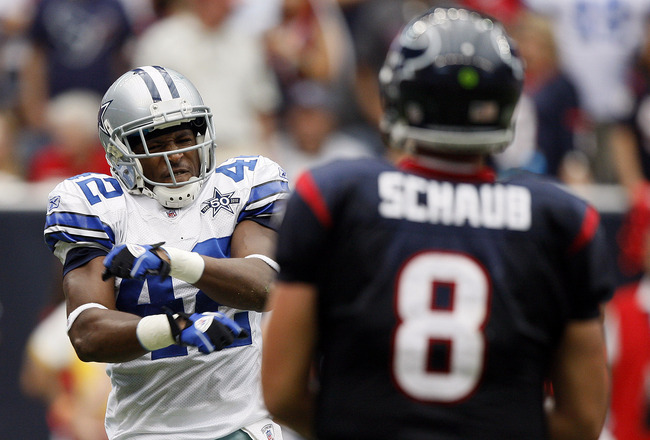 Bob Levey/Getty Images
Every week there's a different story, and every week there are new winners and losers.
Such is the life of NFL Sunday's, with the once-a-week showdowns between teams hitting Week 3 of the 2010 season.
And with week 3's wins and losses slowly beginning to fade away, it's time to take a look back at the past week's losers and winners on the NFL gridiron.
From the Dallas Cowboys garnering their first win of the season to the San Francisco 49ers remaining winless at 0-3, let's begin this week's slideshow—starting with the "losers" in week 3 action…
Matt Schaub's 2 INTs, 3 Sacks Doom Houston in Home Loss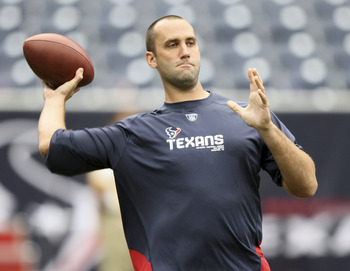 Bob Levey/Getty Images
Matt Schaub and the Houston Texans appeared out of sync from the opening kickoff until the final buzzer against the Dallas Cowboys on Sunday afternoon.
And it showed in the team's performance, as Houston dropped a 27-13 decision at home to move to 2-1 on the season.
Schaub tossed two interceptions and was sacked three times in Houston's loss at Reliant Stadium, bringing back haunting memories to the team's 2002 inaugural season with QB David Carr spending a majority of the year on the ground and shaken up.
However, Carr and the Texans defeated the Cowboys the last time they met in Houston.
This time around, though, it was a completely different story as the Cowboys dominated the Texans from start to finish.
But this is a new Texans team than the one fans saw in 2002, and thankfully it's a new year also—and it carries a season of promise as Houston aims for it's first postseason birth in franchise history.
It's only week three, but Schaub was absolutely a disappointment in Houston's 27-13 loss to the Dallas Cowboys.
Jimmy Clausen Just 16-of-33 in Debut As Panthers Lose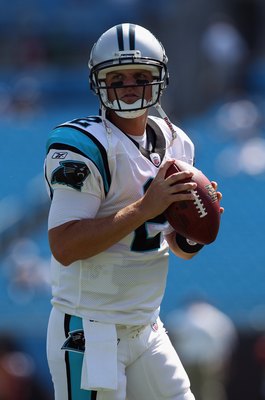 Streeter Lecka/Getty Images
Jimmy Clausen had a rough debut start for the Carolina Panthers, completing just 16-of-33 passes en route to a 20-7 loss to the Cincinnati Bengals.
Clausen racked up 188 yards for the Panthers in the loss, as the first-year quarterback also threw an interception.
Ryan Fitzpatrick Throws for 247 Yards in Bills Loss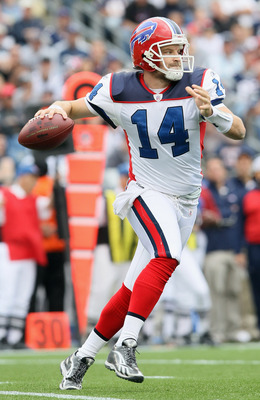 Elsa/Getty Images
Ryan Fitzpatrick completed 20-of-28 passes in Sunday's loss to the Patriots, racking up 247 yards while throwing two touchdown passes.
However, the Bills QB also had two interceptions that were very costly in a game that came down to the wire.
Peyton Hillis Rushes for 144 Yards in Cleveland Loss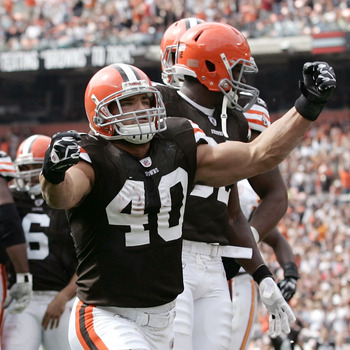 Matt Sullivan/Getty Images
Although the Cleveland Browns lost again on Sunday, running back Peyton Hillis rushed for a career-high 144 yards on 22 carries.
Hillis averaged 6.5 yards per carry in his latest outing, scoring a touchdown as well.
Alex Smith's 232 Passing Yards in San Francisco Loss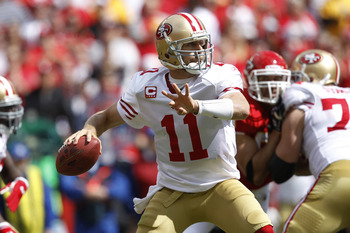 Joe Robbins/Getty Images
Alex Smith, despite completing just 23-of-42 passes, racked up 232 yards and a touchdown for San Francisco on Sunday in a 31-10 loss to the Kansas City Chiefs.
Smith also had one interception as the 49ers remain winless on the 2010 season.
Drew Brees' 365 Passing Yards, 3 TDs in Saints OT Loss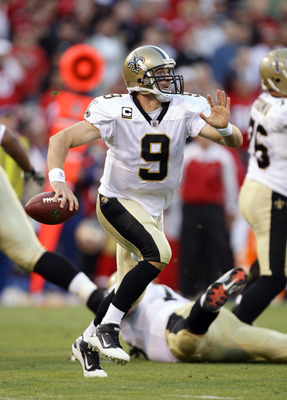 Ezra Shaw/Getty Images
On a Sunday where Drew Brees throws for three touchdowns and 365 yards, most people would expect the end result to be a New Orleans Saints victory.
However, despite the phenomenal numbers put up by the Saints QB, New Orleans dropped a 27-24 overtime loss to the Atlanta Falcons on Sunday.
Brees also tossed two interceptions in the week 3 New Orleans loss.
Eli Manning Throws for 386 Yards in Giants Loss to Titans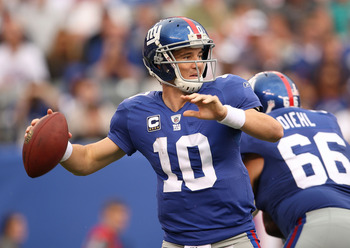 Mike Ehrmann/Getty Images
Eli Manning's two interceptions for the New York Giants were not the only thing keeping the team from beating the Tennessee Titans on Sunday.
In fact, Manning did everything in his power to keep the Giants in the game—throwing for 386 yards despite New York dropping a 29-10 decision to the Titans.
Kyle Orton's 476 Passing Yards in Denver Broncos Loss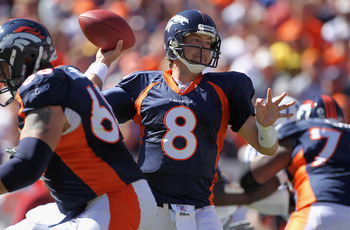 Doug Pensinger/Getty Images
Regardless of Denver dropping it's week three contest to Indianapolis, Broncos quarterback Kyle Orton had an absolutely remarkable outing.
Orton racked up a career-high 476 passing yards on 37-of-57 pass completions, throwing one touchdown and one interception as the Broncos lost to the Colts 27-13 on Sunday.
San Francisco Falls Again, 49ers Drop to 0-3 Overall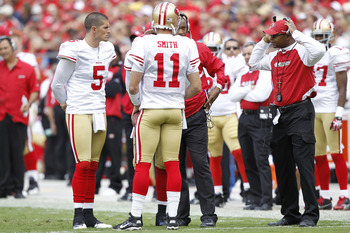 Joe Robbins/Getty Images
San Francisco head coach Mike Singletary and his 49ers are winless in 2010, dropping to 0-3 overall after falling to the undefeated Kansas City Chiefs on Sunday, 31-10.
And I'd absolutely label the 49ers as "losers" in Week 3.
Detroit Drops 22nd Straight Ross Loss, Move to 0-3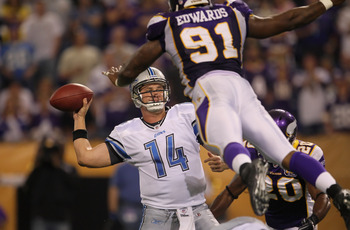 Jeff Gross/Getty Images
Speaking of week 3 NFL losers and winless football team, the Detroit Lions also lost again on Sunday, dropping to 0-3 overall after falling to Brett Favre and the Minnesota Vikings, 24-10.
And at this rate, the biggest question is: When will Detroit finally win in 2010?
Matt Ryan Passes for 228 Yards, 2 TDs in Falcons OT Win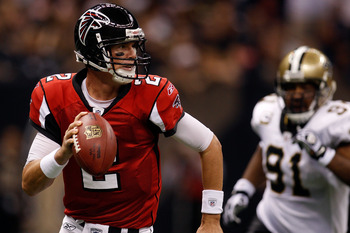 Chris Graythen/Getty Images
Matt Ryan had a remarkable outing for the Falcons on Sunday afternoon, propelling Atlanta to a 27-24 overtime victory over the New Orleans Saints.
Ryan racked up 228 passing yards in Atlanta's win, throwing a pair of touchdowns as well.
Adrian Peterson's 160 Rushing Yards, 2 TDs in Vikings Win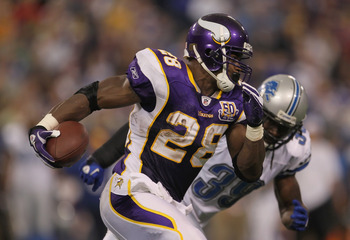 Jeff Gross/Getty Images
In addition to a career-long 80-yard touchdown run in the third quarter, Minnesota's Adrian Peterson racked up 160 rushing yards on 23 carries in the Vikings' 24-10 victory over the Detroit Lions.
Peterson also scored two touchdowns while averaging 7 yards per carry.
Joe Flacco Throws for 262 Yards, 3 TDs in Ravens Victory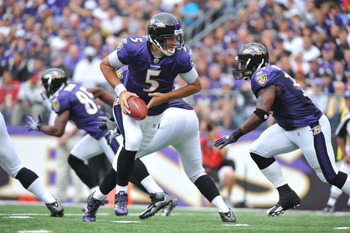 Larry French/Getty Images
Joe Flacco had a phenomenal outing on Sunday for the Baltimore Ravens, completing 22-of-31 passes en route to a 24-17 victory over the Cleveland Browns.
Flacco garnered 262 passing yards in addition to three touchdowns in the Ravens victory.
Matt Cassel's 250 Yards, 3 TDs in Chiefs Win over 49ers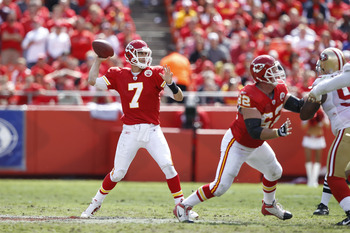 Joe Robbins/Getty Images
Matt Cassel helped propel the Kansas City Chiefs to another wild win on Sunday, keeping the team undefeated after a 31-10 victory over the San Francisco 49ers.
Cassel garnered 250 yards along with a touchdown pass in the Chiefs' latest win.
Tony Romo's 284 Yards, 2 TDs As Dallas Wins First Game of 2010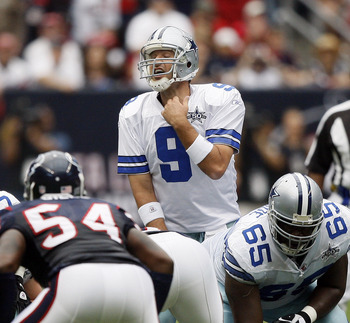 Bob Levey/Getty Images
The Dallas Cowboys finally picked up it's first win of 2010, and quarterback Tony Romo made sure it would happen.
Romo, completing 23-of-30 passes, racked up 284 passing yards and two touchdowns in Dallas' 27-13 victory over the Houston Texans—as the Cowboys move to 1-2 overall this season.
Anquan Boldin Garners 3 TD Catches, 142 Yards in Baltimore Win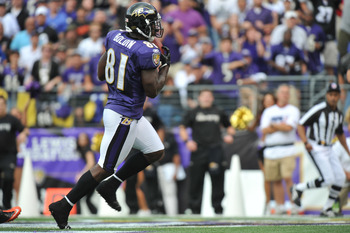 Larry French/Getty Images
Baltimore receiver Anquan Boldin caught three touchdown passes in the Ravens 24-17 victory over the Cleveland Browns.
In addition, Boldin garnered 142 yards while averaging 17.8 yards per catch.
Tom Brady's 252 Yards, 3 TDs in Pats Win over Bills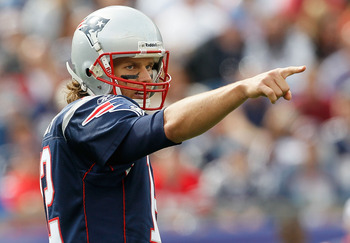 Jim Rogash/Getty Images
Tom Brady did everything he could as the New England Patriots squeaked out a 38-30 victory over the pesky Buffalo Bills.
Brady completed 21-of-27 passes on Sunday against Buffalo, garnering 252 yards along with three touchdowns.
Peyton Manning's 325 Yards, 3 TDs in Colts Win over Broncos
Doug Pensinger/Getty Images
Peyton Manning may not have matched opposing quarterback Kyle Orton's numbers on Sunday afternoon, but the Colts came away with the victory.
And Manning's numbers were beautiful regardless of being unable to match Orton's career highs, with the Colts QB racking up 325 yards and three touchdowns.
Vince Young's 118 Yards, TD Lead Titans over Giants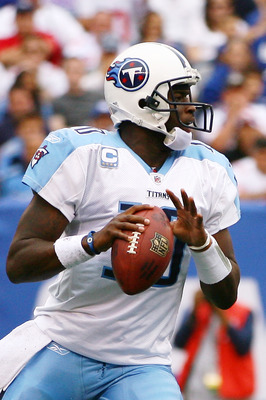 Andrew Burton/Getty Images
Vince Young completed 10-of-16 passes in Sunday's 29-10 victory over the New York Giants on Sunday afternoon.
Young garnered 118 passing yards and a touchdown for Tennessee in the team's latest win, as the Titans improve to 2-1 overall in 2010.
Charlie Batch Throws 3 TDs in Steelers Win over Bucs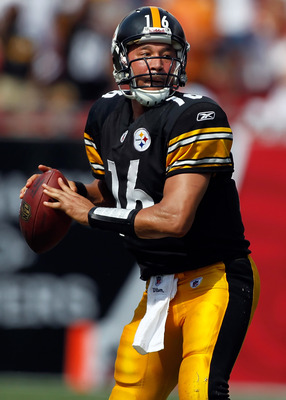 J. Meric/Getty Images
Steelers quarterback Charlie Batch had a remarkable Sunday against the Buccaneers, completing 12-of-17 passes as Pittsburgh defeated Tampa Bay 38-13.
Batch racked up three touchdown passes in the game, garnering 186 passing yards, as the Steelers improve to 3-0 for the first time since 2007.
Michael Vick's 291 Passing Yards, 3 TDs in Eagles Victory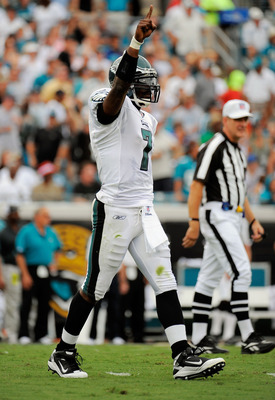 Doug Benc/Getty Images
Michael Vick continues to amaze and impress those who doubted his ability to lead a football team.
Vick continued that impressive showing for Philadelphia on Sunday against the Jaguars, with the Eagles routing Jacksonville 28-3.
Vick finished the game completing 17-of-31 passes, racking up 291 yards and three touchdowns as the Eagles improve to 2-1 overall this season.

*****
Denton Ramsey may be reached via email at denton.ramsey@gmail.com


Keep Reading