Philadelphia Phillies: Do They Have What It Takes to Do It Again?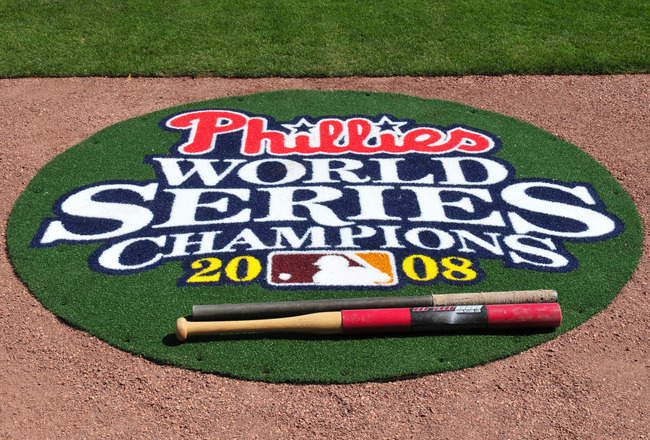 Al Messerschmidt/Getty Images
The Phillies are looking very good. They just clinched the National League East for the fourth time in a row, and they are going to head into the postseason soon. Earlier in the season, we probably wouldn't have expected this, but here they are, looking great.
With October coming up and a playoff berth guaranteed for the Phillies, it brings up a big question: Will this team do as good of a job in the postseason as they have done in the last few years?
The Phillies have won three consecutive division titles and two consecutive National League titles. They have had a very good team in the past, so I am going to talk about this team versus the teams in the past three years.
I will arrange it into three categories: additions and losses, advantages and disadvantages, and similarities and differences.
Loss No. 1: Cliff Lee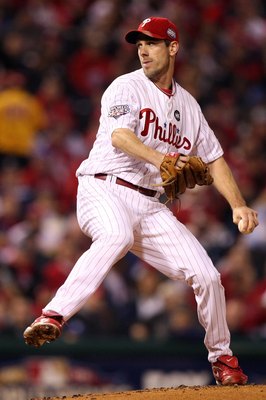 Jed Jacobsohn/Getty Images
One of the main players the Phillies have lost is Cliff Lee. He was great for the Phillies in the postseason last year, but hopefully Roy Halladay will be able to replace him by being as good as Lee was.
Addition No.1: Roy Halladay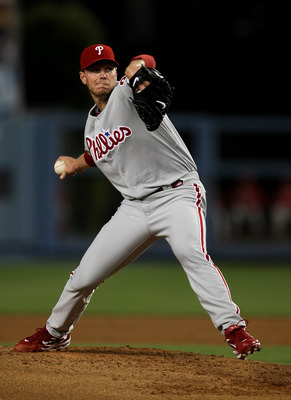 Stephen Dunn/Getty Images
The main player the Phillies added this year is Roy Halladay. He has been an ace for the Phillies this year, going 20-10 with a 2.53 ERA. He could be the deciding factor in the outcome of this postseason.
Loss No. 2: J.A. Happ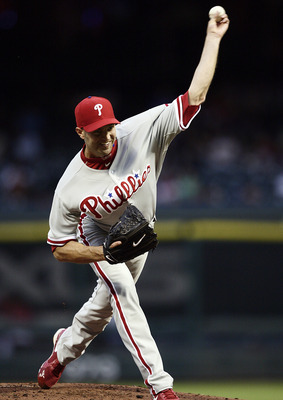 Bob Levey/Getty Images
One of the pitchers the Phillies traded for Roy Oswalt was J.A. Happ. He had been doing good for the Phillies, although he was injured for a lot of the start of the season. Luckily he was not an ace, and Roy Oswalt is probably a better pitcher than Happ.
Addition No. 2: Roy Oswalt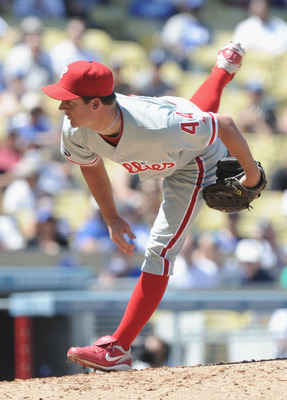 Harry How/Getty Images
Right before the trade deadline, the Phillies made a big decision by trading for Roy Oswalt. There was a lot of talk about the Phillies pitching before they got Oswalt, and it seems that he has made a big difference. For the Phillies this season he has been great. He is 7-1 for the Phillies and has gotten some important wins. He could be an important factor in the postseason.
Loss No. 3: Pedro Feliz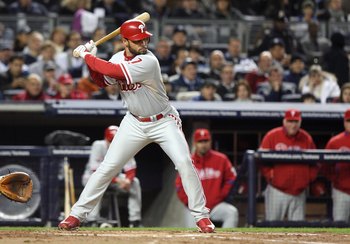 Jed Jacobsohn/Getty Images
The Phillies do not have Pedro Feliz anymore; he was replaced by Placido Polanco. He was good, but not as good as Polanco, and I think that Polanco will do a better job for the Phillies in the postseason.
Addition No. 3: Placido Polanco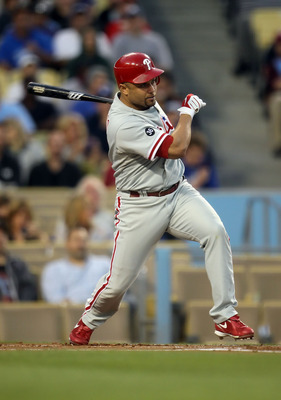 Jeff Gross/Getty Images
Polanco has been the new third baseman this year. He has done very well this season. He has been very consistent, having a .296 Batting Average. His consistency might also be an important factor in the playoffs.
Advantage No. 1: Lidge Looking Strong...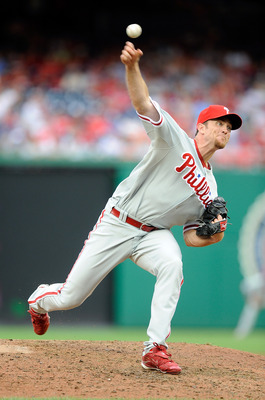 Greg Fiume/Getty Images
For the past four years, Brad Lidge has had a lot of ups and downs. In 2007, he was good, but not amazing, having a 3.36 ERA. The next year it was as if something magical had happened. He went perfect for saves, 41-41, and had a 1.95 earned run average. Then, in 2009, he had a total collapse. He went 0-8 with an ERA over seven. And then there is this year.
This year Lidge had been having a lot of streaks and slumps, including an injury during the season. Recently, though, he has been doing great. In August he had an 0.73 ERA, and he has an 0.87 ERA in the month of September. If he can continue to do that good, he will be a very important factor in the postseason.
Also, Ryan Madson has been doing very well recently. He had an 0.98 ERA in the month of August, and has a 1.32 ERA in September. The Phillies bullpen is recently doing very well, and this could have a major effect on the Phillies postseason performance.
Disadvantage No. 1: ...but Not As Strong As 2008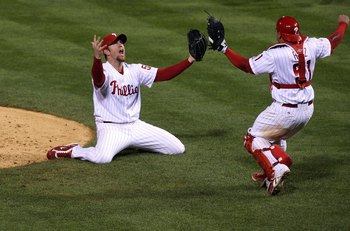 Jim McIsaac/Getty Images
The only problem with Lidge is that although he has been a lot better than last year, he is still not as good as he was in the 2008 season, where he didn't blow a save. Luckily, he has been recently heating up, and hopefully his hot streak will carry on through the postseason.
Advantage No. 2: Clutch Hitting Looking Great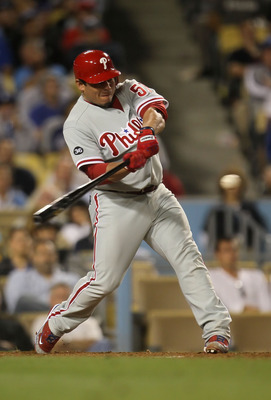 Jeff Gross/Getty Images
The Phillies have always had good clutch hitting, but this year they have been phenomenal in the clutch. They have made many comebacks, and most of them were led by Carlos Ruiz. Ruiz has been a great clutch hitter this season, and so have many others. Clutch hitting is very important in the playoffs, and the Phillies clutch hitting may be important in the postseason.
Advantage No. 3: Experience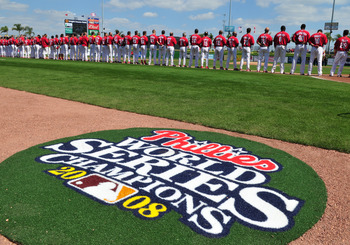 Al Messerschmidt/Getty Images
The Phillies have won a division title for four strait years, but this seems like the one that matters the most. Here's why:
In the 2007 season, the Phillies made an amazing comeback to take the division, but they got swept in the first round of the playoffs. But this season was just the start of their success.
The next year, the Phillies made another comeback to make the playoffs, and they went on to win the World Series. They played the Tampa Bay Rays, who were a good team, but they hadn't been good before that season, and they didn't have a very good fanbase.
The year after that, 2009, the Phillies were very strong and ready to win again. They made it to the World Series once again, but they lost to the New York Yankees. Although they lost, this year was very significant. This loss made them understand good competition, and the Yankees also had a great fan base.
Now they are in 2010, and they have just about seen it all. They have experienced comebacks, good competition, good fanbases, winning, and losing. Just about everything they need to have a lot of success in the playoffs this year.
Similarity No. 1: Hamels Looking Like His Old Self Again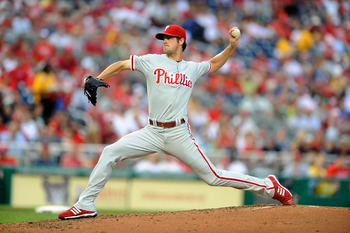 Greg Fiume/Getty Images
In 2008, when the Phillies won the World Series, Hamels pitched amazing in the playoffs, earning himself the World Series MVP award. Last year Hamels was a big disappointment for the Phillies, but the Phillies still won the National League. And this year Hamels is looking like his old self again, which means he could be a great advantage in the postseason.
Difference No. 1: Clinched The Division Earlier
Mitchell Layton/Getty Images
This year was different from some of the other years they have won because this year they clinched a lot earlier than two of the three other years. In 2007, they clinched in the last game of the season. In 2008, they clinched with two games left. In 2008, they clinched with four games left, and in 2010, they clinched with five games left. The fact that this year they made a comeback and still clinched early may mean something about this year's team.
Similarity No. 2: Players Heating Up Near End Of Year
Andrew Burton/Getty Images
One thing that has happened for the past few years is that players have been heating up near the end of the year. And it has happened again this year. Whether it be Werth, Ibanez, or Howard, they have all been great in the last months of this season, and hopefully they will be able to do that good in the postseason.
Difference No. 2: Three Aces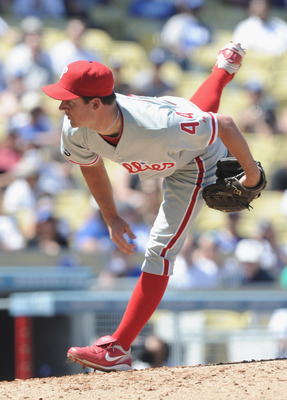 Harry How/Getty Images
One main difference between this year and the last couple years is the Phillies starting rotation. For the past years it has had Hamels, Moyer, Blanton, and then either Kendrick and/or Myers and/or Happ and/or Lee. But this year is different. This year they have the best starting rotation out of all four years, having their big three: Hamels, Halladay, and Oswalt. Their starting rotation could be a major advantage in the playoffs.
Similarity No. 3: A Lot Like 2008 Season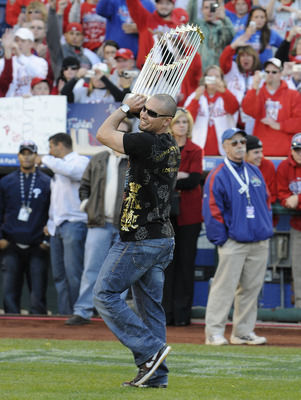 Jeff Fusco/Getty Images
Between 2008 and 2010, there were a lot of similarities. One was Hamels and one was Lidge, but there is still one more thing that I have not mentioned yet.
If you look at the 2008 season, you will see that the Phillies were behind in the division, and they were instead trying to get the Wild Card. Just like this season. And also like this season, they fought back and fourth with another team for the Wild Card, but eventually took the lead. Lastly, in both seasons they ended up not only overcoming the Wild Card team, but the division leader, too.
And guess what happened at the end of the 2008 season? I do not think I have to answer that question(hopefully). I don't want to say that they are going to win again, but there are a lot of similarities between the two years. Hmmm...
Similarity No 4: Had To Make a Comeback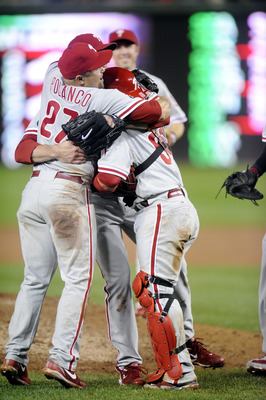 Mitchell Layton/Getty Images
In two of the three years the Phillies made the playoffs, they had to make a comeback to do it. In 2008 they had to make a comeback. In 2007 they tied a record for their comeback. And they did it again this year. The only year they didn't really make a comeback was 2009, and that year they lost, although they did make it to the World Series. This fact could be very significant in terms of what they experienced during the season.
What Does This Mean For The 2010 Phillies?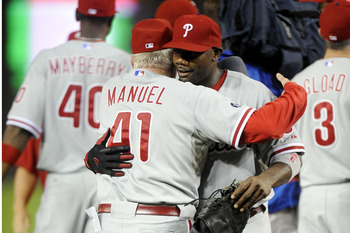 Mitchell Layton/Getty Images
This year has been a great year. The Phillies made a great comeback to take the division, and now they are in their fourth consecutive postseason. They have a great team that may be better than any of the other years. I mean, just think about it:
In 2009, the Phillies did very well in the postseason, and they made the World Series. But what pitching did they have that was good? Not Lidge. Not Hamels. Not Halladay. Not Oswalt. Just Cliff Lee. Now that I think about it, I don't even know how the Phillies did it last year. But now they have their three aces, and Lidge and Madson are doing great.
I think that there is a good postseason ahead for the Phillies.
Keep Reading

Philadelphia Phillies: Like this team?