Why Michael Vick Will Succeed As the Eagles' Starting Quarterback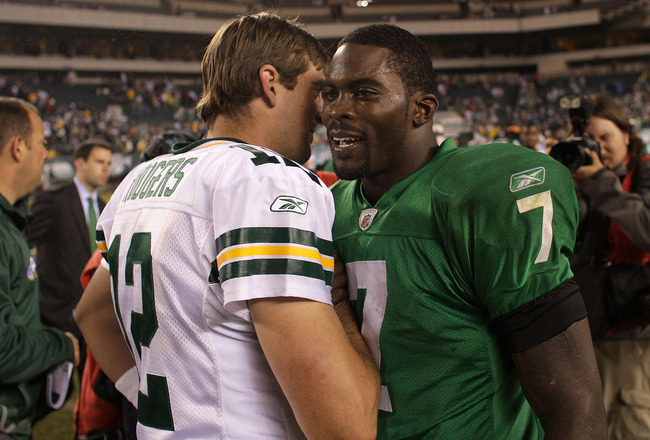 Mike Ehrmann/Getty Images
Michael Vick has again taken the NFL by storm. Like it or not, Vick is the talk of the league and, for now is one of the leagues biggest stars. Vick is back and the Eagles organization is the one to thank.
Teams in need of a quarterback have to be kicking themselves right now that they didn't take a chance on Vick after he was released from prison. Vick almost settled for the UFL, but then Andy Reid and Donovan McNabb came knocking.
A year removed from being the third string quarterback and being used sparingly in a wildcat like formation, Vick is a starter in the NFL again. He also seems to be a better passer than anyone remembers.
Vick is in an offense that suits his skill set, and he still has the uncanny ability to make guys miss in the pocket. For evidence, when a Lions defender was blitzing Vick on his blind side last Sunday, he spun away from the sack faster than you could hit the "B" button on your Xbox controller and picked up the first down.
No other quarterback in the league moves like Vick, plays like Vick or is as exciting as Vick. He's likely to hit a few rough patches as the season wares on, and everyone knows the Philadelphia media will let him hear it, but that's another challenge Vick will have to defeat.
Here are a few reasons why Vick will succeed as a starting quarterback in the NFL again, this time for the Philadelphia Eagles.
West Coast Offense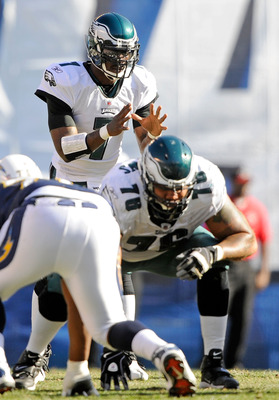 Kevork Djansezian/Getty Images
Vick has played in a west coast offense before, which will only help him in Philadelphia. Vick had a year to learn Reid's version of the offense, mostly on the sidelines, and now he's able to go out and execute the plays as a starter.
Anyone concerned with Vick's ability to run this offense should look to his days in Atlanta. Yes, he wasn't the greatest passer in their system, but he put up huge rushing numbers, and his play made him the highest paid player in the NFL. At last check, the Eagles have an injury riddled offensive line right now, which will help Vick make plays with his feet.
However, in Vick's first two games he's made a lot of plays with his arm, which has to be why Reid made the switch after promising the job to Kevin Kolb.
Vick's Now a Pass First Quarterback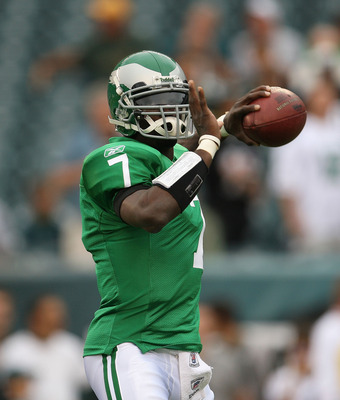 Mike Ehrmann/Getty Images
Watching Vick in the first two games of the season, it looks like his playing philosophy has changed. Vick is passing up the opportunity to run, and he's making plays with his arm. This is going to give defensive coordinators an unenviable task.
It's tough enough to prepare for a dual-threat quarterback, but when it's a player like Vick who seems to be maturing as a passer in the Eagle's offense the job becomes even more difficult.
In his first two games of 2010, and remember he came in late against Green Bay in week 1, Vick has thrown for 459 yards with three touchdowns, no interceptions and has a completion percentage of 63%. He's also averaging 7.8 yards per carry and has 140 yards rushing.
Vick Has Won Over 80% Of Philadelphia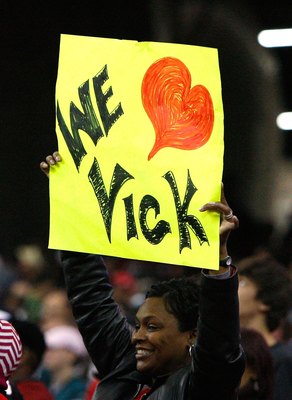 Kevin C. Cox/Getty Images
The signing of Vick last summer was about as popular as closing an ice cream shop in the middle of summer. Some people didn't care, but the majority had an opinion on the move.
Many fans were irritated with the orgazination that they would bring in a high-profile quarterback with a considerable amount of baggage. Some people will never get passed Vick's crime, but that's their problem.
The past is the past, and Vick served his time. He went from the top to rock bottom in about two months time, and it's been a very slow climb back up the ladder. However, a recent poll on the Philadelphia Eagles website has about 80% of the people saying they support Andy Reid's decision to start Vick.
It's amazing how a couple of impressive performances can change the mindset of an entire city.
Work Ethic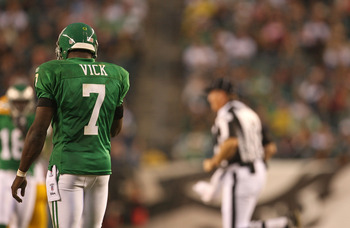 Mike Ehrmann/Getty Images
Before Vick realized he wasn't invincible, he now says he had a horrible work ethic saying he was the last one to arrive and the first to leave. That's not something you would want to attribute to your starting quarterback, but that's the way it was in Atlanta.
Just think if Vick did work harder, studied harder and cared more about his position when he was in Atlanta. He could've been one of the greatest players in league history, but now that's all in the past.
In a recent interview on ESPN, Vick said going to prison helped him. Being told what to do and when to do it took it's toll on him, but it also gave him a great amount of patience, which he has attributed to football, according to Vick.
He now studies film with more focus, practices harder and so far it's shown. Vick almost rallied the Eagles past Green Bay after a being down big, and put together an impressive offensive display against the Lions.
Vick was dealt a harsh wake up call, but it appears to have worked.
The Eagles Are Loaded With Playmakers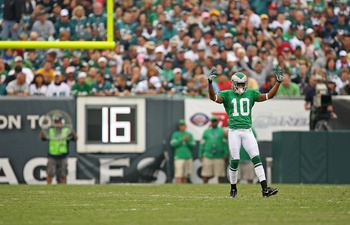 Mike Ehrmann/Getty Images
When Vick was in Atlanta he never had a tremendous amount of play-makers. It was the same for McNabb in Philadelphia, up until last year.
Vick had receivers like Michael Jenkins and Alge Crumpler, and the rookie version of Roddy White, who is now becoming a star.
Vick did have Warrick Dunn and T.J. Duckett to help form the "DVD" crew that became famous for a season or two, but that was about it. Vick was dealing with a suspect offensive line for the most part, much like he is now in Philadelphia, but he didn't have the same type of play-makers around him.
Desean Jackson, Jeremy Maclin, Brent Celek and Lesean McCoy are young and they're going to thrive around a player like Vick.
Vick was often criticized for a sometimes underwhelming team in Atlanta, but don't forget he led that team to an NFC Championship game appearance against the Eagles. If Vick could do it with that Atlanta team, he certainly can do it in Philadelphia, especially with no clear cut favorite to win the NFC East this season.
Vick Has Learned to Deal With The Media Circus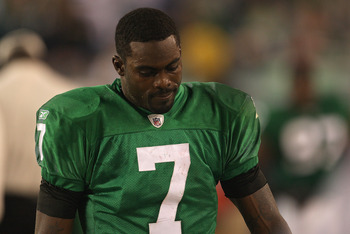 Mike Ehrmann/Getty Images
Vick has been through a lot the last few years, and it's all his fault. He won't deny that. Dealing with the media circus that's going to come along with this decision and his success is something he will have to learn to live with.
It's already started. The headline of the Philadelphia Daily News reads: Top Dog. It's stuff like this that Vick is going to have to learn to live with and simply ignore. He won't be able to please everyone along the way because people won't be able to get over his past.
However, that's not Vick's job, and it seems like he understands that. When he was in Atlanta it often seemed like he was trying to prove to the media or the fans that he was a good passer, and a good quarterback.
Now, Vick just needs to play quarterback and ignore all of the outside distractions including the media. There will always be stories and comments about Vick that will likely get under his skin, but he can't let it show.
He's once again the most unique player in the NFL for obvious reasons and he's back on center stage. How Vick deals with the spotlight, the media, the fans, PETA and any other outside influence will affect how he plays.
So far, he's done a good job of being on the field and running the offense. But now he's the number one option for Philadelphia, which means he's the number one target for public criticism in the city of brotherly love. How he handles that on a daily basis will likely determine his imminent and long term future with the Eagles, but for now Vick is back.
Keep Reading

Philadelphia Eagles: Like this team?