Week Three NFL Power Rankings: The Dolphins Soar While the Cowboys Crumble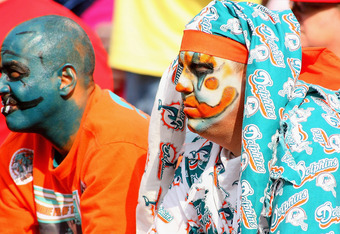 Rick Stewart/Getty Images
Featured on MIASPORTSGUY.COM
1. Saints (No. 1 last week; 2-0) - The defense looks sharper this year.
2. Packers (No. 3; 2-0) – At Chicago next week will be the team's first true test.
3. Steelers (No. 12; 2-0) – The defense forced 7 turnovers. They held Chris Johnson to 34 yards rushing. The last time he was held under 100 was week five of last year.
4. Texans (No. 6; 2-0) – A nice comeback win in overtime behind Schaub's 497 passing yards.
5. Dolphins (No. 10; 2-0) – Their defense looks ridiculously good thus far, but their offense and Chad Henne look lackluster. Will they open it up against the Jets at home on Sunday night?
6. Ravens (No. 2; 1-1) – Flacco's main responsibility is ball control and those 4 picks aren't helping the cause.
7. Colts (No. 7; 1-1) – Think that week one loss got under their skin?
8. Jets (No. 14; 1-1) – Sanchez had the best game of his career (21/30 220, 3 TD). Let's see how he does against an aggressive Dolphins D.
9. Patriots (No. 4; 1-1) – They are going to have to run the ball effectively to beat certain teams, which was their downfall against the Jets.
10. Bears (No. 22; 2-0) – A phenomenal win at Dallas. Win next week against Green Bay and I'm a believer.
11. Bengals (No. 13; 1-1) – The defense was absolutely dominant.
12. Chiefs (No. 15; 2-0) – They better beat San Francisco at home because road games at Indianapolis and Houston are on deck.
13. Titans (No. 9; 1-1) – A bad loss against a Steelers team without a serviceable quarterback. They looked really outmatched from a physical standpoint.
14. Giants (No. 11; 1-1) – That defense laid a huge duck in the Manning Bowl. Peyton was nearly perfect (145.5 QB Rating).
15. Chargers (No. 17; 1-1) – The offense (38 points) really got it together at home for the rebound win.
16. Redskins (No. 15; 1-1) – The Skins were in complete control against Houston, but were inept in the second half.
17. Bucs (No. 27; 2-0) – How good are the Bucs? We will find out this week against Pittsburgh.
18. Falcons (No. 18; 1-1) – A good defense, an efficient passing game, and a potentially dominant running game could take this team deep into the playoffs.
19. Eagles (No. 21; 1-1) – How long before Vick is brought back in over Kolb? The amount of pressure on the latter is off the charts.
20. Vikings (No. 5; 0-2) – Brett's team is in shambles after the first loss at home since December 2008.
21. Broncos (No. 26; 1-1) – Kyle Orton is becoming one of the league's better quarterbacks. He should keep Tebow at bay for a while.
22. 49ers (No. 20; 0-2) – They really blew a winnable game last night against the champs. It's time to look elsewhere at quarterback.
23. Cowboys (No. 8; 0-2) – One of the richest, most talented teams in the league is in quicksand.
24. Seahawks (No. 19; 1-1) - And the Seahawks were brought back down to earth after taking a beating in Denver.
25. Jaguars (No. 24; 1-1) – Cool uniform. Average football team.
26. Cardinals (No. 23; 1-1) – Where are ya Kurt?
27. Raiders (No. 31; 1-1) - The Jason Campbell experiment sure didn't last long. Fumblitis has that effect.
28. Lions (No. 25; 0-2) – I was shocked they put up 32 with Shaun Hill taking the snaps. They're not that far off.
29. Panthers (No. 29; 0-2) – Clausen is officially the starter. Throwing rookie QB's into the fire on bad teams usually doesn't have a happy ending besides a high draft pick.
30. Browns (No. 30; 0-2) – Who came up with the nickname? Talk about lacking creativity.
31. Rams (No. 32; 0-2) - Bradford is a player. He puts the ball on the money.
32. Bills (No. 28; 0-2) - How long before they get shipped out of Buffalo?
This article is
What is the duplicate article?
Why is this article offensive?
Where is this article plagiarized from?
Why is this article poorly edited?

Miami Dolphins: Like this team?