Cleveland Browns Armchair Coach: Team Adjustments for Week 3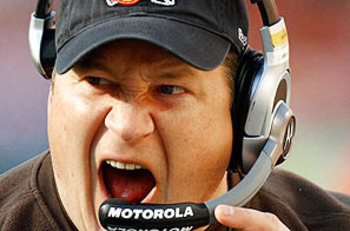 Through all the optimism and all the hopes of Browns fans leading into the 2010 season, Cleveland now sits winless at 0-2.

Forget the fact that the Browns were supposed to be 2-0 at this point, Kansas City and Tampa Bay are not the same teams they were last year, and during the off-season have made great strides in their rebuilding processes.

Much like the Chiefs and Bucs, the fans of Cleveland often forget their team is also in the process of rebuilding, and are still suffering the growing pains of a team doing so.
Until Cleveland finds their identity, they will continue to struggle.

So heading into Week 3 vs. division rival the Baltimore Ravens, the big question is:

Just who ARE the Cleveland Browns?
Stick to the Power Running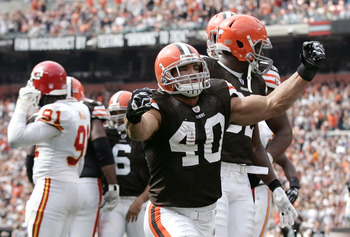 Matt Sullivan/Getty Images
Welcome to the AFC North. While the rest of the division has lived and died on the run, smash-mouth football has yet to be seen on the shores of Lake Erie.

Some may question if Cleveland has the backs to be such a club. Montario Hardesty is out for the season, we still haven't seen running back James Davis, and the workload has been shouldered by Jerome Harrison.

Unfortunately for the Browns, "The Ghost" Jerome Harrison has been just that, a ghost. Virtually being a no show with no signs of the speedy back that helped carry the Browns to four straight wins last season.

One back, however, defines the very essence of what the North stands for: hard-nosed and straight ahead, a downhill power runner named Peyton Hillis.
When Hillis was acquired from the Denver Broncos last season for Brady Quinn, immediately the Browns' skeptics insisted they were fleeced.
So far, however, Cleveland has gotten anything but the short end of the stick in this deal.

Hillis through the first two games has had 17 carries, gaining 76 yards with two touchdowns.
That works out to a 4.47 yard per carry average, statistically putting him alongside Jamaal Charles, Kevin Faulk, and Fred Jackson.

Against the Baltimore Ravens next week, Cleveland needs to feature Peyton Hillis being led by hard-hitting fullback Lawrence Vickers.
The only thing a defense like Baltimore understands is brute in-your-face power that only Hillis can deliver.
Pass Rushing: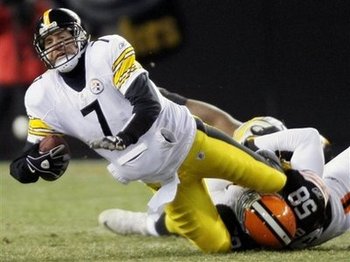 The main concern of many Cleveland fans during the preseason was a lack of pass rush.
Many blamed this worry on the Browns' simply not tipping their hand of the inevitable bag of tricks they were to unleash in the regular season. Two games in however, this worry has become a reality.

Against two poor offensive lines, Cleveland has only managed a total of just four sacks. Two of them coming from former practice squad linebacker Marcus Benard.

We have seen very few blitz packages incorporating the safeties and corners, and with such a fast and hard-hitting secondary involving TJ Ward and Joe Haden, that notion makes very little sense.

When injured linebacker D'Qwell Jackson returns, Cleveland will have some sure-tackling stability in the middle of the field, hopefully generating more pass-rushing opportunities.
In the meantime, Rob Ryan must trust the secondary, get aggressive against Baltimore's offensive line, and get after Joe Flacco.
If given the time, Flacco has a deadly arsenal of receivers who would love nothing more than to take it to the house on every down.
Sparking the Special Teams Unit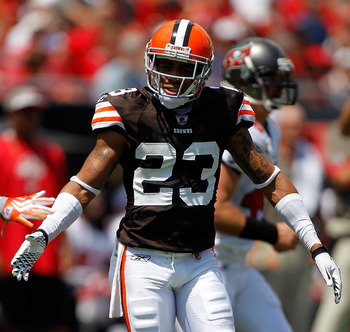 J. Meric/Getty Images
While special teams hasn't given up many big plays, they also haven't caused many either. Last year, Brad Seely led his unit to among the best in the league in all categories.
This year, however, they've failed to cause a turnover, and return-man ace Josh Cribbs has yet to get rolling.

With an offense that is still struggling to come into their own, field position is vital, and other options need to be explored.
There's no doubt Josh Cribbs is an elite returner, but the problem is that the kicking team simply avoids him like the plague. Essentially giving the Browns the ball on the 20 yard line every set of downs.

Cribbs has begun to establish himself as a legitimate receiver, so my proposal is to allow rookie cornerback Joe Haden to field the majority of kick returns.
He showed a lot of promise in the preseason, and since he isn't starting at cornerback, this allows Haden to make immediate contributions to the team.
Taking Cribbs off the kick return unit will enable Cleveland to have a fair chance at a better field position.
Second-Half Adjustments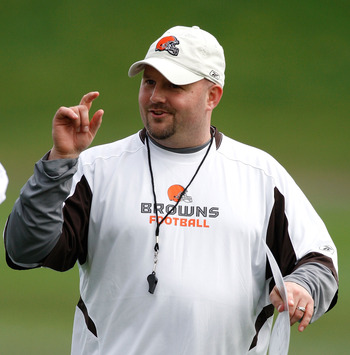 Gregory Shamus/Getty Images
Very few can deny that thus far, Cleveland has played 4 solid quarters of football. The bad news is, Cleveland has also played 4 quarters of terrible football.
The reasoning for this is a lack of halftime adjustments by the coaching staff. The job of the coordinators is to determine what is working, and what isn't working, and explain it to their players at halftime.

This is where the inexperience of second-year coordinator Brian Daboll comes in.

So far, he has failed to make the proper adjustments, while the opposition has figured out the Browns' bland offensive plans after a mere 30 minutes of game time, shutting them down in the third and fourth quarters.

Playing the game not to lose, just isn't going to cut it. Instead of grinding it out and going on the defensive after halftime, the Browns need to start playing to win.
There's nothing wrong with wanting to preserve a lead, but not taking chances to build on that lead will inevitably bring about a fourth quarter comeback.
Aggressive Play Calling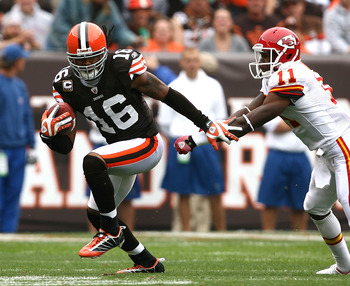 Matt Sullivan/Getty Images
While with the New York Jets, Eric Mangini's offense looked incredibly solid, so why haven't we seen it in Cleveland Browns Stadium? In New York, experienced coordinator Brian Schottenheimer was at the helm. In Cleveland? Daboll.

In the second half, Daboll has abandoned the running game, leaving Peyton Hillis on the sidelines, and rarely going to the Wildcat playbook involving arguably the most dangerous player in the AFC North, Josh Cribbs.

Removing a coordinator at the beginning of the season is usually a disaster, but if the offense continues to make these kind of mistakes, and Daboll refuses to open up the playbook, perhaps it's time Mike Holmgren steps in and appoints his adviser Gil Haskell to the task.
Involve Your Playmakers on Defense
Matt Sullivan/Getty Images
It's not all bad, on a positive note Cleveland has established three legitimate defensive playmakers: free safety T.J. Ward, outside linebacker Matt Roth, and nose tackle Ahtyba Rubin.
All three men continue to improve on a week-to-week basis, and collectively the defense has been fairly solid.

In addition; cornerbacks Eric Wright, Joe Haden, and Sheldon Brown have all played admirably and linebacker Scott Fujita has been a leader on the field.
The biggest concern and weakness I have seen on the defense so far has been the play of the defensive line.
You have to wonder if over-30 players like Robaire Smith and especially Kenyon Coleman have anything left in the tank.

For a 3-4 defense to work, the defensive linemen have to basically hold the five offensive linemen at bay, while the linebackers get penetration into the backfield.
Cleveland needs to address the line in next year's draft regardless of what happens this year, but in the meantime should be looking elsewhere and kicking the tires on backup Brian Schaefering and practice squad lineman Brian Sanford.
Conclusion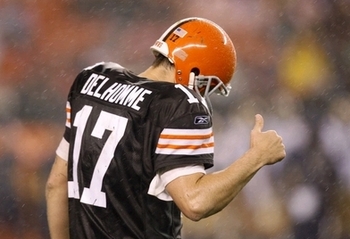 While Cleveland should have walked away from Tampa Bay and Kansas City with a 2-0 record, developing the young players and establishing a winning attitude is important for the seasons to come.
It may not be Cleveland's year to make the playoffs, but each game is as important as the last, and with a few changes and adjustments, it seems like they could be firing on all cylinders soon enough.
Mohamed Massaquoi and Brian Robiskie are quietly doing everything right at receiver so far, the routes are crisp and their hands have been reliable. They seem set to break out any day.
Evan Moore has begun to establish himself as a starting tight end in the league, showing his steady hands, toughness, and willing to venture into the open field to make a play.
Colt McCoy continues his development coming off a 13-for-13 final preseason game against Chicago.
He's actively in the quarterback huddle, studying the plays and listening to his mentors. Bringing him along slowly seems to be the right advice.
Peyton Hillis, many don't realize is a mere 24 years old, and has a solid 10 years left in his legs with the running style he possesses.
Along with the flashes of brilliance of draft picks James Davis and Montario Hardesty, Cleveland is shaping up for a great committee of runners in the coming years.
It's all a matter of time before things start to click, it's sure to be an exciting ride to the end of the season watching the young offensive core mature, regardless of records.
Keep Reading

Cleveland Browns: Like this team?