Kevin Kolb, Mark Sanchez and 10 Guys Who'd Like To Start The Season Over
Week 1 of the NFL season is always a special time of year for teams and fans alike.
It is a time of promise and hope, as it is the one weekend during the NFL season where all of the teams can legitimately stake claim to first place and entertain thoughts of being a legitimate Super Bowl contender.
And then they play the games.
With that said, for every Tom Brady or Chris Johnson-style performance there were equally abysmal showings from players and teams who are now left wishing they could have a Week 1 do-over.
Here is a list of those players and teams. Enjoy!
10. Shonn Greene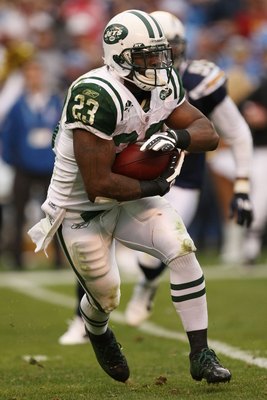 For New York Jets running back Shonn Greene, Week 1 was a far cry from his superb performances in the 2009 AFC Playoffs.
The much-anticipated replacement for Thomas Jones began his tenure as the Jets' featured running back by rushing 5 times for only 18 yards and 2 fumbles.
Not exactly what Jets' fans were hoping for.
9. Mike Singletary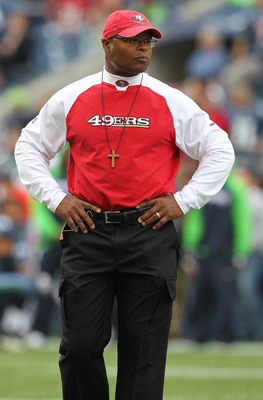 As the trendy pick to win the NFC West, the San Francisco 49ers were completely dominated by the Seattle Seahawks, so much so that it inspired head coach Mike Singletary's recent quote:
"Tell Pete Carroll thank you very much for kicking our tails. It was good medicine, and we're going to take it."
With the Super Bowl Champion New Orleans Saints coming up in Week 2, it looks like Singletary and his 49ers might be getting a refill on their prescription.
8. Peyton Manning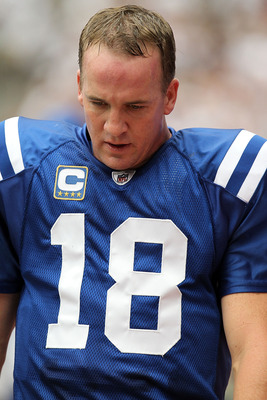 Indianapolis Colts quarterback Peyton Manning was his usual superb self in Week 1, completing 40 of 57 pass attempts for 433 yards and 3 TDs.
Unfortunately for the ultra-competitive Manning, the same cannot be said about his team's rushing defense.
In Sunday's 31-24 loss to the Houston Texans, the Colts' rushing defense had more holes in it than a slice of Swiss cheese, allowing a whopping 231 yards and 3 TDs.
On the bright side, at least Colts' head coach Jim Caldwell won't have that pesky "Pursuit of Perfection" to deal with this time around.
7. Alex Barron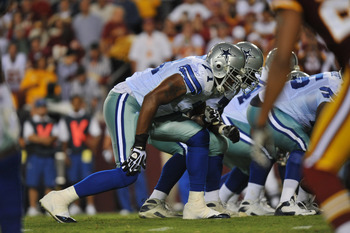 Was there any worse performance by an offensive lineman in Week 1 than Dallas Cowboys backup tackle Alex Barron?
Replacing the injured Marc Colombo, Barron took the field and was eventually flagged for three holding penalties.
His most devastating penalty came on the last play of the game, an unforgivable strangling of the Redskins' Brian Orakpo, which led to QB Tony Romo's game-winning touchdown pass being negated.
6. Jake Delhomme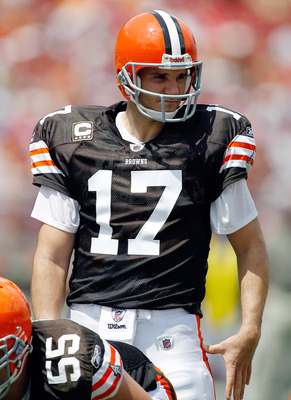 The Cleveland Browns' top "Dawg" certainly played like a dog as he threw for a mere 227 yards with two costly interceptions.
Losing to the lowly Tampa Bay Buccaneers 17-14?
It could be a very long season for Cleveland fans.
Honorable Halftime Mention: Billie Joe Armstrong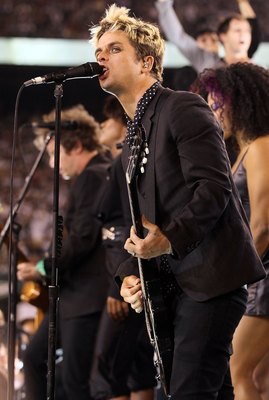 Well we're at the halfway point of the list and if there was ever a person who would love to turn back the clock on NFL Week 1, it would be Green Day lead singer Billie Joe Armstrong.
When was the last time Armstrong received as much exposure as he did before a national TV audience on Monday Night Football?
It was quite fitting that Green Day performed during the Jets' game because.Gang Green's offensive performance matched the title of the band's very first album:
"Dookie."
5. Ryan Grant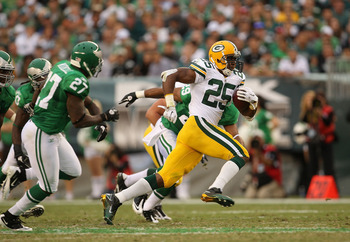 When you're the star running back of the Green Bay Packers and you suffer a season-ending injury, it's a safe bet that you'd love to have a Week 1 do-over.
Unfortunately, there will be no such luck for Ryan Grant.
4. Matt Moore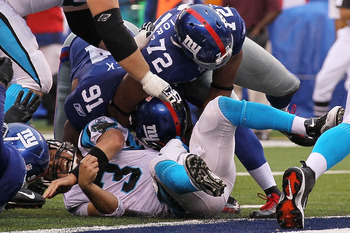 Let's start with the bad news for Carolina Panthers fans.
Starting QB Matt Moore had an embarrassing Week 1 performance, as he completed 14 of 33 passes for 142 yards, 1 TD, and 3 interceptions.
The good news?
The Jimmy Clausen era could begin sooner rather than later.
3. Rex Ryan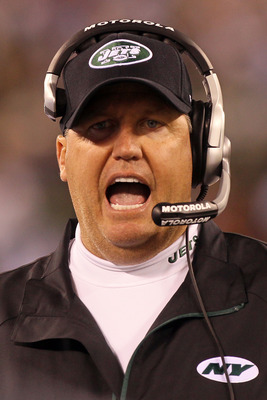 There's a saying that goes "If you're going to talk the talk, you better walk the walk."
Forget about walking; Jets head coach Rex Ryan could barely even stand after the 10-9 pounding his team took at the hands the Baltimore Ravens.
Talk about your hard knocks!
2. Kevin Kolb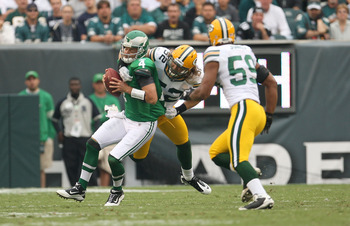 So how did young Kevin Kolb do in his first game as the Eagles' starting QB?
Not-so-good.
Kolb completed just 5 of 10 passes for 24 yards before suffering a concussion at the hands of the Packers' defense.
The potential good news for Kolb?
Maybe his concussion wiped out the memory of his poor performance, which would certainly help him moving forward.
1. Mark Sanchez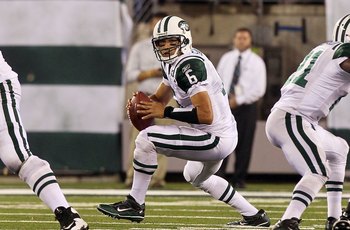 As if there was ever any doubt who would earn the top spot on the list!
Behind quarterback Mark Sanchez, the Jets were limited to six first downs (tied for fewest in team history), 60 passing yards (fewest since 2006), and 44 total plays (fewest since 2005). Sanchez completed a mere 10-of-21 passes for 74 yards.
The good news for Jets fans?
He didn't throw a single interception.
Keep Reading

New York Jets: Like this team?