NFL Week 2: The Couch Potato Guide To the 10 Games To Watch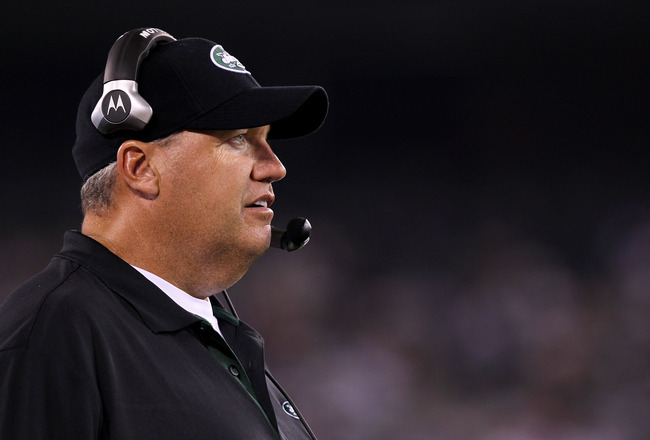 Nick Laham/Getty Images
It's Week 2 of the NFL season, and there are some marquee matchups on the schedule for the fans out there to enjoy.
We have some contenders battling it out for supremacy while some possible sleepers are trying to continue to make a statement early on this season. It will be interesting to see how some teams move on after injuries to top players and if their opponents can take advantage of it.
Here are the top 10 games for you to sit back on the couch and enjoy this week.
No. 10: Seattle at Denver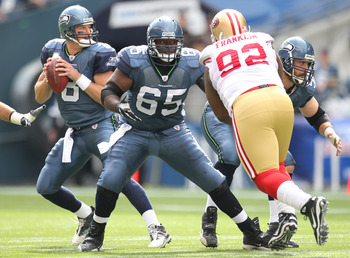 Otto Greule Jr/Getty Images
Star Power: I'm going to be looking at Matt Hasselbeck in this game. Hasselbeck was solid against San Francisco and made some big plays down the field for touchdowns in the passing game. He's struggled with health issues recently, but maybe last week was the start of a turnaround for him.
Potential Drama: Denver dropped a game to Jacksonville last week, so an 0-2 start after losing to teams that weren't expected to make the playoffs will have a lot of fingers pointing in Josh McDaniels's direction. McDaniels has made some questionable personnel moves since he took over as coach, and he'll look like an idiot if they start 0-2.
Playoff Impact: I don't think either team will be a playoff team this year, and it's going to just be another one of those games that will pad someone's win total in an otherwise disappointing season. I know Seattle looked good, but I'm not going to put too much into that performance.
Predicted Final Score: Seattle 27, Denver 14
No. 9: Jacksonville at San Diego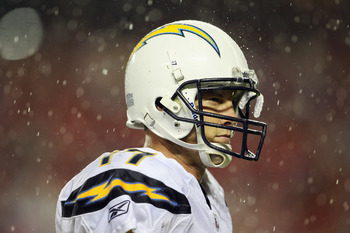 Jamie Squire/Getty Images
Star Power: I'm looking at Philip Rivers here. Without LaDainian Tomlinson, the pressure is on Rivers to step up and make plays for San Diego. Rivers did a good share of that on Monday against Kansas City but did miss an open target in the endzone at the end of the game. Rivers is one of the better quarterbacks in the league and should play like it on Sunday.
Potential Drama: If Ryan Mathews holds the ball like he did on Monday, there's going to be a lot of talk about how letting Tomlinson go was a big mistake. Mathews has to come out and have a solid performance to at least quiet the doubters for one week.
Playoff Impact: The Chargers have started slow before and will likely start slow again, but this is a game they have to win. The AFC West is bad, but it won't be good for San Diego's psyche if they drop one to Jacksonville at home. The Chargers are better than that.
Predicted Final Score: San Diego 31, Jacksonville 21
No. 8: Philadelphia at Detroit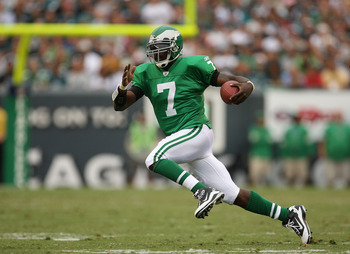 Mike Ehrmann/Getty Images
Star Power: Michael Vick will likely get the start on Sunday after Kevin Kolb failed a concussion test yesterday, and after his performance against Green Bay, you know the Lions will be keying on him. Vick didn't make too many plays in the passing game and will have to, because he won't be able to win it on his legs.
Potential Drama: If Vick happens to play well and leads the Eagles to victory, it's going to stir the pot more about the Vick/Kolb debate. It's Kolb's job, but that won't stop Eagles fans from hoping that Vick gets the nod under center.
Playoff Impact: Detroit is really a non-factor in the playoff picture but for a team that has been to the playoffs for most of the past decade, a win here would stabilize the Eagles and give them hope down the road. An 0-2 start could bring the boo birds out in Philly. Then again, what doesn't?
Predicted Final Score: Philadelphia 27, Detroit 10
No. 7: Pittsburgh at Tennessee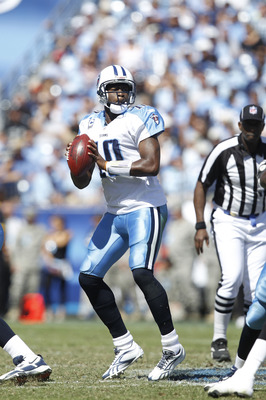 Joe Robbins/Getty Images
Star Power: It's Chris Johnson. When you have the most electrifying player in the game playing, all eyes will be on him. Can he get to 100 yards again? It's going to be tough for CJ against a stout Steelers defense.
Potential Drama: Can Dennis Dixon do what the Steelers have rarely done? Pittsburgh has lost seven of the last eight in Tennessee and it's going to be tough sledding with starters missing in the Steelers' offensive line. Dixon's legs will make him a threat to run, but the Titans' defensive line looked impressive against another weak offensive line in Oakland.
Playoff Impact: Pittsburgh needs to find a way to stay somewhat afloat without Ben Roethlisberger under center, and Tennessee is looking to get back to the playoffs. With Indianapolis and the surging Texans in the division, the Titans will need all of the wins they can get.
Predicted Final Score: Tennessee 21, Pittsburgh 17
No. 6: Houston at Washington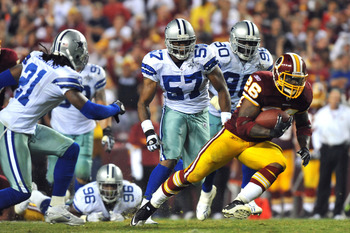 Larry French/Getty Images
Star Power: I'm focusing on Matt Schaub in this game. Schaub took a backseat to Arian Foster last week as he gashed the Colts up and down the field. I think that this week, we'll see more of a return to the air with Houston, and Schaub is going to be able to make some plays down field if Foster can keep the Redskins honest.
Potential Drama: How much playing time will Albert Haynesworth get? It's an ugly situation in Washington, and it's not getting any less ugly as time goes by. It seems like the only solution is to trade him, but the Redskins want more than they'll ever get. It's going to be intriguing to see how much Washington uses its $100-million man.
Playoff Impact: Houston is trying to make the playoffs for the first time in franchise history and a 2-0 start with a win in the division would be a great way to go about that. I'm not jumping aboard the Texans' wagon just yet, they've done things like this before. I'll believe the Texans in the playoffs when I see it.
Predicted Final Score: Houston 31, Washington 13
No. 5: Miami at Minnesota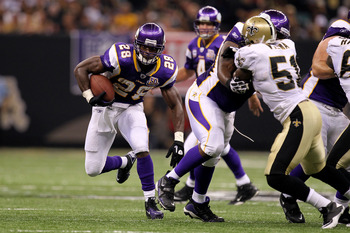 Ronald Martinez/Getty Images
Star Power: There's plenty of it for Minnesota, but I'm going to be looking at Adrian Peterson. With Brett Favre still trying to get into the swing of things after missing most of training camp, Peterson will have to get more touches to slow the game down for Favre and the offense.
Potential Drama: Favre has been battling his bad ankle since last year, and he's already been taking injections in it. Not a good sign for Vikings' fans or Favre fantasy owners. If Favre takes a pounding under center, it could damage that ankle.
Playoff Impact: Miami will need to keep pace with teams like New England and New York, and a win on the road in Minnesota would be a big momentum boost to its season. If Minnesota goes 0-2, a lot of people are going to be looking at Favre's flip-flopping on retirement and questioning how much it hurt the Vikings.
Predicted Final Score: Minnesota 20, Miami 10
No. 4: New Orleans at San Francisco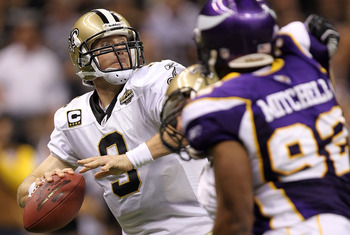 Ronald Martinez/Getty Images
Star Power: Drew Brees is going to be center stage once again on national TV. Brees is the best quarterback in football right now and is just rolling in every sense of the word. While Brees didn't have his best game last week, I expect a stronger performance.
Potential Drama: How does Reggie Bush respond after resigning the Heisman Trophy this week? There's been a lot of distractions around him this week, and it'll be interesting to see if he responds and rises to the occasion. I think the Saints will try to get him into the flow of the game early and often against the 49ers.
Playoff Impact: A lot of people were hyping up the 49ers as a playoff team this year. After getting their doors blown off against Seattle of all teams, some people are questioning what they saw in San Fran. Starting out with two losses would be bad for San Francisco, but it's the NFC West and who knows how bad the team who wins the division is going to be.
Predicted Final Score: New Orleans 35, San Francisco 17
No. 3: NY Giants at Indianapolis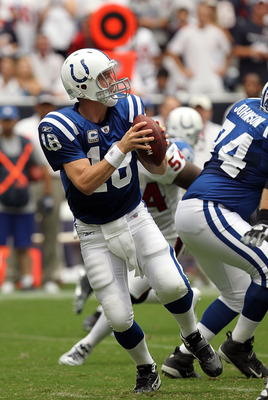 Ronald Martinez/Getty Images
Star Power: This is a no brainer. It's Manning vs. Manning on national TV. It doesn't get much bigger than that. You'll hear about it all night long and wait until you see how many cameras are around them after the game when they go to shake hands.
Potential Drama: See above. We're going to get plenty of soundbites about it during the game and shots of their family in the luxury suite during the game. It's a great matchup, but NBC is going to beat it to death.
Playoff Impact: If the Colts fall to 0-2, it's going to leave them in a position to play catchup, something they can do. But with the loss of Bob Sanders, it's going to be tougher to accomplish that feat with a weaker defense. Plus, no one wants to go 0-2.
Predicted Final Score: Indianapolis 35, New York 20
No. 2: Baltimore at Cincinnati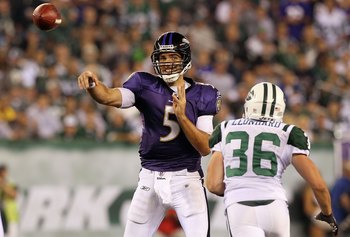 Jim McIsaac/Getty Images
Star Power: I'm going to be focusing on the stars on offense in this game, especially the duel between the Ravens' untested secondary and Chad Ochocinco and Terrell Owens. Ochocinco had a big week last week and could again if the Ravens' corners aren't up to the test.
Potential Drama: Everyone is waiting for Owens to implode and drag the Bengals down with him. There's been Super Bowl talk around Cincy and an 0-2 start will have people watching Owens' words very carefully after the game. There's a lot of combustible elements on the Bengals and while winning solves that, losing makes the chance for an implosion high.
Playoff Impact: The Ravens and the Bengals are going to be fighting for playoff spots in the crowded AFC North all year and if the Bengals fall to 0-2 while Baltimore moves to 2-0, the Bengals will be in a deep hole early and have to dig their way out, something I'm not sure they're built to do. This is as close as it gets to a must win in Week 2.
Predicted Final Score: Baltimore 24, Cincinnati 14
No. 1: New England at NY Jets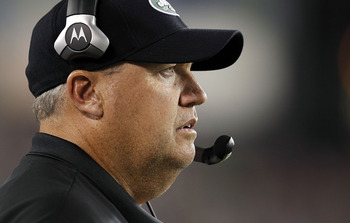 Jeff Zelevansky/Getty Images
Star Power: I'm going to be keeping my eyes on the battle between Randy Moss and Darrelle Revis in the passing game. Revis dominated Moss last year and there have been a lot of words exchanged between the two players. I think Moss is going to be out looking to prove something this week and it'll be interesting to see if that changes the result.
Potential Drama: The Jets were a lot of people's sexy Super Bowl pick coming into this season and an 0-2 start could have a lot of those people reconsidering their choice. It would be especially worrisome if New York's offense looked as putrid as it did on Monday.
Playoff Impact: A win would put the Patriots clearly in the driver's seat of the AFC East at 2-0, while their biggest competition would be sitting at the bottom at 0-2. That record isn't insurmountable, but being back two games with a loss to the leader would have some Jets fans thinking wild card.
Predicted Final Score: New England 20, New York 10
Keep Reading