Fantasy Football Advice Week 2: Five Things You Should NOT Take the Bait On
Jonathan Daniel/Getty Images
There is a passage in the Yogavasistha that says: "Troubled or still, water is always water. What difference can embodiment or disembodiment make to the Liberated? Whether or calm or in tempest, the sameness of the Ocean suffers no change."
Now, at this point, many of you are wondering why I am quoting the Yogavasistha in a fantasy article, but it's actually very easy: Just because a rift happens in fantasy (Andre Johnson catching 3 balls for 33 yards, while Mark Clayton catches 10 for 119) doesn't mean it is the norm. "…the Ocean suffers no change."
This little slide is geared towards highlighting another oft unmentioned aspect of fantasy football: What NOT to do in Week 2.
It's really easy to jump on a players bandwagon, especially after one solid week and especially if you are new to this. I am here to help you slow your roll a little bit, so let's take a look.
Do NOT Buy Into the Hype of Brandon Lloyd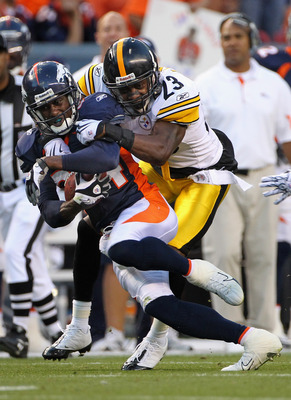 Doug Pensinger/Getty Images
Lloyd shocked everyone last week buy hauling in five catches for over 100 yards, but the reality it is still THAT Brandon Lloyd. He had a freak situation with some good looks, and I can guarantee you this won't trend beyond Week 1.
Remember one very important thing: Demaryius Thomas, Erik Decker, and Jabar Gaffney still play on this team as well, and these three players will be the three primary weapons moving forward.
In reality, Lloyd isn't even worth a spot on your watch list, as he is sure to be relegated to WR4 or even WR5 before you even know it, and I would hate to see anyone waste a waiver wire pickup on this guy.
DO Keep a Very Close Eye on Vince Jackson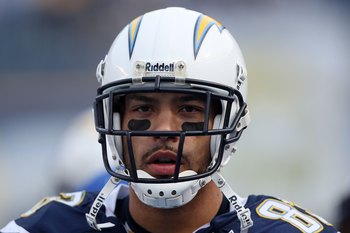 Donald Miralle/Getty Images
On Thursday of this week, we are going to learn whether or not V-Jax's six-game suspension gets reduced to three games,which means a huge rift could be coming in fantasy.
The Vikings are very interested in Jackson if he only has to serve the three-game deal, and if that happens, they will do whatever it takes to bring him aboard.
Jackson makes perfect sense in an offense that is build around a vertical passing game with Brett Favre throwing the ball.
This is the type of news you do not want to sleep on.
Do NOT Believe Mike Vick Is a Long-Term Fantasy Option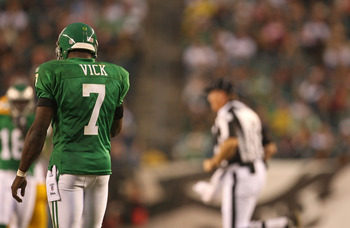 Mike Ehrmann/Getty Images
Mike Vick has a good chance of playing a very opportunistic game this week vs. the Lions, but Coach Andy Reid has already made it perfectly clear that Kevin Kolb is still the starter in Philadelphia.
Unless you're really weak at QB this week, I don't even consider this week's matchup to be all that yielding, since most of you already own a solid QB1, and while Vick is explosive—at times—he is still a mediocre passer at best.
There has been a ton of advice screaming "…grab Vick" but the fact of the matter is unless you are really in need of a QB who is likely to play one week, it isn't worth a roster spot since guys like Sam Bradford and Matt Hasselbeck are on most waiver wires; two QBs that are more of a full-time option that Vick will ever be in 2010.
DO Believe the Hype on RB Arian Foster.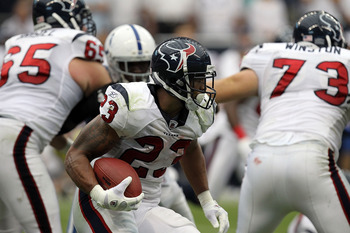 Ronald Martinez/Getty Images
There is no denying that this kid has all the makings as this year's top sleeper candidate, and the Texans are as high on him as Willie Nelson after smoking a blunt.
I did a full write up on Foster which you can read here if you'd like.
The Texans now have a fully dimensional offense, and a reliable RB that can do it all. While Foster was almost exclusively scooped up in the draft, there is always a chance he could be offered in a trade, so if that happens to come your way, make the deal.
For those of you in Dynasty and Keeper leagues, Foster is your man.
Do NOT Believe in Roy Williams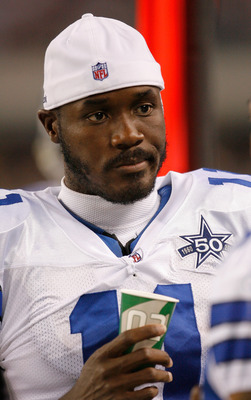 Tom Pennington/Getty Images
I have been asked a ton of questions regarding Dallas WR Roy Williams, and the fact of the matter is Williams will probably be a fantasy non-factor after Week 6 altogether.
The Cowboys play a lot of three WR sets, and they have Dez Bryant lurking in the background licking his chops, which means there is simply no room for Williams.
He had some chances last week to make something happened and failed, which is par for the course, and at this point I would even consider dropping him or trying to trade out for him if you can.
If you enjoyed this article please check out my Week Two WR Start-Sit Advice.
Keep Reading