Five Ways the Minnesota Vikings Can Get Rolling for Week 2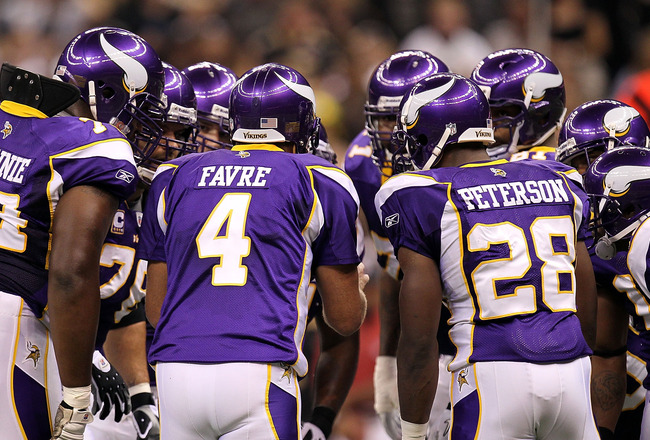 Ronald Martinez/Getty Images
After a hard fought battle in the Superdome, the Minnesota Vikings have found they have a few issues to get sorted out after falling 14-9 to the New Orleans Saints before their game this Sunday at home against the Miami Dolphins.
Struggling to move the ball for most of the game due to a lack of explosive plays, the Vikings will need to find ways to get Adrian Peterson and Percy Harvin, their most explosive players more involved.
Tight end Visanthe Shiancoe and Peterson brought the only promise to the Minnesota attack all night in the first half. However, both players were basically completely left out of the offensive game plan in the second half of a five-point game.The Saints did match-up safety Roman Harper with Shiancoe, which should of opened up more room for the wide receivers.
Unfortunately, newly acquired wide out Greg Camarillo saw little action in the game. When he did see the field, Brett Favre targeted him for a 29-yard gain in the fourth quarter and missed on what would of been another first down on the same drive. Camarillo laid out for the ball, but it was another poor throw from a rusty Favre.
The play calling throughout the game was suspect at best as Vikings' head coach Brad Childress once again proved he really has no clue how to call a game. There is no way if I coached the Vikings that I would allow my best player to get seven touches in the second half of a five-point game. That is inexcusable.
Here are five ways the Vikings can turn the corner this week against the Dolphins at home, beginning with the most important.
1) Adrian Peterson Must Get 25+ Touches Per Game
Remember this guy? He's pretty good.
Ronald Martinez/Getty Images
Who's the best player on the Minnesota Vikings?
Adrian Peterson.
What's the best way for the Vikings to win?
Get the ball to Adrian Peterson.
In a 14-9 game, there is no excuse for why your best player doesn't get more touches. In the first half, Peterson ran 13 times for 57 yards. In the second half of a five-point contest, Peterson saw six carries for 30 yards. Overall, AP ran 19 times for 87 yards, which is a respectable clip. Peterson and Shiancoe seemed to be the only offense the Vikings could muster in the first half and were key components to the Vikings' almost 10 minute drive in the second quarter.
However, as the second half came and went so did any thought of getting the ball to Peterson. This isn't the first time Brad Childress or offensive coordinator Darrell Bevel have forgotten they have "All Day" on their team and unfortunately it probably won't be the last.
In order for the Vikings to succeed this year, they need to find ways to get their most dynamic player the ball. There are other ways to get AP the ball then to simply handing it off.
For example, in the first half, the Vikings ran a quick swing pass to Peterson that gained 11 yards and an easy first down. The Vikings never ran another designed pass play for Peterson the entire night. Plays like these are not only very simple to run, but allow Peterson to get into open field quickly where he is at his best.
Other plays that need to be run for Peterson are screen plays and draws. The Vikings continue year after year to simply run their best player into stacked defensive lines. That is no way to get AP going.
Peterson must touch the ball 25+ times this weekend, whether that is through ground or air doesn't matter to me. Just get the man the ball.
2) Brett Favre Needs to Develop Chemistry With a Wide Receiver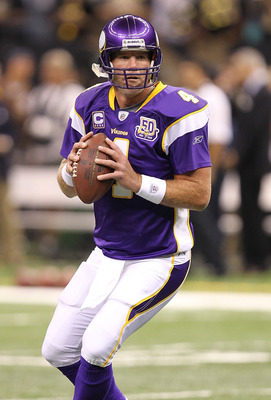 Who can be his "main target" at receiver while Sidney is out?
Ronald Martinez/Getty Images
It was clear that Brett Favre was rusty last Thursday.
It was clear that no offseason work with his receivers has caused a lack of timing and chemistry.
However, it is not the end of the world. Favre struggled to start last season as well. The only major difference this season is that he is without his favorite target and best receiver in Sidney Rice for at least six weeks, possibly more.
Yes, they're rumors the Vikings are exploring trade options with the San Diego Chargers to acquire Vincent Jackson. Would I be for this acquisition? Of course. Do I think it is necessary? No.
It was clear to me in the third preseason game, that Favre and Greg Camarillo had a connection. However, in the season opener versus the Saints, Camarillo saw little to no action. When a team has four receivers on their active roster, it makes you wonder how the one with the best hands of the group doesn't see the field for majority of the game.
When Camarillo finally saw action, he immediately made his presence felt with a 29-yard grab. He also almost kept the drive going later on a crucial third down with a diving attempt at another poor Favre pass.
It was clear Favre and overpaid wide out Bernard Berrian simply didn't have the chemistry they seemed to be gaining at the end of last season. Berrian had one catch for a lousy three yards. Some number one wide out he is.
Percy Harvin and Greg Lewis both only had one catch for 12 yards.
That means Favre connected on four passes with his wide receivers for 54 yards. It's going to be hard to win any game with those type of numbers.
Yes, Visanthe Shiancoe stepped up in the first half to register four catches for 76 yards and a touchdown. However, he was shutout in the second half by Roman Harper.
Favre needs to develop chemistry with these receivers quickly and find his favorite target. I believe Camarillo will step up and be that guy due to his great hands and solid route running.
Look for Camarillo to have a nice day against his former mates this Sunday.
3) Brad Childress Needs to Get a Clue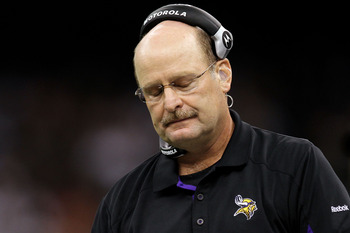 What terrible play should I call next?
Ronald Martinez/Getty Images
I've never thought Brad Childress was a good coach.
Yes, he has won more games each year over the past three seasons, but how much is that a product of good coaching? I would argue very little.
The Vikings clearly have an abundance of talent on their roster.
This slide coincides some with slide one, Childress continues to call terrible play after terrible play. He will continually run Peterson into a stacked box when he has almost no chance of getting positive yards. He will also completely forget he has arguably the best running back in the game on his team a few times a year.
In a five-point game, Childress made it seem like the Vikings were down by 20 or more. Peterson saw seven touches in the second half with one of those being a dump pass from Favre that lost three yards.
When you want the Vikings to pound the rock, they throw. When you want them to throw, they run an unimaginative play right into the teeth of the defense.
How many of you could of predicted the Vikings would give the ball to Peterson three straight times after the Saints opening touchdown?
Well, I knew that would happen and they went three and out.
Childress and Bevel need to get creative and find other ways to use their best player.
As a fan, you can only hope the Vikings will open up their playbook this Sunday with a pinch of creativity. However, with Brad Clueless calling the shots, all bets are off.
4) Find Ways to Get Percy Harvin The Ball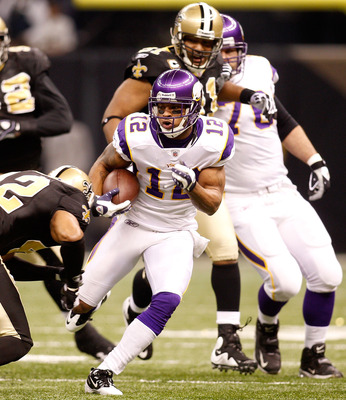 Harvin needs to get close to 10 touches a game.
Chris Graythen/Getty Images
Who's Minnesota's second most explosive player?
Percy Harvin.
Harvin saw four touches in the season opener. He ran the ball once for two yards, caught a pass for 12 yards, and return two kickoffs for 41 yards.
I'm clearly not a NFL head coach or an offensive coordinator, but I understand which players need to touch the ball. The two most explosive players on the Vikings had a combined 26 touches in a five-point game.
Like Peterson, there are ways to get Harvin involved besides having him run routes out of the slot position. He was a star on the Florida Gators in college due to his ability to run and catch.
The Vikings have to find new ways to get him the ball. Whether that be through bubble screens, running back screens or direct handoffs doesn't matter to me. Like Peterson, get Harvin the ball in as many ways as possible.
I know he has been set back a bit by his ongoing migraine situation, but it seems Harvin has found the solution. It is believed by doctors that his migraines were triggered from sleep apnea. With the migraines assumedly under control, it is time to expand his role in the offense.
At any moment, Harvin can take it the distance. He needs to be utilized more with his big play ability. Simple as that.
5) Run Defense Must Regain Its Swagger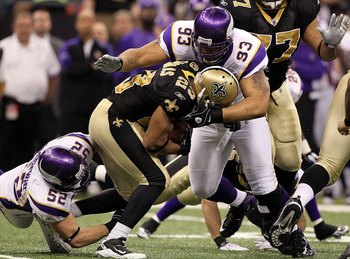 The Vikings will need to control Ronnie Brown and Ricky Williams this Sunday.
Jed Jacobsohn/Getty Images
Over the past three season, the Vikings run defense is something not many worry about. They have led the league twice over that span in least amount of rush yards given up per game and came in second the only year they weren't the best.
However, uncharacteristically, the Vikings run defense was nowhere to be found in the second half against the Saints. In the first half, the Saints ran the ball a whopping three times. Then in the second half Pierre Thomas carried 17 times for 70 yards and a touchdown. He finished the game with 19 carries for 71 yards.
The Vikings defense couldn't get off the field at the end of the game due to Thomas gashing them for five and six-yard gains on first down. The Saints surprisingly were able to run out the clock against the vaunted Vikings' run defense.
In order to get things rolling this Sunday, the Vikings will have to control Ronnie Brown and Ricky Williams. This duo arguably makes up one of the best in the league when they are both healthy and can cause nightmares for defenses.
This is the least of my concerns for the Vikings to fix before Sunday's game.
However, it could turn out to be the most important with how often the Dolphins run the ball.
Keep Reading

Minnesota Vikings: Like this team?