Mark Sanchez: 10 Ways To Reverse His Early 2010 Nosedive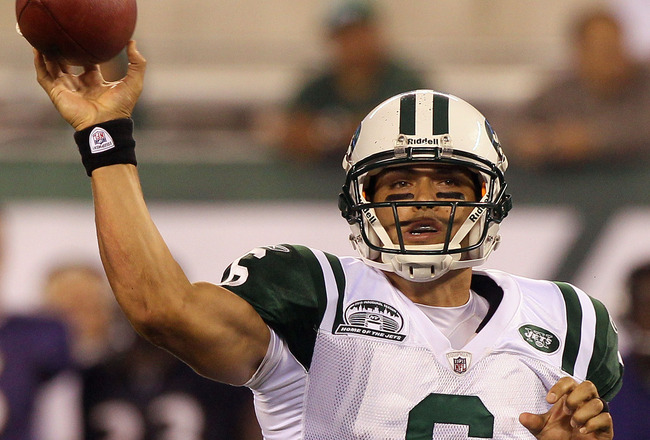 Jim McIsaac/Getty Images
There are several reasons that the Jets lost their first game of the season. Talking more than playing. Poor offensive numbers. Waking a sleeping bear named Ray Lewis.
But the one that they have to worry most about is the play of Mark Sanchez.
He didn't have a good preseason and it has spread into the regular season.
The Jets need to do something right now.
And Mark has to help his own cause.
10. Stay Out Of The Media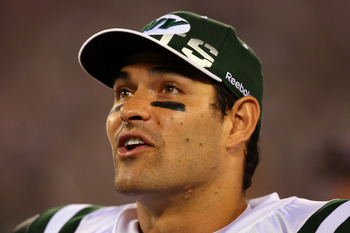 Andrew Burton/Getty Images
This one should be easy during the season, but it is imperative.
No more updates on the dating scene until he gets everything straightened out on the field.
The New York nightlife is second to none, but it's game time for the next six months.
9. Listen To Mark Brunell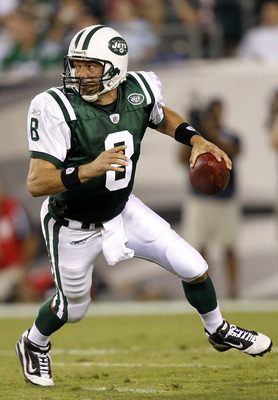 Jeff Zelevansky/Getty Images
Brunell is a three-time Pro Bowler and won a Super Bowl as Drew Brees' backup.
Sanchez should be asking him what he should be doing differently, instead of just trying to figure out a way to date Brunell's daughter.
Which, by the way would be grounds for manslaughter.
8. Leave The Running Backs Alone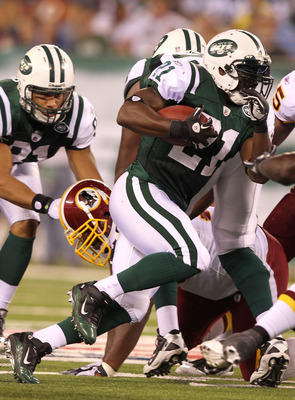 Al Bello/Getty Images
Ron Jaworski pointed out that out of Sanchez's 21 pass attempts, eight of them went to his running backs.
I suck at math, but that has got to be close to 40 percent.
Brady, Manning and Brees check down to their running backs, they don't come out of the huddle looking to pass to their backs one yard away.
After a while, the Ravens were keying on that, and so will other teams.
Not to mention the fact that Shonn Greene thought the game was on Tuesday night and did his quarterback no favors.
7. Lead The Team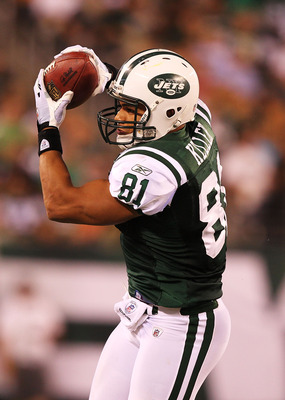 Al Bello/Getty Images
I know he has a forceful voice when calling out signals because we can hear it on TV. But leading the team is even more than that. Remind them where the markers are.
Granted, we can't blame Sanchez for Dustin Keller stepping out of bounds instead of getting the first down.
Maybe Keller was concussed from the Ray Lewis hit, but someone has to get this team going the right way on the field.
Keller and Shonn Greene have to be called out for their mental lapses.
Showing leadership will go a long way in owning the team on the field.
6. Meet The Wide Receivers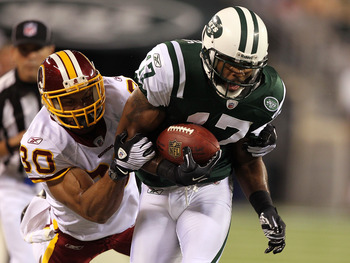 Al Bello/Getty Images
According to Jaworski's analysis, only eight of Sanchez's passes went to the Jets' receivers, and six of those eight were thrown to underneath routes.
Jerricho Cotchery and Braylon Edwards need to step up until Santonio Holmes comes back.
5. Don't Get Overcome By The Pressure Of New York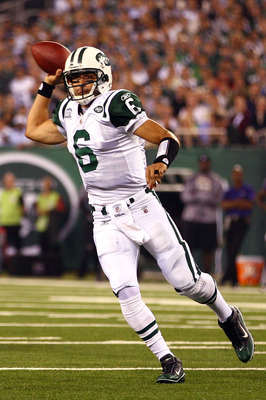 Andrew Burton/Getty Images
Sanchez has the pressure of the biggest media market on his back.
Yes, he played at a big-time college, but it isn't the same as playing on Broadway.
If Sanchez doesn't stay on an even keel, he will be swallowed up by everything.
Including the predictions of his coach.
4. Throw The Ball Down The Field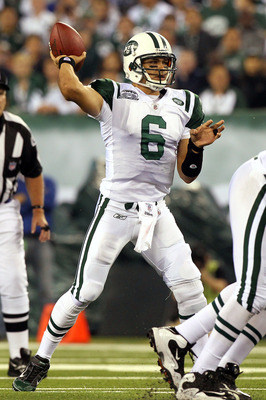 Jim McIsaac/Getty Images
Sanchez has touch and throws a beautiful deep ball.
We saw what he can do on the 33-yard toss to Dustin Keller that was called back because of a penalty.
There is no excuse for the Jets to have tossed only two passes of more than 15 yards.
No excuse.
3. Stay Away From The Turnovers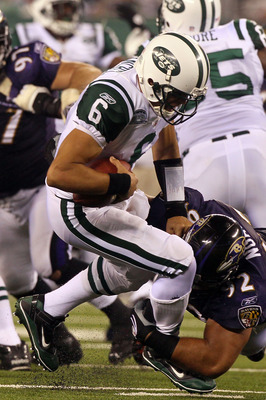 Jim McIsaac/Getty Images
So far so good on that front this year, but last year, Sanchez was a turnover machine (20 interceptions to go with eight fumbles).
He is going to feel the pressure of everyone telling him to play better, and that will mean trying to force the ball into spots.
Which means interceptions.
He can't fall back on that bad habit again.
2. Play One Game at a Time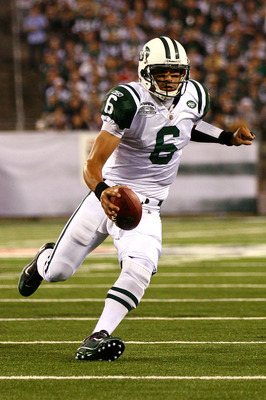 Andrew Burton/Getty Images
The pressure is going to be on all year, since the Jets have such a tough schedule and because Rex Ryan put the Bull's eye on their back.
But Sanchez has to remember that they didn't lose the Super Bowl this past game and they won't win the Super Bowl if they beat the Patriots next week.
It sounds cliche, but they have to take each game one at a time.
1. Stop Impersonating Trent Dilfer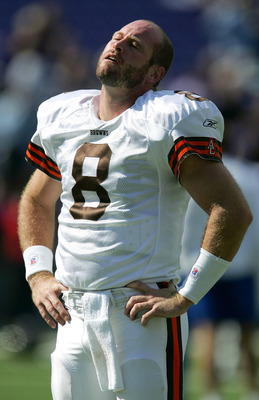 Jamie Squire/Getty Images
First of all, people need to stop dogging Dilfer out. He was an All-American in college and made the Pro Bowl in 1997. The guy was not a bad quarterback.
But the cliche goes that if you have a quarterback that won't lose games for you and a great running game, you can "Trent Dilfer" you way to the Super Bowl.
No. That was a once and a lifetime season, and Dilfer made some throws that year to save games.
Another thing, this year's Jets aren't the 2000 Baltimore Ravens. The defense isn't as good as that Ravens defense was. And it might not be as good as this year's Ravens' defense.
Sanchez can't just not lose games, he has to win games. He is the starting freaking quarterback.
Keep Reading

New York Jets: Like this team?