NFL Power Rankings Week 2: Ravens and 49ers Among Top Risers and Fallers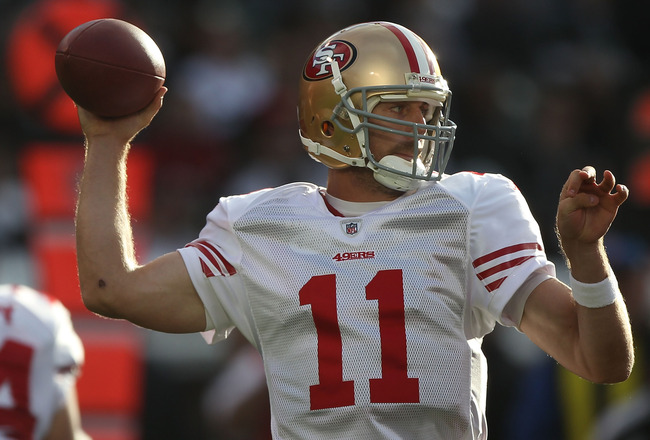 Jed Jacobsohn/Getty Images
Week 1 of the NFL season featured plenty of surprises and disappointments from top to bottom.
New Orleans got things started with a solid win over Minnesota Thursday. Houston, Green Bay and Baltimore pulled off some of the more impressive wins of the first week.
On the other side of the coin, the San Francisco and the New York Jets couldn't have looked much worse in their openers. Both teams struggled on offense and made critical mistakes at inopportune times en route to suffering painful losses.
Here's a look at who is rising and who is falling in the NFL Week 2 Power Rankings.
No. 10 Tumbler: Detroit Lions lose Matthew Stafford
Jonathan Daniel/Getty Images
Why the Lions are Tumbling: It probably should have been a touchdown, but it wasn't. When Calvin Johnson's long touchdown reception was ruled incomplete, the Lions suffered a painful loss in what could end up being a painful game in the franchise's rebuilding efforts. Matthew Stafford suffered a separated throwing shoulder and is expected to miss 4-8 weeks. Obviously, Detroit can't afford to put what will already be a long rebuilding process on hold with Stafford sidelined for too long.
How Far Will They Fall? The Bears appeared to be a vulnerable opponent, so a road win to start the season would have been huge. Now, the Lions have to face Michael Vick in Week 2 before back-to-back trips to Minnesota and Green Bay.
Things could be rough for Detroit with Stafford out of action.
Up Next: Philadelphia vs. Detroit
No. 10 Riser: Miami Dolphins Run the Ball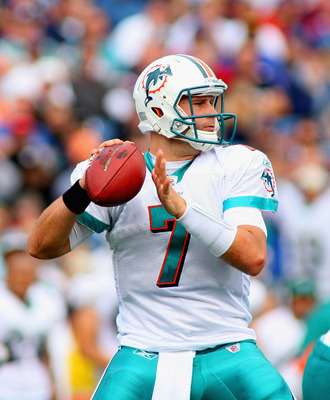 Rick Stewart/Getty Images
Why the Dolphins are Rising: Chad Henne and Brandon Marshall are going to get along just fine. The arrival of Marshall should continue to free up Ricky Williams and Ronnie Brown to run the ball against defenses reluctant to stack the box. It's only Buffalo, but a road win in Week 1 is certainly worth paying attention to.
How Much Staying Power Do They Have? The Dolphins should be a competitive team all year long, but they are entering a brutal stretch beginning next week. Trips to Green Bay, Cincinnati and Baltimore and home games against the Jets, Patriots and Steelers won't be easy wins either. If Miami can win even half of those games, they will be a dangerous team as the seasons winds down.
Up Next: Miami @ Minnesota
No. 9 Tumbler: Cincinnati Bengals Tested by Ravens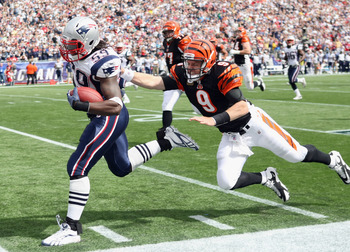 Elsa/Getty Images
Why the Bengals are Tumbling: The Patriots probably won't be a great defensive team this season, which figured to give the Bengals new-look offense a chance Sunday. It didn't quite workout that way for Carson Palmer & Co.
Despite a strong game from Chad Ochocinco, Cincinnati never established an offensive rhythm in the game. Meanwhile, the young defense made mistakes and gave way to a dominant performance by the Patriots' veteran offense.
How Far Will They Fall? Things won't get any easier this week as the physical Ravens come to town fresh off a win at New York, but the future looks bright for the Bengals nonetheless. Excitement will be running high in the home opener, and winnable games at Carolina, at Cleveland and against Tampa Bay should help the team reach expectations.
Up Next: Baltimore vs. Cincinnati
No. Nine Riser: Defense Matches Offense for Tennessee Titans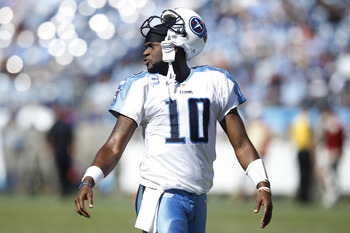 Joe Robbins/Getty Images
Why the Titans are Rising: Tennessee took care of business early and often Sunday, as Vince Young found Nate Washington on a long touchdown pass early to jump-start the Titans offense. Despite a no-name defense with even fewer proven commodities than usual, Jeff Fisher once again appears poised to maximize the talent of his team. Having Chris Johnson in the backfield certainly makes it easier.
How Much Staying Power Do They Have? It won't be pretty, but it will be effective. The future schedule features a very winnable home game against the Steelers and trips to New York and Dallas, two teams with plenty of questions. The Titans know who they are and should be able to compete in almost every game this season.
Up Next: Pittsburgh vs. Tennessee
No. 8 Tumbler: San Diego Chargers Hit September Slump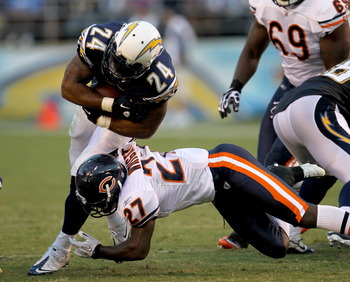 Stephen Dunn/Getty Images
Why the Chargers are Tumbling: Marcus McNeill is missed, and Vincent Jackson is really missed. Without their best receiver, Philip Rivers and the Chargers are going to be forced to rely on the running game. That means leaning heavily on a talented but unproven rookie in Ryan Mathews, and doesn't offer a great deal of confidence in what has been one of the most productive offenses in the NFL throughout the last two seasons.
How Far Will They Fall? With no end in sight to the holdouts, the Chargers will need to figure things out slowly as the season progresses. It doesn't seem likely San Diego will go winless for too long, with Jacksonville, at Seattle and Arizona on the upcoming schedule. Mathews should be able to run wild in those games, making life easier for Rivers and helping end Norv Turner's traditional September swoon.
Up Next: Jacksonville vs. San Diego
No. 8 Riser: Pittsburgh Steelers Hang Tough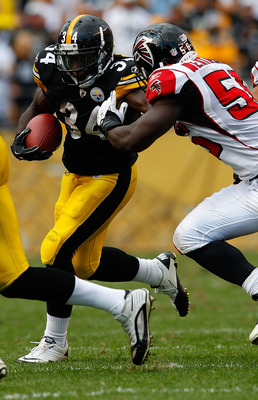 Jared Wickerham/Getty Images
Why the Steelers are Rising: The win over Atlanta in overtime Sunday was just what Mike Tomlin and his staff needed. The Steelers' defense looked fantastic against the Falcons, with Troy Polamalu flying all over the field and the front seven playing very well together. Rashard Mendenhall showed the ability to break a long run on his game-winner touchdown scamper, and Hines Ward showed he isn't quite washed-up yet.
How Much Staying Power Do They Have? Not very much, unless Dennis Dixon gets better and earns the trust of the coaching staff. The starter by default still makes too many mistakes, which makes it difficult to expect a road win next week in Nashville against the Titans.
Up Next: Pittsburgh @ Tennessee
No. 7 Tumbler: Mike Smith Risks Last Year with Atlanta Falcons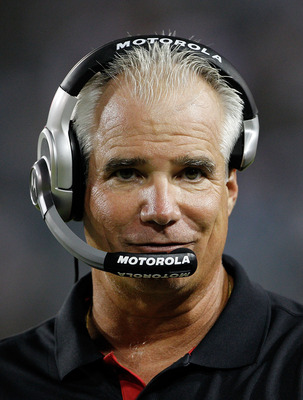 Sam Greenwood/Getty Images
Why the Falcons are Tumbling: At some point, the Falcons will need to find another big-play weapon on offense for Matt Ryan. It hasn't happened yet, and until it does, Atlanta will struggle to win almost every week. The Falcons were an opportunistic team last year, but failed to take advantage of numerous chances Sunday in the loss to the Steelers.
How Far Will They Fall? Mike Smith's first two seasons have been very impressive, but his third year might not be the charm. The Falcons can ill-afford a loss to Arizona this week before heading to New Orleans on September 26. Atlanta could be in for a rough season.
Up Next: Arizona vs. Atlanta
No. 7 Riser: Looking Up For New England Patriots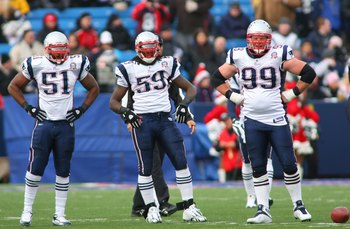 Rick Stewart/Getty Images
Why the Patriots are Rising: Aside from the Jets, no team has endured more soap operas than the Pats. Through it all, the team appears to be together and ready to exceed expectations in the AFC. Sunday's dominant win showcased a dynamic offense and a young, speedy defense capable of containing an experienced opponent. It's only one game, but things are looking good for Bill Belichick in Foxboro.
How Much Staying Power Do They Have? The Patriots have a good chance to open the season 3-0 and remain near the front of the AFC picture throughout the season. Trips to New York to play the Jets and Miami on Monday night won't be easy, but are certainly winnable games for the Pats.
Up Next: New England @ New York Jets
No. Six Tumbler: Eli Manning Faces Indianapolis Colts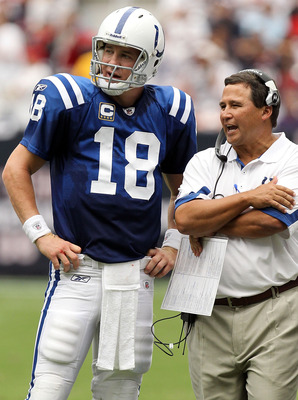 Ronald Martinez/Getty Images
Why the Colts are Tumbling: The Colts still can't stop the run and Bob Sanders still can't stay healthy. Arian Foster's eye-opening performance exposed a problem that has haunted the Colts for years, and Bob Sanders suffered a biceps injury that could impact his availability and performance this season. Peyton Manning will have to play great while the defense keeps searching for answers.
How Far Will They Fall? Despite the alarming signs in the season-opener against Houston, it's not likely Indy will fall too far as the season progresses. In fact, there is a strong chance the Colts won't suffer a loss until Week 6 when they bring a 4-1 record into Washington DC.
Up Next: New York Giants vs. Indianapolis Colts
No. Six: Riser: Washington Redskins Face High Powered Houston Offense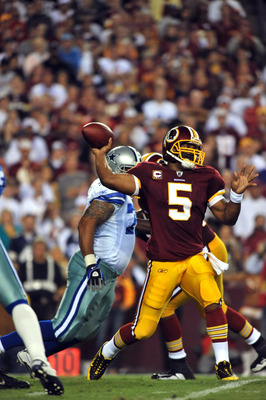 Larry French/Getty Images
Why the Redskins are Rising: The offense wasn't great, but the defense got the job done for the Redskins against the Cowboys Sunday night. Donovan McNabb showed he is able to bring steady leadership and production to the table, and the Redskins were able to finally put the Albert Haynesworth saga behind them--for the moment.
How Much Staying Power Do They Have? Washington's fate ultimately rests in the hands of a offense that needs to improve. The 'Skins will likely be a factor in the NFC East all season, and could even make some noise in the playoffs if McNabb stays healthy and finds reliable targets downfield. That starts Sunday when Washington hosts Houston.
Up Next: Houston vs. Washington
No. FiveTumbler: Minnesota Vikings Off to Rough Start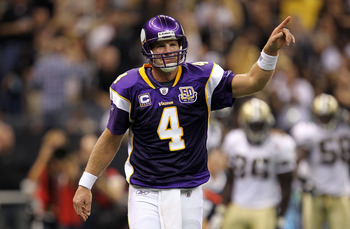 Ronald Martinez/Getty Images
Why the Vikings are Tumbling: Brett Favre looked very rusty and clearly missed Sidney Rice in the loss to the Saints. The Vikings defensive line wasn't much of a factor either, and Minnesota clearly has some questions to answer before they will be able to rise up the power rankings.
How Far Will They Fall? The fate of the Vikings rests largely on just how much Brett Favre has left. In the meantime, the team should be able to stop the bleeding by leaning heavily on Adrian Peterson. At least Brad Childress has two winnable homes games coming up to figure things out.
Up Next: Miami vs. Minnesota
No. 5 Riser: Kansas City Chiefs Offer Speedy Offense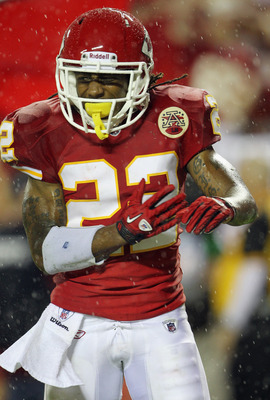 Jamie Squire/Getty Images
Why the Chiefs Are Rising: Despite Matt Cassel's dismal performance last night, the Chiefs have plenty of reasons to be optimistic. It starts with the improved play of a young defense that was awful last season. The big-play abilities of Jamaal Charles and rookie Dexter McCluster should provide Charlie Weis with plenty of changes to display his large offensive mind this year.
How Much Staying Power Do They Have? Before writing the Chiefs' win off as a fluke, consider they have one of the easiest schedule in the NFL and play in a winnable division. A win at Cleveland Sunday would be another step in the right direction for Todd Haley.
Up Next: Kansas City @ Cleveland
No. 4 Tumbler: Dallas Cowboys On the Ropes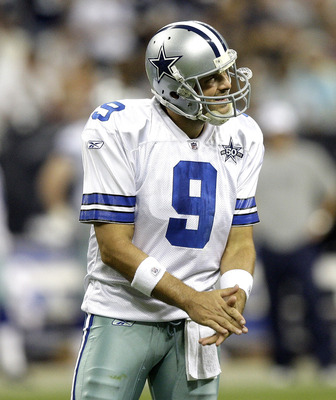 Bob Levey/Getty Images
Why the Cowboys are Tumbling: It all starts up front with the offensive line. Alex Barron wasn't the only starter to struggle Sunday night, and Tony Romo might spend this season with his head on a swivel. With two starters sidelined by injury, the Cowboys need to eliminate mistakes across the board. It could be easier said than done.
How Far Will They Fall? If the offensive line can at least hold down the fort, the Cowboys should be able to run the ball against the next two opponents to prevent Romo from being exposed. Sunday's meeting the Bears at Cowboys Stadium isn't a must-win, but it's close.
Up Next: Chicago vs. Dallas
No. 4 Riser: Green Bay Sluggish Start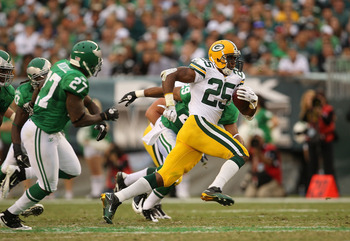 Mike Ehrmann/Getty Images
Why the Packers are Rising: Green Bay hadn't won in Philadelphia since 1962, which makes Sunday's win all the more impressive. Clay Matthews led a strong effort by the defense, and Aaron Rodgers got plenty of support from his talented group of receivers.
How Much Staying Power Do They Have? Tuesday's news that Ryan Grant has been lost for the season no longer makes the Packers such a trendy Super Bowl pick. In his absence, Green Bay will be forced to call on Brandon Jackson, who has battled injuries throughout his young NFL career.
Up Next: Buffalo vs. Green Bay
No. 3 Tumbler: Quarterback Controversy with Philadelphia Eagles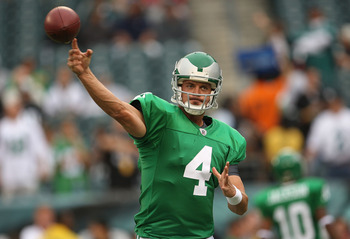 Mike Ehrmann/Getty Images
Why the Eagles are Tumbling: The Kevin Kolb era didn't exactly start off as planned. Kolb was unable to take advantage of the Packers' patchwork secondary before leaving with a concussion. Suddenly, the Eagles might have a quarterback controversy on their hands, even only after Week 1. Making matters worse, injuries to Jamaal Jackson, Leonard Weaver and Stuart Bradley have the Eagles in rough shape.
How Far Will They Fall? The young Eagles don't have a big margin for error, and things could bad in a hurry if they fail to win at least one of the next two road games. Before long, it's possible Michael Vick's big-play ability might just give Philly the best chance to claw out wins.
Up Next: Philadelphia @ Detroit
No. 3 Riser: Baltimore Ravens Offense on Schedule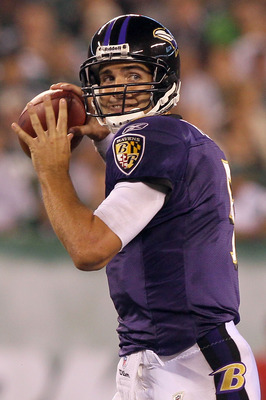 Jim McIsaac/Getty Images
Why the Ravens are Rising: The Jets talked the talk, but the Ravens walked the walk Monday night at the Meadowlands. Joe Flacco and the offense was effective enough, and the makeshift secondary made Mark Sanchez look silly. It won't always be that easy, however.
How Much Staying Power Do They Have? Even if Baltimore falls to Cincinnati this Sunday, the Ravens should remain in the conversation as being one of the best teams in the AFC. They are huge concerns in the secondary given the unstable healthy of Ed Reed and cornerback Ladarius Webb, but Baltimore's offense looks better than ever.
Up Next: Baltimore at Cincinnati
No. 2 Tumbler: San Francisco 49ers Depend on Alex Smith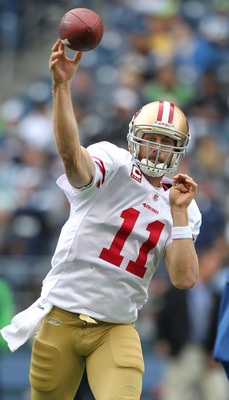 Otto Greule Jr/Getty Images
Why the 49ers are Tumbling: San Francisco looked like a team that hadn't practiced in the horrible loss to Seattle Sunday afternoon, committing numerous mistakes. The offense still isn't a sure thing, and Michael Crabtree's inability to develop has limited Alex Smith's chances of becoming a consistent, successful quarterback for a winning team.
How Far Will They Fall? Thankfully for Mike Singletary, the 49ers are in the worst question in football and have a solid defense to lean on. Ultimately, Smith's production will determine how things go by the Bay this year.
Up Next: New Orleans vs. San Francisco
No. 2 Riser: New Orleans Saints on a Roll
Ronald Martinez/Getty Images
Why the Saints Are Rising: New Orleans wasn't great on offense against the Vikings, but the defense showed the ability to get the job done despite playing without veteran safety Darren Sharper. The Saints appear headed for another season of destiny.
How Much Staying Power Do They Have? Barring an injury to Drew Brees, the Saints aren't going anywhere. A win over San Francisco on Monday night could help propel them to a 9-0 start to the 2010 season.
Up Next: New Orleans at San Francisco
No. 1 Tumbler: New York Jets Flying Low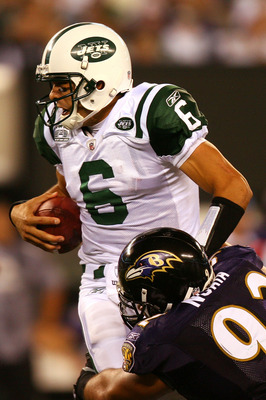 Andrew Burton/Getty Images
Why the Jets Are Tumbling: Mark Sanchez isn't the only problem with the Jets, but he is a big part of what appears to be wrong with the team. Rex Ryan needs to at least have a competent quarterback to have a chance to compete for the Super Bowl, and it doesn't appear Sanchez is quiet ready to handle the spotlight. New York made a number of mistakes in Monday's loss, but eventually it all comes back to the anemic production in the passing game.
How Far Will They Fall? The Jets probably should have thought out the quarterback situation a little better in the offseason. It doesn't seem likely the team will turn to Mark Brunell, which means Mark Sanchez might have to learn under fire. That's not a good thing for what was believed to be a trendy Super Bowl team heading into the season.
Up Next: New England vs. New York Jets
No. 1 Riser: Houston Texans Feature New Running Attack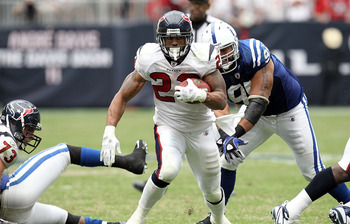 Ronald Martinez/Getty Images
Why the Texans are Rising: Houston certainly isn't the best team in the NFL, but the win over Indianapolis Sunday was among the biggest in franchise history. The emergence of a running game to compliment Matt Schaub was very encouraging, as was the play of the Texans' front seven. This could finally be the year Houston gets over the hump.
How Much Staying Power Do They Have? The Texans have been here before, and never managed to take the next step. A challenging Week 2 game in Washington D.C. could produce a loss, but the Texans' offense appears to be too good to count the team out from making noise in the AFC all year long.
Up Next: Houston @ Washington
Keep Reading